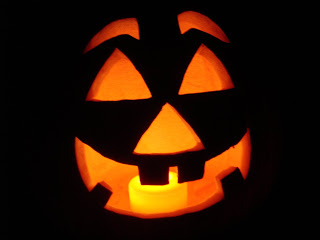 An October Night
By Charles Audette
The wind whispers a wary warning
There was plenty still – early this morning
These primal urges are hard to fight
an unholy diet – a dark appetite
The pavement scrapes with scuttling leaves
I'll pull the drapes and hope to deceive
The moon suffocates in ominous clouds
Shut off the lights – heartbeats too loud
Then the neighbors gate creaks – but it's not the wind
That seeks to feast on fearing humans
Red brake lights – a car crawls by slow
The shadowy shapes on my dark doorstep know
That the empty window of my house lies.
The horrible truth hides deep inside
Everything tonight could have been just dandy
But now the demons have the wrath – Cause I ate all the candy!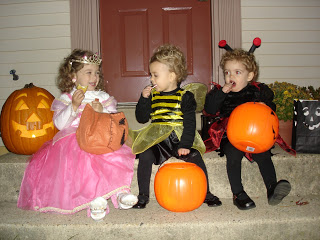 Halloween was great fun on Latney Road.  Joined by the Zufelts, the Miles, and a surprise visit from the Glassetts, the girls traipsed around the neighborhood, costumes donned, fiercely clutching their pumpkins, a pleasant chill in the air.  It was the perfect Halloween night.  
Eliza (Sleeping Beauty) loved "trick-or-treating" with her good friend Glori, who will be returning to Ethiopia the same time we leave for Salt Lake.   Ali and Sami (respectively Bumble Bee and Ladybug) had their first real door-knocking experience.  They caught the vision quickly.  Ali forged ahead.  Her mission clear – CANDY!  It was all we could do to pry her plastic pumpkin from her little fingers once we were home.  Sami stayed back with Dad a bit more, but was well aware of the bounty awaiting her as her pumpkin filled.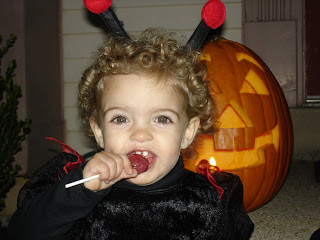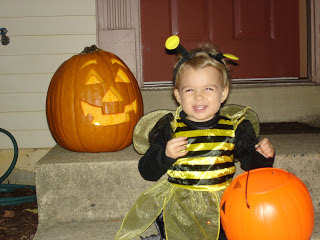 Saturday morrning, Eliza felt the need to thank everyone who had contributed to her collection. She stood on the front porch (despite our coaxing to do otherwise) and yelled with all her might – "THANK YOU!"  I'm positive at least our closest neighbors heard.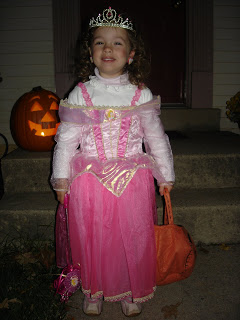 I have always loved Halloween, October, Autumn – the entire experience.  I'll post some more pictures of our Fall adventures soon, as well as an update on my Mom, and the home we found in Salt Lake City – 4130 Morning Star Drive.  We will leave the week of Thanksgiving.  Boo!  (Hoo!)