I'm beginning to think the title for our blog is more appropriate than we initially planned.  There's never any telling where we've been because I'm such a delinquent blogger!  We're striving for normalcy, routine, and the predictable rhythm of life in a new place but the best analogy I can wield for ourselves is this:  We can hear the music – it's got a great tune – and we're trying to dance, but we're still a bit off-beat!  Like the little kid in your dance class that was always a couple steps behind because they couldn't quite get the rhythm!  That's us!  I think we'll get on beat eventually, but it's requiring time.
Christmas Day 2008 was a winter wonderland for us in Salt Lake.   It was breathtaking to look out the window.  I had forgotten how gorgeous it is when the world is covered in untouched snow.  The holidays were wonderful for us in many ways.  Dinners with family, the magic of anticipating Santa Claus with our girls, watching them open their gifts, sledding, an opportunity for service on Christmas Eve.  We loved it all.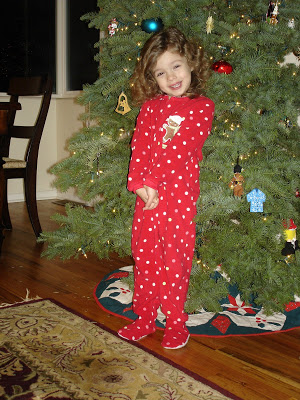 Eliza had us laughing all through Advent as each day the girls took turns opening a window on our Advent calendar.  The calendar had a candy behind each window or door.  Eliza creatively came up with the word "Candulator" for the Calendar.  It's like a calculator (we attribute her knowledge of this tool to her Dad the accountant) but it bears candy, and sounds sort of like calendar, right? A Candulator!  Perfect!  I had trouble correcting her because I thought it rather clever.
Above is Eliza on Christmas Eve in her new pajamas.  The Christmas Eve Elf found our new house this year!  And secretly delivered pajamas while we were at Grandma's!  Amazing!
Everywhere we go, Ali finds something, a bracelet, a blue teething ring, or the circular moon toy Lori gave us, to slide onto her wrist.  What flair!  
I also have to point out the Russel's Marshmallow Santa (in green wrapper) that Ali is clutching in her left hand. You will notice Sami clinging to hers in the photo below. For some reason, they wouldn't let go of these shiny treats all morning!  Only to open a gift here and there and then I'd find them suffocating that poor marshmallow Santa again as they squeezed, twisted, and grabbed the shimmering goodie over and over.  By lunch time, I threw the Santas away figuring they were no longer edible (at least without a considerable gooey mess).  Must have been the shiny wrapper that enamored them so!
Miss Karen – please note if you're reading this – that Eliza still loves to wear the hat you knitted her!
Hard to believe, another Christmas has come and gone.   Already the stores are full of Valentine candy.  When I think back on the memories, I am grateful most of all for the love we feel for and from those around us.  I believe that to connect deeply with each other is what God intends this life to be about.  He also intends for us to know Him.
So I loved the Phillips quote my friend Kara shared with us about Christmas (read blog post for Christmas day).  It sums up my feelings about Christ and the way He can enter our lives.  Christmas is truly a glorious celebration of the grand reach of His redemption and the power of His love.