Eliza turned four back in May. May 27th to be exact. And this post has been gathering dust in the unpublished archives for weeks. It's 'bout time I dug it out. I planned to post it the week the babies came. But as you can imagine, things got a little busy.
We were crossing our fingers Eliza would turn four before the boys arrived so we didn't have to explain "Yes… we have five children THREE and under!"
Seven days before they were born she turned four. So now we can casually say, "Yes… we have five…FOUR and under. A cakewalk right?
Okay, let's talk cake. Below are a SLEW of pictures from Eliza's birthday celebration. Our blog doubles as a sort of family journal and I just couldn't hold back on the pictures from her party. I'm not sure who had more fun this year – me or the girls!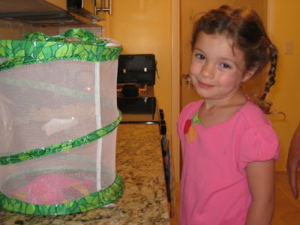 Sweet Eliza. I love this girl. She is growing up so fast. Months ago we were in St. George and I was watching her color with crayons at the kitchen counter. I noticed how well she was drawing and how perfectly she positioned the crayon in her hand. I said,
"I can't believe you're going to be four in a month! I don't want you to grow up!"
She looked up at me curiously and with big eyes asked, "You're going to miss me?"
"YES!" I said, "I am."
"But I'm not going to miss myself" she replied.
How right she was.
Eliza – you will always be my same Eliza, eternal in nature, no part of you taken away or lost – just changed, developed, as you pass through another stage. You will always be you. And it will all be as it should be. I only wish I was better at capturing this time together – when you are small, pure, seeping with innocence and love. So I can return to it when I want to. So I can handle this grain of time in the hourglass once more. The tiny sands of motherhood are precious, unscripted, undiluted. They feel of pleasure, wonder and awe. And I don't want to miss a single one.
"Yes, sweetie."
"I love you."
"I love you too Eliza."
Eliza's Butterfly Garden Party!
Eliza's friends came with their favorite pair of butterfly wings on. We helped them make antennae with white headbands, twirled pipe cleaners and sparkly stickers. After completing their attire, we went outside for story time!
Look at all those cute "blupperlies" (as Ali calls them) sitting on the picnic blankets.
Total crack-up! The girls got so into it! Frenzied eating of everything they could get their hands on. Even the lettuce! I was laughing so hard! We kept encouraging them and they kept eating, until they really couldn't eat any more!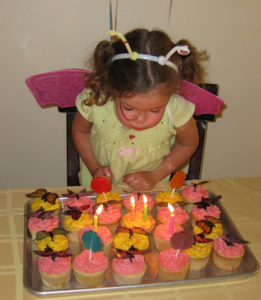 "Happy Birthday Dear Eliza!" 1, 2, 3… Blow!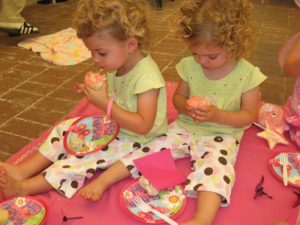 Ali and Sami enjoying their cupcakes.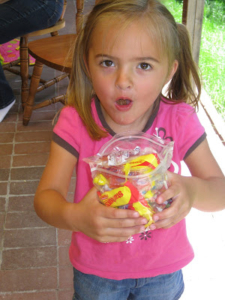 Our final activity was the butterfly pinata. Eliza helped me stuff it with candy. This is Lizzie's stash after the the pinata went down. Do you think she likes starbursts?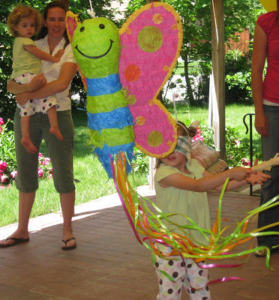 Eliza took the first whack. We ditched the blindfold after her turn. It was hard enough for the girls to just make contact. Except for Emma…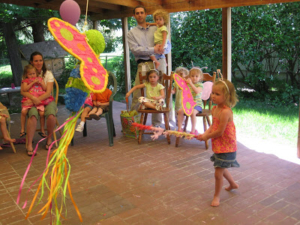 Our cute neighbor Emma. I suspect she's done the pinata thing before. She was going to town on it and knocked off one of the wings. She should go out for softball – she has an awesome swing!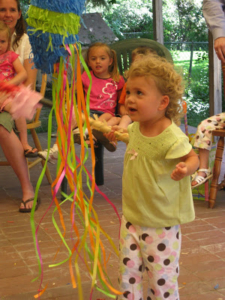 Ali's turn.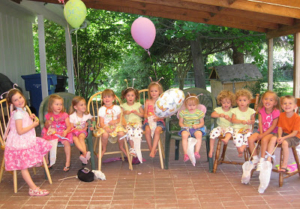 Eliza's friends. Delaney, Katherine, Emily, Caroline, Eliza, Emma, Abby, Sami, Ali, her cousin Lizzie, and cousin Ty. The lone boy! But we're so glad he came! It was Ty who finally took the pinata down. I guess we needed a little testosterone to do the job!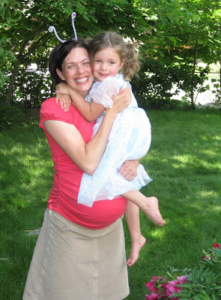 The Garden Party was a success and we had a grand time!
I love you Eliza. You are my sweetheart. "I love you more than all the rainbows in the world, more than all the twinkly stars in the sky, more than zebras, and even more than Red Vines." And that's saying a lot. Here's to a spectacular fourth year and many more birthday parties. Your life is worth a thousand celebrations.
All my love,
Mom