It's no secret. I LOVE
Halloween!
So check this out!
Back by popular demand. A favorite dessert brewed at one of the Washington DC area's best restaurants during the month of October.
Cleverly named

"Eye" Scream!
Pastry chef Anthony Chavez at
2941
(fabulous fine-dining just inside the Beltway of Northern Virginia) has created this Halloween masterpiece. Doug and I ate there once. Beautiful location. Great food.
So what's this blood-shot confection made of?
Vairhona white chocolate, pistachio mousse and raspberry-lychee coulis, served on a bed of dry ice to resemble a pair of

smoking

eyeballs.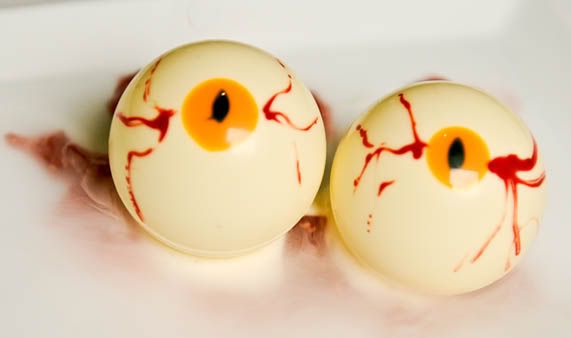 Wow. Edible eyeballs. Yours for the lovely price of $15.00.
How does Chef Chavez make it?
I have NO idea! But that is one whimsically spooky dessert!
Then last week my girls had a

"BIG FAT HISSEE FIT!"

The edible kind. (Leave it to Poppa Bob to corrupt my kids.)
It was a little weird using "snake" as incentive, but I found myself saying this several times over dinner:
"Okay...If you eat your chicken noodle soup, you can have some snake!"
It worked. They liked snake. Cherry-flavored.
So the girls are counting the days. (They keep asking if tomorrow is Halloween.)
Pumpkins are on the front porch. Costumes chosen (Thanks to Auntie Pat!). And I've already eaten an ENTIRE bag of Halloween candy (minus the Baby Ruths). Purchased for trick-or-treaters, of course. Must be all the crying I've been listening to. It makes me go to the pantry like a zombie searching for

sugar!
Can anyone relate?
The boys are in the swings as I type because I don't think my heart (or nerves) can stand one more cry. Eliza's home from pre-school with some kind of respiratory-flu-cough thing. Ugh. And Sami just fell out of her crib. Again.
May your bags of candy last longer than mine.