A few days ago I woke to the soft clinking of freezing rain. The morning was grey, clouds were thick and low on the mountain.
With a tiny dip in temperature, we would have our first snow.
I began nursing my boys (girls still sleeping) and watched the red maple across the street swell in the wind. The tree is tall, breathtaking. People have been pulling over to take pictures of it all week. I love its vibrant branches shadowed by the mountain behind.
While my sons held hands and took milk, I watched the rain become a flurry of white.
Now my pink zinnias are bent to the dirt, iced and fading.
Our pumpkins are glossed, shiny and cold.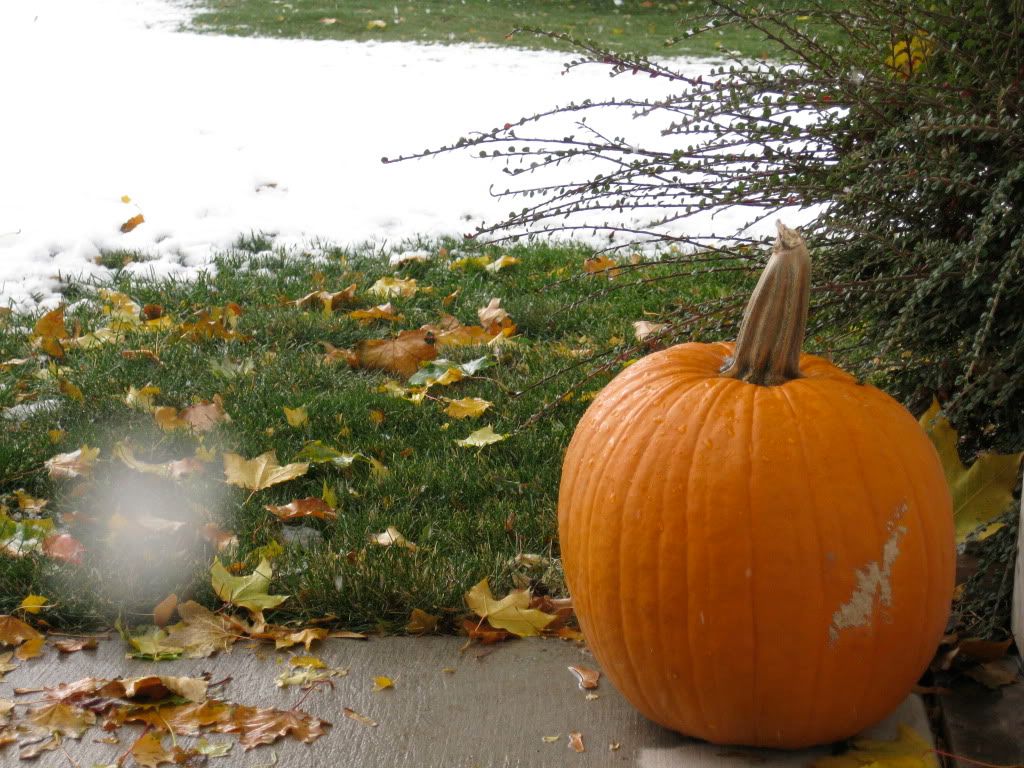 It definitely feels like the mountains. The elevation. The earth. Fingering it's peaks into the blustery dark sky. The trees that circle our house are wet, white and heavy. Still spitting fall colors. Dropping their leaves in glistening clumps.
It's beautiful. But I wasn't ready for it. Wasn't ready to find it outside my window.
Despite the repetitive nature of our days, several things have surprised me lately. Like the fact that my boys are reaching out for objects, touching my face, laughing when I bounce them just so.
Eliza's artwork. She's coming along so well, LOVING preschool, writing her name and recognizing all of her letters.
Ali's negotiating skills. "Can I have just half a cookie? Okay. Just a bite?" Or the lack of. "No way Mom. I not want to wear a jacket." "I going to wear my cowboy skirt!" (For the fifth day in a row!) Who gave her this strong will?
And Sami. A
ll of a sudden she needs snuggling. Often. And she was the baby that never liked to cuddle.
A dear family friend passed away this week. Sooner than we thought. The girls painted pictures for
Grandma Taffy
but I didn't get them mailed in time. She struggled for every breath. Always had witty words to share, laughter, and a sparkle in her eyes. Cancer. Lung disease. A family and husband left behind. Letting go hurts. I'm in awe of their goodness as they pray to have the right perspective.
Some findings - like this - have been hard. Some beautiful. Like my children. Some ugly. Like my temper. Which reared it's nasty face a few nights ago. I lost my cool over a favorite broken platter and two babies who cried for more than an hour.
I yelled. All the safety and security of home that a mother works so hard to cultivate was gone. In an instant. With only a few words. All three girls were crying. The boys were crying. And I cried. I was angry. And I felt ashamed.
I had to call my mother. I've never dialed 911 before but I was your typical, frantic, non-thinking caller. I couldn't tell her any details. Just, "Will you please come help me!?" in between sobs. Good thing she knew where we were!
Doug was due end of the hour but I knew we wouldn't make it the 45 minutes until he arrived without reinforcement.
What did she see when she walked in the door? Her blubbering daughter. Grandsons in the swings screaming. Granddaughters on the couch, sucking their fingers, clutching their mamies (blankets).

Innocents

trying to make sense of their broken mother and all the crying.
I had already gathered my girls around me to apologize. To mend what I could. But sweet Sami was so hurt. It was Sam who broke the platter.
After things settled down and all children were finally in bed she woke, every twenty minutes until 3 AM crying out for me. "Mommy!" Sobbing, trying to catch her breath. "The plate. I. Broke. The. Plate." More crying. She couldn't be consoled. I kissed her, held her, loved her. I wanted her to know she meant so much more to me than a boxed-up platter. But for one instant I had let her think otherwise.
Finally, so exhausted. She slept.
The evening was painful, dithering. Made me want to hand over my "Mommy" badge and take the horrible moment back. "We want Daddy!" they had all cried in unison.
But I couldn't take it back.
The next morning, to my surprise, the girls didn't mention a thing.
How do children do that? It was like it had been erased from their memory. Is this why Jesus says,"become as a little child?" Just let the anger pass through you and beyond.
So the week has been a hard one. I'm fighting a sore throat, needing more sleep, saddened by loss and failure. Already pining for warmer days and the makings of fairy tables with my girls.
Yes - Fairy Tables.

A

favorite Autumn pastime. We would collect berries from varied bushes in the yard, acorns and acorn tops (which make perfect fairy hats or bowls). With the right size rocks we would make a table. Then dress it with leaves, little flowers, and bowls of goodies for the fairies. Selected treasures from the bounty of our immediate earth.
"When the moon
comes up" I would whisper, "and little girls go to bed... the fairies come out. If you set the table for them, they will come and eat and visit." Ali believed me. Sam seemed disinterested. In fact, she kicked the fairy table over when we were done. But they were all into the creation of it.
So we use our imaginations. We happen upon self-discovery. We try to make sense of our findings. They make up the big and little moments of our days. Some delight us. Some make us laugh. Some make us cry. Some make us crazy. And some make us grateful.
Sunlight and rain colliding on a beautiful October evening.
A "surprise" for Mommy. E made my bed!
Diaper snafu. Discovered after the girls came home from a play date. (Their diapers were put on backwards!)


Finger painting. I forgot how fun it is to squish paints between your fingers and experiment with color.
Midst all of this there are those

glaring

moments when we are less than we know we should be, when losses threaten to outweigh the gifts. But we gracefully try to weather the brokenness, stumble along. Find rainbows. Apologize. Cuddle. Make Fairy Tables. And remember imperfection is part of the life process. Part of becoming whole.
As WB Yeats said (this quote has been on my mind all week),
"Nothing can be sole or whole, that has not been rent."