The lawn is littered with leaves. Colors high in the canyon are fading now into muted browns, fragile. And today? The sun was languid. Like it just didn't want to let go.
Me too. I don't want to let go of these Indian Summer
days.
So after lunch we marched outside (me, Ali and Sami), flopped flat on our backs in the grass and soaked up the warmth. Nothing like sunshine on skin. We tickled and chased each other, searched for "pretty yellows" (leaves), gathered acorns and berries to set our "fairy table" (I'll write about that in another post) and hefted our big pumpkin to the front of the house.
So I have to take one last look at Summer. This will be my last retro-Summer post. I promise.
As mentioned

before

, June to September had me counting on one hand the times I made it out of the house for something besides groceries and pediatrician visits.
A few weekends ago I met my sisters and Mom for the LDS Church's

General Women's Meeting.

A good family friend, who was sitting behind us (Check out her poetry

here

), grabbed me by the shoulders and said, "Who let you out?"
And I thought, Who let me out? Well, that pretty much sums up the last four months of my life.
So here are a few sightings. Escapes. They weren't often. But we had a good time.
End of July, my darling cousin Mary married this cute (very patient) boy. Travis - Thanks for waiting! Sorry I don't have a picture of you two together! That is your left hand though!
Mary was our "nanny" help before/after the boys were born. The girls adore her and were SO excited to see her in her wedding dress! Their reception was in my parents' backyard

.

My sisters, Sarah and Rachel did all the planning and setup, courtesy of

Modern Display

. They did a fabulous job. It was beautiful. And so was Mary.
The girls had trouble waiting their turn in line to see Mary. They kept sneaking in front of people to see her. When they finally caught her eye, they lunged. And tackled her with hugs. Mary was so sweet to bend down and return their excitement with great big squeezes.
As much as I tried to deter them, they continued to drift back to Mary. Again. And again. I think she greeted a handful of people with Ali in her arms.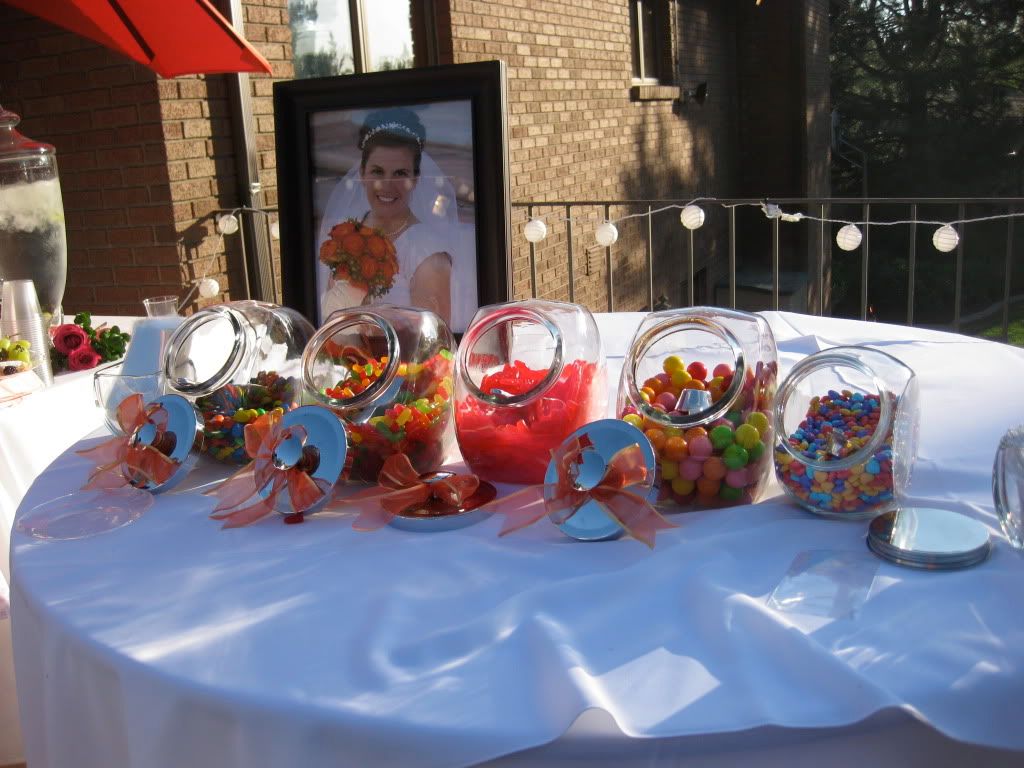 If they weren't tugging on Mary's hand, the girls were raiding the candy table. Cute idea. But a complete magnet for kids who are inclined to hoard sweets. And what kid isn't?
Here's Eliza digging for her share of gum balls.
I loved seeing the yard all decked out.
I love my sisters

.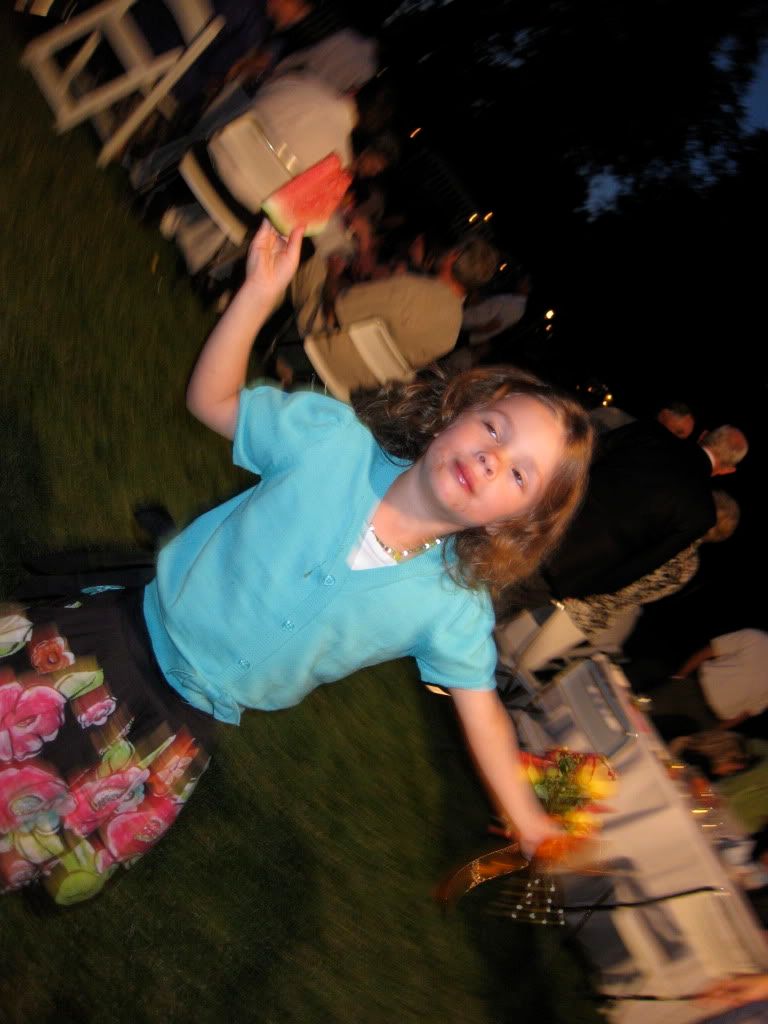 And this is Eliza in the zone, groovin' all on her own. (The fact that she was at Grandma and Grandpa's increased the comfort factor.)
Watermelon in one hand, bouquet of roses in the other, she was spinning and singing along to

"Dancin' in the Moonlight"

by King Harvest (click to listen). I just let her go. Watched. And loved it.
Everybody's feelin' warm and right
It's such a fine and natural sight
Everybody's dancin' in the moonlight
And this is my beautiful sister, Sarah, with the kiddos. She did all the flowers for the wedding. A huge job!
Grandma Nae and Poppa Jim stayed with the boys while we took the girls for the evening. I ran home for the 8:00 feeding then came back and spent an entire hour trying to find my girls and wrassle them into the car.
High on sugar (and life), shoeless

and sweaty, they kept slipping away the moment I let go of their hands. With all the Aunties helping, I finally got them belted into the car and we drove home. It was a night to remember for everyone.
This was my first adventure with the girls after the boys were born. It took a while but eventually I felt we could make it work. I packed a lunch, arranged for help with the boys (Thanks Hillary), fed them at 11:00 then piled the girls into the car and we were off!
We drove to the very top of Millcreek canyon, threw out a blanket in this big meadow with tall grass and ate lunch. It took less than 30 seconds for all three girls to spill their Gatorades and drench our blanket but we were determined to have a good time.
This is Eliza yelling "Life is Wonderful!"
After our picnic, we explored the nearby trail.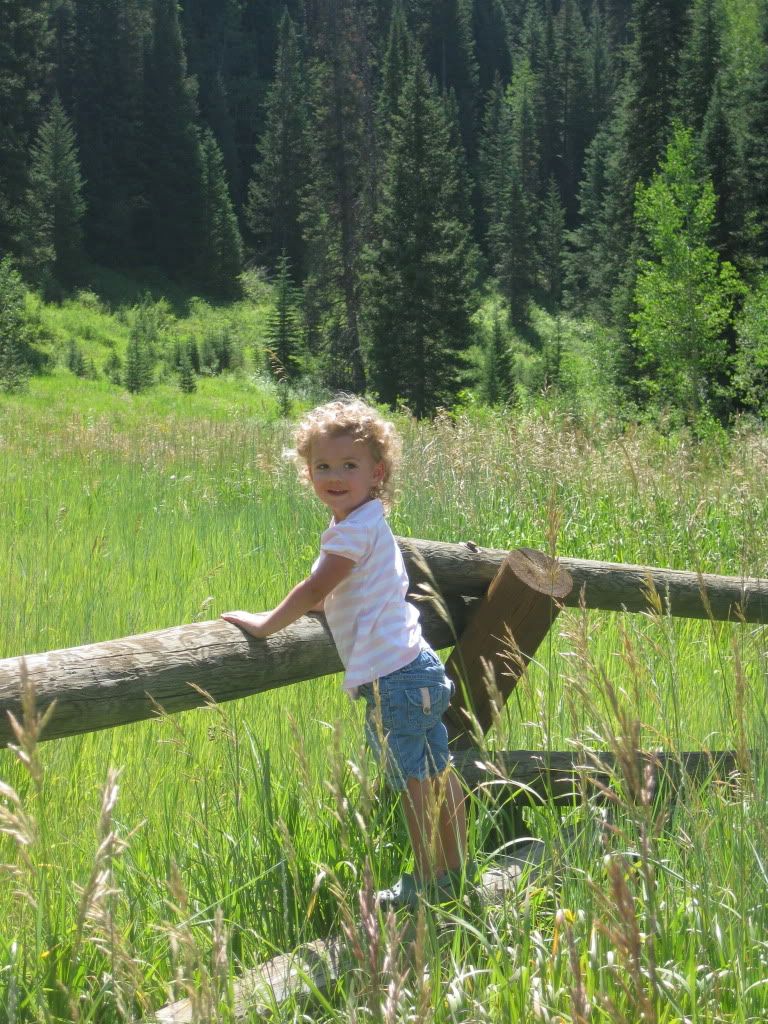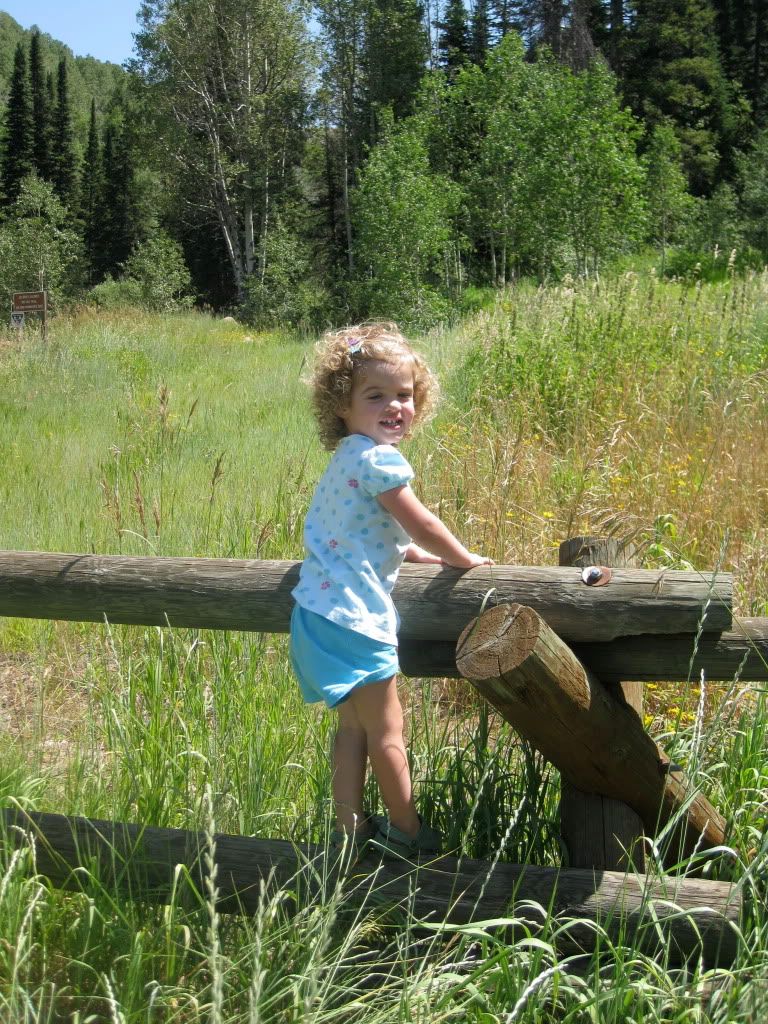 We found yellow daisies for our hair, waded in the stream, and wiped a few tears after Sami face-planted in the dirt.
You have to appreciate the inertia of this picture. It's the moment before impact. Eliza is running with (or rather pulling) Sami down the trail. Notice Sami's shoe coming off. And that was that. Boom!




But Sam was a trooper. We dusted her off and she kept going.
It was so refreshing to be out with my girls sharing something I love with them. The mountains, wildflowers, the wind. It made me feel alive. The smell of pine resurrected so many memories, surfaced my spirit. I felt real. Lifted. Soothed.
I love what Ada Huxtable (critic for The Wall Street Journal) wrote about summer,
"Summer is the time when one sheds one's tensions with one's clothes, and the right kind of day is jeweled balm for the battered spirit. A few of those days and you can become drunk with the belief that all's right with the world."
I didn't get a few of those days. Just one. But it was all too easy to believe the world was right. At least where we were. Dirt-stained and happy. Balm for my battered spirit.