Our first Halloween in Salt Lake. The day was remarkably beautiful. Warmer than anticipated. And no snow on the ground.
We even went

Trick-or-Treating

without jackets!
I opened the windows every day so I could listen to the knocking of our bamboo chime - a hollow staccato to the sound of skittering leaves around the house. I loved watching the trees shed their colors - gust after gust. Yellow leaf-light flashing by our windows. That unmistakable rustling sound of dry leaf on concrete.
Lately I mark time by

light

and

leaves

.
Friday Eliza had her Halloween preschool program. Here she is in her

Pocahontas

costume. The leaf by her face was her idea. She looks so pretty. Maybe it's the earrings, but this was one of those moments I wanted to stop time. She's growing up so fast! I keep singing that song in my mind, Where are you going, my little one?


And this is her friend Caroline, after their "spooky" performance. They sang a fun assortment of Halloween songs. Her favorite was

The Monster Mash.
Halloween morning I fed the babies while Doug started the day with

pumpkin

pancakes

for the girls (food-coloring and his own artistic flare). A big hit! All his idea.
Then he crafted our

jack-o-lantern

.
Nothing like carving to the King of Pop.
"It's close to midnight and something evil's lurking in the dark..."
We listened to

"Thriller

"

"Ghostbusters" and "The Monster Mash."

Watch

MJ doing the zombie dance if it's been a while... those moves are dang awesome!
Michael Jackson's voice resurrected an old past of mine. In High School I choreographed a version of Thriller.

Out of the depths it came and suddenly I was dancing, clawing, thudding along and snapping my neck.

You remember the video?

I tried to teach Eliza the zombie dance but suffered a slight cervical sprain from all that shoulder shrugging and head whipping. It did make for good amusement though (mostly mine).
Enough
leaves
fell by Halloween to make some HUGE piles. Doug stayed outside with the girls for several hours, raking and playing in the leaves. They buried each other, played Leaf Monster. Built a big "cauldron" for the girls to sit in (picture below) and had an absolute blast!
Let me just say - the fun factor is seriously heightened when Daddy is around. This video is Doug's cinematography. He calls it "Buried Alive" or "Leaf Monster." It's weirdly reminiscent of

The

Blair Witch Project

. Click play on the bottom.
Dishes sat untouched all day. The house morphed into complete entropy. But we thoroughly enjoyed ourselves and each other.
I made beef barley soup with cornbread (added more dishes to the sink). We coaxed the girls into eating a few bites of dinner before donning their costumes.
Then finally! We were ready to hit the streets.
Here's

Pocahontas

sporting her new Vogue face. It's showing up in quite a few photos lately. I "flat-ironed" her hair for a more Native American look and she was very excited about straight hair. Why do girls always want what they don't have?
Here is

Belle.

She carefully-selected a homemade necklace as a finishing touch.
And last but not least -

"Sleepin' Booty"

(as she proudly called herself.)
Auntie Pat

- Thank you so much for sending the girls their costumes. This was the most wonderful gift. I didn't spend one minute worrying or scrambling for costumes. And as you can see - they were elated - especially over the accessories.
We loved haunting the streets of our neighborhood. Hot Dogs and Cider at the Gardiners. And at Miss Marion's house...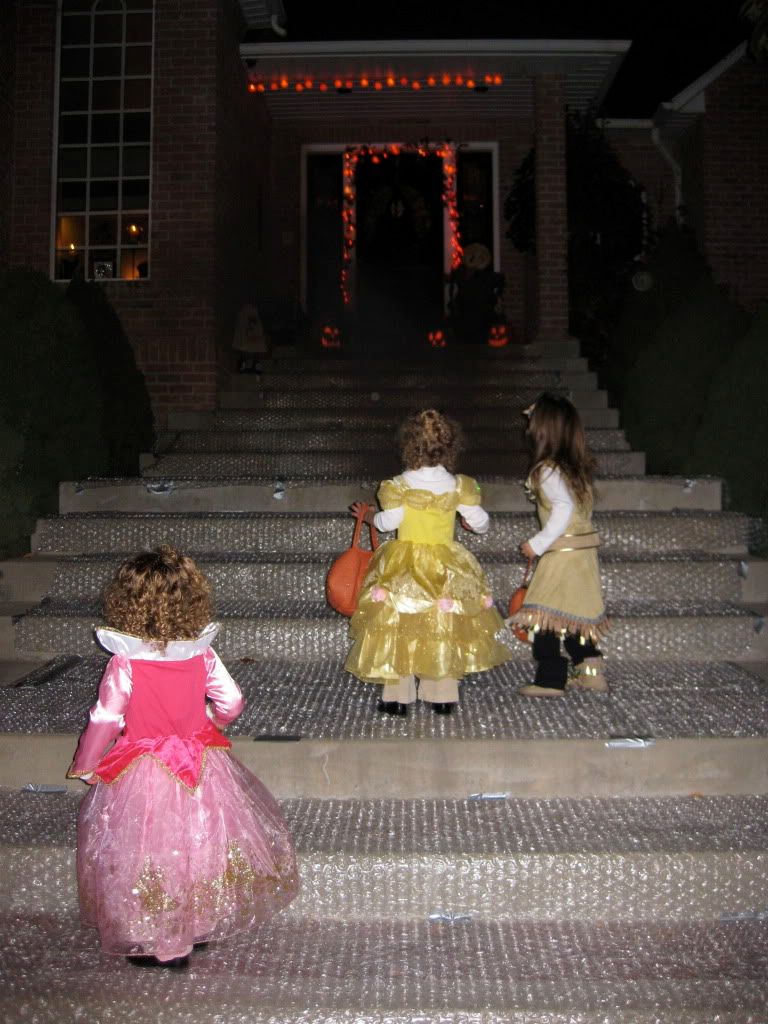 Bubble-wrapped stairs! How cool is that? The popping was a bit unnerving. Not to mention the battery-powered bats, scary music and smoke machine. Can you sense the girls' trepidation?
A very happy hippie lady with black afro! Nothing to fear.
The boys went out with us too. For a few minutes. Then Doug took them home and I stayed with the girls. Here are Spence and Gordy in their "skull caps." Hairlines hidden.
So here's a

test.

If you can accurately tell me who's who, I'll send you some of our leftover candy!
Just what you wanted, right? MORE

candy!

For some reason I thought we were going to have a run of trick-or-treaters. I was deftly wrong and terribly over-prepared. We had 20. And I had candy for hundreds. Doug has not stopped teasing me all week.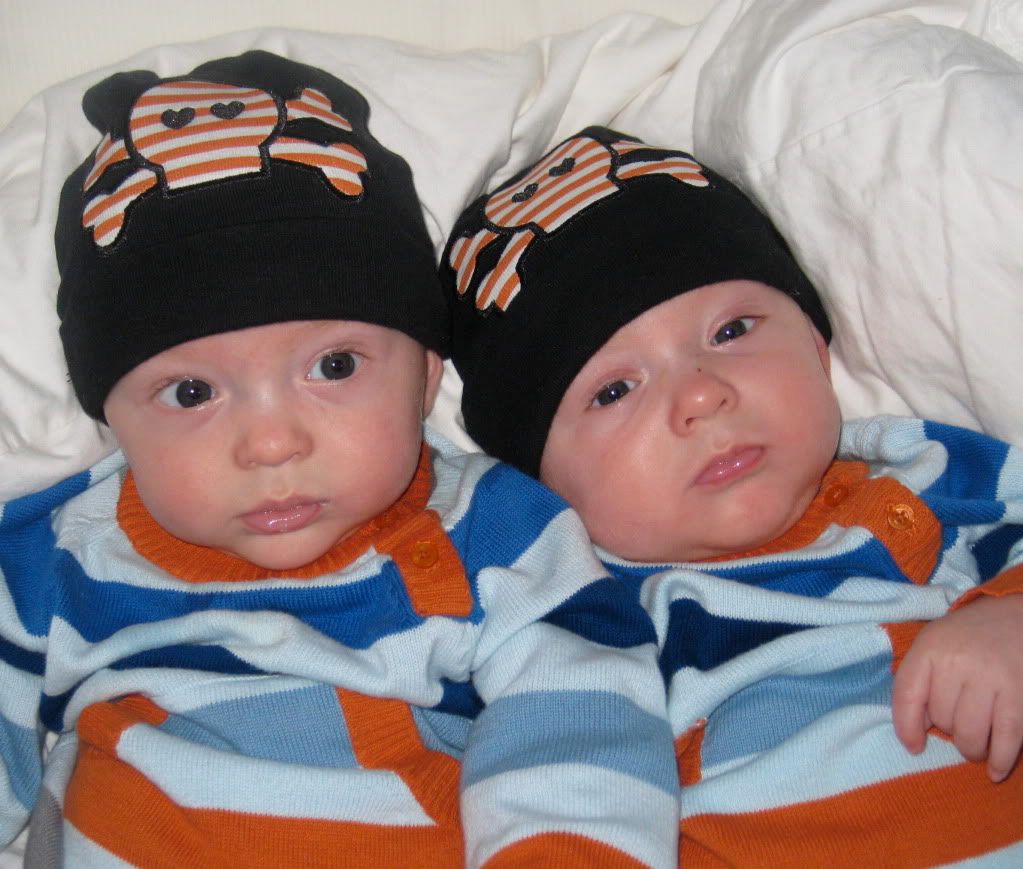 When we arrived home, Daddy had our cauldron smoking and the jack-o-lantern lit.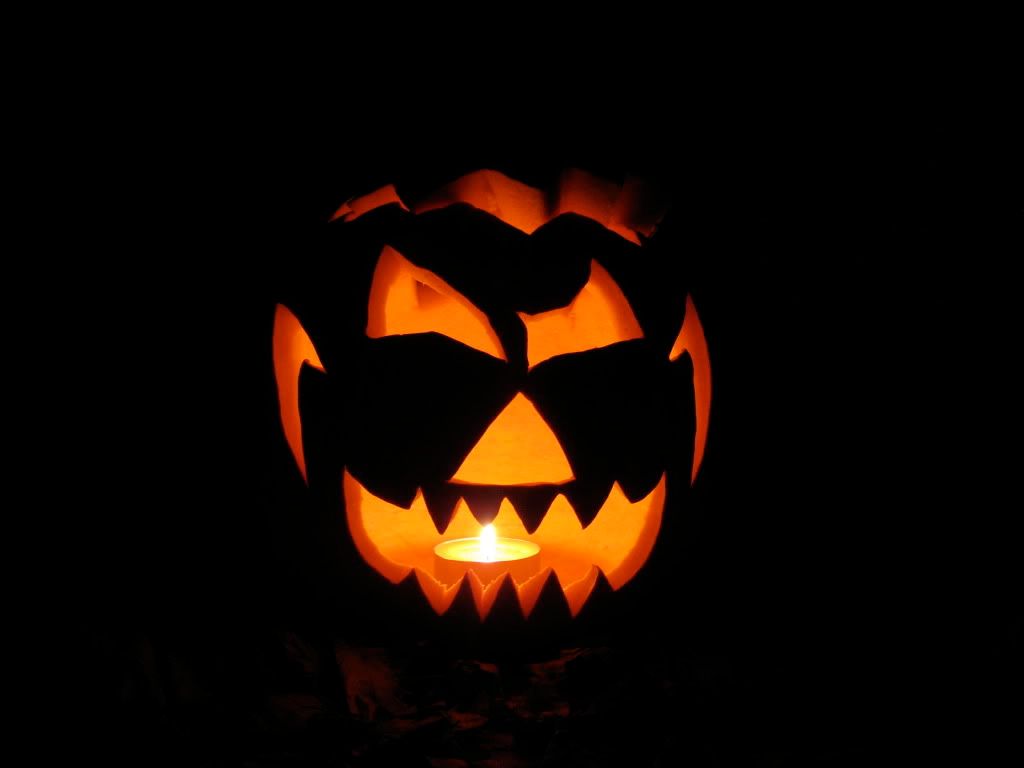 We finished the evening with homemade applesauce at Grandma Ronda's. It was a delightful day.
A friend of mine asked me this week, "So. Are you having fun?" I hope this answers her question. Despite a few rumors out there (spawned by previous blogs)...Yes. We are having

fun.
But don't forget to play

"Guess that Twin."

I've GOT to get rid of this SHELF of Milky Ways and Tootsie Rolls in our pantry. I can't seem to resist their sultry voices. And I have a sugar canker on my tongue.

Not

fun.
Tell Doug what you think of his Blair Witch/Leaf Monster clip. He's considering a movie...