He showed up on our doorstep Friday evening. In a gorgeous

red

bag.
Knock knock knock.
"This bag looks like it's from Santa!" Eliza shouted with wide eyes. Ali and Sami needled and elbowed through the doorframe to take a look. There it was. Anonymously placed by our front door.
It DID look like the makings of S. Claus. The fabric inside said,

"Believe."

It was cinched tightly with red and white polka-dot ribbon. Green jingle bells jangling.
We brought it to the kitchen table.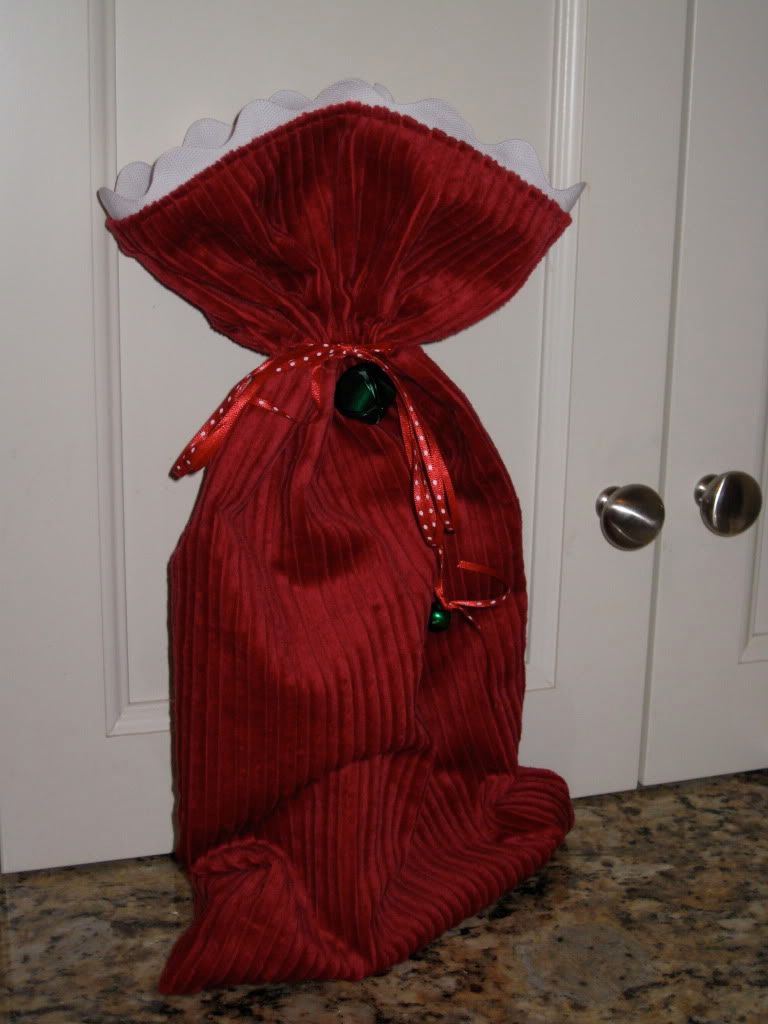 I could feel something inside.
The girls bumped shoulders and nearly cracked heads as they crowded around the mysterious bag.
Eliza carefully slid the bow loose and poked her nose inside. "It's an elf!"
She pulled him out. A scrolled paper was tucked under his arm. "My name is

Mr. Peeps

" it read. Sent directly from the big man himself. His duty? Watch, note-take, survey, spy... and yes... peep.
We all know the song. "He sees you when you're sleeping. He knows when you're awake. He knows if you've been

bad

or

good

..." Well - this is how Santa does it. He sends his peeps. His elves. Mister Peeps to be exact!
Peeps is

magic.

He comes alive at night. Checks on little children to make sure they are sleeping, rummages through the pantry (last night he had fishies and raisins that were left out by Eliza and... I believe he also pilfered that large Snickers bar from Sami's leftover Halloween candy. hmmmm...)
Then. After filling his tummy, he finds a new perch for the coming day. A place where he can safely view all the household happenings. And when the sun begins to rise he freezes again. Kind of like Night at the Museum. Only much less menacing and not at all destructive.
One touch, however, and his magic begins to fade. So we leave Mr. Peeps undisturbed.
We've been finding him in the craziest places.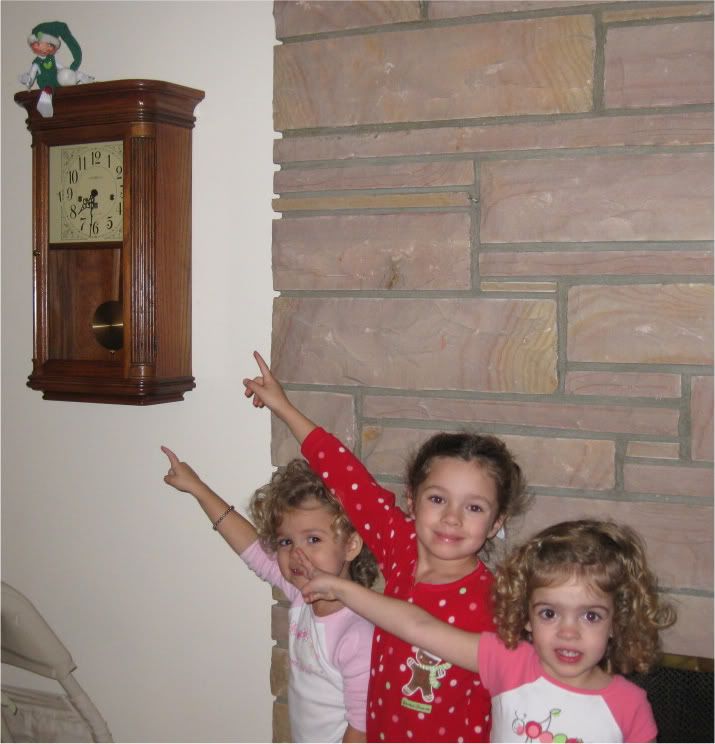 On top of the clock. Above the sink. Hanging from the blinds. And this morning... belly-flopped onto the light fixture above the kitchen table. It took the girls a while to find him.
But there he was! Right above them. Drooling over breakfast and checking his list.

Twice.
Mr. Peeps has added a new level of excitement to our home.

Holiday cheer

is on the rise. One mention of his purpose and the girls stop, squirm, and choose the better part. Like returning the toy that was snatched. Squelching the whining. Remembering those magic words of please and thank you. Apologizing. And my personal favorite - following through when asked to do something like picking up their belongings or fetching something I need pronto!
"Liza - can you please get me a burp cloth! Stat!" Or... "Sami - can you give Spencer his bottle? Great. I'll be right back. I don't think we can stand to smell Ali's stinky diaper one more minute!"
I hope Mr. Peeps stays for a while. I believe the note said he'll be here until

Christmas Eve

. On that special night he'll find a comfy spot in the tree to wait for Santa. And when Santa arrives, soot-laden and cherry-nosed, Peeps will give him the low-down. Who was nice. Who was naughty. And when his job is finished Santa will tuck Mr. Peeps into the little red bag, which goes in Santa's BIG red bag and Peeps is off - back to the North Pole.
So you see - Peeps is the all-powerful determinant of present distribution. He wields the mighty holly stake of influence right now.
Despite his unsought despotism, Peeps is a pretty likable guy. He doesn't say much. Always has a smile on his face. Stays out of the way. And conforms easily to everything Mom and Dad ask of him.
This morning Eliza said to me (after I asked her to put her clothes on and clear her place from the table). "Mom - Mr. Peeps wants us to obey you. Not

un-bey

you, right? We don't want to un-bey you." "Nope!" I said. "You definitely don't want to do that. No un-bedience around here!"
So a festive shout out to our Secret Santa for dropping him by last week. I'm so glad we know who you are. We love you.
Thanks for the magic. The believing. There is nothing like seeing "tiny tots with their eyes all aglow." It's enchanting.
Hooray for the joy of believing!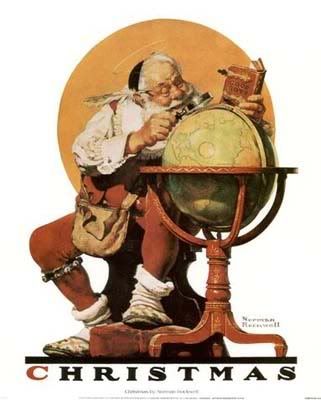 What special things are you doing to keep the magic this Christmas?