'Twas the day after Christmas when all through the house
Every creature was famished. Even the mouse.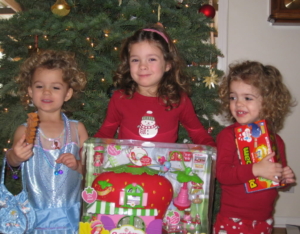 Mamma in her apron and Dad still un-showered
Had played with the kiddos for hours and hours.
Tanked up on sugar plums now in their tummies
the children were needing some… healthy yummies
No more eating out! No more chocolate or candy
Mom would fix dinner! 'Twould be a dandy!
I'll try a new recipe (she thought in a flash),
Threw open the cupboard for salt – just a dash
Chicken Pot Pie – that's what she would make!
Darci's recipe – hands down – it takes the cake!
She spoke not a word, but went straight to her work
Got out the pie tins then turned with a jerk
While boiling the chicken, she chopped onions for sauce
Added the veggies and stirred up the pot…
We'll invite Gramma and Poppa – let's call them right now!
Dinner at 6? They would be there. And how!
Gramma loves this pot pie. It's the best. No comparing.
So the last minute details Mamma was preparing
When "beep, beep, beep" the oven chimed "done"
Arms all a-mittened she reached in with one
Hand and whilst sliding the pan out the oven
Suddenly – Fllllllllop! "Ugh!" she said. "For the lovin'!"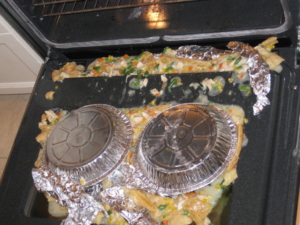 The pies were 'oer turned. Complete annihilation.
A mess, a disaster, dinner devastation.
"Oh no!" cried the little ones (who heard and came running)
Their jaws gaped right open while Mother stood laughing.
They moaned, "Will we eat it from there? That's NO fun!"
Mom laughed even harder. "No it's not. What a bum……mer."
Gramma and Poppa soon joined in the laugh.
Take out for dinner? Yep. Mom is so daft.
So Dad grabbed his keys and sprang to his sleigh
Headed for Shivers. Burgers on the way.
And we heard him exclaim, 'ere he drove out of sight –
"Merry Christmas to all! …Was that Root Beer or Sprite?"