It was quite the party here on New Year's Eve. We started a new tradition – thanks to my Aunt Leslie. We transformed our Christmas Tree into a New Year's Tree!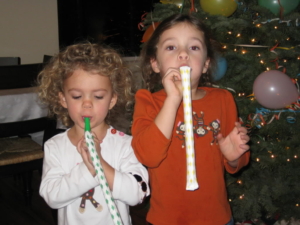 Leslie told me about this fun tradition last week. The following night (while I was out running errands) she stopped by with a bag full of party goods. Bless her heart! She made umpteen stops at various stores searching for the necessary decor. Once found, she bought extra for us and dropped them by! I would never have gotten to the party store to make this happen. So thank you Leslie! And by the way, HAPPY BIRTHDAY!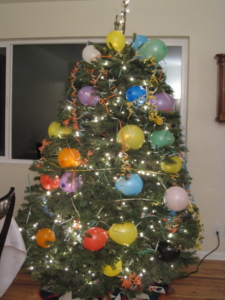 New Year's Eve we took off the Christmas ornaments then blew up balloons and stuffed them into the tree. Some popped. Ali cried. (We had one crispy tree by New Years Eve.) But most balloons made it into the boughs unscathed. Then we blew streamers all over the tree. Have you ever tried this? Fun party trick. The girls LOVED our newly-dressed tree!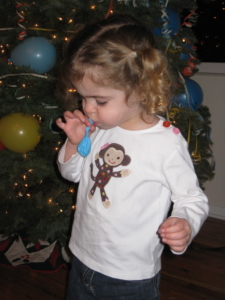 They blew their horns, mastered their punch balloons (thanks Martha and family), and rocked out to Van Halen – Jump! (Dancing is a favorite pastime at our house.)
Then around 7:00 PM we did our own countdown. Yes a little early, but it was New Year's somewhere off the eastern seaboard, right?
Counting backwards took a little practice. We're still not very good at it (see video).
Then we rang in the New Year with much gusto! (As much as you can rally with seven people – the majority of which are not potty-trained and go to bed before 8PM!) After lots of horn-tooting, jumping and balloon punching, the girls watched a movie with Dad (complete with popcorn and treats), tucked their shoes under the tree and were whisked into bed by "The Bear" – aka Dad. The girls love to run around the house terrorized by this huge hulking beast who growls, tosses them around, and tickles them like crazy.
What's that you say? Shoes under the tree? Oh… Yeah…
This is a tradition from my Mom's side of the family. I think it hails from the Dutch Christmas custom of putting wooden shoes out for "Sinterklass" to fill.
In our family we put our stinky sneakers under the tree and the New Year's Eve Elf fills them with little goodies, do-dads, money, and occasionally… he switches them out for a new pair of shoes! The girls were very excited about it. (Not that we needed more candy, or one more Elf outing to the store!) But filled were our shoes on New Year's morning!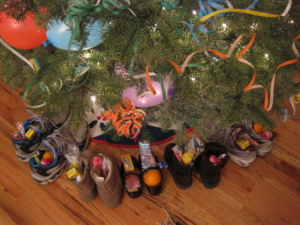 Welcome 2010! I'll post about Christmas later this week. Until then, here's wishing you a happy, healthy (down with cancer!) and prosperous New Year!