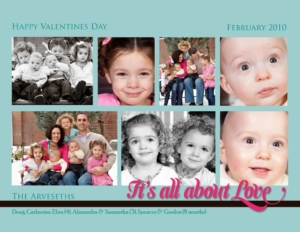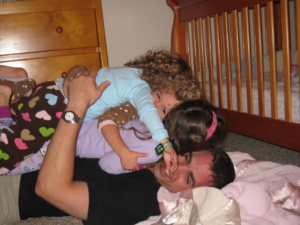 Doug made valentines for the girls today. He used this photo and below it wrote, "I can feel the love."
Tuesday morning after Doug left for work, Sami sat at the breakfast table dejected. "Mom. Why does Daddy have to go to work?"
"So we can have food to eat" I replied. Simple as that, right?
"But I'm going to MISS him!" she pined, her dramatic intonation slinging the word "miss" up an entire octave.
And she does. They all do.
Even in the freezing cold of evening, when the garage door opens, all three girls escape. Bare feet on cold cement. Out through the garage to welcome him home.
My girls love their Daddy. And so do I.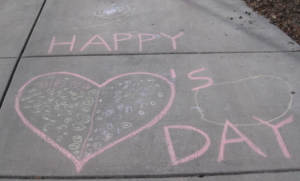 Chalk Art with Doug
Portrait of Mommy by Eliza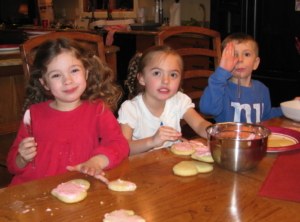 Sugar cookies at Grandma Ronda's on Valentine's Day. With cousins Lizzie and Ty.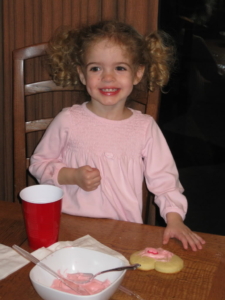 And some wonderful news:
Mom's last MRI in January showed no tumor growth. Her reward for being such a good patient? Three more months without chemo! Yippee!! We'll reassess and re-image in April.
Mom – WE LOVE YOU!
And we love all of you – dear friends. Our snowed-in Virginia friends. Our friends galavanting to far corners of the globe. Our new and old friends in the Beehive state. And of course, our wonderful families.
Can you feel the love?
Happy Valentine's Day Everyone!