I love birthdays. Making a big deal. Filling requests. Celebrating a life. I love buying balloons, making a special cake, creasing bright paper, and tying bows.
We celebrated Ali and Sami all week long.
Our two 2-year-olds turned 3!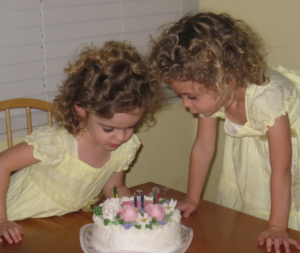 Three!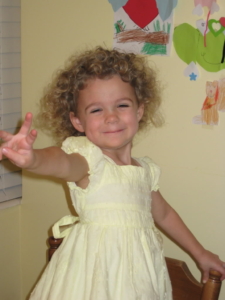 As soon as January fell off the calendar, pink and red hearts appeared in our windows, waving hardy color against the sticks of winter. I folded red card stock, curled ribbons and looked at my wild-haired twins. Something inside me stirred and I remembered.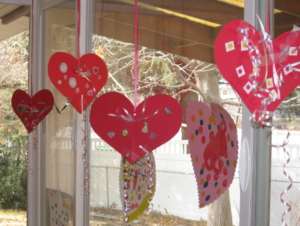 It was LOVE that worked a miracle one February evening when our girls came. So early.
We could have been somewhere else when the seizure happened. Unexpected. But there we were, walking through the doors to Labor and Delivery. Nausea and a headache. Those were my symptoms. I felt miserable but figured I would be home in a day or less.
Pressing the call button is the last thing I remember. For a frightening hour Doug thought he might lose all three of us.
Then I woke to his anxious face. His words. "You've had the babies Cath. The girls are here."
They came in a panic of cutting and bleeding. Unconscious. Blue lips. Silent.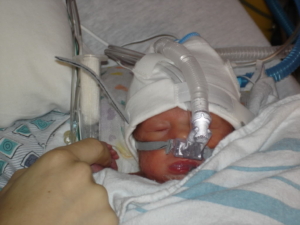 (Holding Alexandra for the first time.)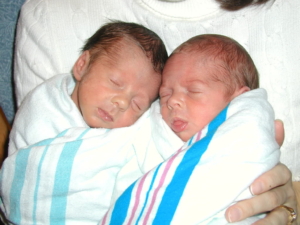 Hard to believe. As I watch them tonight – tickling and squealing, chasing each other in and out of the kitchen.
They are here. Bursting with color. Cheeks red with life, pink lips spreading, bright patterned skirts twirling above the clickety-clack of their princess shoes. Each wearing a white shirt scratched with an array of washable markers. They are vibrant.
A loud energy bounces off our walls making the thought of their absence profound. They are what matters. They are my life.
No doubt it was divine that their coming happened when and where it did.
Ali and Sami. Our Valentine Miracle.
On the actual B-day, the girls chose their favorite meals. Orange rolls for breakfast. Ham and cheese sandwiches for lunch. Homemade macaroni and cheese for dinner. With Broccoli.
Doug brought home a
Backer's cake
– per his family tradition. We sang, they blew candles and opened their gifts from Eliza.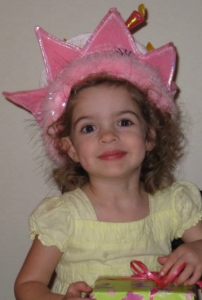 Saturday we had a little family party. Grandparents and Aunties came (and Uncle Lance!) The girls were just a little excited.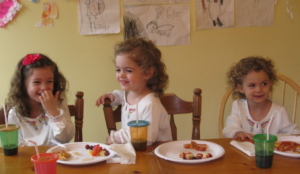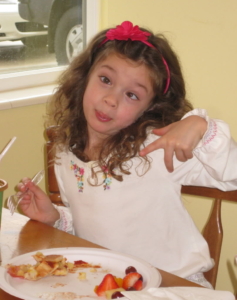 And silly. Eliza recently mastered the cross-eyed face. She didn't believe me (even for a second) when I said her eyes might stay that way!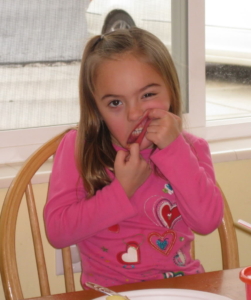 This is her cousin Lizzie. Also making a silly face. Excellent Lizzie!
This was my favorite picture of the day. The way Sam's knees are turned in. The two of them holding hands. Brown eyes sparkling.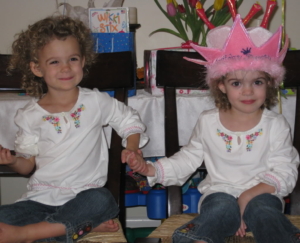 "Now. Show us how old you are!" I say.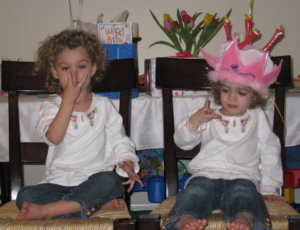 I love the concentration.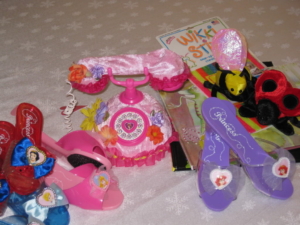 We opened presents. Everything was a hit. Fancy Nancy phone and Princess shoes from Grandma Nae and Poppa Jim. Books and Wikki sticks from Grandma Ronda and Poppa Bob.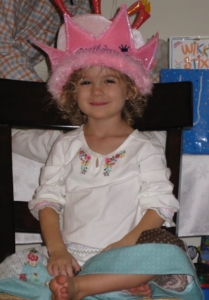 To-die-for twirly skirts made by Aunt Deb (my sister). Oh to have her talent! (More on that later.)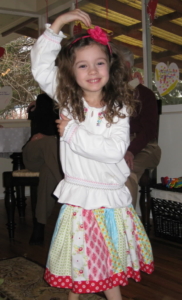 Look at all that gorgeous fabric. Of course, she didn't leave Eliza out. Deb – the girls have been spinning ever since!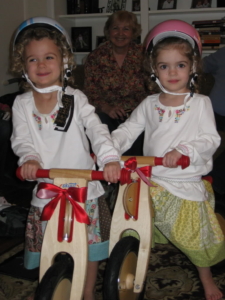 And
Skuuts!
Have you seen these things? They're a blast! The perfect transition for kids from trike to bike. Basically, they're a bike without pedals. Our neigbor friend, Jake, hauls on his. Learn more
here.
The girls were SO excited! Especially about their helmets. (Notice my Mom's happy face in between the girls. I love it. She was enjoying it just as much as they were.)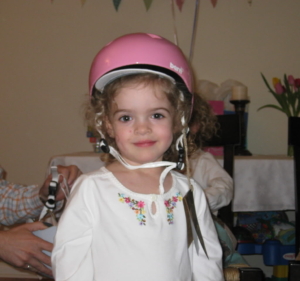 Sami wore hers the rest of the day (until bath time). And they rode a path into our hardwood floors making circles through the living room and kitchen.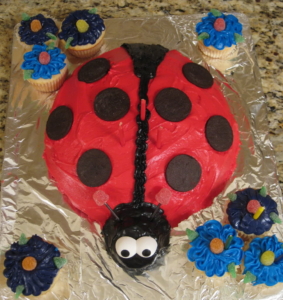 It took me most of the week to make this Lady Bug cake. Sami wanted a lady bug. Ali wanted blue and purple flowers (her favorite colors). So I did the frosting the night before, but baked it a day early, bought the necessaries a few days before that. And truth be told? We didn't even EAT it! It was hard as a rock!
I left the dome cake in the oven for over 45 minutes trying to get the middle to cook. Which made it a cinch to frost but not very edible.
And that intense jelly food coloring you buy in little jars? Also not tasty. So the morning of the party I ended up making a whole new batch of cupcakes so we would have something to eat!
Erin – thanks for the email tips on the cake. You're fabulous! And the eyes? Great trick I learned from my sister in law, Alisa. Pilfer them from Mr. Potato Head.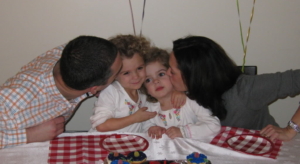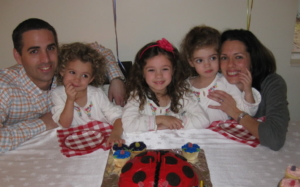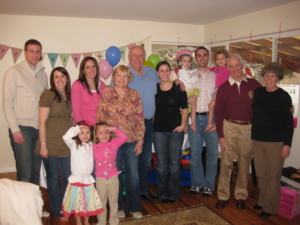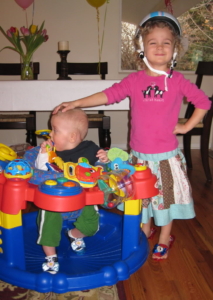 It was a grand day.
Later in the afternoon I walked into the living room to find this endearing sight.
Check out Spencer's shoes. Yes – they are light blue Cinderella heels with sparkles! Oh so charming. Courtesy of Ali (who was still wearing her BLUE racing stripe helmet) and did not want Spencer to feel left out.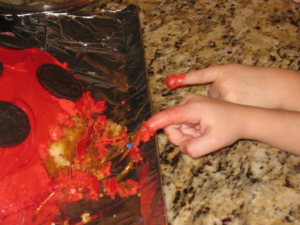 Turned out the cake wasn't that bad after all. At least for little taste buds. I caught this photo about 8PM that night.
Happy Birthday Ali and Sami! We love you, love you, love you, love you, love you, love you. More than we can say!