Last week I reviewed two new children's books on Meridian.
The first is an Easter book, called Easter Walk by Deborah Rowley.
Sweet story with wonderful lessons that teach the true meaning of Easter. Click
here
to read more. And find out how to take your own Easter Walk with your children. We're planning ours for this weekend.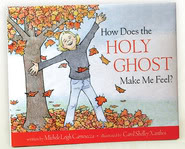 The second is a bit more doctrinal when it comes to the Mormon faith – but would be appreciated by most Christians as it is based on Paul's description of the "fruits of the spirit" found in Corinthians.
How Does the Holy Ghost Make Me Feel?
is written by Michelle Carnesecca. I absolutely loved
this one.
Because Latter-day Saints feel so strongly about following God's promptings and recognizing when He is speaking to us, I am surprised a book like this didn't come out sooner.
But here it is! Each illustration tells a small story of its own – which led to some great discussions. A wonderful teaching aid for Family Nights or Primary teachers.
And completely off-the-subject: I received this photo from my sister-in-law (who lives in Philly), taken in front of her computer.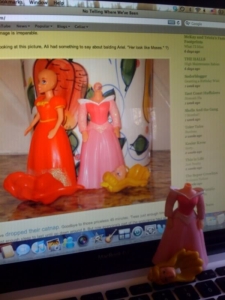 She was reading
this post
about our perfect storm and noticed – they have the SAME guillotine at their house! (Courtesy of cousins Abby and Emma.)
How comforting to know the mournful little deaths of childhood are rather universal. Thanks for the good laugh Hillary!
ps – Note that Sleeping Beauty is even wearing the same dress! Which is nothing short of a miracle since most of these dolls roam naked at our house. Only parents with oodles of patience and super finger strength can get those clothes on!