"It's Round-Up Time! And you're on the Most Wanted list to celebrate Eliza Kate's 5th Birthday!
Ride on over… Chow Time is at High Noon… Lunch, Games, Cake, and Campfire…
all Buckaroos will Saddle Up around 2:30 PM"
Eliza's birthday was also our moving day. Her party was scheduled for Memorial Day weekend and despite the chaotic week, I was determined to forge ahead. She'd been looking forward to her party for months.
My parents' backyard turned out to be the perfect place. More room, a fire pit, more "hired help" (translation: family), and miracle of all miracles – the sun broke through just after twelve. So everything came off without a hitch!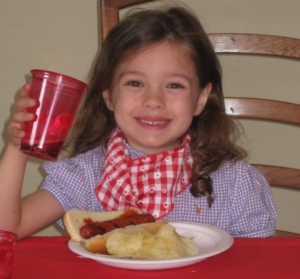 We had a rootin' tootin' good time. First off – we made sure everyone had the right duds. Cowboy hat and red bandana. Then we fed those hungry cowgirls.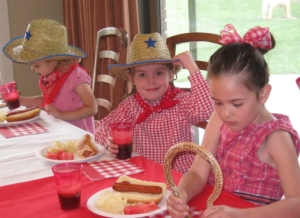 We had dogs off the grill (my dad kept calling them "warm puppies" – he was our Chuckwagon Cook), potato chips, watermelon, and root beer. Then we clip-clopped outside for games. Stick-horse relays (no pictures – which is too bad – because this was hilarious!), Shoot Out with squirt guns and tin cans. Check out these gals. They were dead-eyes. I love all those little gun-slingers peering out from behind each other like dominos.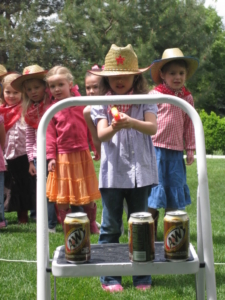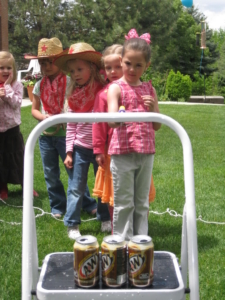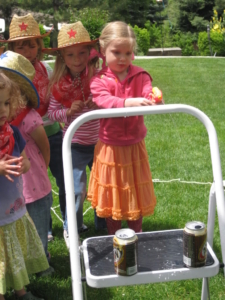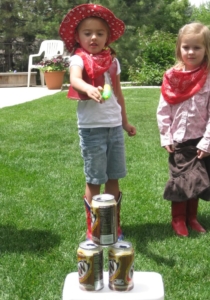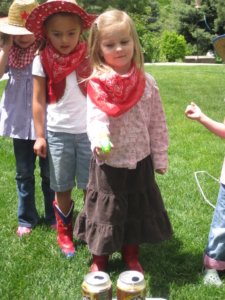 "Nothin' to it."
We played Snake Toss into the cowboy hat.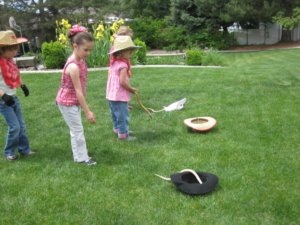 And the favorite: Rope 'n Ride! Our sweet cousin Lizzie agreed to share "Bucky" – her life-size pony – for the party. The girls sat on Bucky and tried their darndest to rope a calf. A few of them roped him their first try!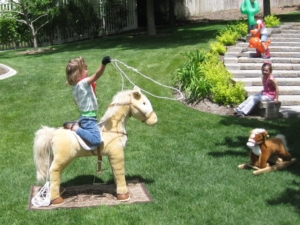 Love Emma's form!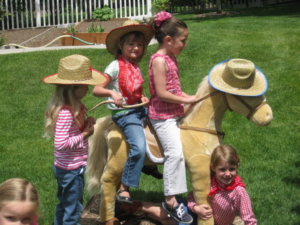 Check out this video of Eliza.
Once the girls played all the games, they were awarded their Sheriff's badge.
We sang the birthday song, and had cake and ice cream.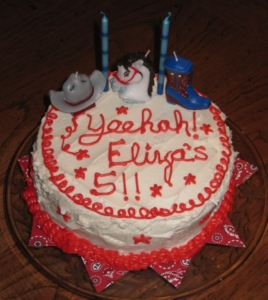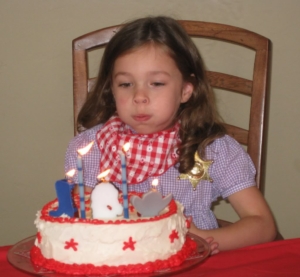 Eliza opened presents. The girls giggled like crazy as we played "pass the present" to "The Devil Went Down to Georgia" (kind of like musical chairs).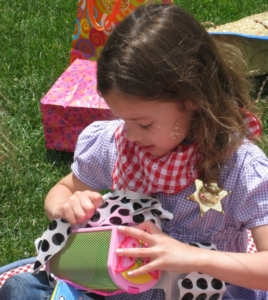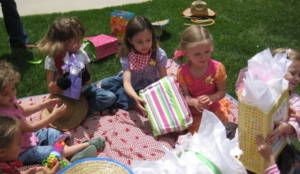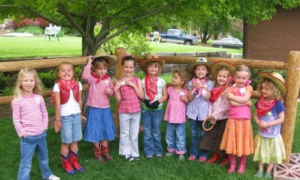 Then we gathered around the campfire to listen to some cowboy stories told by the notorious Big Black Bob (Eliza's Grandpa – for some reason he wore his brown hat instead of his black). My Dad is the ultimate story-teller. We didn't get a very good fire going so the girls were a bit distracted by the smoke. But Big Black Bob had their eyes poppin' with his tales of Pecos Bill, Buffalo Bob, and Jumpin' Jack.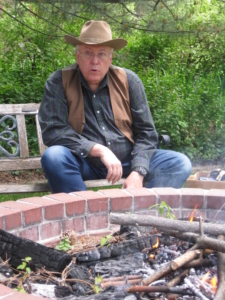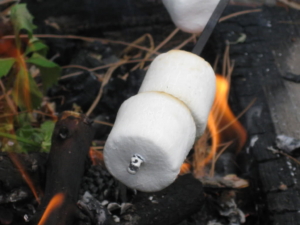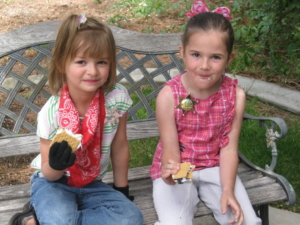 We made 'smores (I know… I went a little overboard with the sugar that day). But we couldn't do a campfire without roasting marshmallows! Then, as "the sun began to set," we sent the girls home with their party favors. Red Rope licorice, cactus suckers, cowboy stickers, and little stretchy ponies.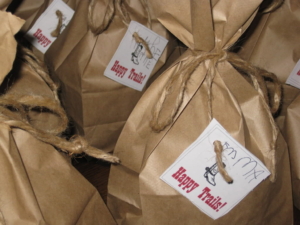 Here are the ranch-hands that made it all possible. There is no way in sam's hill I could have pulled this off without help from my family. Doug made the best lariat rope, kept all the games going (and the fire). My Dad played his part perfectly. My Mom and Doug took care of the boys. My sisters were everywhere and anywhere – whenever I needed them, helping with set-up and decorations, pinning on badges, refilling drinks, passing out plates, consoling one of the twins, picking up trash, and making me bust up into fits of laughter.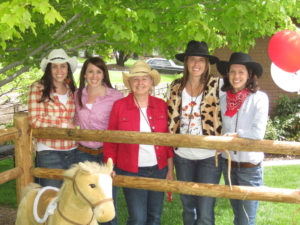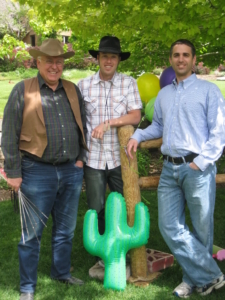 We kept the cowboy theme going throughout the evening in celebration of my brother-in-law Lance's birthday. (Sorry I don't have a better picture Lance!) You must know, my girls ADORE Lance. He was at the top of Eliza's birthday invitation list.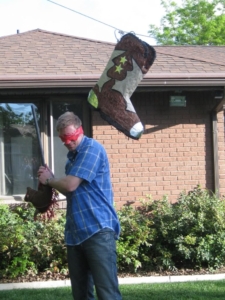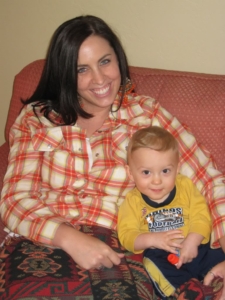 Rachel with Spencer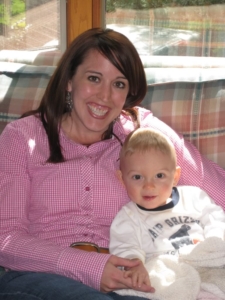 Sarah with Gordon. Look at his hand around her finger. I love my sisters.
It was quite a day. Great fun! And nice to come back to some of my Western roots. Listening to Chris Ledoux made my heart get all tingly inside.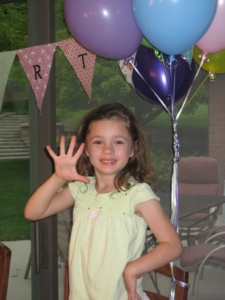 As for my "Liza Kate" – she owned every bit of her 5-year-old birthday. "See!" she'd say, after asking someone to measure her height. "I've grown… I'm 5 now!" She is one proud girl. And I'm one happy mama – so grateful she is mine.