Thirty Stumbling Mothers Share Glimpses of Grace
That is the subtitle to Kathryn Soper's new anthology. Her first, The Mother in Me (published last year) was a stunning collection of personal writings by LDS women about growing into motherhood. The sequel, Dance with Them, is equally poignant and moving, but can be enjoyed independent of the first. So far, it has been my favorite mothering book of the year.
I reviewed Dance with Them for Meridian last month. It's a compilation of essays and poetry written by women who, as Soper puts it, "get up every morning to attempt the multi-faceted balancing act we call mothering – particularly, the mothering of school-age children." While The Mother in Me focused on mothers with children ages 0-5, Dance with Them is written for mothers with school-age children.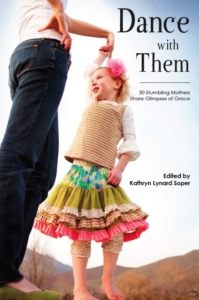 The cover photo was taken by my friend Michelle. If you haven't discovered her blog, you must! Her photography is eye-candy. And her writing? Equally delicious.
Here's a brief excerpt from Soper's book, taken from Sharlee Mullins Glenn's essay, Dance With Them.
"When they push, you pull. Move with them. Make it a dance, not a tug-a-war. A dance isn't about power or control. A dance is about trust, connection, cooperation, flexibility, and fun. A dance is about two people moving together, however awkwardly, trying to make things work, trying to create something beautiful, something symbiotic. For beginners, the movement is often clunky and halting. Toes get stepped on, people stumble and slip, sometimes they even fall. But then, hopefully, they laugh (or cry), help each other up, and start again."
Giveaway!So – you're in luck! I'm giving away a copy of Dance with Them, courtesy of Kathryn Soper (Thanks Kathy!)
Just read my review on Meridian then post a comment here telling me what sparked your interest or why you'd like a copy of your own. I'll choose a winner (out of the blog-hat) by next Friday evening.
I can promise you – the book will not disappoint. Especially for mothers with a literary heart.
Kathryn Soper is the editor of Segullah (I've blogged about them before) – a literary journal for LDS women. I'm attending their first-ever writing retreat tomorrow. I've been looking forward to it for months (while simultaneously preparing myself to get ripped to shreds!) These women are great writers and I've submitted several poems for review with their poetry editor. I will also be reading a short nonfiction piece for feedback. Nothing like putting the old heart and pen out there for everyone to see. Truth hurts, right? But it's all for the cause of progress. If I survive the beat-down, I'll post about it next week.