Have you ever felt homeless? Been in between homes? Moved in with your parents…or in-laws? Lived far away from the place you call home? Or what about actually owning a home?
I've been mulling this thought over a lot lately: What makes a home?

We are currently "homeless" – living with my parents while we wait for our next rental home to come available. The home we own is on the other side of the country and due to a less than vibrant economic climate, we are renting it, rather than selling it.
For the last year and a half my husband and I have lived with our little ones in someone else's house – a darling remodel but pretty vanilla when it came to style. You can't do a whole lot to a rental to make it your own. And who wants to shell out extra cash to soup up someone else's income property?
Yet, we're going to do it again. Live in someone else's house. This one's a charmer; circa 1950's décor. Carpet in the kitchen. Floral wallpaper. You get the idea. However, in defense of the house, the neighborhood is amazing and so is the yard.
If you told me when we bought our first home (which we loved), in three years we would leave it to rent for an unforeseeable future, my stomach would have sunk through the floor. What? No way!
But here we are – renting – with plans to buy (again) barely visible off the distant horizon.
Sometimes, I get a bit glum over the fact that I can't put myself into a home. Can't take on the projects I would if we owned something – the painting, the gardening, the play set the girls have been pining for. I can't seem to shake this faux feeling of permanence. Can't ignore the longings I have to sink down roots – somewhere – and make our little spot of earth, well…ours.
When I envision the rest of the mommy-world happily settled into their gorgeous homes, with just the right artwork on just the right colored walls, I wonder – are we ever going to arrive?
Then I snap back to reality and pause, does anyone ever feel like they "arrive?" Surely I'm not alone in this feeling of "homelessness."
Maybe you're in the same predicament – living in something less than your dream home. Or living abroad like my friends in Thailand and Ethiopia (which has been thoroughly exciting but not without its challenges). Living in Egypt, like my sister-in-law with her husband and two children, where sandstorms in recent weeks have been so severe they haven't been able to leave the house – where four out of ten of their AC units are down (it's 113 degrees), her oven is leaking gas and she can't find a repairman that speaks English!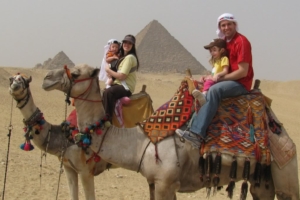 When you're home isn't the home you always hoped for, what do you do to make it home?

Our sojourn has given me the opportunity to sift through a desire for tangibles and the perfect roof over-head to discover "home" among the intangibles. I've had to focus on a feeling rather than a look. I've tried to laugh easily, make everyday moments memorable, feel deeply, and love a little more purely.
While surveying our last home on moving day, I stood in the living room alone. It was empty, silent and echoing – the void immense. All life and spirit had been whisked out by those who used to live there and I thought to myself – homes really are no more than the people who live in them.
Truly, home isn't just where the heart is, it's what's in our hearts. Home is where safety and acceptance reign, where we gather (on all kinds of furniture) to grow love and shelter dreams. It's where we hang our hat, fold our underwear and wipe up spilled milk (or smeared Nutella.)
No matter where we live, we can create the feeling of home; women are masterful at this. I've recently been reminded – it's not about the height of the ceilings, the hardwoods in the dining room, or the antiqued kitchen cabinets with chocolate glaze (which, of course, I am still holding out for). It's about filling our homes with all that is good, and true, and tender.
New England poet, Sarah J. Hale (1788-1879) wrote, "Nor need we power or splendor, wide hall or lordly dome; the good, the true, the tender, these form the wealth of home."
As I knelt by my Ali-girl's bed tonight, she told me in her soft whisper-lisp about the day. I feigned a cough when laughter threatened to escape – she was looking at me with such seriousness as she detailed her three-year-old spin on life.
"Mom. I had fun today. Poppa is so silly. He says rhinoceros every morning…I loved looking at Grandma Great's jewelry…It's so pretty…Remember, we watched the birds outside in the wind today. The trees were blowing…Mom – the bird food is almost gone! We need to fill it up…Mom, I want to hold a bird…Can I hold a bird?"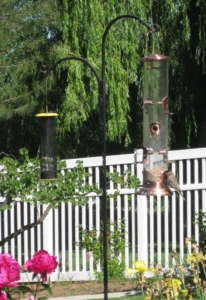 Her words brought a wash of images to mind and I felt grateful. These past few weeks of "homelessness" have found my girls tucked into the couch with their Grandparents reading stories, planting bean and pumpkin seeds in the garden, waking up to find Grandma so they can slip quietly underneath her arm for a hug. I've seen my boys erupt into fits of giggles with my Dad, play peek-a-boo with my Mom, and more than once I've seen Ali outside gently flitting across the yard chasing after a family of robins.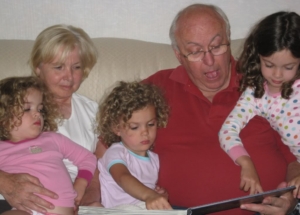 We are living out of suitcases, sleeping in beds that aren't our own, and most of our belongings are stuck somewhere on a moving truck – but we're still experiencing the good, the true and the tender. These things can be forged anywhere.
So what makes a home? The family that lives there. The wealth? It lives inside of them. A realization with which I am very much at home.
This article was posted at Power of Moms today. I'd love to hear from you over there.
And don't forget to post a comment here if you'd like to win a copy of Segullah's newest book, Dance with Them.
More about the writing retreat next post. Yes – I survived the beat-down. It was good.