I've been MIA, incommunicado, offline. For a while. Last Thursday we packed our last box, cleaned the last room, and magic-erased that final scuff mark off the wall. It was a week full of sorting, stuffing and taping late into the nights, fabulous friends who took the girls, and the world's best neighbors and family who pitched in when it came down to the wire. By dinnertime Thursday evening, our little house on the corner was locked tight, sparkling spic and span - ready for its new owners.
As the moveres hauled the last couch out, I stood alone in the living room. It was empty, echoing, void. The love was suddenly gone, whisked away with the people who used to live there. The house just a shell again. Ready for someone else to resurrect, bring back, make new.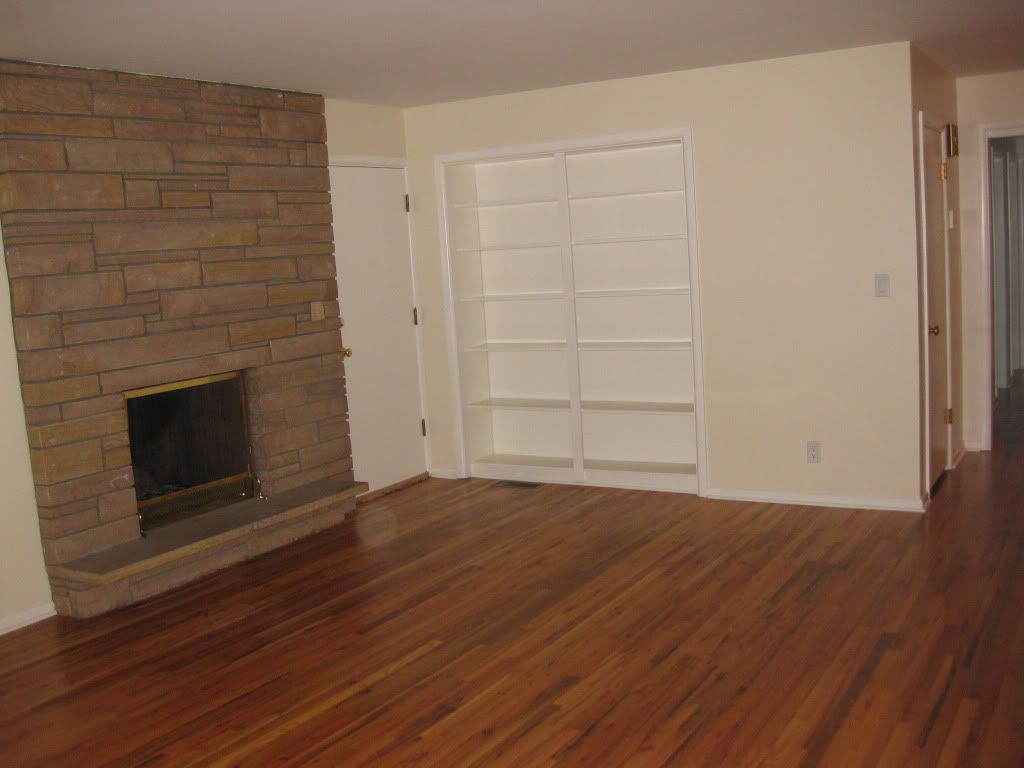 I was hoping to stay long enough for my favorite flowers to bloom. Peonies. From the first sunny day when I freed those green blades choked by dead leaf, I've been watching. Watching them flourish, spread, reach. Forming bright pink bulbs balled with nectar drops, ready to explode. But it has been too cool. And we left too soon.
Now we're here. Living with my parents - for a brief interim. Only a few minutes away from the old neighborhood. Half our things are sitting in a truck somewhere (bless you Mike!). The other half (our kitchen, the kids' beds, and other odd accoutrements) are jammed into my parent's basement and garage. We have invaded. Yes - that is definitely the right word. We are everywhere. But they don't seem to mind. Really. My parents have been saintly, silly, welcoming. And my children are very much at home.
So we are settled - or rather unsettled - but happy. We're hoping to land somewhere nearby, but nothing is in writing yet. Still waiting for things to shake out, come together, work. Waiting is hard.
The girls found "sun parasols" this morning for waltzing around the backyard. We helped my Mom plant her beans and pumpkins. She furrowed the rows, the girls dropped seeds, and we all cupped soil in our hands to carefully cover those latent specks of existence. A burial before birth. Blindness before the light. Not so different from each of us.
Before we move out, those beans will sprout. It happens so fast. Kind of like the end of our waitings. (In retrospect.) They can come to an end so quickly - so beautifully - that we forget how long and hard they really were.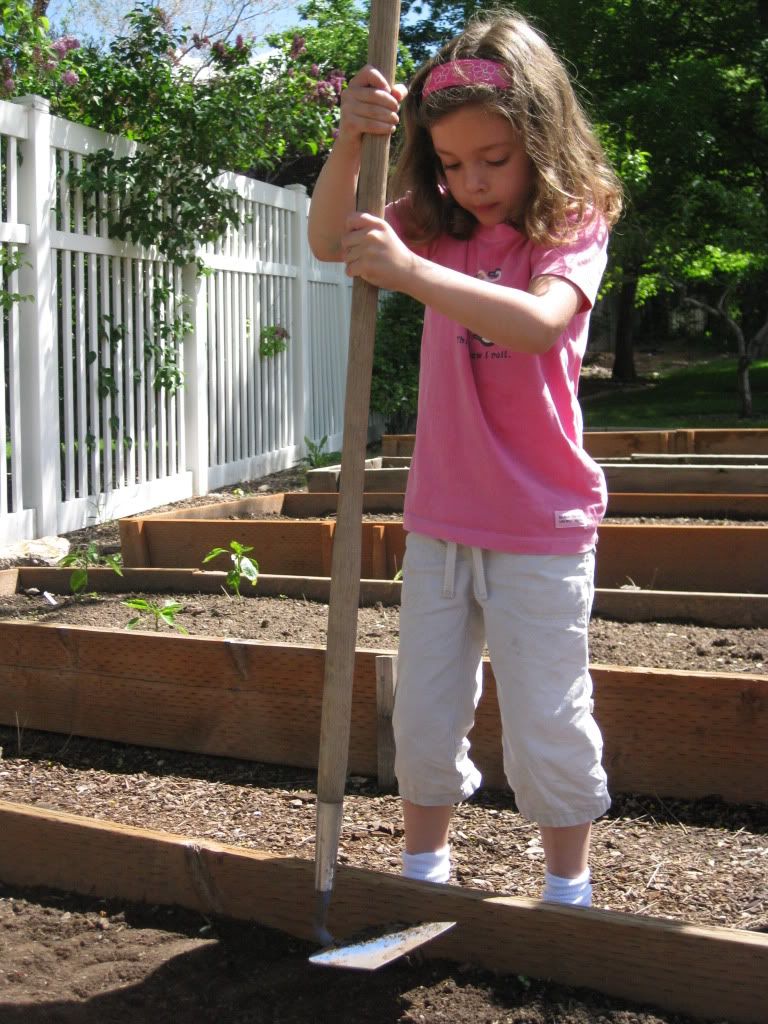 The girls will be ecstatic. To watch their beans sprout, to explore their new home.
My Mother's yard is teeming with irises. Irises like the ones left at Grandma's grave this year.
And one spectacular poppy has flared open - the stem on fire.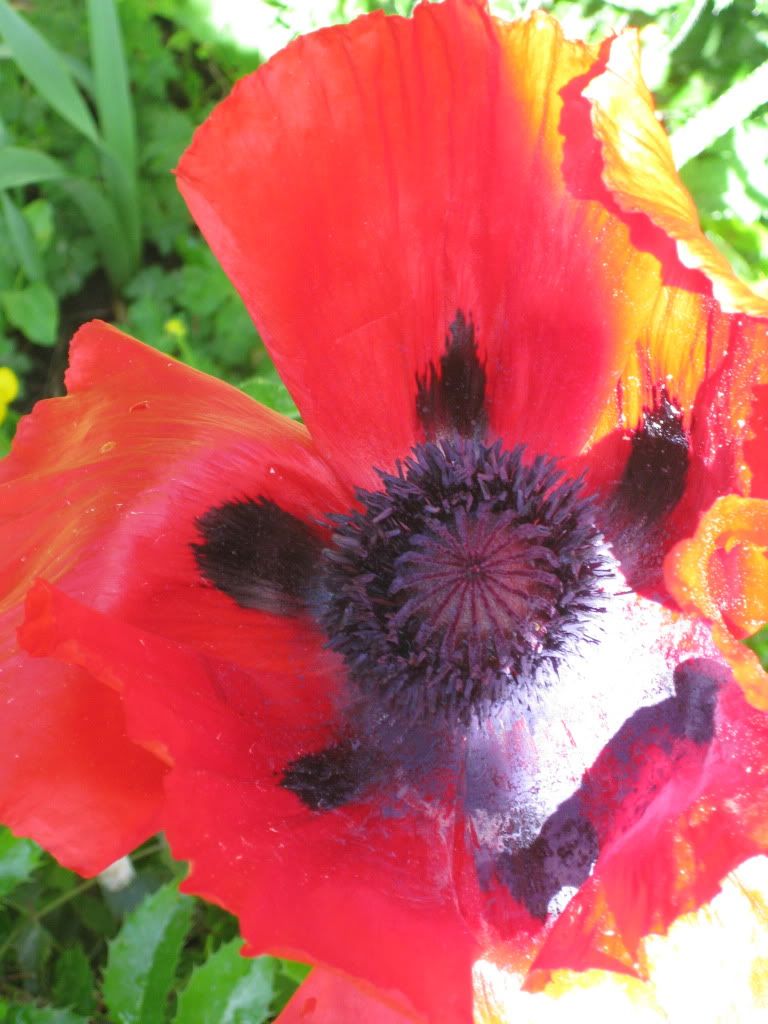 It feels good to be here. There is something to be said for coming home to the place of your childhood - the place where so many dreams took flight - where memories rise thick and belonging comes easy.
After the move, Eliza's birthday party, a visit from out of town friends, and several family get-togethers, I've drifted into standby mode. No real energy to take on something new, do extra, or be productive. I have felt... slow. Quiet in the mind. And tired in the body. I lost my voice Sunday. Still haven't found it.
Must be in recovery phase. Yes - that's where I am. And thank goodness this is a safe place where I can check-out. I've needed it.
Anne Morrow Lindbergh writes,

"We insist on permanency, on continuity; when the only continuity possible, in life as in love, is in growth, in fluidity."
So on with the waiting. On with growth and trying to be fluid. On with life. And of course, change.