It was the end of our first week in the new house. Doug was at Home Depot (second trip of the day). I was cleaning up dinner, fixing bottles for the boys, had just pajamed the girls, and was encouraging them to find something to do while I put the boys to bed.
Eliza pulled out her crayons as sweet light moved softly along the mountains outside our kitchen window. An orange orb hovered over the sink through the opposite window, slowly setting. The kitchen in our new place is large (larger than before) and has plenty of room for our kitchen table. We can finally fit all the chairs in without scraping walls as the kids push them out.
I doubt I will ever get used to the brown and blue carpet in the kitchen – especially with two boys in high chairs who recently decided dropping their food off the edge of the tray is a sneaky and hilarious game. But after hours of scrubbing wallpaper in the kitchen – just to get it clean – wiping down the dusty blinds and removing the drapes, this space was beginning to feel almost, maybe, just a little bit, kind of like home.
I spent a few minutes washing dishes, changed the boys' diapers, then swooped Gordy up to carry him to their bedroom. As I was about to walk out of the kitchen, Eliza brought this picture to me.
"Wow!" I said. "Did you just draw this?"
"Yeah" she replied. "Do you like it Mom? It's our new house. And that's me. Next to my new house."
I hugged her to my side with one arm and praised her – telling her we needed to frame this one.
She looked pleased. And I could tell she was genuinely happy about her new home. She loves the floral wallpaper in Ali and Sami's room. And the pink and blue bathroom with pink cupboards, two small sinks, and a geriatric tub seat that can lower and rise with the push of a button? The bomb.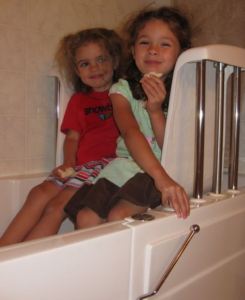 I held her chin and smiled as our eyes met. My face felt tight, my eyes and lips cracking through a set of furrowed lines as I realized those "happy" muscles hadn't been used in a while. I'm embarrassed to say it felt out of place to… smile.
I've had tunnel vision this past week trying to get the house clean and livable. I've put off the girls, been easily annoyed, felt tired from fighting a bugger of a sinus infection, haven't been playful at all, and truthfully, I haven't smiled much.
I looked at Eliza's drawing and refocused. Took off the blinders. Shed one thin layer of self, worry, and stress.
I thought of her, them, us.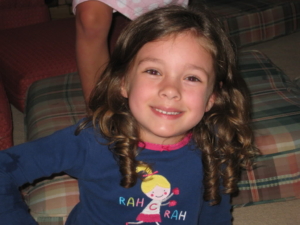 Put away the Pine-Sol, I thought. And look around.
See.
Be.
Look what you have.
It seems simple enough, but sometimes I have to be reminded to smile.