It was June. Our family of seven crowded around the candles… and blew. Spencer and Gordon were one year old! Beyond the regular birthday fanfare, this celebration was a big hurrah for survival.
I watched the boys race through the kitchen – crawling in tandem – their little bottoms swiveling with speed and I smiled gratitude. We survived one whole year with "five under five" and we're still standing. A little off-balance and slumped over, but standing. Any twin parent will tell you – "the first year is the hardest."
Part of me misses the bonding time with my tiny babies. I miss nursing, having a baby sleep on my shoulder, and the way they reached out for each other to hold hands. But a bigger part of me is cheering. I've surfaced. And the view from outside the inside of our house is nice.
Looking back, I'm amazed it happened to us. We couldn't have done it without many of you. Thank you.
Collectively, I think we're all glad the boys are mobile, can play on their own, sleep through the night, and shovel food into their mouths by themselves. Even my Mother said how relieved she was this July to be sleeping in her own bed – rather than leaving our house at 5AM after helping with night feedings.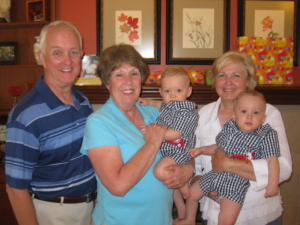 These two Grandmothers gave our family a whole lotta love this past year.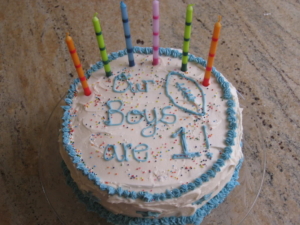 I made a cake. And Doug was worried it wasn't masculine enough so he added the football. Did it help? We had a good laugh wondering if it looked more like a leaf with stretch marks.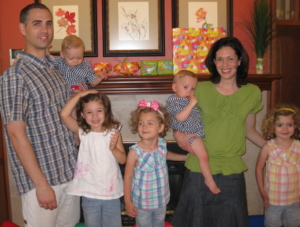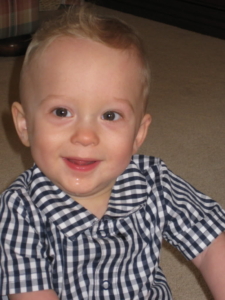 And here are the boys. I think they're looking less alike. Maybe it's just me.
Spencer has surprised us by saying "tickle, tickle, tickle" and a few other phrases Grandma Ronda taught him. He is bright and adventuresome but it's his softness that endears me to him.
The other afternoon I went to get the boys up from their nap and opened the door to a chorus of screams and giggles. I screamed too and the excitement accelerated. I love this time of day.
I picked up Spencer first, then Gordon, and carried them to the couch to set them down. Spencer clamored for me and cinched his legs tightly around my waist. So I didn't let go. He placed his head into that little crook below my neck – made just for babies – reached his left hand down to mine and wrapped his fingers around my thumb. I was his. He was mine. And it was sweet.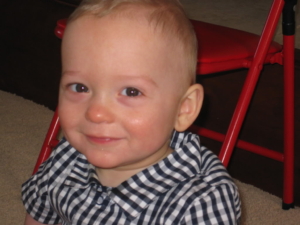 And this little guy makes me go all mushy. I'm crazy for Gordon. He's cheerful (most of the time). You can see the happy in his eyes. He's on the go – always busy exploring and talking. We exchange little blurbs of nonsense throughout the day and laugh.
He likes to share his food, say "tank-you" and cruise the furniture with a mischievous grin. I'm betting he's our first walker, even though Spencer crawled first.
While staying with my Mom, Gordy developed this affection for Grandma Ronda. It happened without her trying. He would move to catch her eye when she was in the room, peek around things to make sure she was watching him, and if he had a choice between Mom and Grandma, he chose Grandma.
Last week we stopped by to picnic on her back lawn and Gordy scooched right over to my Mom, leaned up against her and put his head on her arm. She laughed and gave him a hug, after which he repeated his love-gesture two more times. He's got some flirty eyes, that boy. And I can't get enough of him.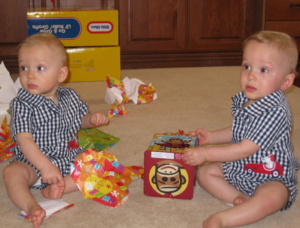 We opened presents. A sock monkey-in-the-box, race track from the girls, and ride-on giraffes from Grandma Nae and Poppa Jim.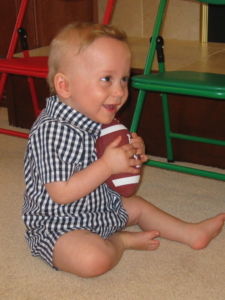 Footballs from Dad. Spencer's a pretty good catch.
And Gordy can already palm the ball. Do I encourage this?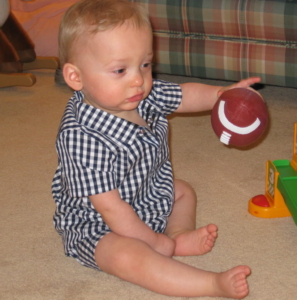 Then we finished with the traditional cake bash. A huge piece of cake for each boy to tackle on his own. They didn't waste much time.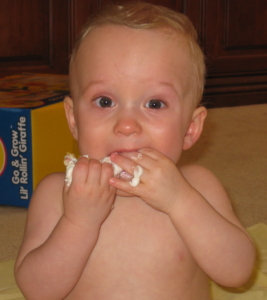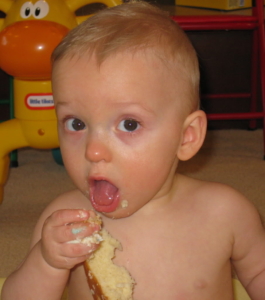 One.
A year mark with so much to celebrate. And a whole lot of gratitude to pass on.