I hold my tarnished tin cup to the sky and watch it pour in – a measure of golden light.
It's a slippery thing. At least for me. The ancients tell us to look forward with a perfect brightness of hope. But gather the unknowns, combined with the need to acquiesce, and my little cup of hope teeters in the wake of my questions. How long? What if we have to yield? What if our will is not His will?
Scripture says that our human ways often clash with the divine.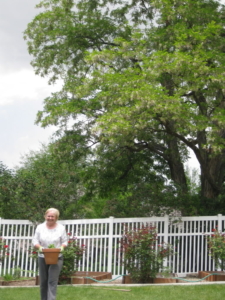 But on this day I watch her planting basil, green-gloved and vibrant. She smiles at my boys in the baby pool and it seems she will always be here – that our time together is long. I think this way when I am content and the world spins without interruption. Yet none of us are here forever. And maybe that's when hope comes bailing – rushing in like a balm, an opening, a streak of brilliant light. When we reach for what is eternal.
I wait for her text. It is the morning of her follow-up image. She's had another three months off chemo and now the MRI. I wonder what it will show. Is the tumor still lying dormant? Has it begun to stretch its subversive tendrils again? I try to explain it to the girls and they are concerned.
"Maybe a weed is growing in Grandma's head. We need to check it out. Maybe there's dirt in there!" says Ali. "Or a sunflower!" Sami shouts with big eyes. I haven't explained things very well but my clarification is stopped short with three little beeps. I snatch up my phone.
The tumor has not changed. I have another three months.
I breathe relief. We all do. And we feel the blessing. Three more months will mark an entire year that the tumor has done nothing but occupy space. We couldn't ask for more.
Like the double bow bending over her backyard, she shines through the storm. Her friends see her and think Hope. She is beating the odds. For how long? We don't know. For what reasons? Maybe the simple days of basil, boys, and wading pools.
Mom doesn't think too hard about it – tries to embrace the unanswered questions. Like why my cousin died at 36 of brain cancer leaving his beautiful wife and three young sons. It could plague her. But for now, she rises out of the shadowed valley – a symbol – a someone – for hope.
I think of Jesus, standing in golden perfection and hear His whisper. Some things are steady. Some things don't fade in minutes leaving only drops of prismed water. Some things stay.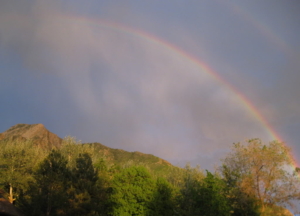 He waits. Ready to pour down the assurance of things unseen. This comforts me. It comforts her and she moves through the weeks unattached and unblemished.
I pull the tin cup to my body and grip the handle tightly.