Eliza clamored for the puffy envelope as I pulled it from the mailbox. A package! And the return address read…Ethiopia. Thanks to the US postal service it was forwarded a couple times but finally landed at the right place. How long has this been en route? I wondered.
When I told the girls a package arrived from Africa they knew it could only be from one friend. "Glori Sue! Glori Sue!" they chanted. Glori Sue makes it into our prayers often. She remains one of Eliza's favorite Virginia friends and the girls feel it important to pray for her in her far-away home.
Just yesterday morning as Sami prayed over our breakfast she said, "Thank you for the clouds, and the flowers – the pink ones and white ones, and please bless the baby elephant at the zoo, and the giraffes, Oh! and please bless Africa" (translation: Glori Sue).
Ali and Sami bounced impatiently while Eliza tore open the padded envelope.
Our friends,
Mitch and Marti,
left our Fairfax neighborhood nearly two years ago for a hardship tour in Addis Ababa. We've watched them (via the blog world) adjust to life across the big ocean, bolster their small area of the LDS church, feed missionaries, run high altitude trails, hold baby tigers, and wash their vegetables with Clorox.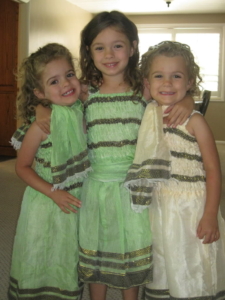 Eliza fell in love with Glori Sue's traditional Ethiopian dress. Marti – how did you know it would make the perfect gift? The girls were out of their minds excited. Also enclosed were two carved wooden animals for the boys.
So is this how we wear the scarves? Clue us in if we're way off. We've been wearing them as sashes and head coverings too. We love you and miss you Miles Family. Thank you!
Can you believe these three-year-old friends hugging on the front porch are now off to Kindergarten?
Time is flying. Flying way too fast.