Every so often I need out; something will throw me into total disproportion, and I have to get away from everybody - away from all these people I love most in the world - in order to regain a sense of proportion...
My special place is a small brook in a green glade, a circle of quiet from which there is no visible sign of human beings. There's a natural stone bridge over the brook, and I sit there, dangling my legs and looking through the foilage at the sky reflected in the water, and things slowly come into perspective...the birds sing more sweetly there than anywhere else; or perhaps it's just that when I am at the brook I have time to be aware of them, and I move slowly into a kind of peace that is marvelous, "annihilating all that's made to a green thought in a green shade." If I sit for a while, my impatience, crossness, frustration, are indeed annihilated, and my sense of humor returns.
- Madeleine L'Engle, A Circle of Quiet, 1972
I'm hoping for such a place the next four days. My own circle of quiet. Maybe it will be during the five hour plane ride. Maybe it will be a walk out to the harbor. Or a scenic drive down a New England road. Maybe it will be in the silent moments of introspection while I listen to other women chin-wag. L'Engle's words startled me. She said it without apology. But it is true. Sometimes I need "out" - time away from the people I love most.
It will be a period of discovery. For all of us.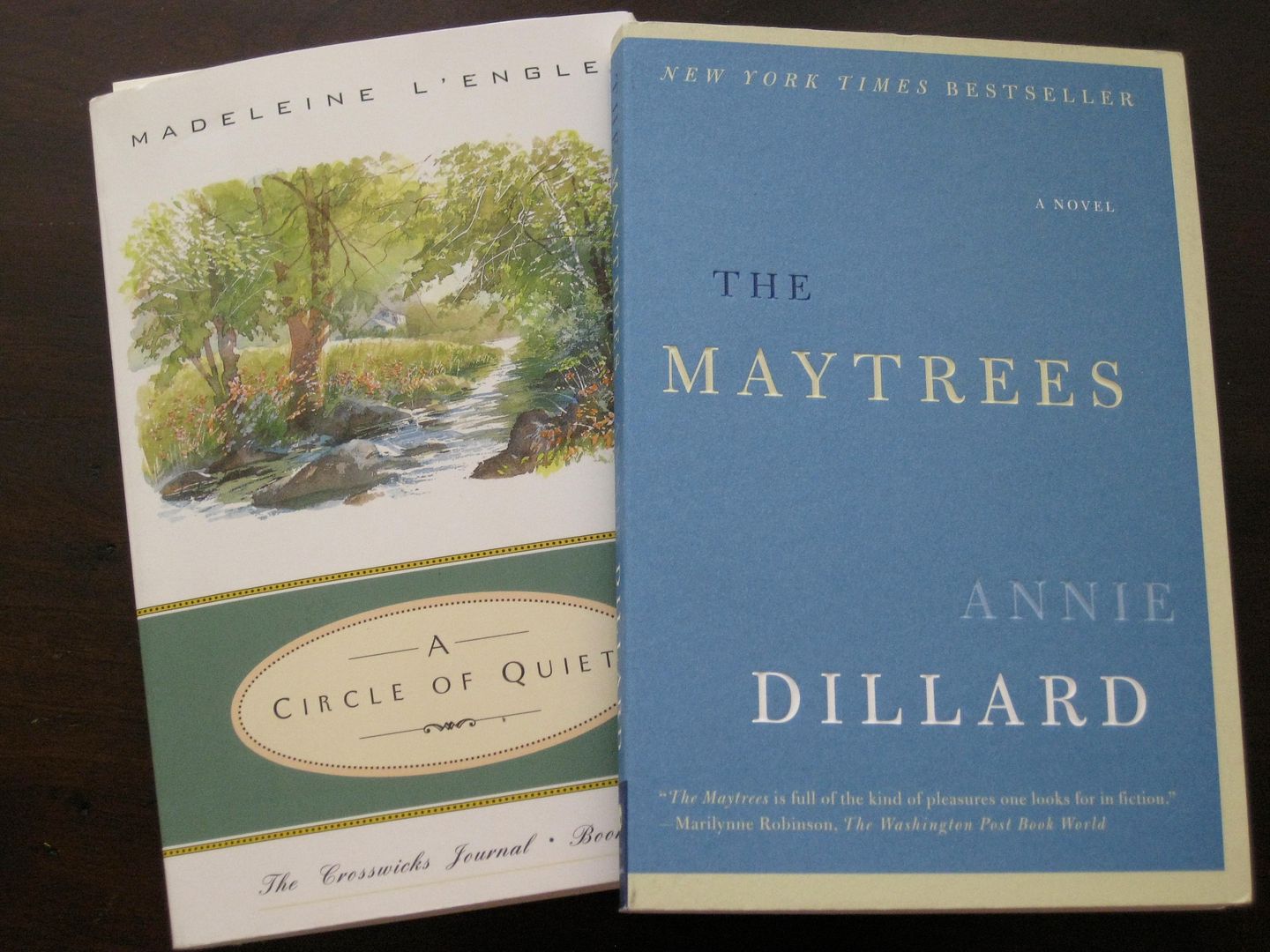 I'm taking Madeleine with me. Smitten by her Crosswicks Journals,

A Circle of Quiet

is the second I've read, but you needn't read them in order. Any one, at any time, will move you to places you'll wish you had traveled sooner. Her words are timeless, her wisdom sound. I want to live like her. Observant, lucid, and aware of all the richest meaning.
Annie is also coming along. I haven't begun her novel yet,
The Maytrees

, but I've been clamoring to crease the first page open
.
How can you go wrong with Dillard? Her language is like water. It is sustenance. It is life. Dillard captures the beauty of the human landscape in such a way you feel you've been privy to something sacred. Something so holy it would be sacrilege to share it with Everyone.
I leave for Boston tomorrow morning.
And then onto Portsmouth.
I have laundry to finish, a pasta dish to make, the house to tidy, bags to pack, six bodies to hold, and six faces to kiss goodbye. I'm leaving the people I love most in the world. They're my reason for going.
But I hope to return toting perspective and proportion to last us a good while.
I'll tell you all about it when I'm back.
After I've found my circle of quiet.
After I've opened the door to the warmth of home, knowing this is exactly where I belong.