I've been trying to write this post all day. It's 10:30 PM and I'm finally off my feet. I haven't written a
Twinspin
in months. I'd really like to create an online community of twin parents who can support each other by posting questions, giving answers, and sharing their own spin on life with twins. A Twinspin every other week - as posts come in, or I feel the itch to write about it.
If you're a twin parent, do you find Twinspins helpful, enjoyable, worth continuing?
If you're not a twin parent, please chime in. Are these kind of posts of interest to you... or not? (I have thick skin.)
Several twin moms are waiting in the wings to blog about their experience. And some of them have excellent questions to pose. But I'd hate for their questions to evaporate into the big black hole of the blog world - only to bounce lonely through the void of "no comments."
So I need some feedback...
Thumbs-up on Twinspins? Or bag it?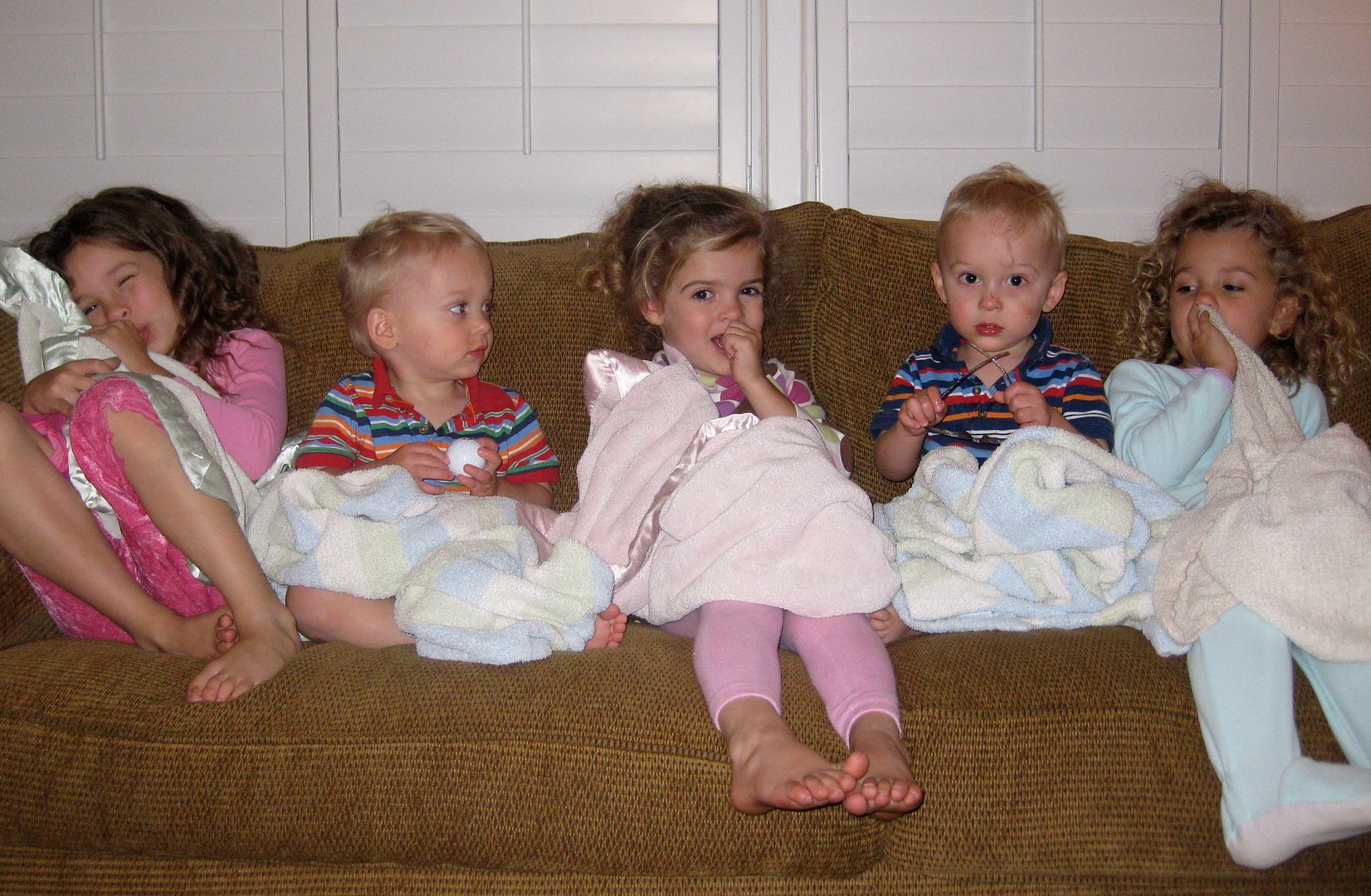 Reality Check




As for the post I've been trying to write today, it was going to be about comfort. Finding comfort for your little ones when you don't have enough arms to do the holding.




Just before bathtime I herded all the kids onto the couch with their mamies (favorite blankets) for a picture. (Etymology of "mamie" forthcoming.) The photo-op lasted a whole three seconds, then quickly unravelled into this.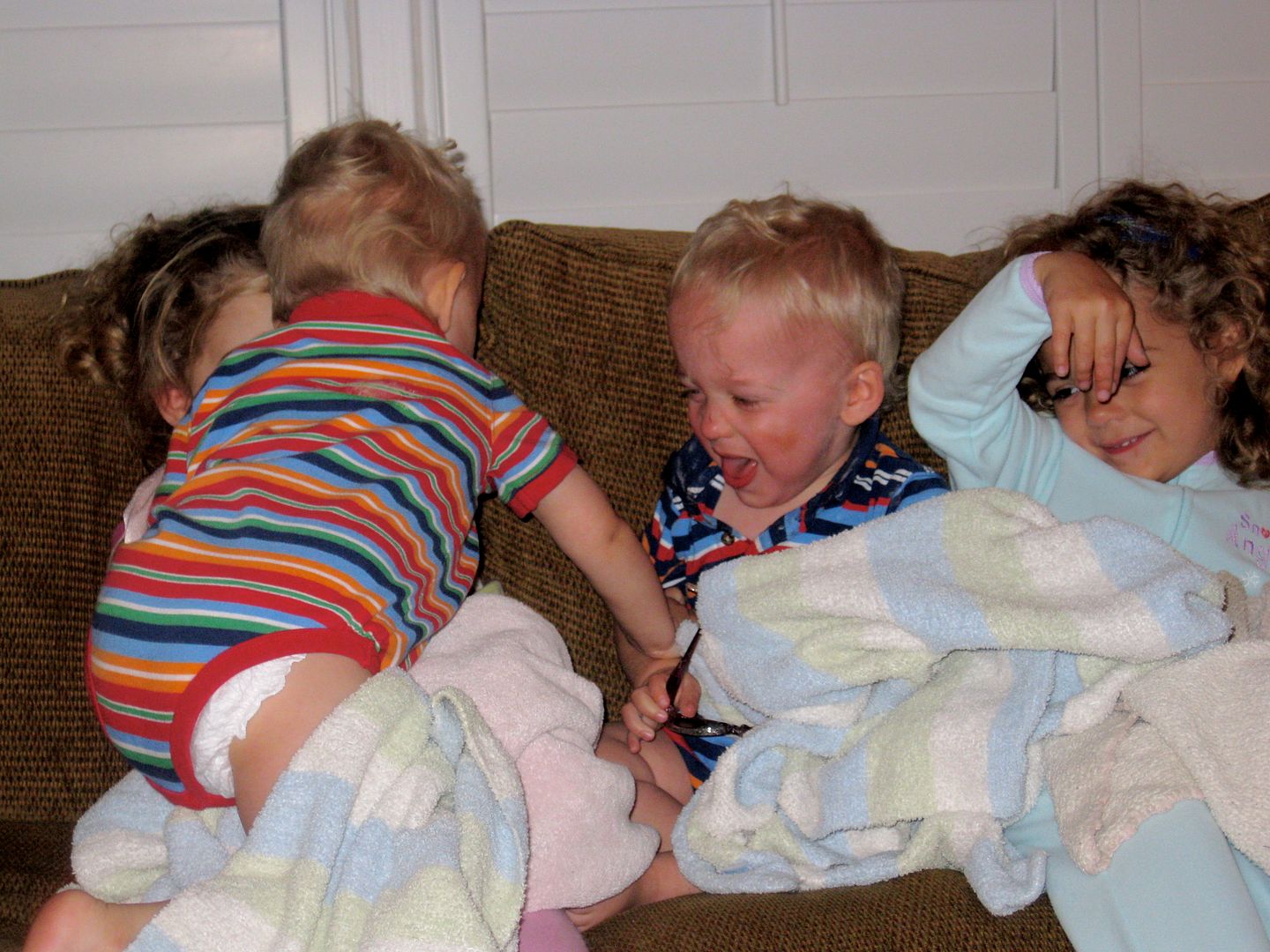 More contention than comfort. And my brain is so fried tonight, all I can write about is how we just kind of made it through the day.
I invited my sister Rachel over for dinner so we could celebrate her birthday. My parents came too. It was one of those things I

wanted

to do. I love Rachel and the girls had a blast setting the table for her big meal and making their own "cupcakes" for her.
Their version of a "cupcake" consisted of sprinkles and red-hots on top of a twix bar drizzled with food coloring, all contained (thank goodness) within the confines of a cupcake liner. Man. Those were some interesting cupcakes!
Unfortunately, it was so chaotic I didn't even think about pulling out the camera. We had a fun night (Happy Birthday Rachel! xo). But
I knew exactly what I had signed up for. Our guests had commitments right after dinner and Doug was gone so dish duty was going to be big.
By 9:30, with baths done and all little ones finally asleep, I strolled into the kitchen to survey the damage.
Here's some of the counter decor. I wasn't brave enough to take pictures of the food on the carpet, the stack of pots and pans and the range, or the double high chair devastation.
But this gives you a pretty good idea.
I walked in a circle for about thirty seconds shifting plates from one counter to the other (accomplishing absolutely nothing) trying to figure out where to start.
While the other half looks like this. One step closer to paint! The peeling project is in full swing thanks to Doug's parents. Indentured servitude seems like inadequate payment for their hours of help.
After vacuuming up the last clump of rice and parking the Hoover in the pantry, I sat down and ate one of these.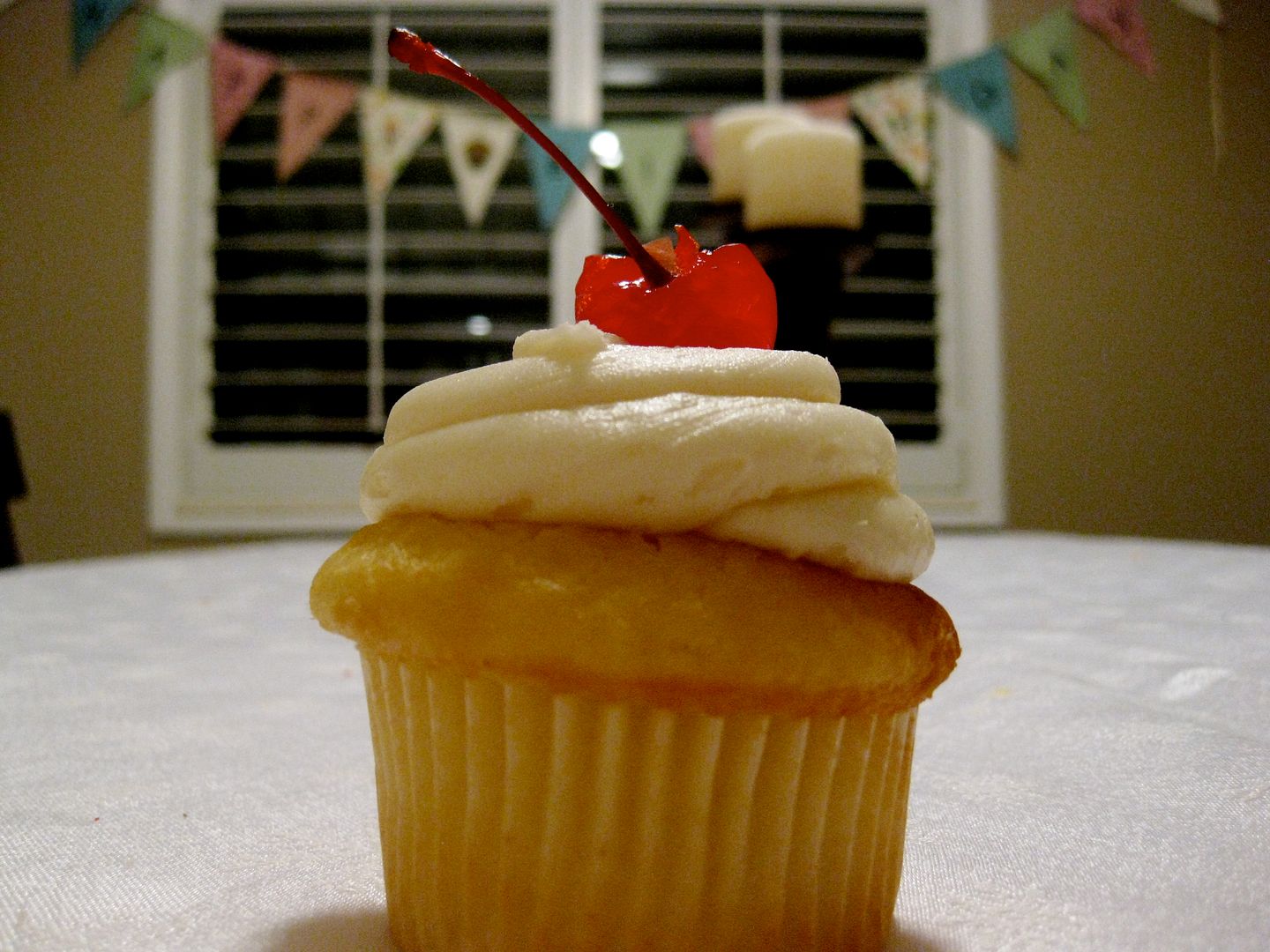 No I did not bake them. And no, I did not feel the least bit guilty that it was my second "real" cupcake of the evening. In a warped kind of emotional-eating sense, I felt I deserved it. Every moist bite of coconutty goodness.
So I guess that's my spin on life with twins tonight. Some days are more about survival than culling meaning out of all the moments.
And that's okay.
Please comment so I can determine the future of Twinspins.
I'd like to get a pulse on readership.
You can
peruse earlier Twinspins

here.