I wrote about what I am reading for Advent, but I've been trying to figure out something fun and meaningful to do with our girls. I called my sister Deb for ideas. I'm not genetically inclined when it comes to crafts or projects, but I can pilfer with the best of them. So we worked out the details and last night I put this Advent idea together.
I printed and cut out 25 stars.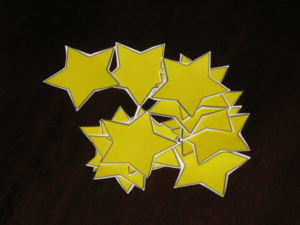 I went to the dollar store and spent $7.00 on treats and do-dads.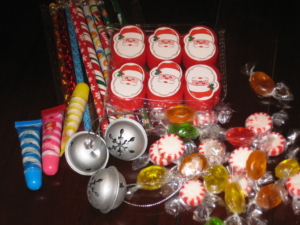 Then I placed a star and a treat in each pocket of this advent tree.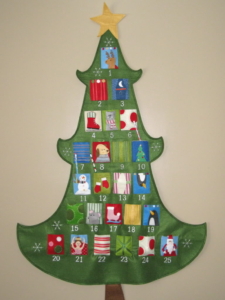 No tree is needed. My sister made (yes made) one of these last year, then gave it away. Very cute. But my creative juices flow in a different direction so I finally bought this one after three years of eyeing it in the catalog. You definitely don't need one. You can wrap each goodie separately or just use envelopes. One for each day until Christmas.
Eliza started us off today.
As she pulled her paper star and peppermint candy out of the pocket I explained the two items. "There will always be a treat or a prize," I said, "but it is the star that is most important. It's a service star! An opportunity to see a need. To do something kind for someone else in the family." I told them it had to be a service (not a picture or a note). Something like cleaning up someone's toys, making a bed, setting the table. And wherever they performed their kindness, they would leave the star so that person knew they had been served.
Eliza is cooking up something servicey as I type. I saw the twinkle in her eye the moment I finished my explanation.
A couple weeks ago, I noticed Ali and Eliza secretly carting a laundry basket stuffed with clean towels upstairs. A few minutes later they pulled me into the living room to see what they had done. All the towels were folded and placed in stacks – quite neatly I might say. They saw a need and did it. Together. My buttons were bursting. I had no idea they could fold so well!
So the secret's out. They are capable.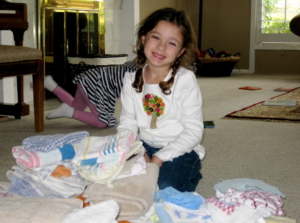 Seconds later Ali spun into a hot pout and kicked over the stacks of towels, then refused to stand next to Eliza for this picture. And right now I can hear Eliza yelling at her sisters that she does NOT, I repeat NOT, want their help. Hmmm….
How is your December starting out?
The countdown begins…