Toys from Christmas morning are still strewn about the living room. Matchbox cars, Tonka trucks, new puzzles, new books. The tree is half-decorated (on purpose) but I am still finding ornaments in random places due to the migratory pattern of toddlers.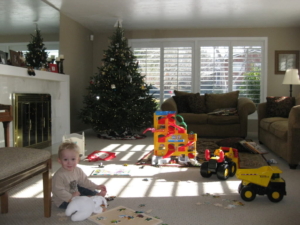 My favorite gift – a pair of red boots – is still in the box because I'm worried they're too expensive to keep. What do you think? I'm sorely tempted.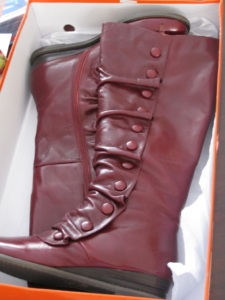 Orange sticks, salt-water taffy, clementines, and home-baked bread still crowd the kitchen counter.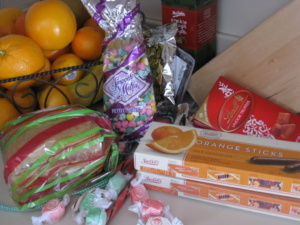 It's past noon and I'm still in my pajamas.
On Friday we will carefully tuck ornaments into boxes, stuff the balsam boughs with balloons, and blow streamers in celebration of the New Year, but I'm still thinking about how it went – what we did, what we should have done, what we would do again.
Inspired by my friend Melissa (with a nod to her list and her beautiful writing), here's my Christmas in retrospect.
Things I will do the same next Christmas:
Shop Amazon Mom. Please tell me you know about Amazon Mom! I bought 90% of our gifts online. Free 2-day shipping! Free membership for three months and no annual fee if you purchase something from their baby department. All for simply being a Mom! Amazon SAVED my home-bound fanny!
Our Advent Tree with Service Stars. The girls performed thoughtful acts of service when it was their special day but I felt we needed a little more teaching about the Nativity so next year I'll write a verse of scripture on each star so we can read about the Savior.
Spend Christmas day at home – if possible. Both of Doug's parents came down with pneumonia during December. The week before Christmas Doug's father was hospitalized. Doug spent most evenings at the hospital and it was decided the annual Christmas day gathering, usually held at his parents' house, would be postponed. As a result, we had all of Christmas day to ourselves. Jim is home from the hospital now and doing much butter. The circumstances were unfortunate, but having nowhere to go on Christmas day was splendid.
Read Watch for the Light – but only the essays that make me think and feel. And Dicken's Christmas Carol. This story makes me cry every year. Maybe because I'm finding I have more in common with Scrooge than I thought.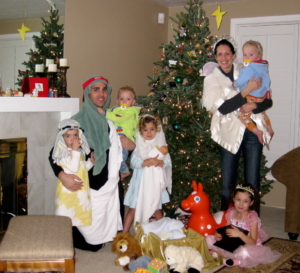 Eliza started this tradition
last year.
It is quickly becoming one of our favorites. It's wild and unruly and nothing at all like that blessed holy evening, but in the tiniest of moments we feel something. While we listened to
Silent Night
, I saw Ali (Mary) and Doug (Joseph) exchange a look that was so precious and swollen with love that my own understanding of what happened that first Christmas night deepened.
Eliza prepared everyone's costumes. She made the paper star hanging overhead and put together boxes of sparkly jewels for the christ-child. She wanted to be one of the three kings – I mean queens. Sami was a Shepherd. And here is Mary, holding baby Jesus – a doll I used to play with when I was a girl.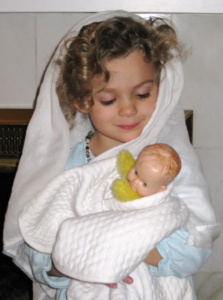 Spencer and Gordon were the other two Wisemen. They took a liking to their crowns, but of course, stealing baby Jesus and tearing apart the manger were first on their agenda.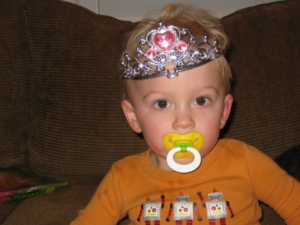 Here's an outtake for you. It's our third picture attempt. Can you tell my patience is waning?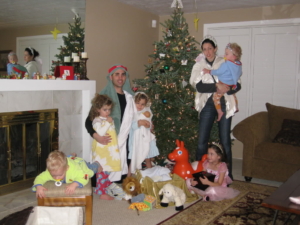 We videoed the whole thing, only to realize the camera was turned towards the couch, missing the entire story as it played out just a few feet to the left. Oh well!
Things I will do differently next Christmas:
Neighbor gifts. I solemnly swear I will do this at the beginning of the month, rather than ride the wave of sugar inundation with everyone else two days before Christmas.
Remember where I've hidden things! I put presents for extended family and immediate family in the same spots. As a result, several gifts for the kids went missing. Obviously, I need a better system.
Spend less. Set aside money each month for a Christmas fund and STAY within our budget.
Make different food. This may sound funny but I'm struggling to find special meals (breakfast, lunch, and dinner) that our family will enjoy on Christmas. Any ideas? What are your favorite Christmas recipes?
Not let the stress of getting everything done strain the most important relationships in my life (husband and children). Have you noticed when you are stressed these relationships tend to suffer first?
Get a list to my husband earlier in the month (specifics are helpful) so he doesn't have to do all his shopping two days before Christmas.
Not put the kids to bed so late on Christmas Eve. Eliza was up until 10:30! (Which meant… you guessed it… we were up until 1:30!) Everyone was so wired and tired this was the best we could do for a group photo.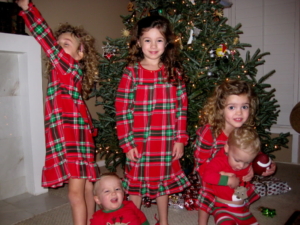 Best and Worst of Christmas 2010:
Worst
Stewing on Christmas Eve because Doug and I haven't had one second to talk or get on the same page when it comes to plans and expectations for the weekend.
Gordon's post-Christmas stomach flu. He threw up most of this morning. Shouldn't be long before Spencer starts…
Best
Watching Doug and Ali during our nativity. Holding hands (albeit briefly) while Doug said our family prayer.
Sewing blankets and pillows for the cradles Santa brought. I'm no seamstress but something giddy took hold inside as I slid the fabric beneath the needle and pushed the pedal.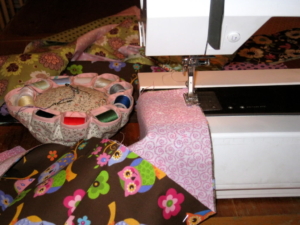 You really do give a part of yourself – your time, your creativity and a bit of your heart – when you make something for someone else. I couldn't wait to give these blankets to the girls.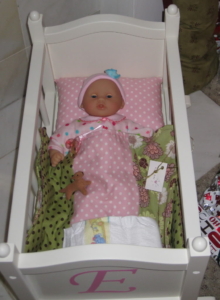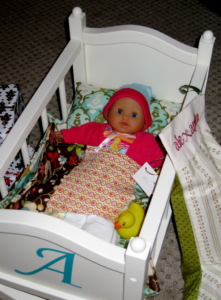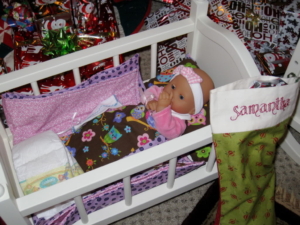 The goodies left out for Santa. Eliza drew this picture of a reindeer. It reads, "Santa Cloz and Kris Kringle." She also made an ornament for Santa – carefully wrapped inside this colorful box. Note the Ensign magazine left out for Santa, just in case he wanted to do a little reading.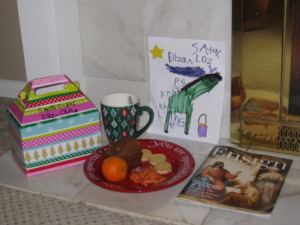 Seeing the thrill on the girls' faces as they walked into the living room together Christmas morning. They were excited yet gracious – full of thank-yous and kisses.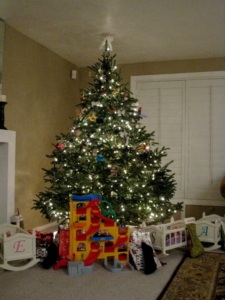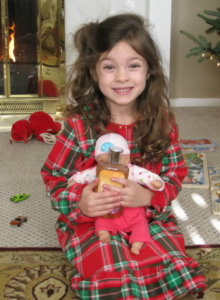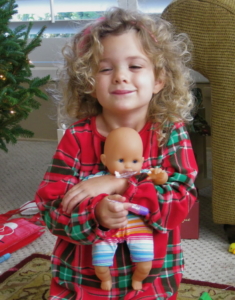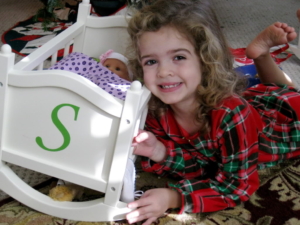 After all the presents were opened, Doug and I finally crashed onto the couch next to each other and thought, "Hi. Do we know each other? Oh! We're married, you say?" We heaved a huge sigh of relief, then watched the girls play together, work on puzzles, and race cars with the boys.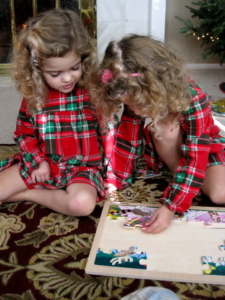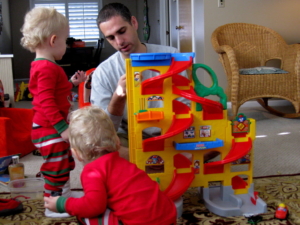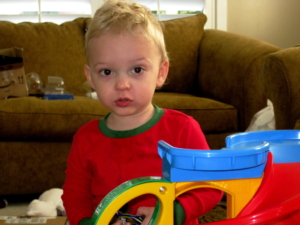 Visiting Temple Square on Christmas Night. The visitors' center was closed so the crowds were thin. It felt good to be outside – to breathe crisp air as the girls ran from one nativity to the next, dazzled by winking lights and happy faces.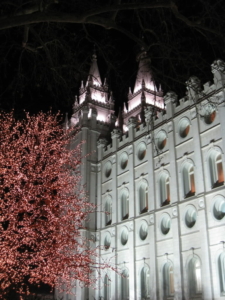 Making Christmas what we want it to be is a process – a dynamic one – that changes as much as we do. I want to figure everything out before next year, but I won't. I want to have a solution for everything, but I don't. So I'm trying to be patient with myself and learn as we go along.
How was your Christmas? Tell me what you would do again… or what you wouldn't.
Doug is taking the entire week off. His offices are closed – even emails have come to a halt. I've been looking forward to this week all year!
I won't be posting again until after the New Year so I can be completely available, consumed, and present, for our family. Happy 2011 to you! And joyous blessings as you gather with family and friends. May you have time to count your gifts – the kind that aren't wrapped, but opened within the heart.