It's been three months since the boys started walking.
When our girls teetered on the edge of ambulation, a few people I didn't know (and some that I did) said to me, "I'm sure you don't want them to start walking. Two of them! What will you do?"
Really? I thought. Let me tell you what I'll do. First I'll do a toyota jump. Then I'll click my heels in the air because I won't have to bicep curl two babies to bring them upstairs, or turn sideways to prevent shattering my elbows as I carry them both through a doorway, and then, I'll give my quads a nice little break on the couch. Those deep knee lunges sporting fifty extra pounds are killing me!
Around here, ambulation equals jubilation!
What about the rest of you with twins?
There is something so darn cute about watching these two little brothers toddle around after each other. I love the way they barrel forward, their shoulders set, elbows crooked as they waddle penguin-like through the living room, surprised at their own acceleration.
This video is of their first walk. One right after the other.
And now that they're mobile, I love that they can go downstairs on their own, come up on their own, and play on their own. Sometimes fifteen minutes will go by and I'll realize all is quiet. At which point, I case out the joint and find them downstairs playing happily together.
Occasionally, I will stand outside the door and listen to them laughing with each other.
Spencer sent Gordon into giggles with this accessory - courtesy of Mr. Potato Head. It's gotta be pretty cool to have a twin.
A few weeks ago Gordon adopted this red baby doll. It was given to Eliza on her first Christmas. (Thanks Ro.)
Auntie Pat gave her a white baby doll the second Christmas and Spencer has adopted it. So "red baby" and "white baby"
travel everywhere with the boys.
The two of them wandering around with their Christmas dolls just make me laugh. (Notice Joseph and the Wise Man also in hand.)
And some day... when they bring their dates home to meet mom and dad, or their coaches need a picture for an awards banquet, well - these could come in handy. Awwwww.... so sweet.
Of course, since the boys started walking, they've found some new nooks and crannies. Like the pantry shelves. Oops!
Caught red-handed.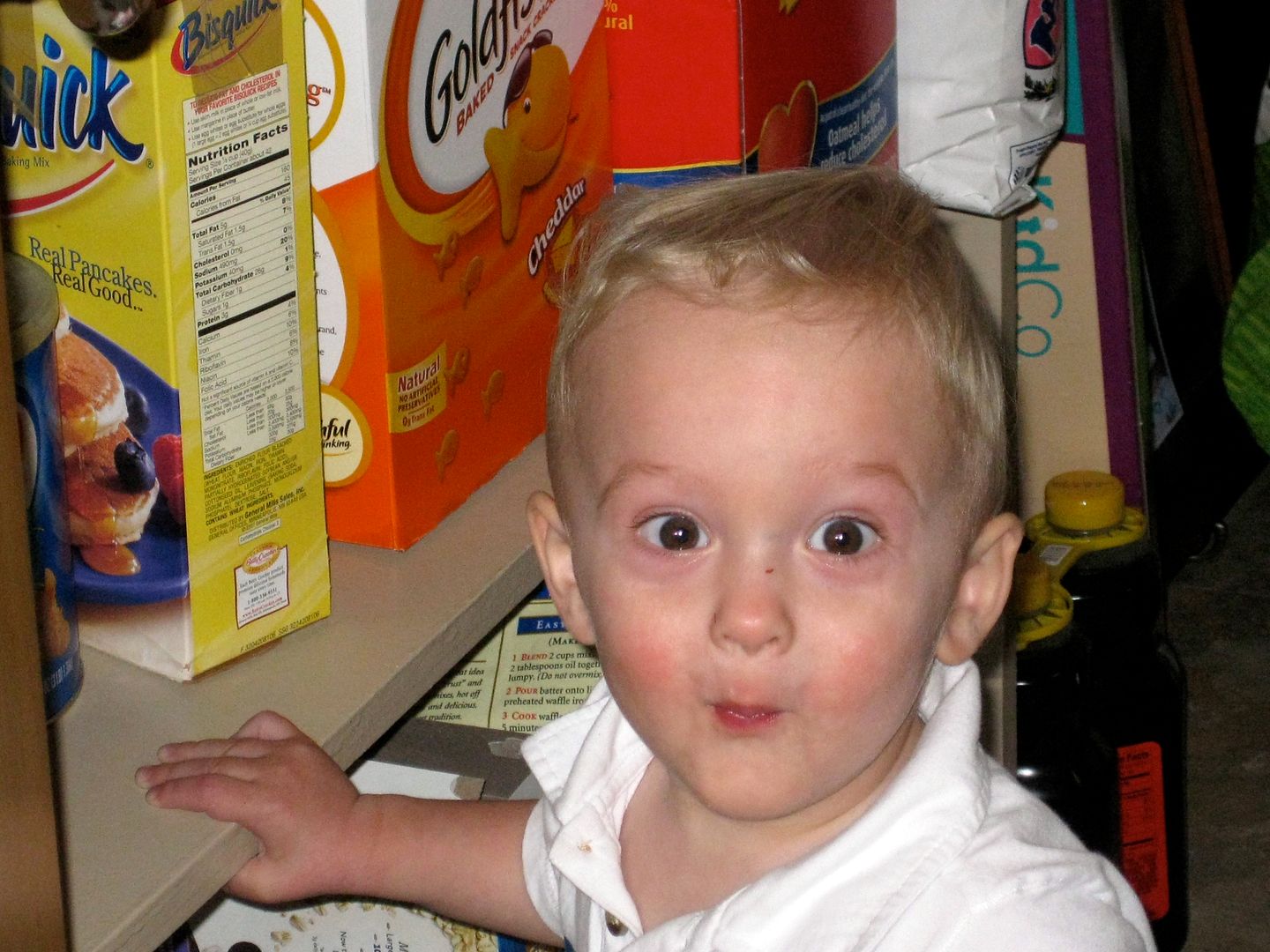 And the kitchen table. One morning I left the breakfast dishes on the table while blow-drying my hair and when I finished, I found both Spencer and Gordon on top of the table, slurping milk and soggy cereal out of their sisters' bowls. Yum.
But just a few days ago, I found them here. Dancing to their favorite Christmas tune. It was pure holiday entertainment. And I had to share it with you.
Jingle all the way...