The sights, the sounds, the smells.
I've been trying all month to take them in. To enjoy the beauty, the sparkle, the magic of the season - especially with my children. But the calendar doesn't clear on it's own, meals aren't served on a silver platter when I ring a bell, and well, my kids really do run out of socks and underwear when I don't do laundry.
Yesterday, however, I read

this post

by my friend Saydi.
She writes, "I need to stop... I need to watch the season fill us up. I need to let it fill me up. At first, my children may think it queer to see me stop, without a pressing task at hand. They'll look at me as if to ask if there is some mistake, they're so used to the perpetual motion of mom. But then, I'm hoping we'll all reveal in the stillness of being present."
So I decided what's bought is bought. What's not is not. I decided we'd go nowhere today - not even to deliver the last few neighbor gifts sitting on the dining room table. I decided we would enjoy the day - no matter what kind of curve balls came our way. And I have to say, a slight attitude adjustment made the difference. I still did a little laundry. I still did dishes. But deciding I would enjoy it all, changed things.
Before cleaning up from breakfast, I sat down at this lovely 1940's Kimball piano. We're borrowing it from a close friend of mine whose grandmother recently had the piano tuned as a gift for our family. I could have cried. With all the Christmas expenses, I knew tuning the piano would have to wait. But thanks to Maxine, this beloved piano is now in perfect pitch.
I played and played. For fifteen minutes. (That's a long time in kid world.) Sami ran through the living room baiting the boys with sleigh bells, Gordon pounded the lower keys, and Ali looked through magazines on the couch. My rusty fingers played a sorry version of George Winston's December, but I was filled.
When I returned to the kitchen I found Sami's elephant on the table, content at taking his breakfast alone. (That's the paper clip container holding elephant's food.)
Every day I walk past your faces. And they make me smile. Who can doubt the good in the world when you look at this wall?
And our paperwhite bulbs are in full bloom - tall and slender - growing against the dead of winter.
We took turns giving the boys laundry basket rides.
Sami told me all about the owie on her lip. It looks so much better than last week. She took a major dive in the parking lot while we were running to our car. Her hands were still in her pockets when Doug peeled her face from the pavement. (I know. Ouch!)
The girls played with my old nativity set. A favorite when I was a little girl. My mom sent it to me my first Christmas away from home. I was in Rantoul, Illinois, serving a mission for the LDS Church. Baby Jesus is the size of a jelly bean. And yes, those are tongue depressors for the roof. I had to replace the original red roof about ten years ago and those were all I could find. Every piece of this set is precious to me.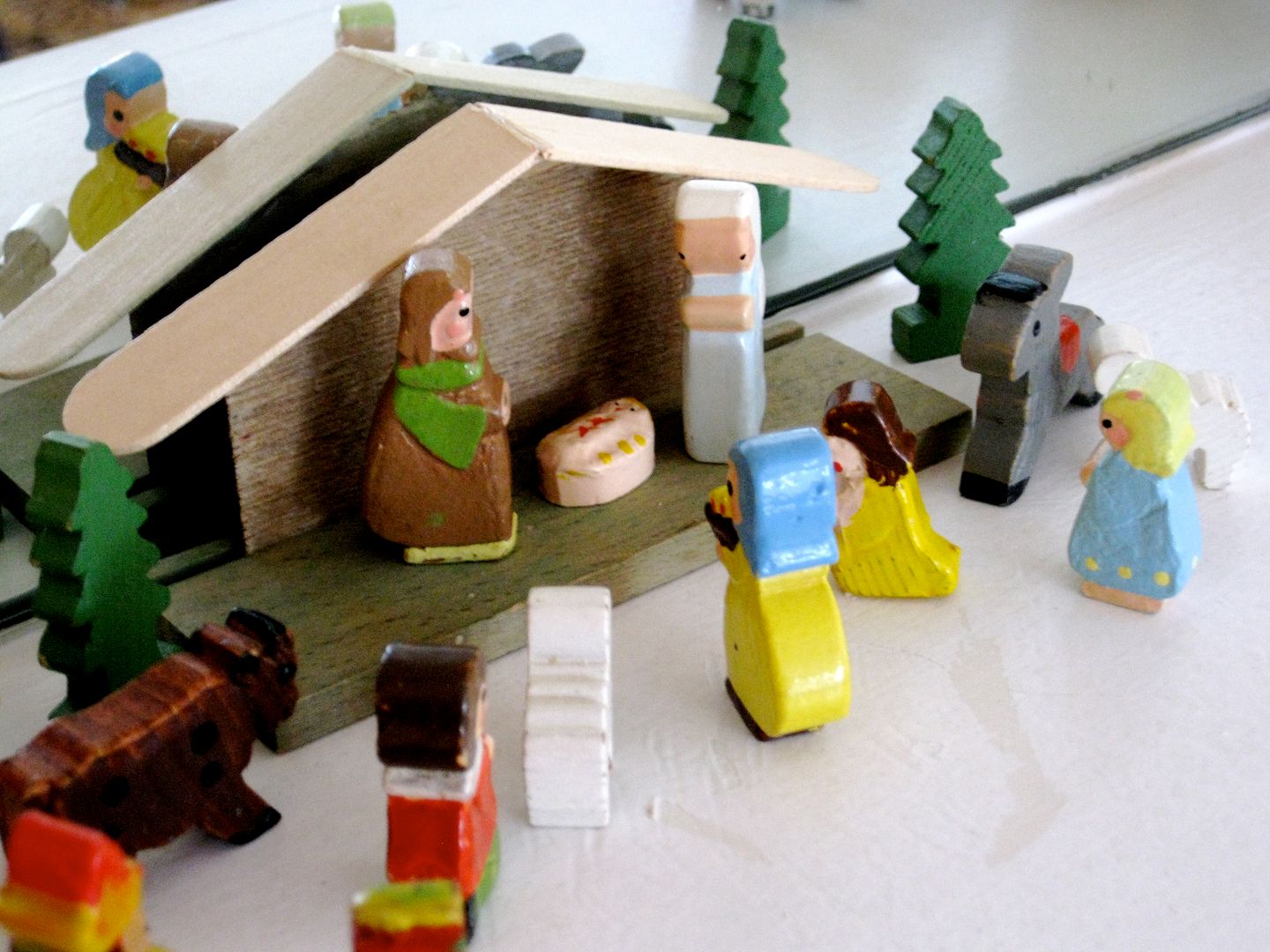 It snowed last night so the girls played for a couple hours in the backyard. Eliza made this snow man all by herself! She named her Janie. "It's a snowgirl!" she said. I love the purple flowers in Janie's hair. And I'm telling you, this really might be the

year of the snowman.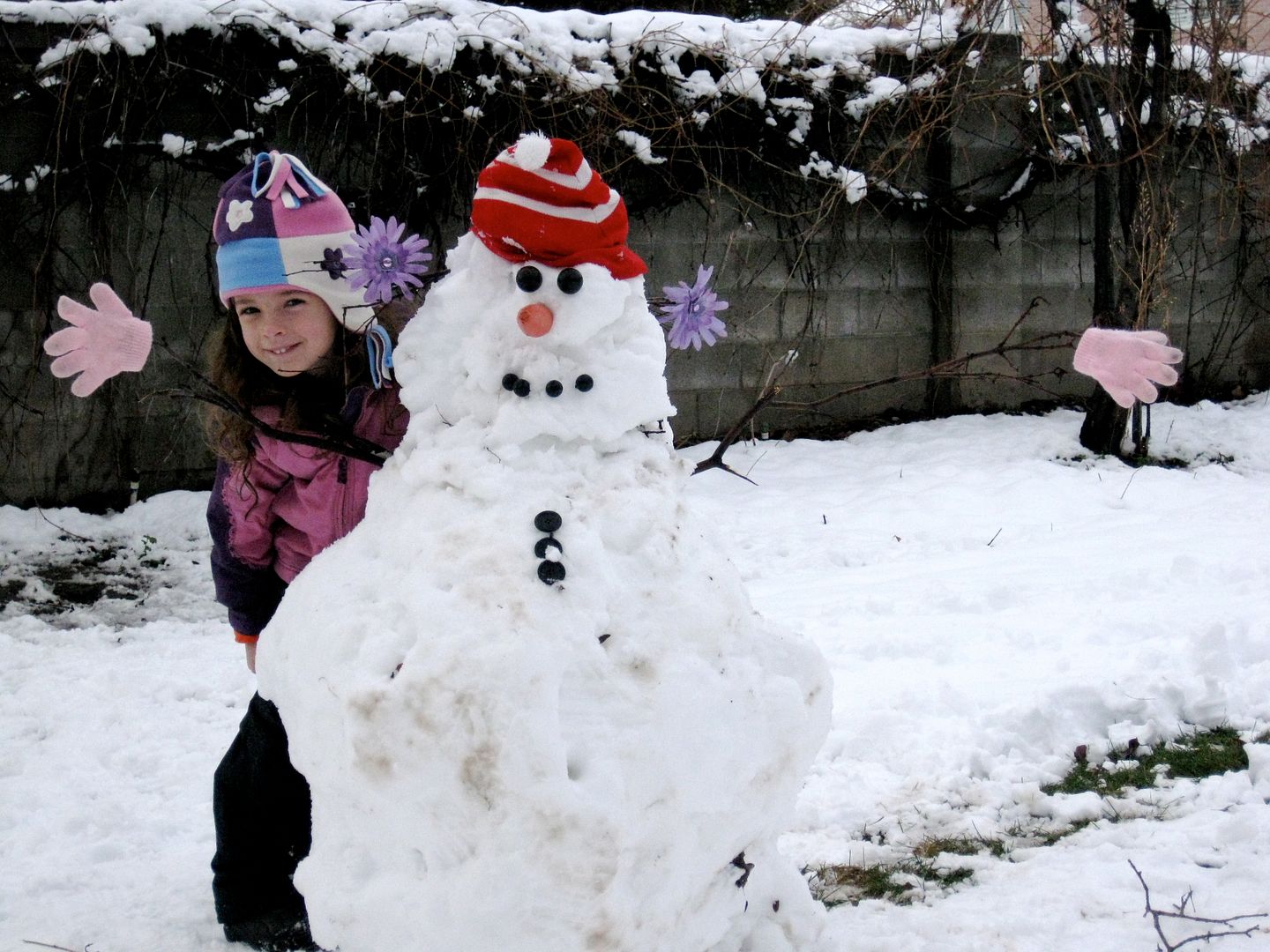 While the boys napped and the girls played, I washed dishes. We made a batch of Kay's famous baked popcorn. Kay lived down the street from us when I was growing up. Every Christmas she brought us this popcorn. We begged her for the recipe but she wouldn't divulge her secret. She would say, "Oh I'll just make you another batch." And she would. Two years ago, when she passed away, her family handed out the recipe at her funeral. I loved Kay dearly. So last year I made thirty bags of this delicious stuff for friends and neighbors. Her name was on every tag. But this year I couldn't manage it. So we made just a few bags this afternoon and ate it by the handful.
In the evening, the girls brought their pillows and blankets to the tree. They love to look up through the lights while listening to a story. We read

The Little Tree

, by E.E. Cummings.
Now you know as well as I do, not all days are magic. Not all days fill us, as mothers. Too many drain us. But I learned today that we can make room for days like this. Days when the goodness of life is abundant. Moments when simply "being present" makes the magic swirl thick.
Today I remembered how much I love being mom. I saw the sparkle in my children's eyes. I took time to consider why we celebrate. And h
aving Him on my mind made everything different. It made
me different
.
How silently, how silently, the wondrous gift is given.
So God imparts to human hearts the blessings of his heaven.
No ear may hear his coming, but in this world of sin.
Where meek souls will receive him still, the dear Christ enters in.