The loops on our

Disney chain

are slowly disappearing. Excitement for the big trip is building. But before we venture off to visit this happy fellow, I wanted to pause on Christmas - mull it over a bit.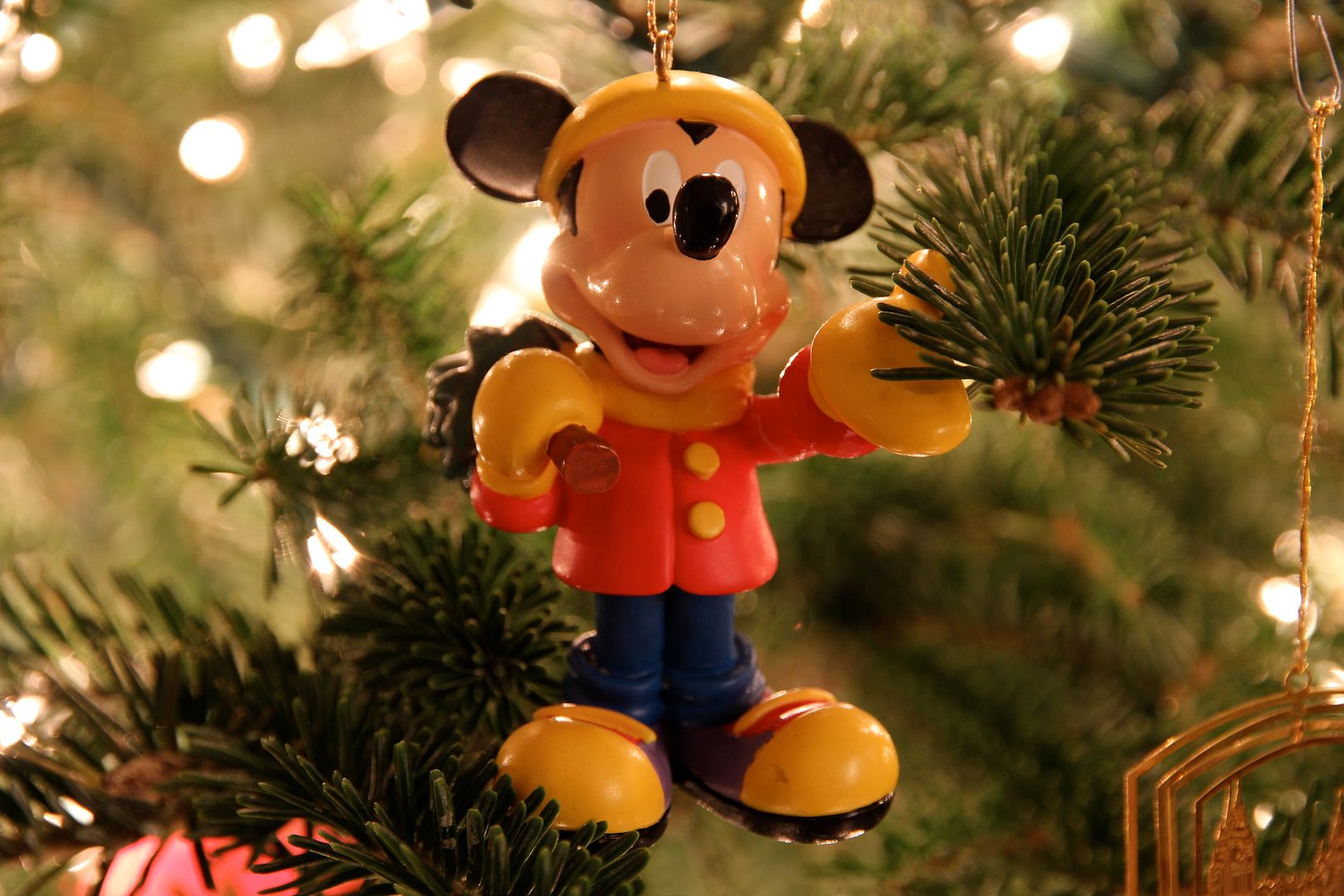 Last year I wrote

a retrospect

on what I would do the same and what I would do differently. Re-reading my list this November cha
nged how I went about Christmas, helped me remember what I wanted to re-vamp, improve, leave out or leave in.
Christmas will always have its own dynamic quality. What we do will change as our family changes.
But I'm finding that keeping a record of how it goes each year, helps me better tend to the people and events that are most important to us. So, let me start this year with the leave ins.
Things We Will Do the Same Next Year:
Reenact the Nativity with our little family. It's more like a rodeo than a sanctuary but I feel something special every time.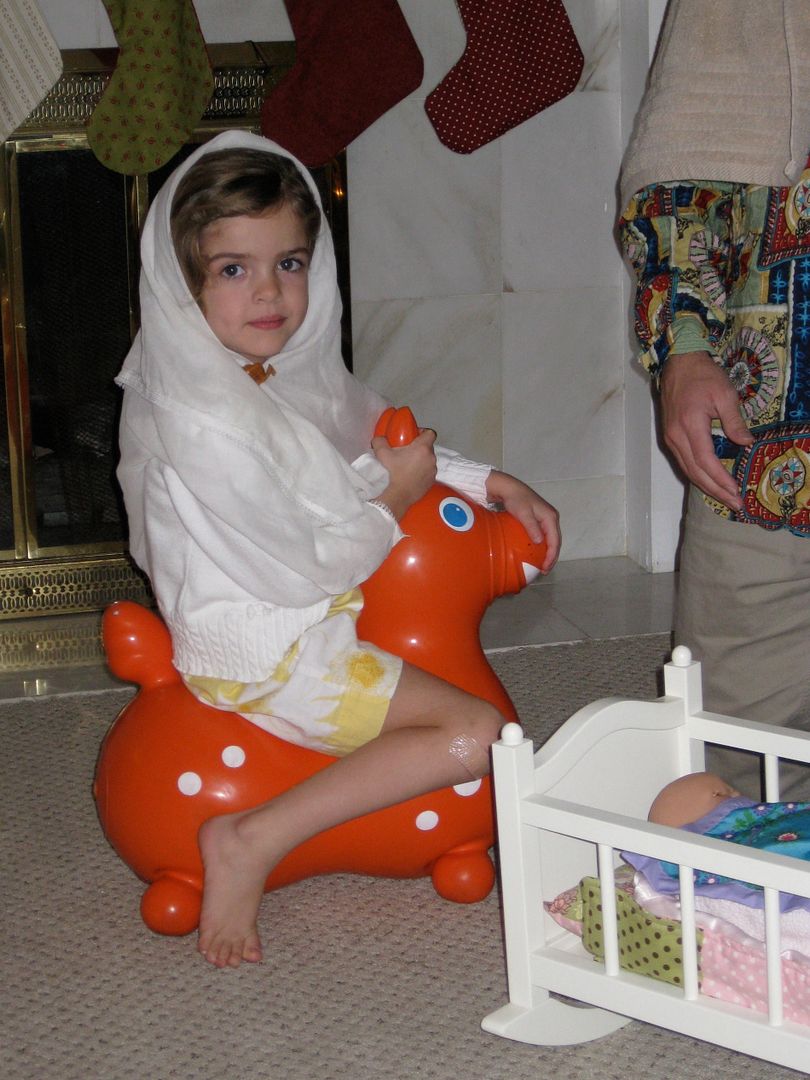 Sheep-herding or Team Penning
Neighborhood Charity in lieu of Neighbor Gifts.

This was a HUGE success! Last year I said I didn't want to ride the wave of sugar inundation with everyone else by adding to the onslaught of goodies on the counter (not that I don't love sweets). So this year, we sent out letters to fifty plus people in our neighborhood, inviting them to join us in making a donation to the Utah Food Bank in lieu of neighbor gifts. I rallied about ten other women who also wanted to participate and they sent out similar letters to their neighbors.

We gathered at our home after Christmas to make donations and share donuts and wassail. Doug picked up barrels and large boxes from the Food Bank to fill, friends helped supply donuts, and neighbors came and went as they pleased for one hour.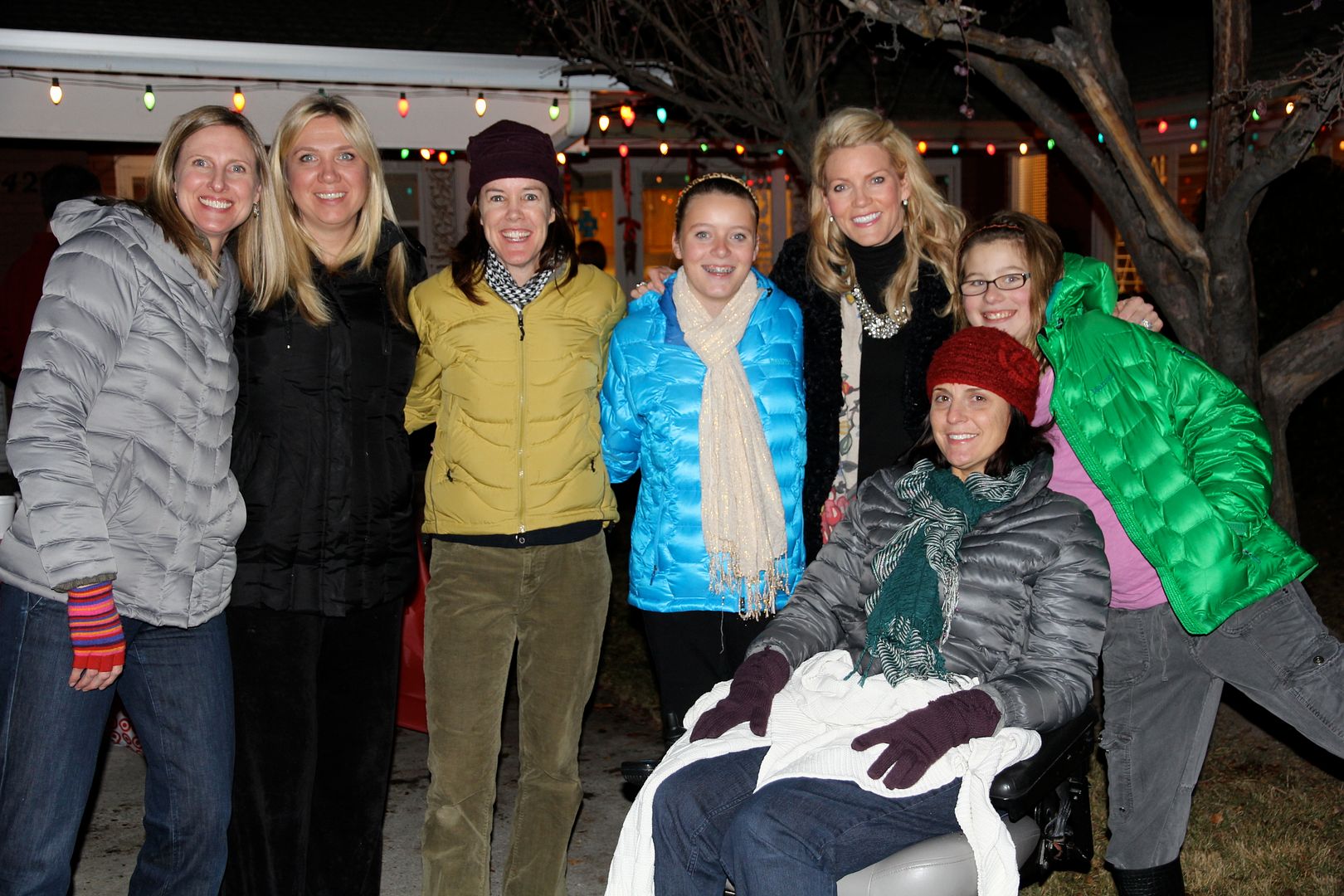 Some of our wonderful neighbors
I love all these good people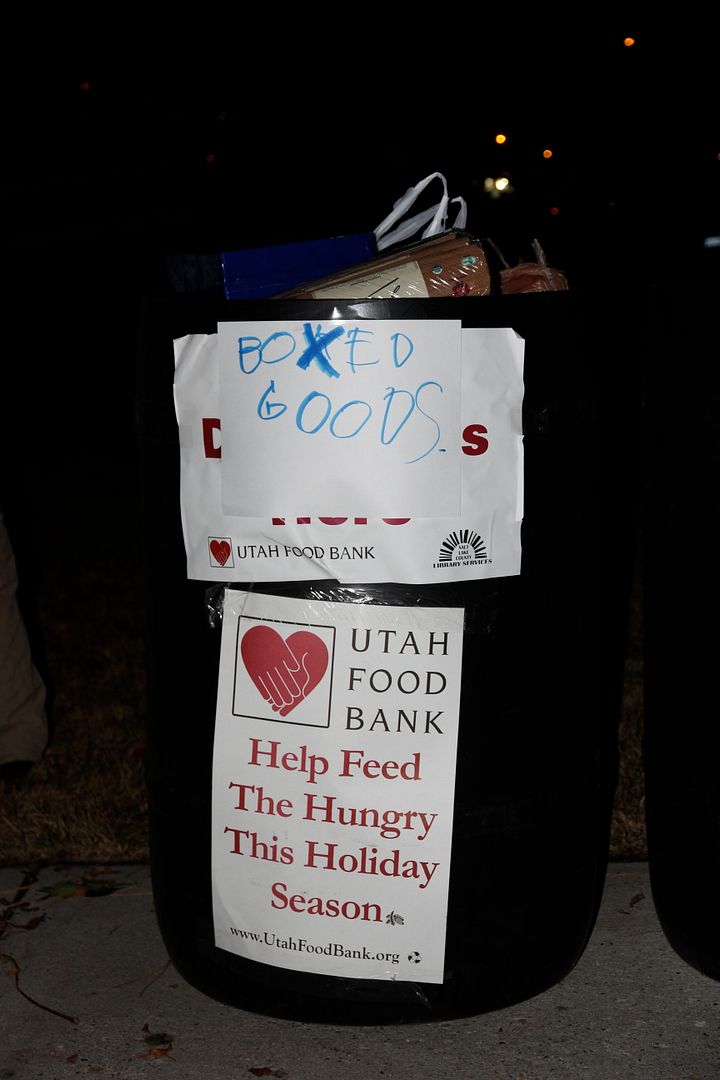 Eliza made signs so everyone knew where to drop their donations.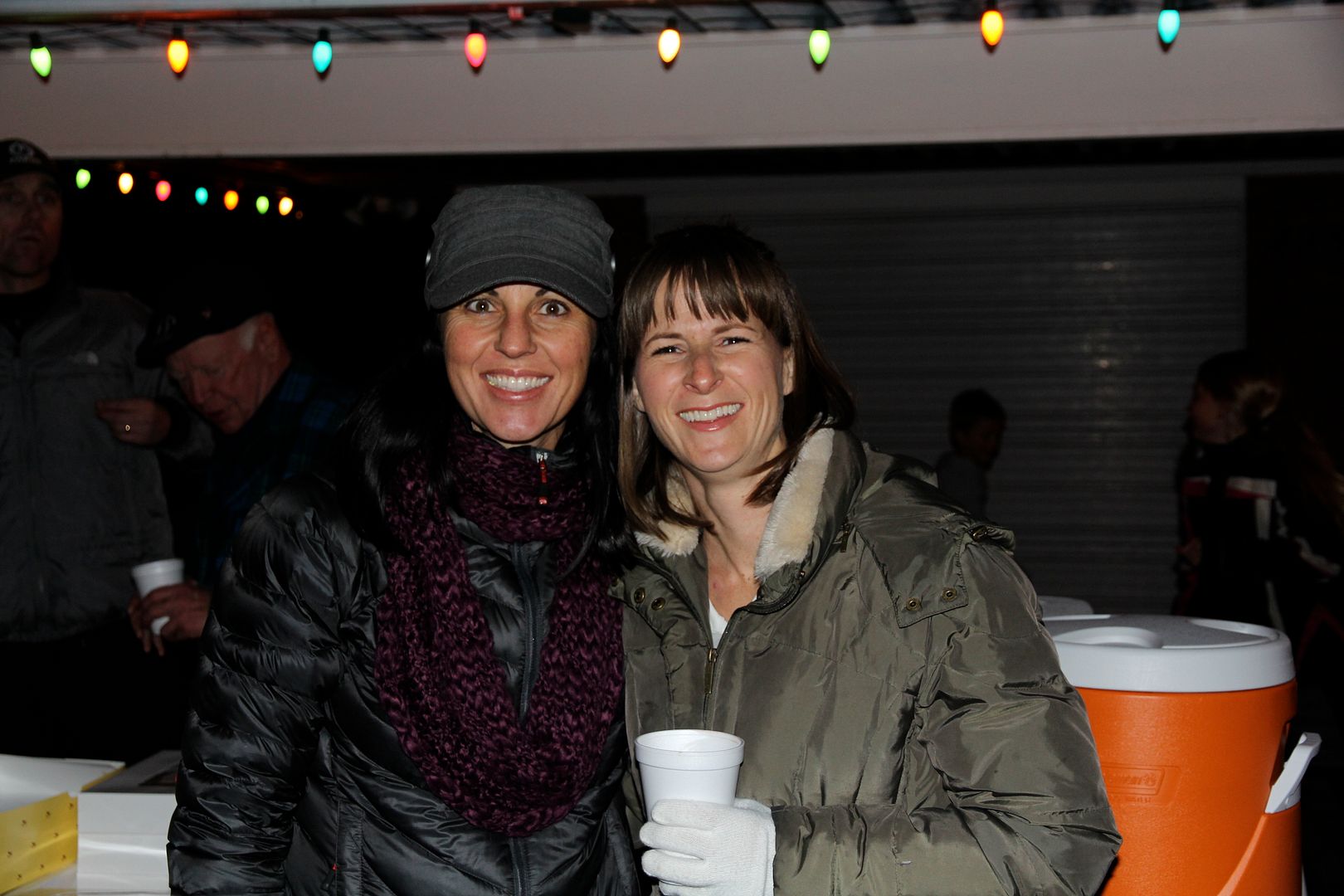 Kids ran all over the yard, into the backyard, and didn't eat quite enough donuts.
It was an unusually warm night so people stayed and visited. The turn-out was better than we expected. We gathered 1500 lbs of food and a few thousand in cash or check donations. The older generation mixed with the younger generation - something that happens often in our neighborhood - and everyone is on board to do it again next year. If you'd like me to send you a copy of the letter we sent out, please email me (contact in nav bar).
Read Christmas stories under the tree. This is a favorite tradition for everyone, but I realized this year, for it to work well, we need to bump up dinner time by almost an hour so I don't feel rushed for time and I have more patience.
Soozi's Souffle' on Christmas Morning. Last year I was on the hunt for good recipes to make over the Holidays. On Christmas Eve I made Soozi's Souffle' and stowed it away in the refrigerator to cook first thing in the morning. I served it with orange rolls and juice and everyone loved it. Thanks for the recipe Soozi!
Secret Service to someone in need.

My experience

this year was so tender, we need to find a way to give anonymously every year.
Secret Pals. We swapped names in our family so everyone had a "Secret Pal" for the month of December. The goal was to find ways to serve your Secret Pal, make their life easier, happier. Then for a Christmas gift, each person wrote their "Secret Pal" a letter indicating some of the kind things they had done for them and what they loved about that person. We read the letters Christmas day. Here's Sami's letter to Gordon.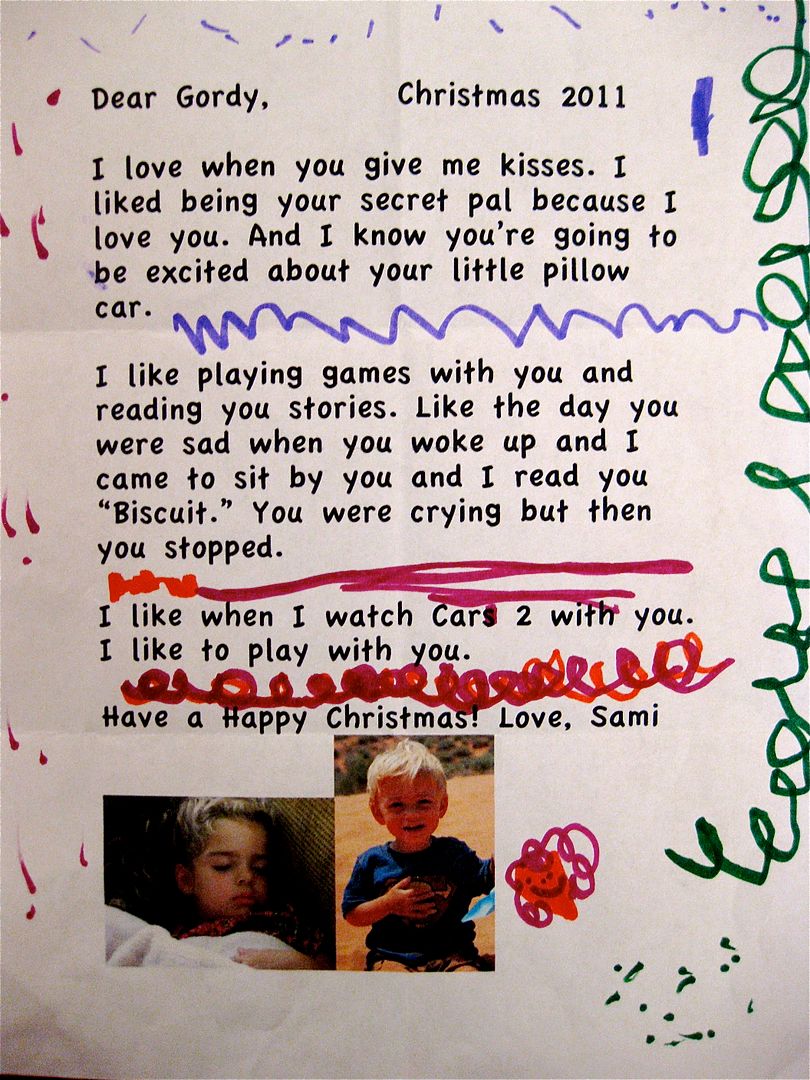 Advent Tree with Service Stars and

Scripture Readings

.

I loved centering our readings around the birth of the Savior and His teachings. Some days this was the only time I was able to spend in the scriptures. But even that small dose made a difference in our family.
Shop (almost exclusively) online. Found great deals on Cyber Monday. Most sites offered Free Shipping at some point during December. And if you're not aware of

Amazon Mom

, I want you to be in the know! Nothing beats having Christmas delivered to your door for free!
Send Valentine Cards instead of Christmas Cards. We started this after Ali and Sami were born. Every year I LOVE getting Christmas cards and wish for a few long seconds we were sending ours out too.Then I breathe a sigh of relief that I don't have to tackle that project for another month!
Things We Will Do Differently Next Christmas:
Stay Within Budget! Doug and I talked last year about setting money aside each month for Christmas, then sticking to a budget. But we didn't do it. We didn't have much time together in the Fall and as a result, we never made a clear and reasonable budget. We ended up spending more than we needed to, even in an effort to spend less because of the Disney World trip. Seriously... we've got to batten down the hatches next year!
Afternoon Veggie and Fruit Plate. This was a holiday afterthought. After so many days of kids wanting sugar snacks I realized I should simply put out a plate of healthy options every afternoon. A welcome sight for the sweeted-out.
Be a more astute wife. I think I need to keep a running list (all year) of things Doug would like. Come Christmastime he always says he doesn't need anything. The best gift we gave him was a Shutterfly photo calendar the girls and I put together for him to take to work. I vow to give him a better Christmas next year.
Go to bed earlier on Christmas Eve. This was our latest year yet. We were up long after we heard Santa's sleigh bells. We went to bed at 3 AM. (Mostly because one item required last minute assembly and wow, was it complicated.) Staying up that late was painful. I am committing now to have everything wrapped or bagged/name-tagged before Christmas Eve. Tricks or Suggestions anyone?
Other Highlights:
Building Forts. My sister Deb, made this Fort Kit for our kids. It is genius. Contents? Two large sheets, suction cups, rope, clothespins, and flashlights.
The girls have been making all kinds of hide-outs.
Here you can see the suction cups and clothespins at work. No tables are needed, most furniture stays puts, and the forts are easy to take down.
We're all in love with Deb's fabulous gift.
The Doll House. Santa sent me word that a sweet mother whose children no longer needed this doll house asked him to take it to some girls who would love it and take good care of it. So it ended up under our tree Christmas morning. Santa's elves did some sprucing up of the house, but mostly it was in perfect condition. Mom and Dad gave the girls the La La Loopsy dolls, but all the furniture came from Santa.
Our girls have played with it every day. But I think I am the one most smitten.
Every night, after the kids are asleep, I sit down in front of it and "set up house." I organize the furniture, put the dolls in place...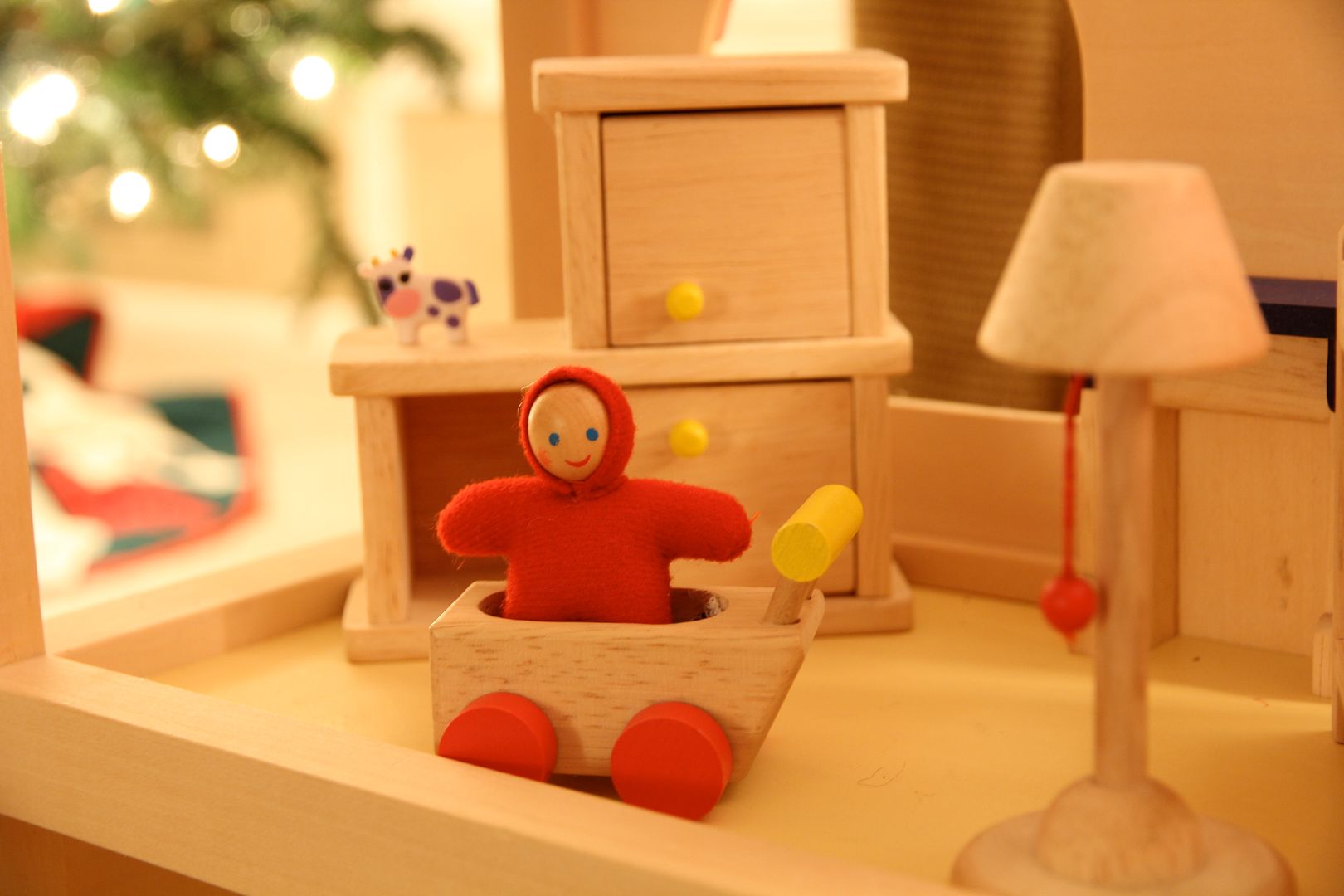 Pull the lamp cord and tuck the baby into the stroller...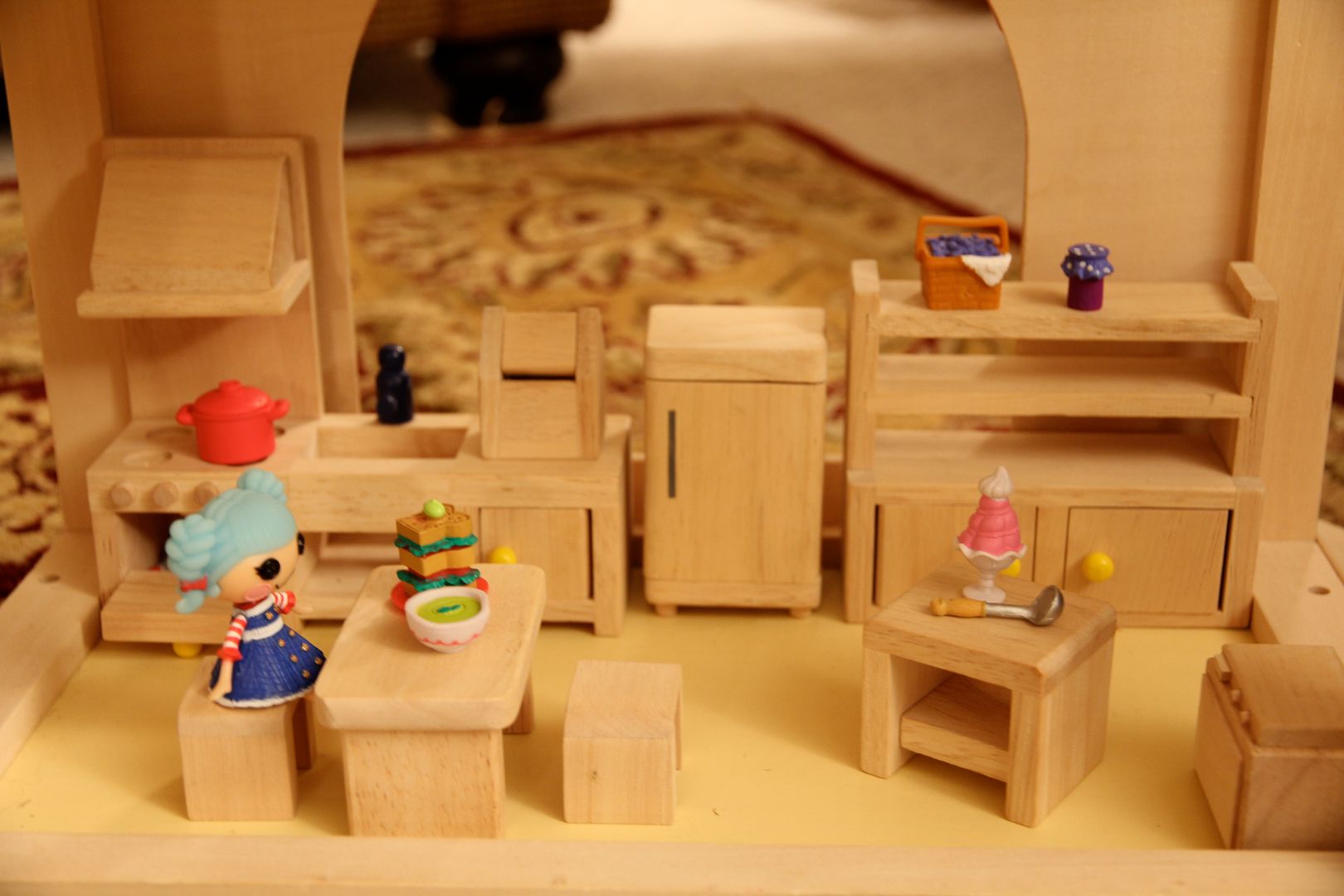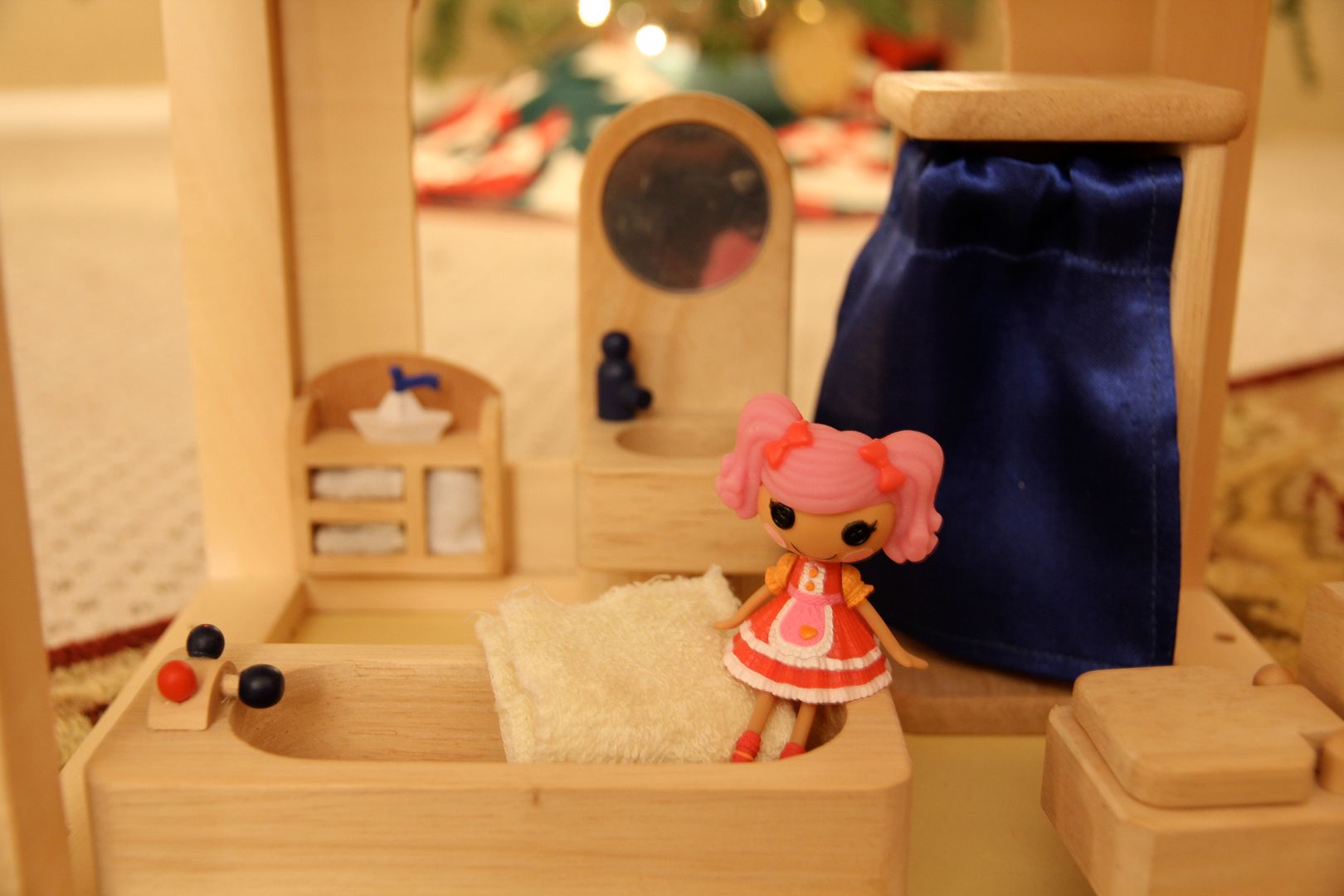 Every drawer slides open, every cupboard swings on its hinges, the toilet lid goes up and down, tiny towels can be folded into the shelves, and even the toy box has two itty-bitty wooden cars inside.
I am a little girl all over again.
Christmas with the Boys. This year sharing Christmas with the boys was like swi

nging a door open for the first time and watching them stand wide-eyed at the magic in front of them - of Santa, and presents, and reindeer that fly.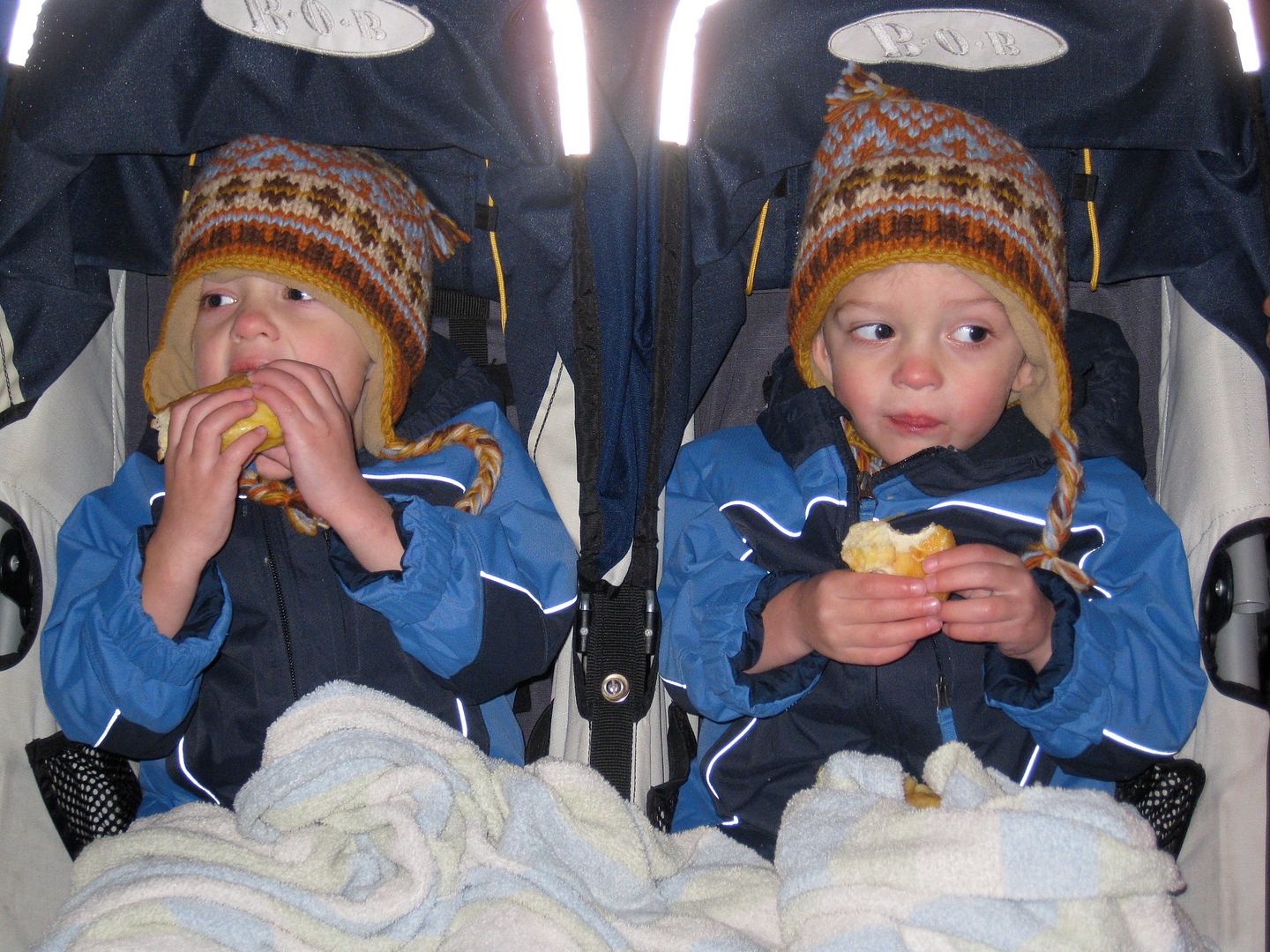 The boys eating donuts while they wait to see Santa
Then there was the magic of the Nativity, of explaining to my boys the story of Mary on the donkey, led by her husband Joseph, to the quiet manger, strewn with straw and cattle. I pointed to the olive wood carving of tiny baby Jesus, and together, we placed him in the cradle.
It was then that the real and absolute magic - the kind of magic that changes us from the inside out - tingled across the top of my head and filled my eyes, as I explained to Spencer and Gordon that this baby grew up to be our Savior. Theirs. And mine. And the freshness of trying to explain it to their small minds choked me up. I was startled by my emotion, by the inability to speak for a few seconds.
These are the kind of memories that shine for me.
What were your Christmas highlights? Any
leave ins or leave outs?