What do you do when you're in between flu symptoms - one child finally munching saltines while you wait for the next to cry out in the night that they need you? What do you do when your party consists of five children who all go to bed at eight pm, a mom who is fevered with chills, and a dad who isn't sure his own lunch is setting right?
Tiny hands found tiny spots in which to stuff their balloons. Dad blew streamers into the tree. Mom pulled out horns and to her disappointment, they unfurled without making a single toot. (No one else seemed to mind.)
Then at the very early hour of 5:20 PM, we counted down.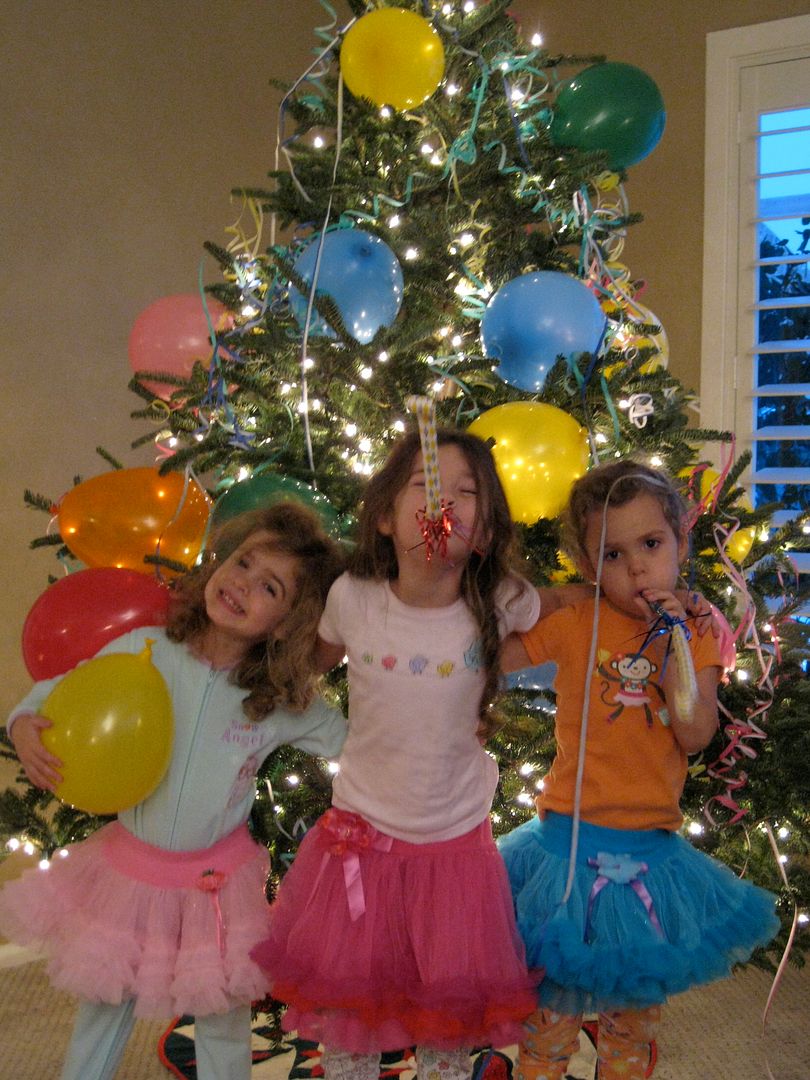 Balloons kept us busy - punching, flicking, kicking, floating, squeezing, and as Gordon discovered... snapping!
Leftovers were served to those with an appetite as we watched the skies darken. Then we held hands and tromped downstairs to stand at the playroom window where we watched Doug light fireworks in the backyard snow. The fountains sparked long, the kids cheered wildly, and I pressed Spencer's cheek against mine as he clapped his hands again and again. Even the neighbors came out to watch.
Bedtime came early that night.
After the girls slipped their shoes under the tree we slipped everyone into bed. We sang songs and whispered "i love yous" from the doorway.
After pulling the last knob closed, I popped two Tylenol, set some orange spice tea out to steep and climbed onto the couch to wait f
or the New Year's Eve elf.
The girls are sure it's
Mr. Peeps.
Back for one last visit.
Whatever his name, he's been coming since I was a little girl. A Dutch tradition, my mother tells us, that goes back a generation or two on her grandfather's side.
The next morning, the girls were thrilled with their find. A duckie, a ring, and more chocolate to pile into our kitchen cupboards. He came. Filling their shoes with small gifts.
No real purpose or meaning behind it. No deep lesson. Just for fun. Kind of like those red boots I've decided to keep. Just for fun.
So here's to the new year. And to you - for reading, commenting and sharing. Time is sacred and it means a great deal to me that you visit.
If I didn't write I would wither. But to know I write for someone other than myself, even if only here and there, makes my light burn a little brighter under the bushel, helps me steal a few moments and hold them close, makes me observe life and listen.
You've helped me make sense of the wild while seeing the precious. I am duly grateful.
Blessings and more as you ring in the new.