I scroll down the spreadsheet of names and stop when I see hers, surprised by the sudden confirmation of her absence.
Slowly, solemnly, I highlight her name, Mary Arveseth, then click delete.
Doug's grandmother passed away in December.
Rows later I read another name –
Dorothy Dyer
(my grandmother), and perform the same ritual. I am compiling our valentine list and the word "delete" sounds terminal – like I am wiping out all trace of their existence. Thankfully, life has no "delete" button. Spiritual matter is not erased, it simply continues on. Changed.
In 2010, Doug and I both lost our grandmothers – they were 95.
With them, another generation is gone. The rungs on the ladder shift and we are now our parents. Our parents are now our grandparents. I shake my head for it's a fact. This circle of life keeps spinning – never stopping – for any of us.
Two Months Ago
How sweet the sound – clear and fine – as pipes ring out across the snow-covered cemetery. Doug and his five brothers, their cousins and uncles, carry the casket from the hearse. Families huddle together for warmth and compassion as we listen to the bagpiper play her tune of redemption.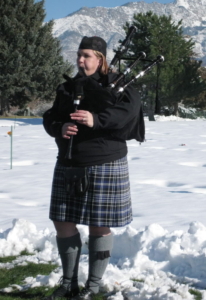 "Amazing Grace… How sweet the sound… that saved a wretch like me."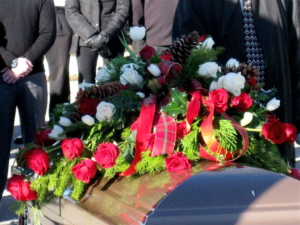 We are dependent. We are dust. And yet, He has claimed us.
I am touched as I watch these brothers – men who would have done anything for their grandmother.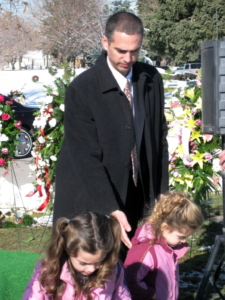 They speak at the service, conduct the service, offer the dedicatory prayer at the grave. They are men and sons who know what it is to honor the name of mother.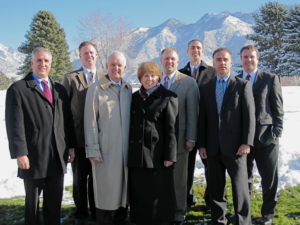 How sweet the sound of Mary's voice when we visited her for the last time. I waited in the car with the kids while Doug went into the care center to check on her. We didn't want to overwhelm her – five fidgety children and all – but when Doug returned he said she wanted us to come.
The girls were quiet, reserved, as we entered her room. She had only been there a few days – moved out of her apartment following a series of events that left her with health complications and the inability to be on her own. We wondered if she would survive the stripping of her independence.
Grandma came from strong Scottish stock. She lost her husband when she was only forty-four. She raised seven children alone. Independence was something she not only knew, but won the right to carry.
I wasn't sure how awake she would be but when she saw us, she sat up. Doug hugged her and we moved close to her, each with a baby in arms. She reached out immediately to hold one of the boys then retracted, realizing, she couldn't trust her hands, her arms.
Grandma had twin boys of her own – numbers six and seven. Identical, just like ours. And she's always shown a special interest in our babies. I wondered if seeing our boys took her back to those days of feeding and chasing her own.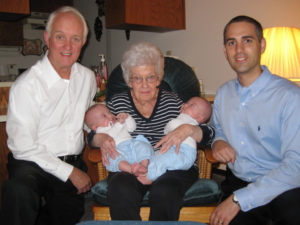 It was a short visit. The girls smiled and behaved themselves. Doug kissed her on the forehead. "I love you Grandma" he said. "Oh Doug. I know you do. I love you too." And then we left.
That afternoon Eliza drew this picture of her Grandma-Great.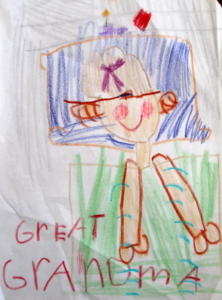 Two weeks later, we received a phone call in the early morning that Grandma was going. Doug left quickly to join his father and circle her round with blessings. With hands on each other's shoulders they linked priesthood, called down love. She was gone before they said amen.
How sweet the sound must have been. Doug's father, her son, as voice.
Grandma was one of the strongest women I know. She worked hard. She endured much. This picture was taken one day after she came home from the hospital. She had had an appendectomy and she was only three.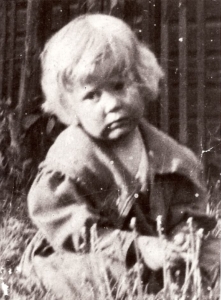 I love this picture of Mary with her husband, Reuben.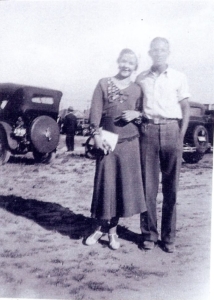 Reuben was from Norway. He skied with the best and played competitive soccer. I like seeing them young, side by side, during those days when they fell in love.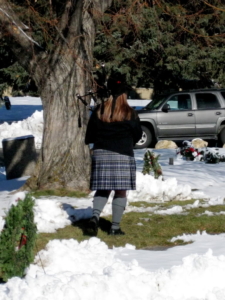 The piper plays on, walking slowly away from us, as the family mingles.
I watch Doug's father.
How sweet the sound of a grandpa whispering words of comfort to his granddaughter – truths about
God's plan.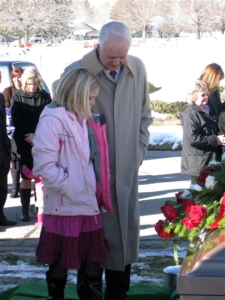 Bagpipes pine over the vast expanse of names and graves – hallowing this place of rest for loved ones who have left us.
"Was blind… but now I see."
Blind, yes. All too often. But moments like this remind us who saves, who loves most, and that because of Him, we live on.
We will miss you Grandma – Great.
March 1, 1916 – December 11, 2010