Spring finally made its way inside. Thanks to Doug, we have daffodils on our dining room table...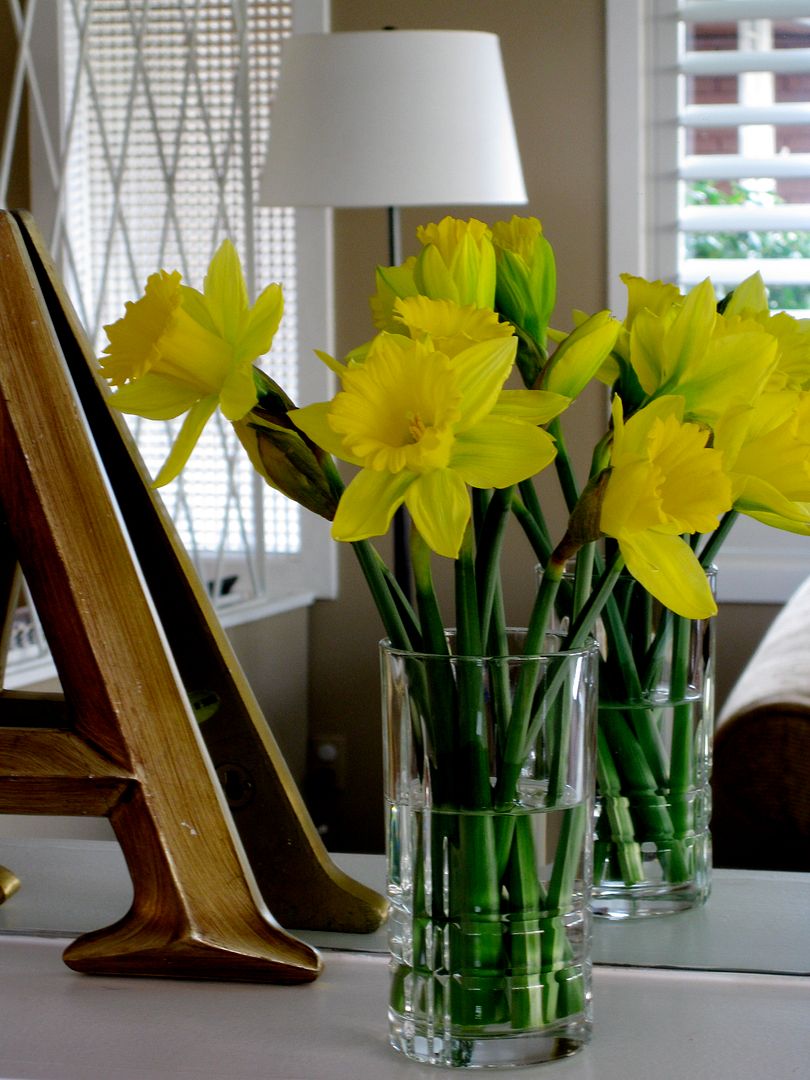 and in each of the girls' rooms.
It has become a tradition.
Every March Doug buys dozens of daffodils - to give away. They come wrapped in plastic - slivers of green barely hinting yellow potential.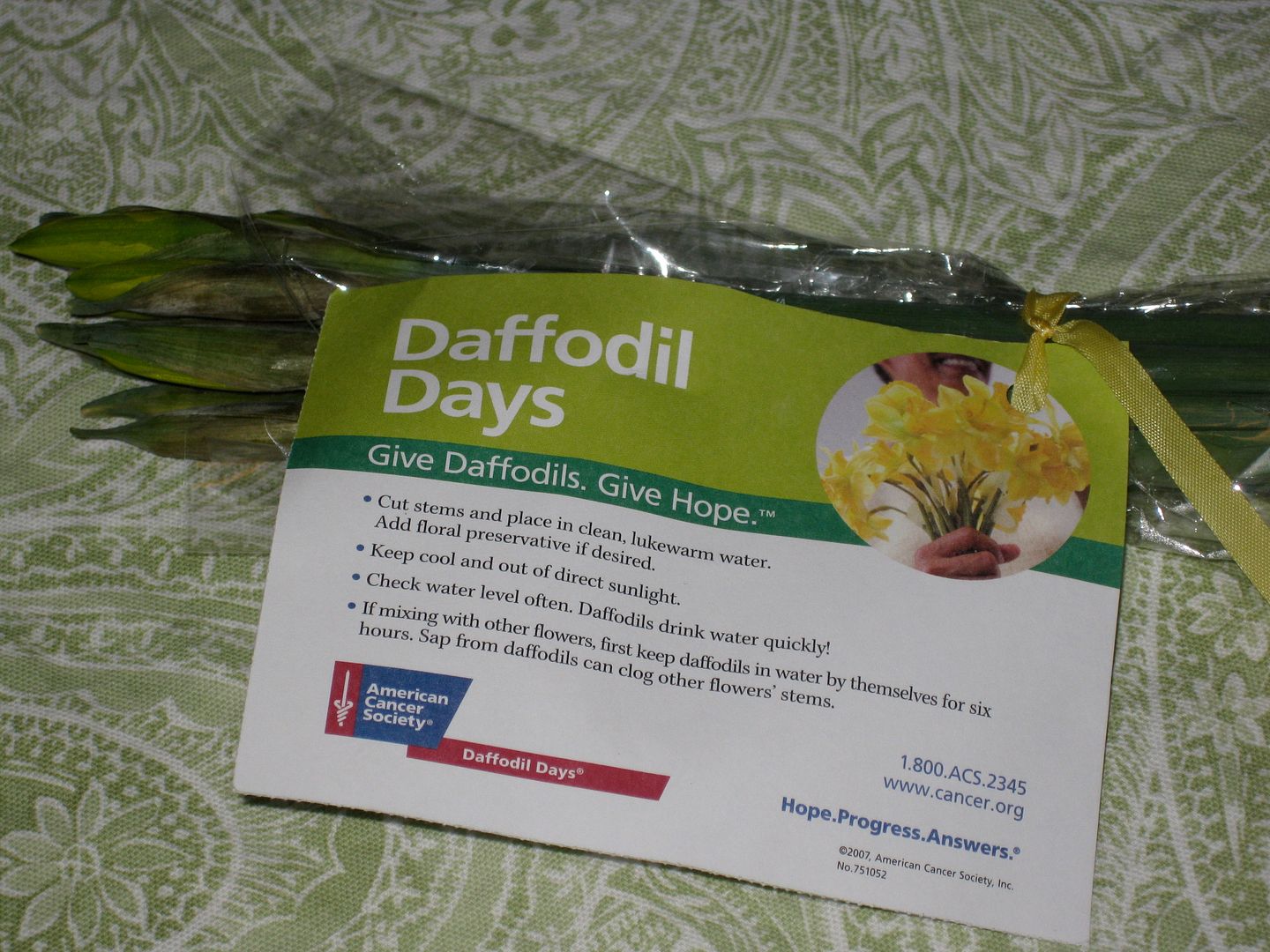 This fundraiser for the American Cancer Society is an opportunity to give to the cause while giving hope to those we know whose lives have been altered (for good and bad) by cancer.
In 1995, my Mother was diagnosed with a malignant brain tumor.
I was twenty years old and living abroad in Jerusalem for six months.
I still remember the phone call and how I stood in my room, twisting the phone cord around my finger, as she told me the news. The only life I knew or wanted had my mother in it. So I cried. And she cried. And then my Dad explained the pending surgery - the imminent complications - the delicate nature of what needed to happen.
After reluctantly hanging up the receiver, I burst into more tears. Then I began to pray.
Not just in the morning and at night, but all day long. Prayer was constant. It was on my mind, in my heart, on my lips, and always for my mother. I'd never known prayer like this. I would plug in my headphones, lose myself as I gazed out the window of the bus - and think of her. I would think about God, about what He could do, and who this Jesus was who could heal and make whole.
Two surgeries later, there was another phone call - with wonderful, surprising news. The surgeon had removed all of the tumor - an impossibility, we were told. But it happened and my Mom showed no deficits in memory or motor skill. She would undergo radiation for several months as a follow-up precaution, but not before she and my Dad would travel to The Holy Land for a visit.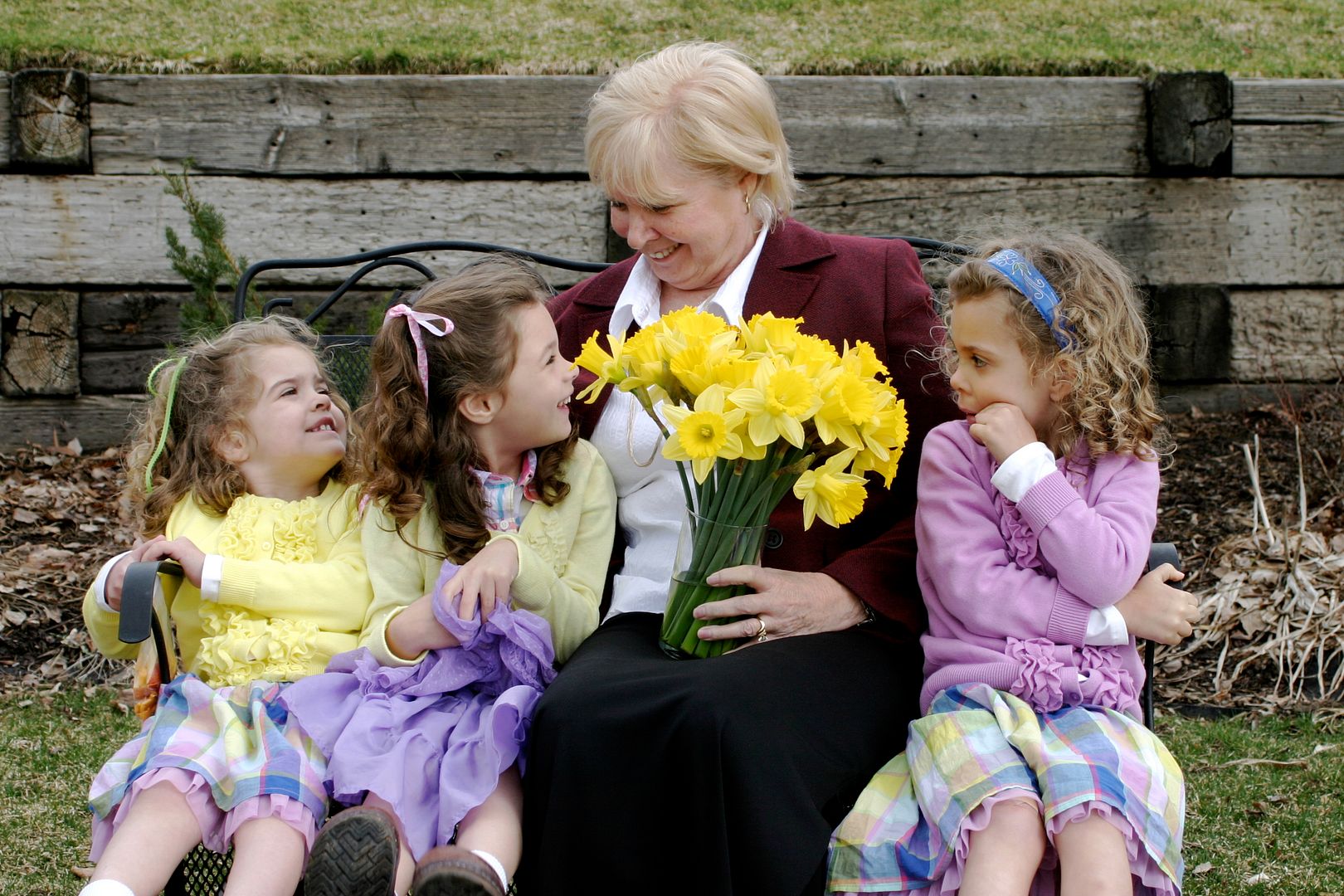 I took a taxi across town to meet them at their hotel. I saw her before she saw me. She was wearing a broad-rimmed hat with a flower and she was sitting at a table. We literally ran to each other and embraced right there in the middle of the dining hall.
Later we would stand on the Mount of Olives together and marvel that Jesus still heals.
The eighty students I studied with prayed for my Mom. The 100 plus LDS missionaries serving with my brother in Sao Paulo, Brazil prayed for her. Friends and family who lived near my parents prayed. And together, we witnessed a miracle.
For thirteen years my mother lived cancer-free.
Then, three summers ago the tumor returned, but in a slightly different location - closer to her motor skill center. She went through two more surgeries and started chemotherapy. It's been a long haul. While I was frequenting the NICU and preparing to bring our boys home, she was fighting fatigue, sore joints, and other complications. But despite the side-effects, she slept three nights a week on a mattress in our basement to help me with night feedings.
Now? She is gracefully, submissively, living with cancer. Chemo stunted the tumor's growth, but it is still there. And every day she makes the choice not to worry, not to fear, but to live.
Above her kitchen sink you can read these words. "Fear not: believe only." - Luke 8:50
She has faith like Moses, Shadrach, Paul, and Moroni. She trusts Him, and that is enough.
I know no one like her. She is strong, pure and unafraid.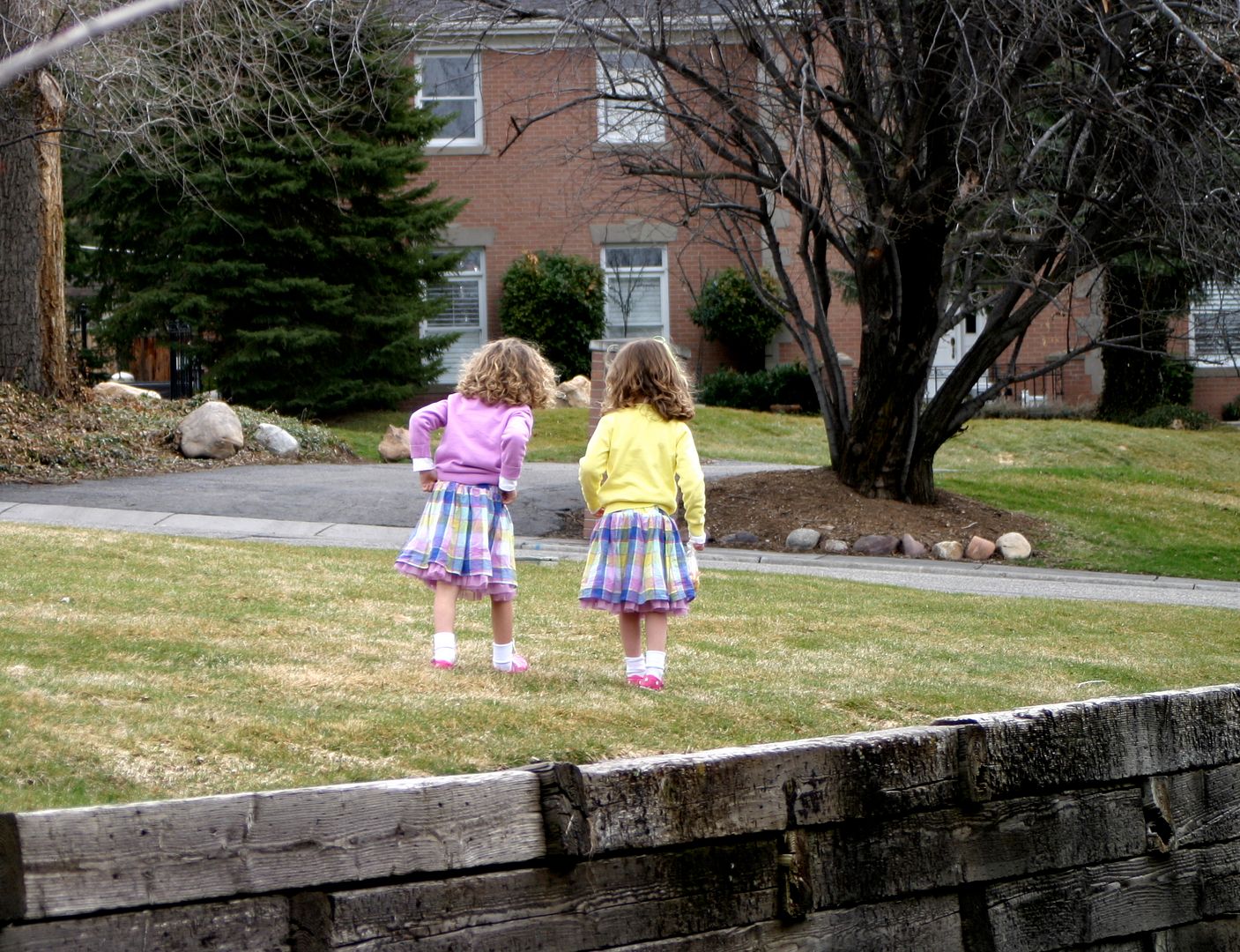 The night Doug brought the daffodils home, I watched him snip ends and place them in vases of water. I listened quietly as he told the girls why he wanted them to have blooms in their bedrooms. "It's so you can remember Grandma Ronda and the miracle it is that she's still with us."
When I told my Mom, her voice cracked and her eyes went moist. "That is so sweet. He is so good." I nodded. She has always loved Doug.
So we've watched the flowers unfold. We've taken pictures with Grandma and her daffodils.
My girls danced across the lawn, walked the old railroad ties (the same ones I used to walk), chased robins, ran down the hill, ate cookies at Grandma's counter, and hugged her big.
I am grateful for every moment we have with her - thankful my girls not only know what she looks like, but what she feels like. They know her voice, her laugh, that she loves birds, mountains, her garden, and them.
This week I've thought of others who are bravely living with cancer. Faye. Dennis.
I've remembered those who are no longer with us.
Lynne. Leone. My Grandpa Marvin. My Grandma Lorraine. My cousin Rich. Doug's Aunt LuJean and his Aunt Carol.
Michelle's
mother. Liz's mother.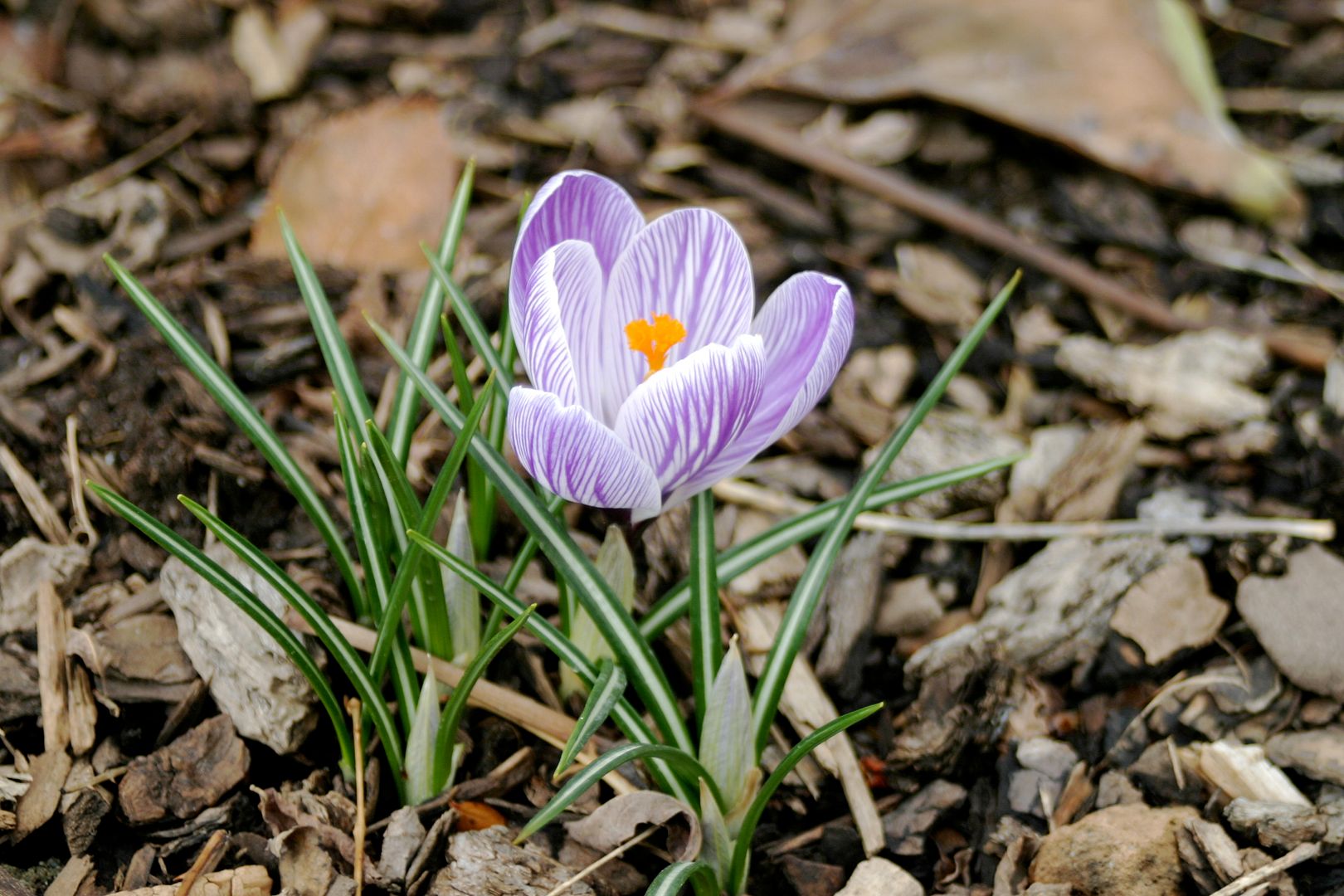 But with it, the promise of new life. And the reality that our journey is not for this sphere only.
Ours is a continuous and circular path. It leads to a place where all roads eventually converge in a perfectly glorious reunion with those we love.