I want to tell you about this wonderful music program for children. I'm not plugging it because I get a discount or they need to fill slots for next year. There's nothing in it for me.
I am telling you simply because I am SO impressed.
I know about this program only because my good friend Liz happens to be a teacher.
But if you (like me) are already trying to figure out next year's schedule, what activities your kids will be involved in, and you have the hope that your child will someday play an instrument, you should know about

Let's Play Music

.
The key word here is "play." If I had to sum up the program in one sentence I would say it's music theory taught in such a fun way kids don't know they're learning theory (like the staff, solfeggio scale and signs, rhythm patterns, and ear-training.) It just happens.
They use eight bell tones and listen to a CD during the week. There is a small homework assignment (which is easy and fun), a little bit of practicing, and class once a week - with parents attending every other week. Recommended age for starting is 5-6.
You can see by the look on Eliza's face, she loves it. (Not sure what her face is saying in the picture below. Sometimes it's just fun to squeeze your cheeks, right?) But she
looks forward to going and so do I. It's great for us to have an outing together every other week - just the two of us.
Now I must say, I wasn't sure how Eliza would fare. She couldn't sing on tune before we started. She couldn't hear a pitch and match it, or sing along to anything with confidence (because I think she could tell she wasn't on tune). But Liz told me not to worry - not to make an issue of it. So we kept coming and doing the homework and guess what... half way through the year, she started singing on tune! It was amazing - really.
Let's Play Music did everything it said it would do.
Of course, Liz is a masterful teacher. She's an accomplished vocal soloist with a degree in music. She is warm, energetic, encouraging but no pressure, and she really cares about the children.
The program reinforces music principles in a number of ways - with the ears, eyes, hands, and body.
I play piano and guitar, but I'm no virtuoso and I've never had much training in theory. Some days I sit there with Eliza on my lap, listening to Liz teach, and I am floored by what she's saying. Light bulbs are going off all over the place and I think, if only I'd had this when I was young!
Classes are taught in the teacher's home. If you are interested, you can

find a teacher

near you or

watch a video

to get a better idea of the format.
By the end of the three year program (which you are not committed to up front - you pay by the month), children should be able to compose their own musical piece on the piano. The curriculum is geared for piano but is an excellent lead-off into any instrument.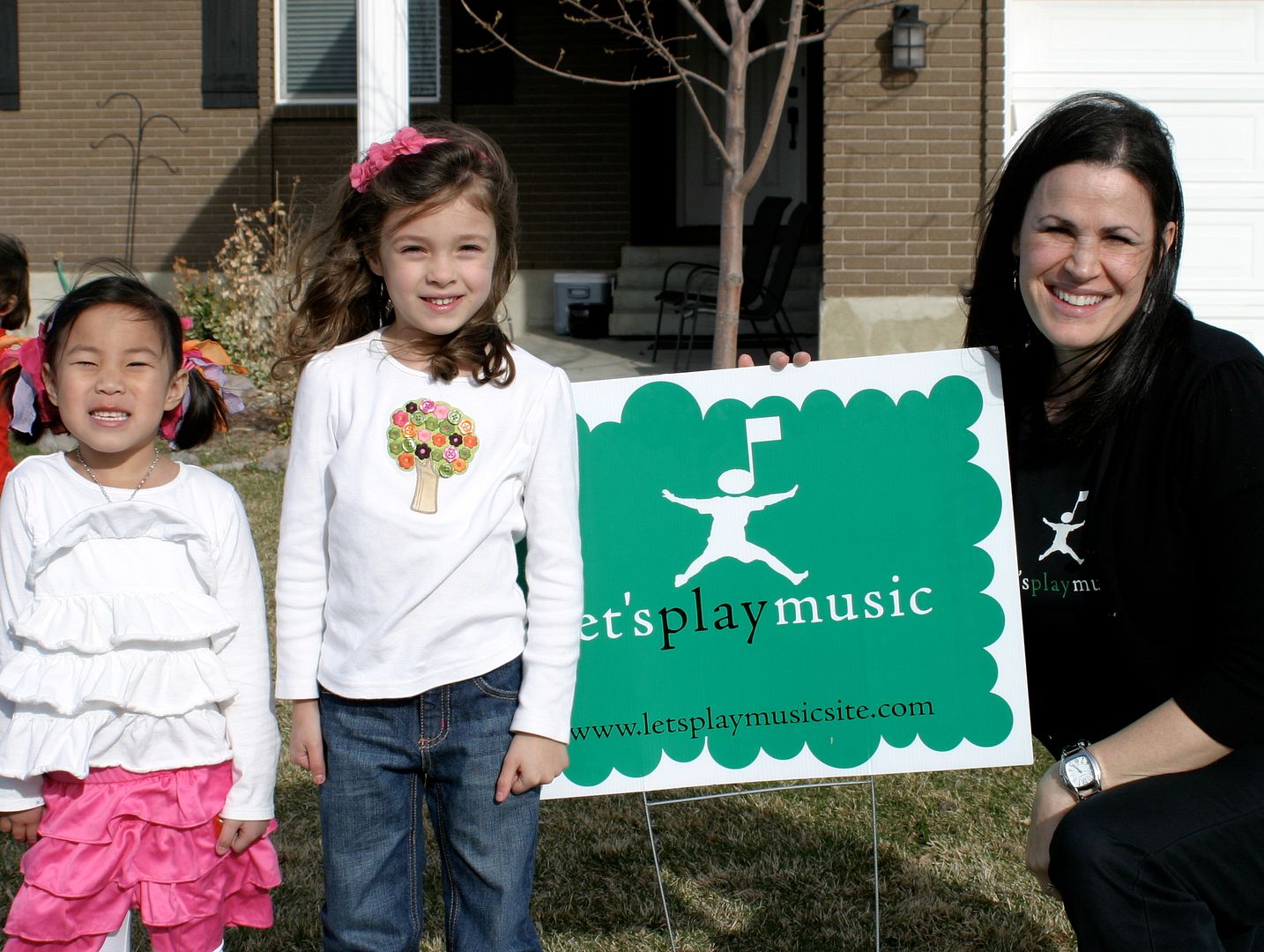 Liz was such a good sport about posing for pictures. I gave her no warning - just showed up with the camera. Love her.
I don't aspire for my kids to end up on American Idol, nor do I espouse the
Tiger Mother
philosophy, but I do want my children to experience the joy of music and playing an instrument.
And m
aybe some day we'll sit side by side on the bench and play a duet of Beethoven's
Moonlight Sonata
- one of my favorites.