Last weekend it snowed, sleeted, and snowed some more, for three straight days. I had to hoist me 'ol bootstraps up and refrain from singing "Haul out the holly" with a forced
smile. When I asked if anyone wanted to play outside, I had no takers. And that's saying something.
Finally, Eliza pulled on her snow pants and ventured out alone. S
he rolled and packed, rolled and packed, then came inside for accessories. I was about to hand over the regular accoutrement when a surge of defiance shot through me.
In protest of winter's return I handed her trimmings for a Snow Lady instead of a Snow Man.
A Snow Lady in Spring finery.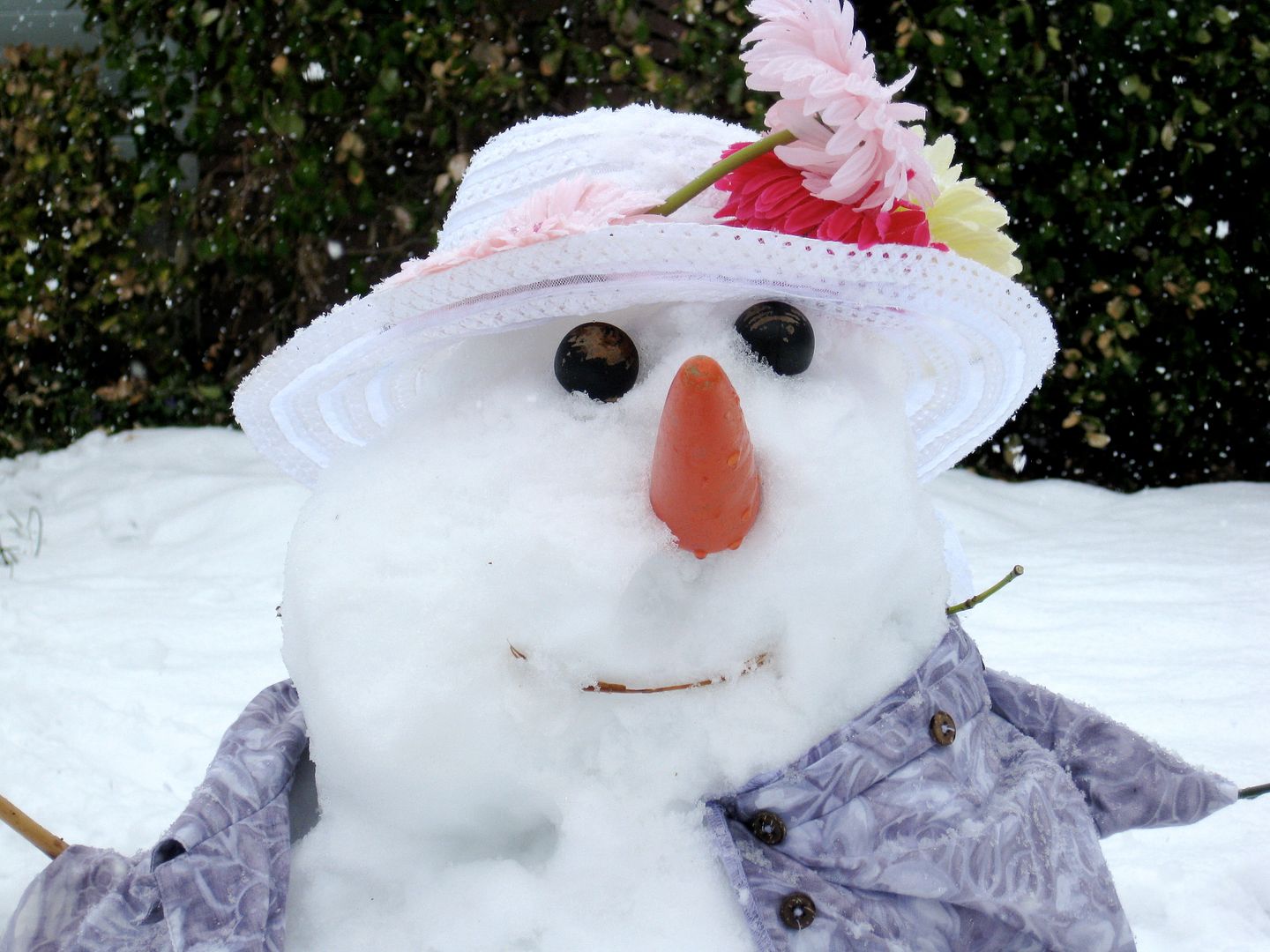 Here she is in her sun hat - complete with daisies, her Hawaiian shirt, and of course,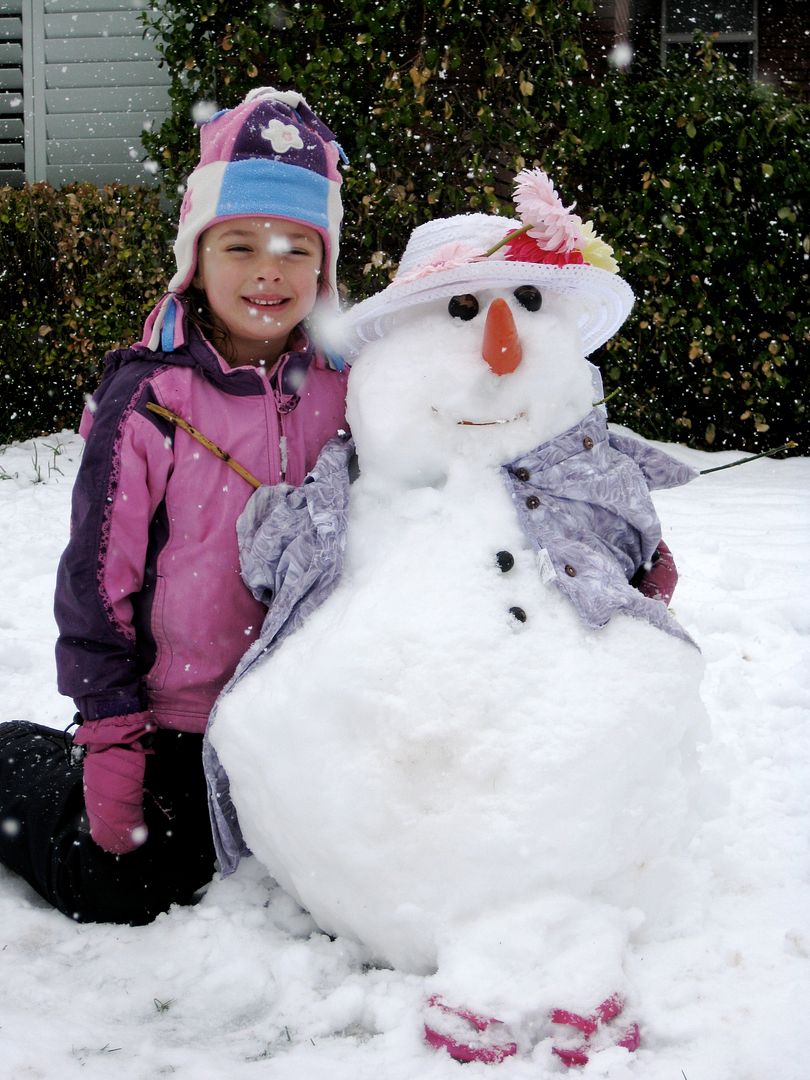 This morning, we woke to green grass and sunshine streaming through the kitchen windows. Ali exclaimed
"No snow today!" as I poured cereal and filled sippy cups. Every patch of white had melted. Even the muddy spots looked dry. So we played hard.
When afternoon storm clouds threatened in the west, the girls refused to come inside.
They jumped on the neighbor's trampoline, tried hula-hoops for the first time, and dug for worms.
Sami brought me "dandy-fliers" (dandelions) and I pushed
swings sky-high, running "under-dogs" beneath kicking legs as squeals of laughter peeled into the air.
Tonight, however, it is raining. Not snowing (cross my fingers). And I feel confident. I'm going to predict we've had our last snow.
I mentioned
a while ago this might just be the year of the Snowman. You tell me.
Doug and I helped here and there, but most of these creations were pure Eliza. Designed and built all by herself (with assistance from sidekicks Ali and Sami).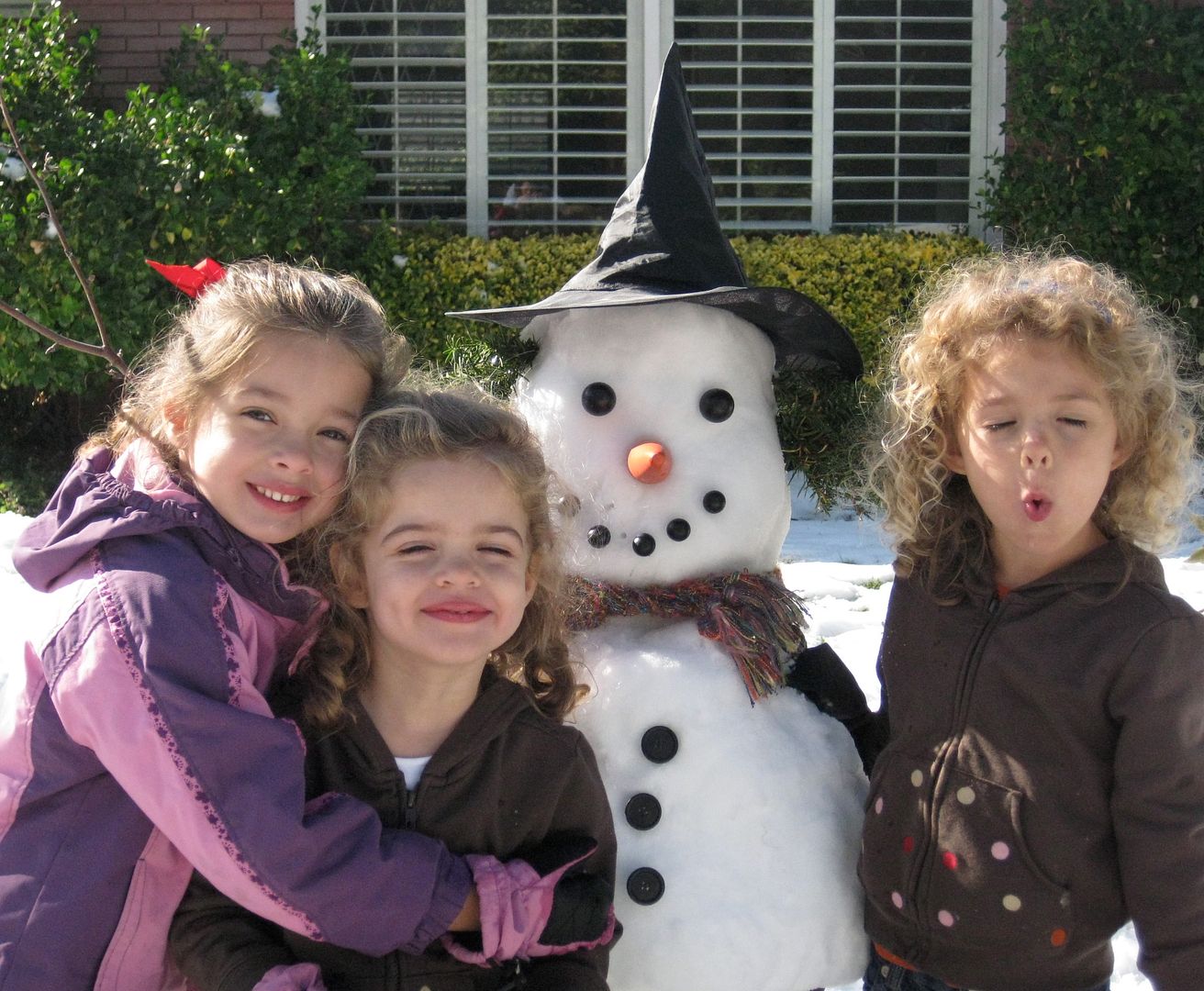 In October, there was the

Snow Witch.

It was our first snowfall.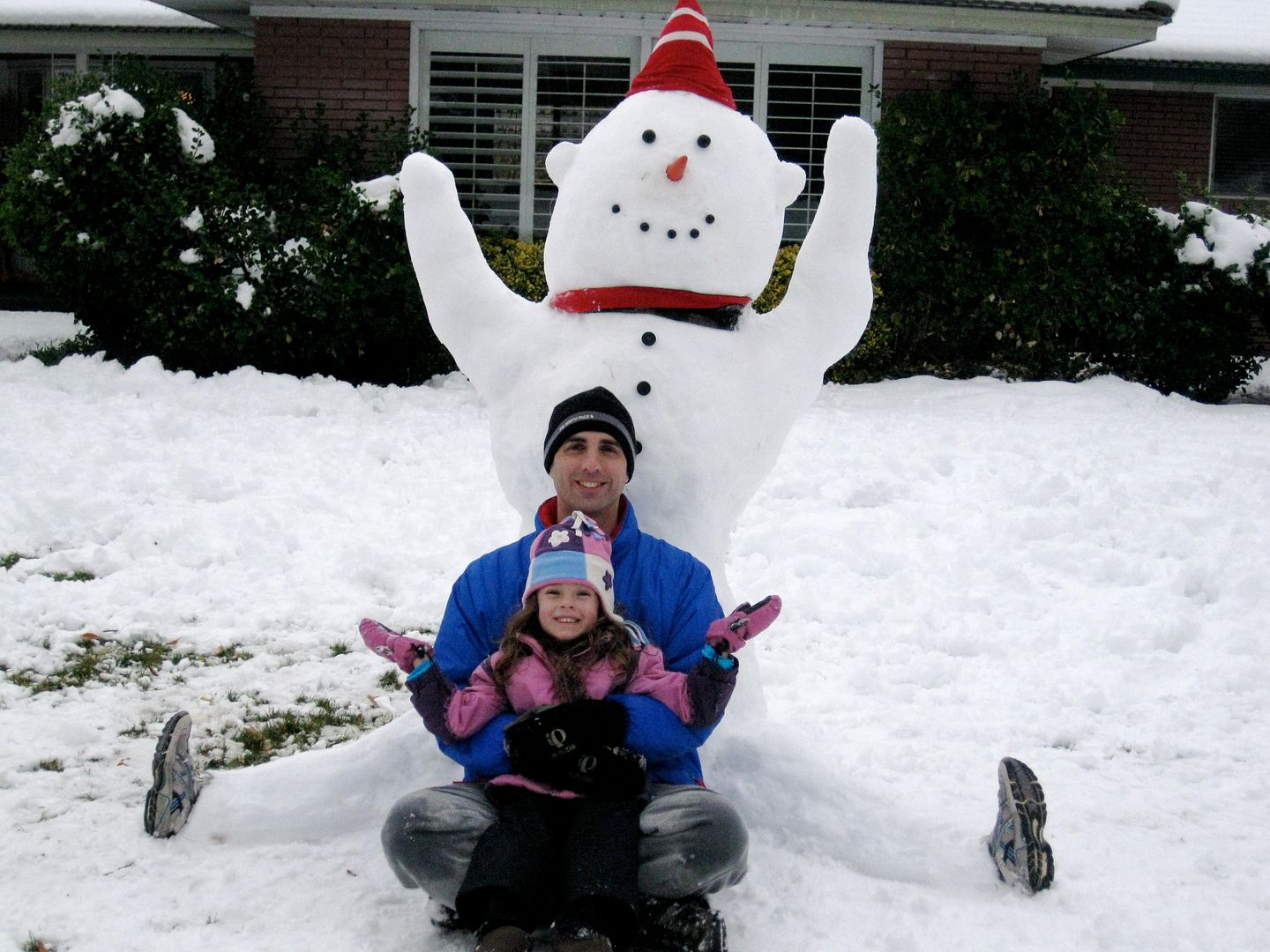 Then there was Lug. This enormous hulk of a snowman lasted a long time. Within 24 hours he started leaning heavy to the right, but he never fell over - even when the neighbor boys karate-chopped his arms off.
He kind of looks like a polar bear - a flexible one at that. Must do yoga.
This is Snow Girl. I can't remember Eliza's name for her but the flower-clipped pigtails show her youthful innocence. We went through several pairs of gloves with Snow Girl. One never surfaced.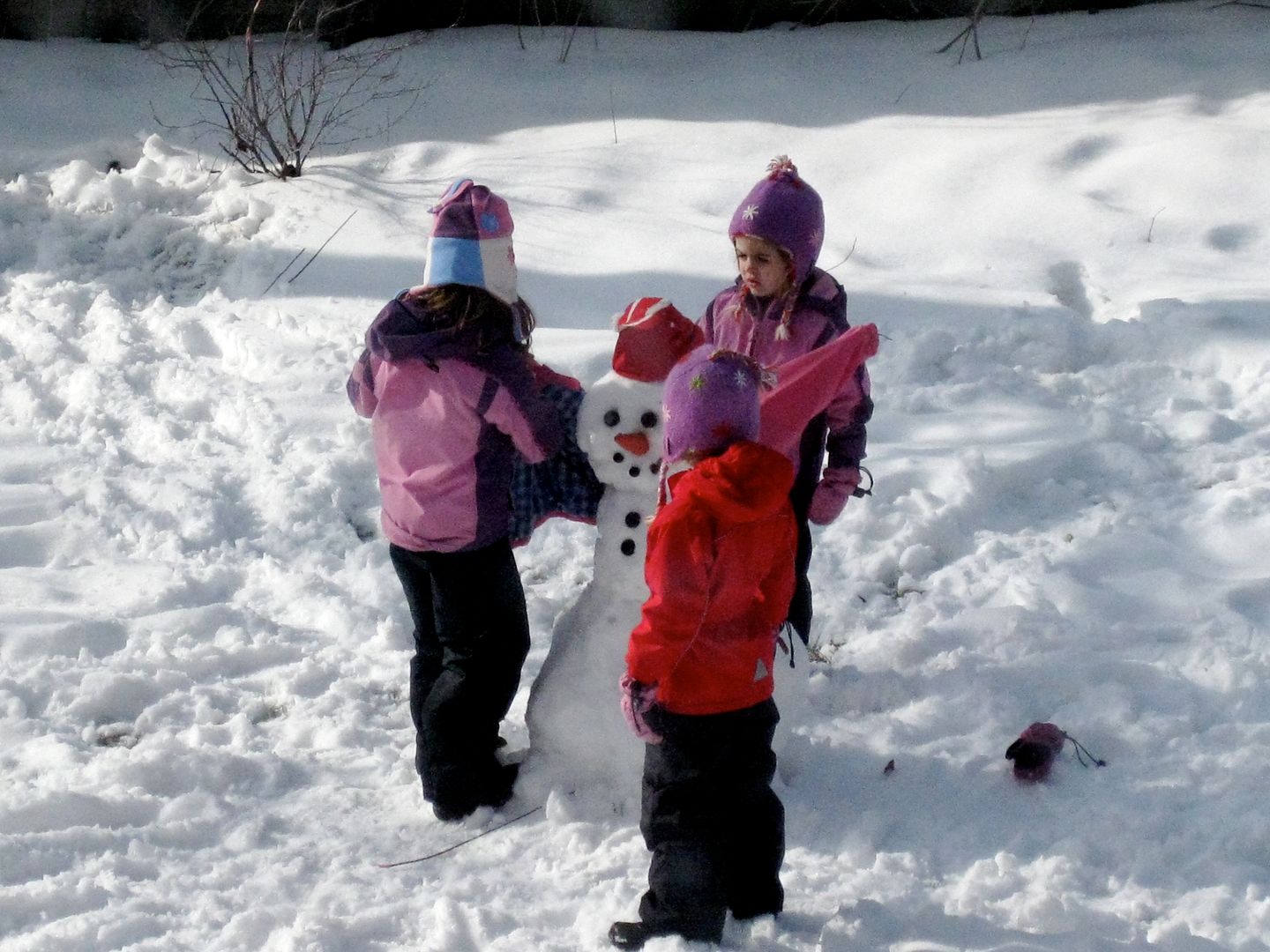 This is Buddy. He's an Elf and he works out. Three times a day. I mean look at his quads! And his calves. Buddy's a renaissance man. He can do anything but he'll be sure to tell you - never leave home without your Disney ViewMaster and Hello Kitty Bag.
Then there were these two fellas. They make quite the pair. Tweedledum and Tweedledee? Siskel and Ebert? Abbott and Costello? Maybe
Spencer and Gordon? Well, whoever they are, they make me laugh. It's that clueless smirk, the big nose, and those mis-matched eyes.
Oh wait. I forgot. They're actually part of a trio.
I think that's Lucille on the right.
And there's our little artist in the middle. She has such an imagination. Sometimes I wish I were four again and could tag along. Everything with Eliza is an adventure.
This is the Sheriff. Or Sheriffe. The heels throw me off every time. But Mr. Potato Head's eyes and mouth are a nice touch.
We lost more and more pieces of Frosty as winter progressed. First it was his buttons. Then his mouth, and
today, I can only find one eye and the carrot nose.
Last but not least, there was this little guy. Isn't he cute? He reminds me of E.T.
I think it's the bulgy eyes and quirky neck.
Has Spring sprung where you are? What's your prediction? Do you think we've had our last snow?