I can feel it slipping away. And I'm not ready. This season of babies – of carting one or more on my hip. Eliza will be six this Friday. That's all we had. Six years of babies. It was intense, and maybe it sounds long to some, but I can hardly believe we're done.
The boys will be two in June. They are changing, looking older by the day. Strong wills are showing. They are fighting me at nap times, stopping me in my tracks with words they shouldn't be able to say yet.
I want to freeze them right here. These two towheaded brothers.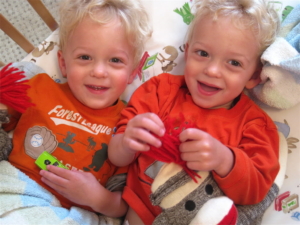 They understand everything I say. And I understand them. But they still speak jibber-jabber. Cute talking sounds with a smattering of identifiable words. I love it.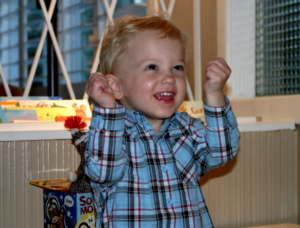 I love how they are with each other. They make us laugh. They make each other laugh.
Their little bodies splinter with light and it fills our house.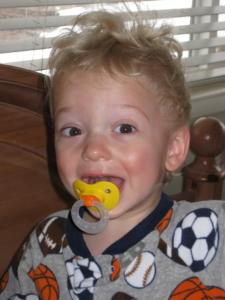 I smile at Doug as we watch Gordon run – bent forward, his head in front of his torso, arms thrust behind him as he gains speed on our driveway/runway. These boys are moving faster now.
They lock eyes with us at the dinner table, smirk and giggle as we point fingers at each other. The love connection is huge and I cannot stand the thought of them growing up. I want to stall this stage, pause all its wonder and happiness – its absolute purity – until I'm ready to move on. Yes, it's about me. Not them.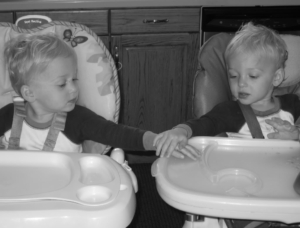 I linger over little moments. Like after a diaper change, when I stand them up so they can wrap their arms around my neck. Or when I'm holding one and he turns his face to mine and plants a papery kiss right onto my mouth. Or when I brush the food off their pants after a meal and one at a time pick them up, press their cheek against mine, and spin us into the living room. We stand in front of the mirror and look at the two of us, close. They point at me and say "Mamma."
A few days ago, Spencer cleaned up all the cars and tricycles by rolling them into the garage by himself. Gordon likes to pick scraps of paper off the floor and put them in the garbage can without my asking. Both of them have been trying to put on their own shoes. They are climbing into and onto everything.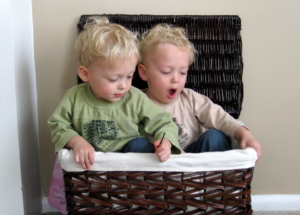 I can see how much they are learning – how they are growing, but they're still golden and innocent enough to do what I ask.
A few months ago, Doug took the girls bowling and I had the boys to myself. Unusual circumstances.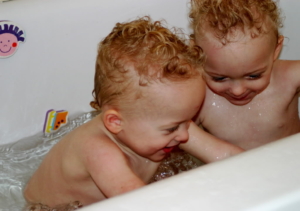 I let them play in the tub longer than normal.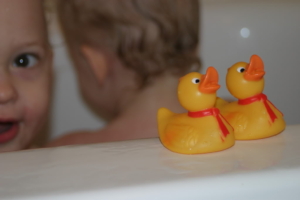 We sang "rock a bye baby" as I swaddled them into a warm towel. I rubbed lotion on their arms and legs, plucked their toes while making a popping noise with my lips. It was all so happy, easy, and enjoyable.
We sat on the couch and read their favorite stories. They leaned into me, far enough that I could encircle both of them with my arms and still hold a book. Each time we got to "the quiet old lady who was whispering hush" they would say "Sssss" and place their index finger on their nose.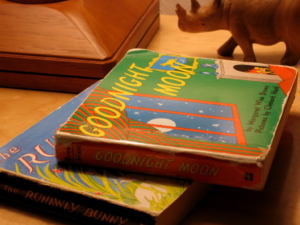 They pointed to the runaway bunny, found him in the crocus, on the mountains, and in the water. I felt for the mamma bunny – felt like I could say her words. "No matter where you go, I will find you."
Their hair was damp as I turned the bedroom lights low and took turns snuggling them onto my shoulder. Their curls spiraled soft against my cheek. They smelled of baby shampoo and clean pajamas.
Spencer formed his body to mine, pushed his rumpus into the air as I tucked my arms beneath him to make a seat. He knows the puzzle – the nook we both love – that place where his round head fits best. We melded together like warm metals and I clutched at the impermanence of it.
When I held Gordon, he turned his face to mine and I slid his body down so we could see each other. I kissed his forehead and he smiled. He didn't move. And all I could think was how satiny his skin was – how wonderful it felt against my aging face.
My sweet boys. You will never know – not until you have your own – how happy you make your mamma. You are an unmistakable gift.
And if I could hold you longer, I would.