We were still finishing dinner, baths were on the docket, and neither of us wanted to abandon our plates to steady Eliza's bike for her.
We said "not right now." But it didn't matter. We heard the garage door go up and seconds later, watched Eliza stride out of the garage with her bike. She leaned it against a tree and with her helmet on (good girl), gripped the handlebars then glanced back at us, her head high.
She was going to ride... without us.
We bought Eliza a seven-speed mountain bike last year for her birthday. It has hand brakes, no training wheel option, and the frame was a bit high for her. But we figured she'd grow into it. After riding a
skuut
for a year (these toddler bikes make transitioning to a pedal bike a breeze), she got on her new bike and took off. Balance was a non-issue. Braking? Definitely an issue. And starting on her own? Also an issue. Last year she went straight down the hill in my parents' yard into a forsythia bush.
Tonight however, she was going to conquer the bike. I could see it in her.
So she saddled up, held onto the tree with one hand, and tried to right herself long enough to pedal forward.
After watching her fall over a couple times, Doug slid the window open and called out some instructions. She flicked the pedal up to the perfect point of rotation and to our surprise, took off!
We started laughing as she pedaled across the grass. All these months she's stayed in her comfort zone (the grass), wary of the pavement. But not tonight. In a sudden burst of speed, she blazed onto the driveway like she'd been riding concrete for years.
We jumped up and ran outside. I grabbed the camera and took a short video. This girl has some grit.
Since then she's become slightly cavalier about her riding. Not intentionally. She just wants to be on her bike every sunny, spare moment she has. Saturday it was no helmet, flip-flops, and a skirt. We're working on the helmet. But even in flip-flops, she's riding like a pro.
Amazing what you can do when you're determined. Sometimes I miss that kind of challenge. Rock-climbing, marathoning, making it to the top of a peak. I run my measly miles each week but I'm still winded carrying both my boys up the stairs. Life is so different. Now, instead of working to bring my mile to a certain minute, I'm determined to do things like be patient, wake up in the morning so I can get Eliza to school on time, make something healthy for dinner, and not explode when my boys go fishing in the toilet for the second time in one day. I suspect, however, as we move out of this toddler stage, a bundle of new adventures (meant to foster more determination on my part) will be waiting.
P.S. Eliza isn't the only one with determination in our house.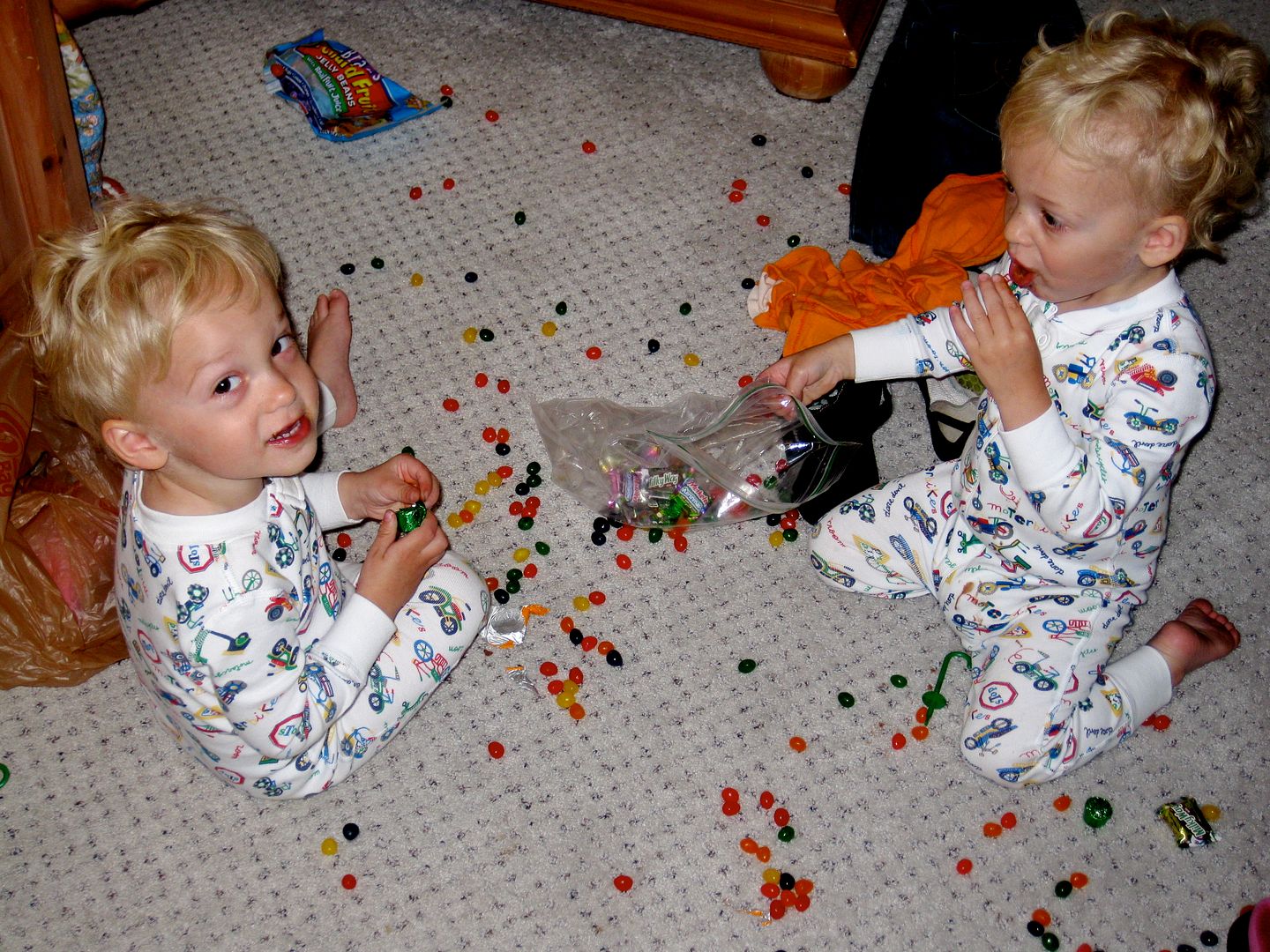 Guess what these two found?
My
Easter candy stash. They only saw me snitch once. But five minutes later when I went to check on them, they were basking in jelly-bean heaven. They opened the closet door and weaseled that bag right off the shelf. Together.
I watched Gordy unwrap this rolo for three solid minutes. Now that's determination.
Most kids seem to be headstrong these days. My Mom is convinced "they're just coming that way."
What do you think? Do you see the fierceness too?
I think it's a good thing.