It's raining again (yes, again) and the air is cold. Honestly, Spring can't decide if it is coming or going. A month ago, we sat at the kitchen table and watched the rain-slash-sleet-slash-snow pour down - mourned the fact that we hadn't had a warm day in weeks. So we
decided to paint Spring. Watercolor it right onto our papers where we could see it.
Usually the girls paint alone while I rinse dishes, vacuum, pick up toys. But on this day? I wanted to join them. I deliberately ignored the messy kitchen and sat down. I needed to make something.
I mixed colors, tried to envision our fruit tree in the front yard and how it would look in full bloom, snow still gracing the mountain behind it.
My Grandmother (a talented painter) would have given me some pointers - guided my brush and encouraged me to hint more. She wouldn't have laughed when I did. I know it looks elementary. But who cares? The process
was so rejuvenating. All of a sudden I had made something out of nothing. Something I could see.
Eliza painted this flower. She called it "Sun Rose Beautiful."
Ali painted this piece and called it "Flower Power."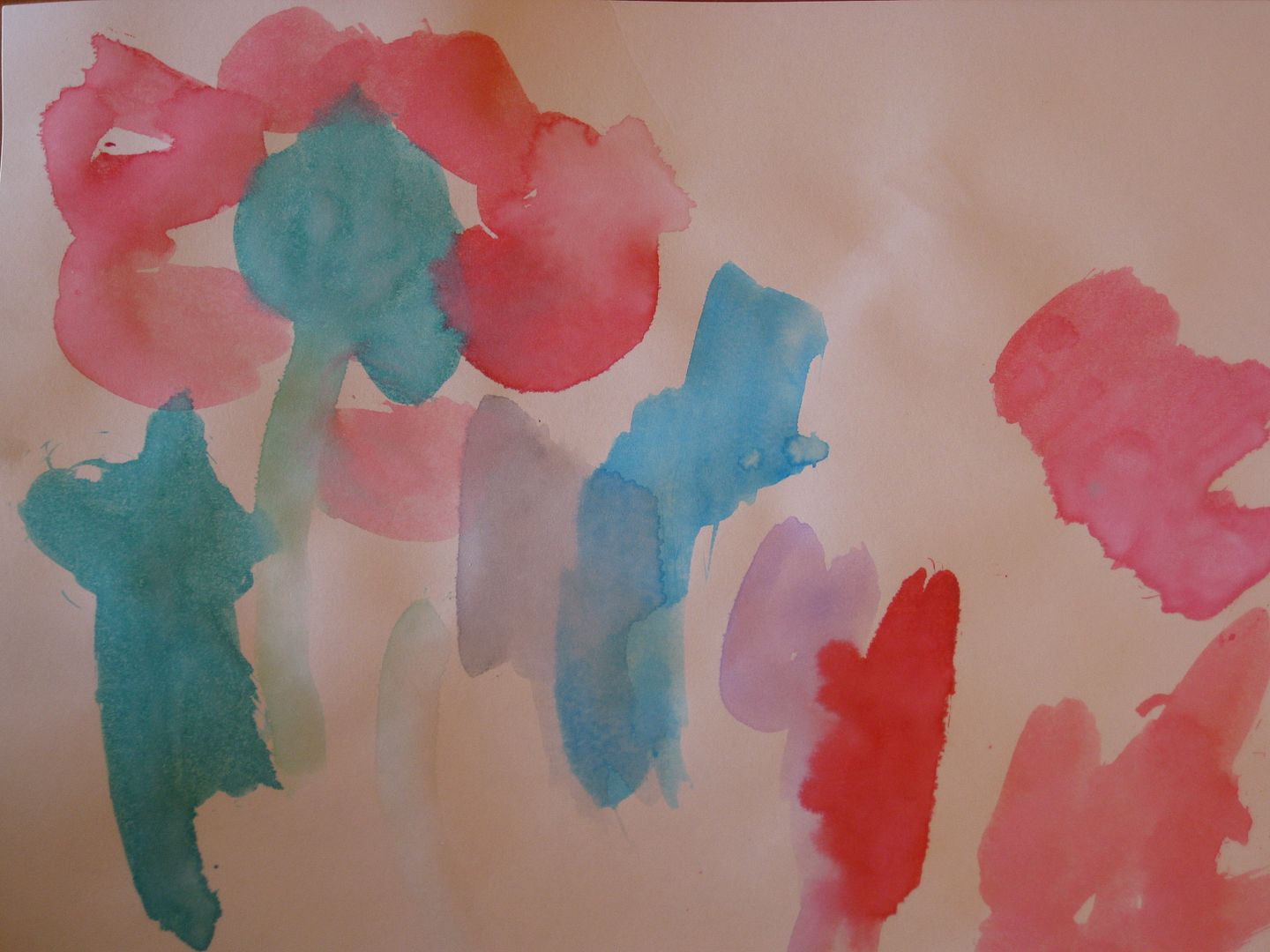 And Sami painted this one. "Flower Power (2)" - maybe we'll work on a series.
When I finished my scene - the view from our kitchen window - I held it back. It was disproportionate and awkward, but it was mine. And I was pleased. Why don't I do more of this? I thought.
It's been a long time since I made something with my hands - besides words on a screen. And it felt good.
"The desire to create is one of the deepest human yearnings of the soul... Everyone can create. You don't need money, position, or influence, to create something of substance or beauty. We develop ourselves and others when we take unorganized matter and mold it into something of substance." - Dieter F. Uchtdorf
What have you been creating?
(Please tell me you don't have to "paint spring" where you are.
Seriously! It's almost June!)