I taught a lesson yesterday (to the women of our local church congregation) about charity. The text for the lesson came from

this talk

.
It's about
how we view each other. I am convinced after preparing and hearing thoughts from other women, the greatest gift we can give each other is a loving and honest refrain from judgment.
Thomas S. Monson defines charity as the opposite of criticism and judging.
Not always easy to do. For some reason we're inclined to criticize others actions or inactions, compare ourselves. Maybe it gives us a false sense of confidence? Maybe we do it to protect ourselves - so our own vulnerabilities won't be discovered? Whatever the reason, here's the reality.
"There is really no way we can know the heart, the intentions, or the circumstances of someone who might say or do something we find reason to criticize." - President Thomas S. Monson
And this quote, from Virginia Pearce, flings my heart open.
"You and I cannot possibly know the hidden pain eating holes in individual lives... we [ought to be] kind to everyone, everywhere, all the time."
The women in my lesson discussed these thoughts, as well as this statement from President Monson I have memorized so I can repeat it to myself and my children again and again.
"Appearances are so deceiving, such a poor measure of a person."
Have you seen this short clip Doug showed me yesterday? It's the experience of a random New Yorker who was asked to discuss the topic of civility. I wish I'd used it for my lesson.
I have a new understanding of charity today. When mentioned in scripture, it is never discussed in the context of alms-giving, good deeds, or benevolence. It is deeper than that. Charity is the strongest, noblest, purest kind of love we can give.
"Charity is having patience with someone who has let us down. It is resisting the impulse to become offended easily. It is accepting weaknesses and shortcomings. It is accepting people as they truly are. It is looking beyond the physical appearances to attributes that will not dim through time. It is resisting the impulse to categorize others." - Thomas S. Monson
While there is nothing wrong with cookies on the doorstep (I LOVE cookies and they're usually given with pure motive), there is a higher, more powerful way to love. But it doesn't come easily. It requires choice.
My girls showed me this kind of love Friday. After asking if they could have their

third

Otter Pop, I said no. (Funny. I don't think they have any clue what an otter is. They keep calling them "Odor Pops" and "Udder pops." We need to have a little English lesson on the naming of water animals.)
We didn't have any pops that were frozen so I shoved a handful of bendy liquid ones into the freezer. The girls wanted to drink them even though they weren't frozen, but I said no - it would be too messy. I continued sweeping the front porch. The girls went inside and a few minutes later, I stepped in to see what they were doing. I caught them red-handed - tearing Otter Pops open - fully stunned by the monstrous mess they were creating. You know how liquid Otter Pops are. Rip one the wrong way and it's like perforating an artery.
Red, blue and orange juice was shooting everywhere. The more they squeezed to stop the spray, the worse the projection was. Even I had trouble wrangling those darn things into the sink.
Without sharing all the details of how I reacted and what I said, I will just tell you, I was mad. I used strong language. I sent them to their rooms so I could cool off and clean up the mess. After I finished sopping up the floor and wiping down the refrigerator and cabinets, I heard their little feet shuffling up the stairs.
They stood in a row at the top of the landing with their heads low, their eyes searching innocently for mine. In front of their chests, they held hand-made notes. Eliza's said, "I am sorry I ate the otter (ODr) pops." Sami's said, "I love you Mom." And Ali's said, "I am sorry Mom."
They were showing me charity. The kind of love that forgives easily. The kind of love that manifests itself with tolerance, leniency, and patience. The kind of love I had failed to show them.
I broke down, knelt down, and wiped my eyes as I pulled them into my body for a hug. All four of us stood there for several seconds, wrapped and encircled.
I have so far to go. So much to learn. So many changes to make.
But I'm keeping this little pot Eliza made on the windowsill. So it can remind me of the pure love children share. Isn't it happy? All those colorful puff balls with something beautiful growing out of it.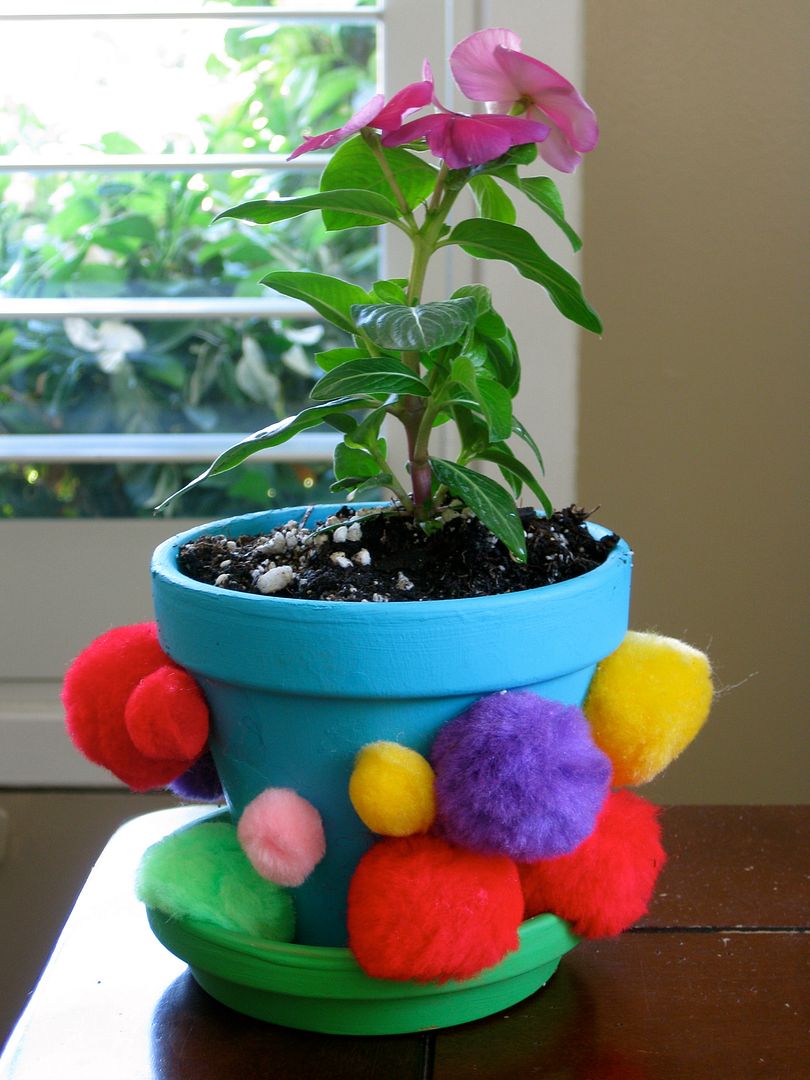 This is what charity does for our homes. It brushes away the clutter and makes our hearts happy, pure places, where the most powerful kind of love can grow.
I am zipping my mouth this week - determined to be more civil, more kind. Convinced that I must show my children a more noble kind of love. An experiment of sorts.
The need for charity is everywhere.