I raised both eyebrows when Doug said he wanted to take the boys camping. In our pre-parent life, camping and backpacking were common activities for us. We love the outdoors, exploring a pristine wilderness, escaping into the high country. But the thought of camping with kids hasn't even crossed my mind.

"You do? You want to take ou

r
boys? Overnight?"
The answer was yes. And Doug was excited about it. Our church's annual "Fathers and Sons" outing was coming up. Imagine a bunch of dads and boys camping somewhere for one night, eating lots of good food, and... well, I don't really know what else they do, since I'm not a father. Or a son.


It was obvious, however, as we talked, that Doug wanted to share this time with his boys, give them their first real camping experience.
I was on board. The only glitch I could foresee were the sleeping arrangements. Spence and Gordy are not yet free-range toddlers. They still sleep cooped up in a crib or pack n' play. In fact, they've never slept outside those confines.

"Could be a little wild trying to get them settled down," I said.

Doug nodded. He knew full well what he was getting into, but his mind was set. He was taking the boys and they were going to have a great time. I admired his enthusiasm.

So he packed our two-man dome tent, the lantern, the boys' fuzzy pj's, extra diapers, sleeping bags, a few other necessaries...
This is where they camped. A pretty nice setting, eh? All that grass made for such a fun place to play.
They climbed fences, visited with the horses, and even took a ride. Unfortunately, Doug didn't have a free hand to snap a picture.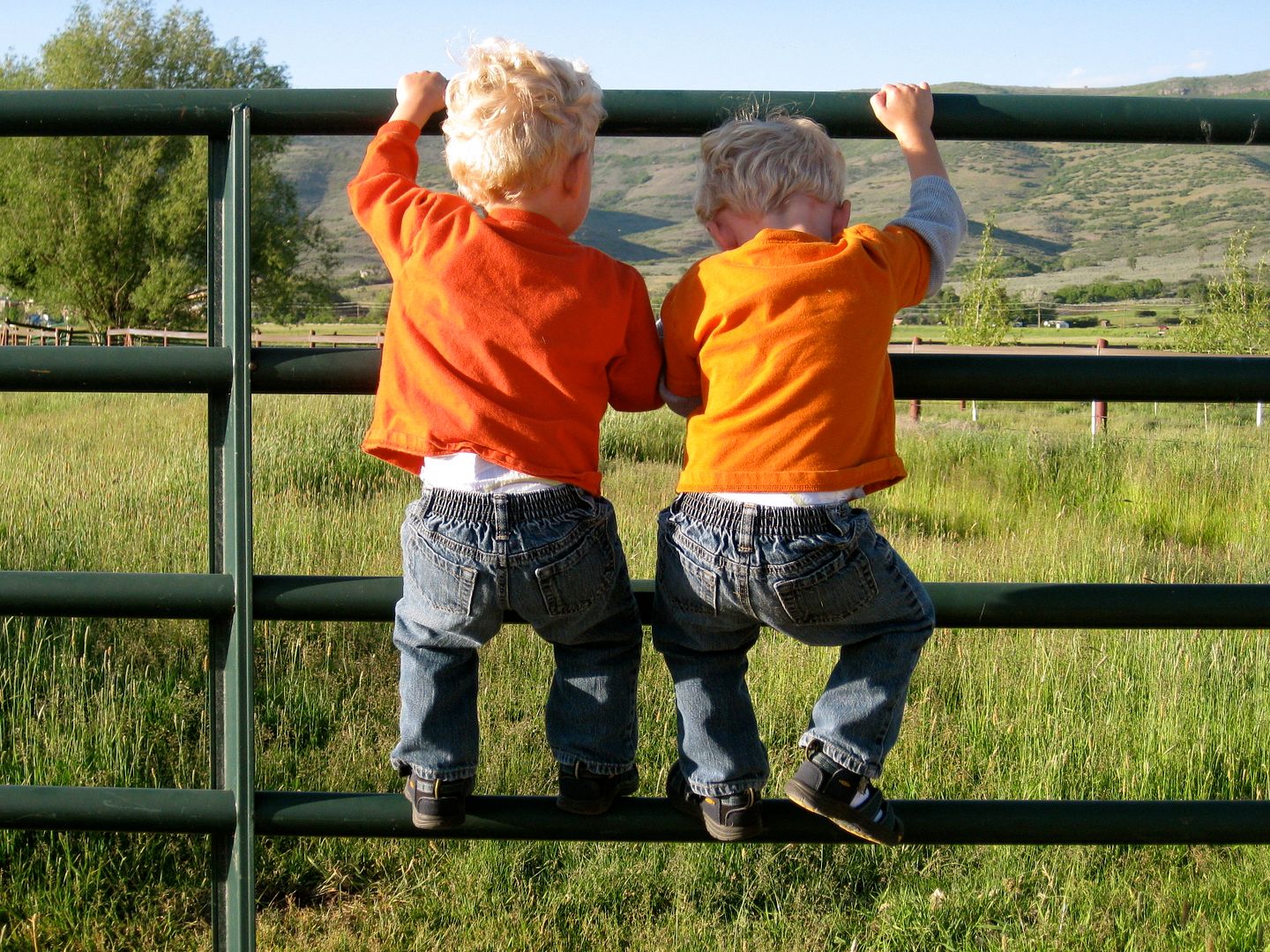 The men from our neighborhood were a wonderful help to Doug. So aware and ready to assist. They stayed with the boys while Doug got plates of food, cut hot dogs, and set up the tent.

After playing ball and eating (what sounded like) the perfect dinner, it was time to quiet down. Doug took this video around 10:30 PM.

I have to laugh at their bedtime conversation. Both boys (especially Gordon) have an infatuation with mowing the lawn. They love to follow Doug - pushing their mowers along the newly cut trail, bringing up the all-important rear. Mowing (as you will see), is always on their minds.

Watching them yakking through their binkies, looking at books (Gordon still sporting a smudge of food on his cheek), and simply being privy to the obvious love these three have for each other, makes me smile.




When Doug showed me this, he said, "Too bad the go-down didn't go that smoothly."
TWO hours later, after 12:30 AM, the boys finally fell asleep.
Doug felt like a father bear in a cave, with two rolly-polly cubs crawling all over him. Can you imagine?

Two

more hours of chatting, playing, crawling and rolling.

The boys have never stayed up that late. Doug is one awesome Papa Bear to go the distance with them. I might have lost my mind after midnight.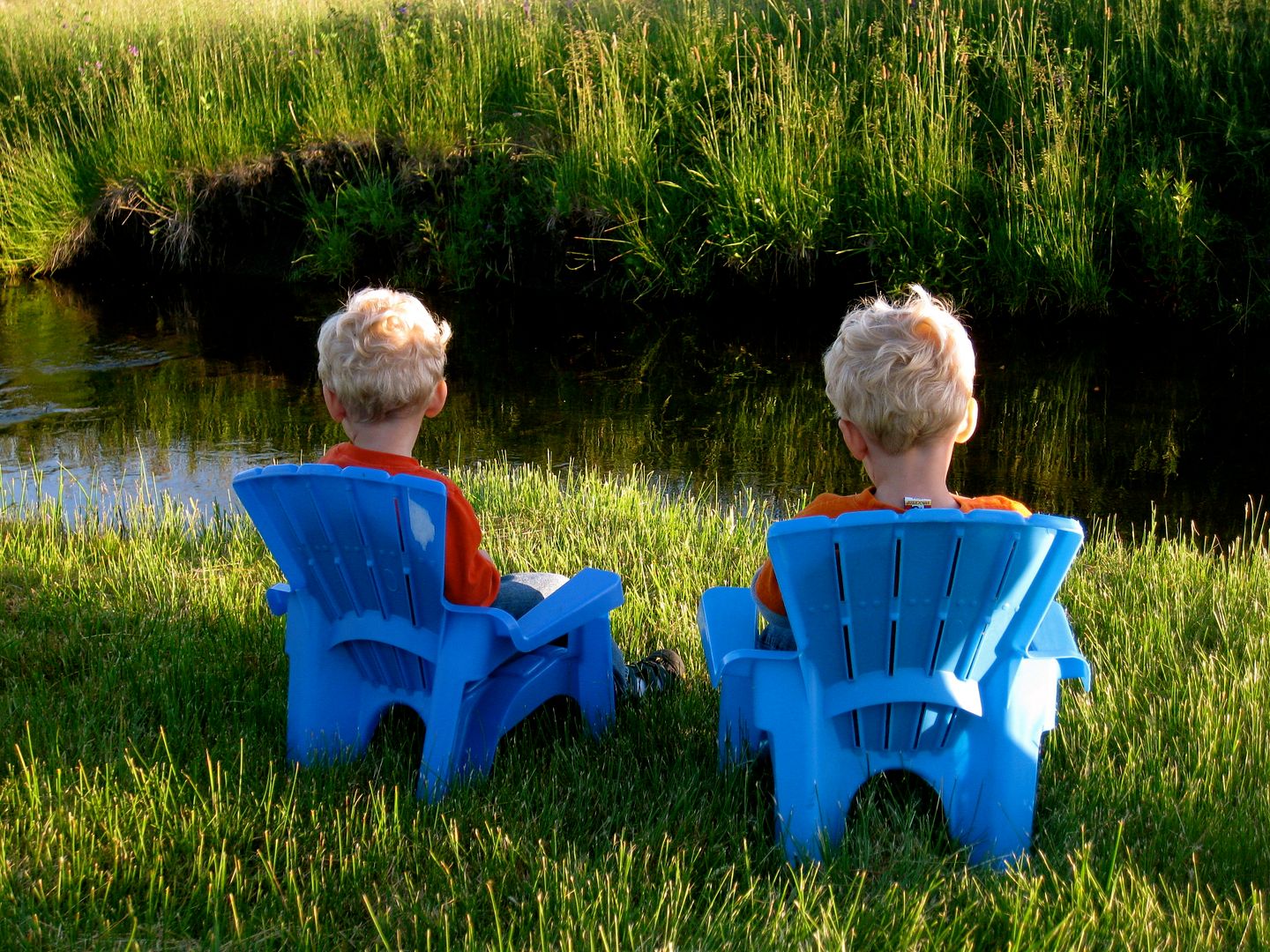 He said he woke at 7AM to two bright-eyed cubs sitting side by side, smiling at him.

They camped by this small stream and in the morning, Doug stepped outside the tent to check on breakfast. When he stepped in again, Gordy was gone. Trying to stay calm, he surveyed the stream first, and the surrounding tents, but no Gordon.
Just when he was about to alert the others, he saw our good friend, who also happens to be the Bishop of our congregation, walking towards him, with Gordon in his arms. Our friend caught sight of Gordy making a beeline for the campfire area (maybe he smelled breakfast cooking) - still wearing his fuzzy striped pajamas, binky in his mouth, toting his blanket behind him. He wished he'd had his camera.

I would say it was a success. All things considered.