I can still remember her name. Sister Jepson. She had gorgeous, red hair. The longest I'd ever seen, and it hung in ringlets. One Sunday she asked us (her six year old Sunday School class) to draw a picture of something we were trying to do. Something we were working on, but hadn't mastered. I drew a picture of myself on roller-skates.
Plenty of scraped knees on the driveway were proof that I was still trying. At the bottom of my paper she wrote three words: "Try, try again!"
Mom - thanks for saving this one. Who knew three decades later my thirty-something self would want it posted on her fridge?
Last week was hard for me. My soul was a bit scraped up, bruised in a few places, and in need of some spiritual aid. Many of you came to the rescue. You offered comfort and understanding, gave me windows into your own lives, and it healed my broken places. Thank you.
I've learned anew the power of words. Mine. Yours. How easy it is to cut, to hurt. Yet, how easy it is to also lift. Just a handful of compassionate words can tip someone's world aright. I have seen it with my kids. I have seen it in me. Yes, words are powerful.
I turned to the Psalms yesterday. They always make me feel like the Lord is nearby, within an arm's reach. And I read this.
"Return unto thy rest, O soul; for the Lord hath dealt bountifully with thee.
For thou hast delivered my soul from death, mine eyes from tears, and my feet from falling" (Psalm 116: 7-8).
The Lord has dealt bountifully with me. This I cannot deny. And over the last few days, I have tried gratitude on. Worn it quietly over my heart, my eyes, and my ears.
Gratitude changes things. It doesn't disable the hard. Hard will continue to exist, to be a part of our existence. You have hard things. I have hard things. And sometimes we write about them; we try to make sense of the complexities in life. But gratitude is its own hidden secret. Because it opens us to God,
to what He wants to whisper, and to the bountiful life each of us is living.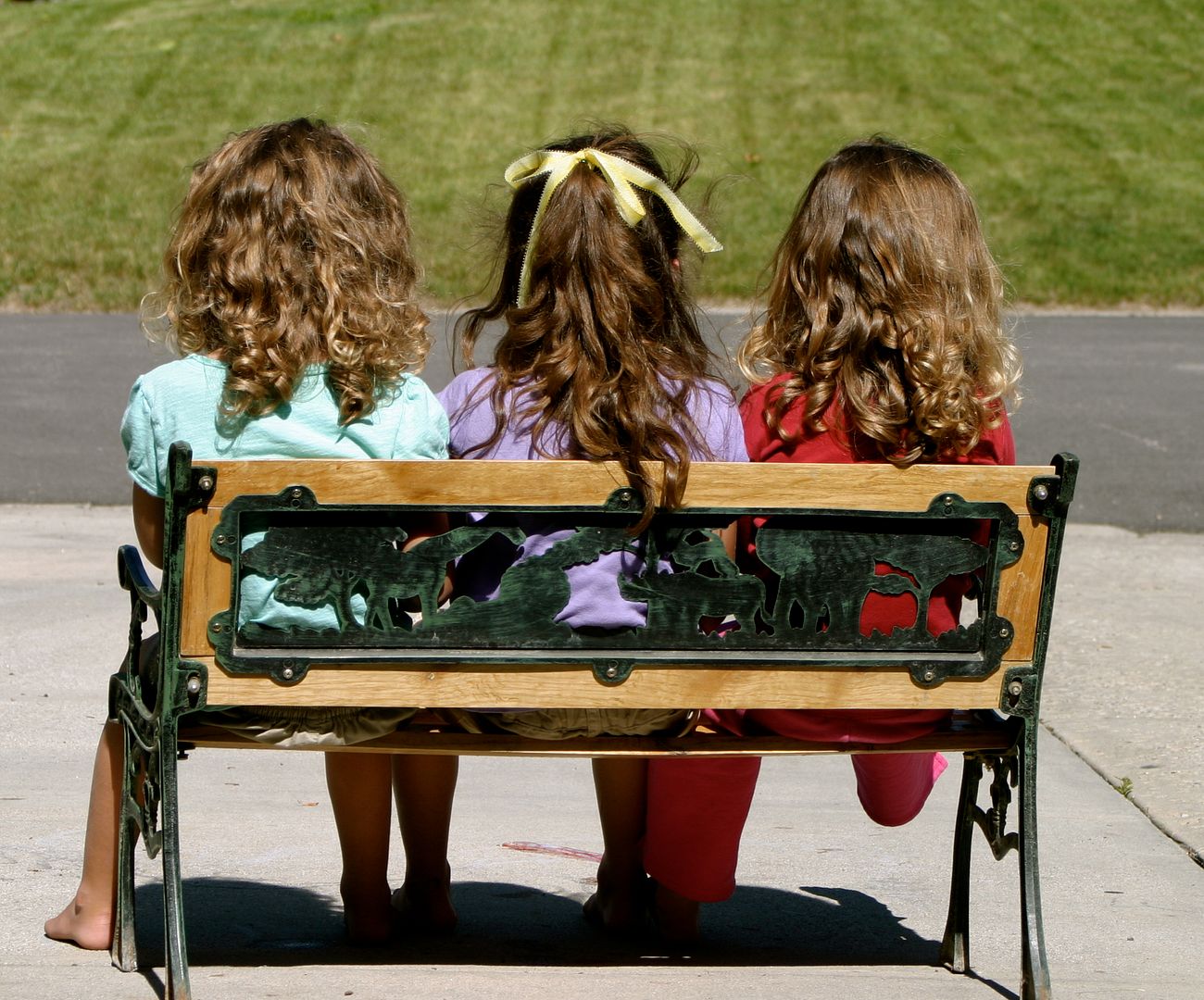 You are living your own beautiful life. Nobody else's.
And I am living mine. (Thank you Kara.)
This whole journey, of trying to live the way we should, of finding and losing ourselves, of choosing motherhood and trying to do it right? It is hard. But th
e human landscape, with all its mountains and valleys, is what it is for a reason. We couldn't know one, call it what it is, if we didn't know the other.
And underneath all the style, the stuff, and even the blogs, I wonder if we aren't just a heap of hurting, flawed, but trying people. And for all our trying, maybe we ought to do
as the Psalmist did and tell our souls to rest. To let God deliver our eyes from tears and keep our feet - our stumbling, bumbling feet - from falling.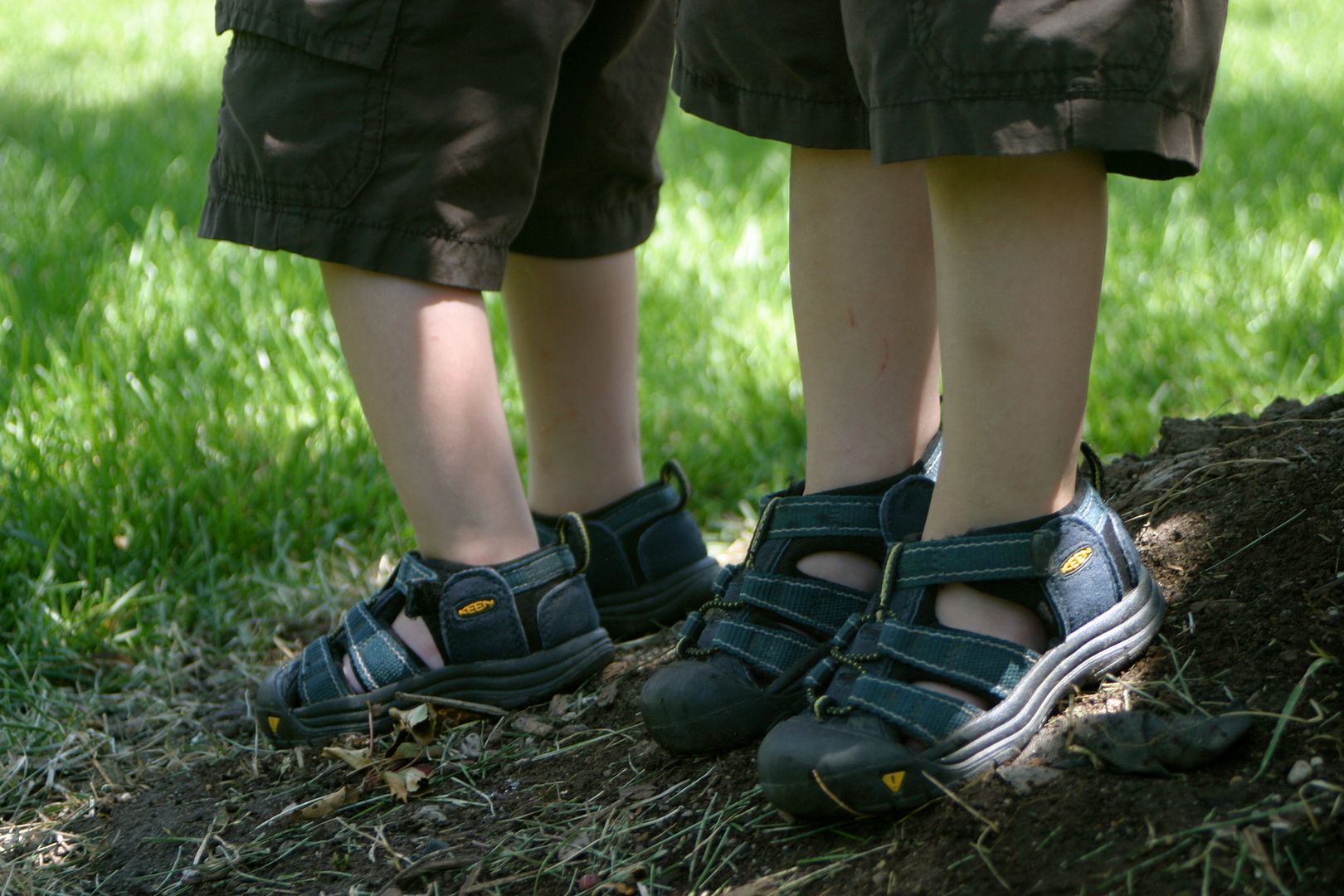 So I pulled out the last of the otter pops.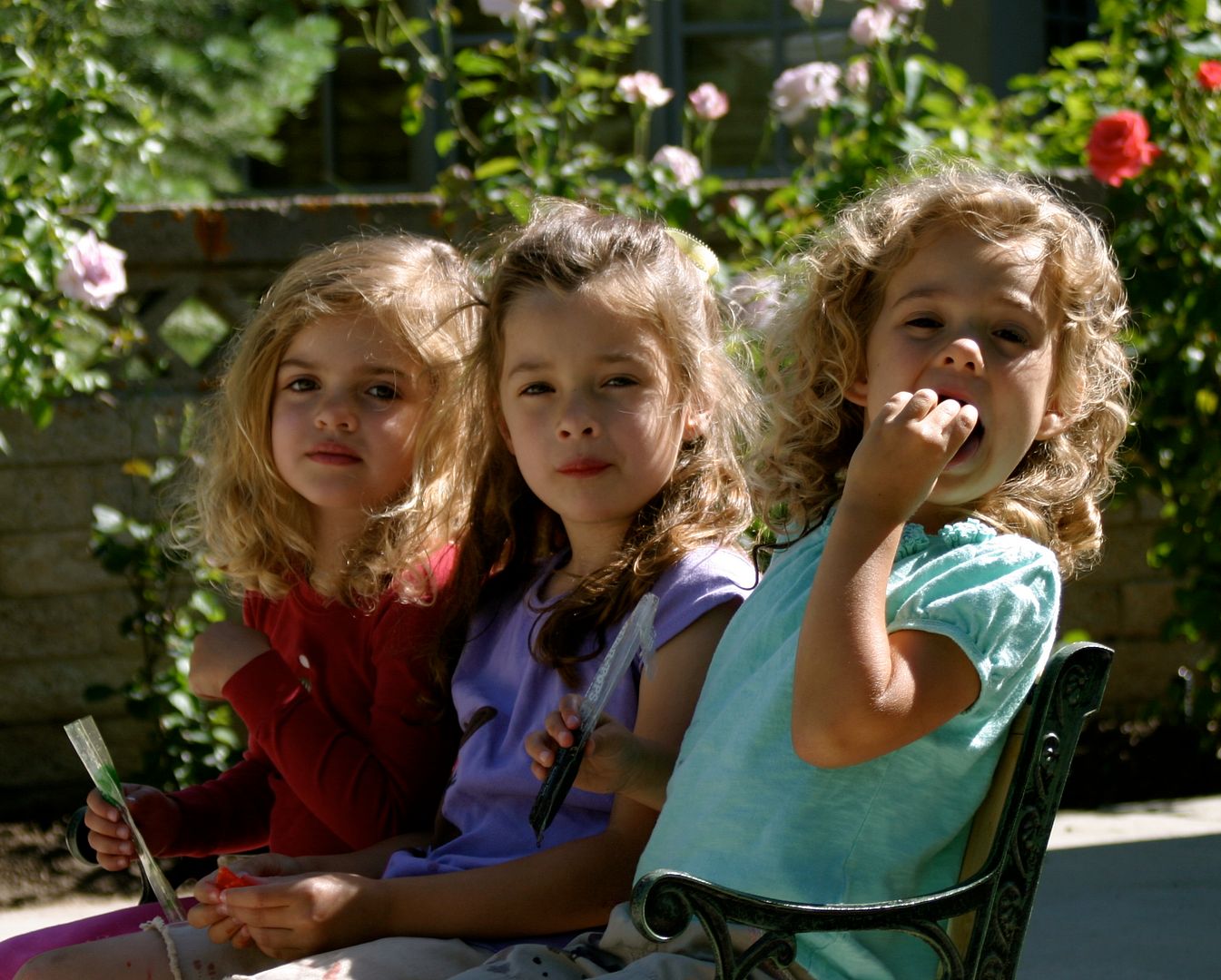 I am trying some new parenting tactics (more on those later). And we had a family talk. About the unique situation our family is in.
After that, Eliza, bless her heart, stepped up and stepped into that role of mama's helper. She has been buckling the boys into their car seats for me - trying to be a bigger sister than she is. And those things have melted me into a humbler mommy.
I washed all those dirty clothes from the mud bath. Twice. But look. One muddy handprint still remains. Do you think I ought to frame it?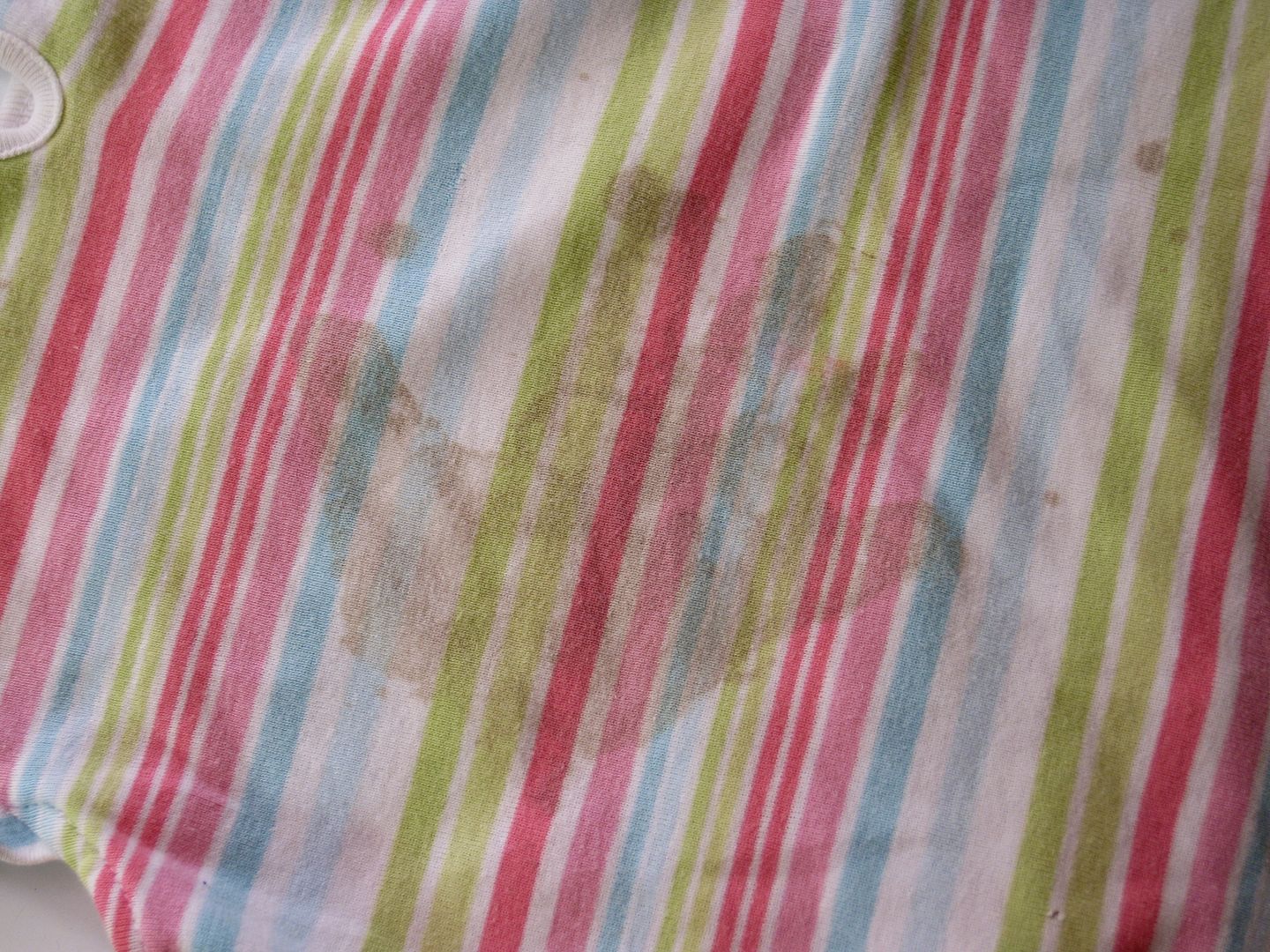 And my boys. My sweet boys.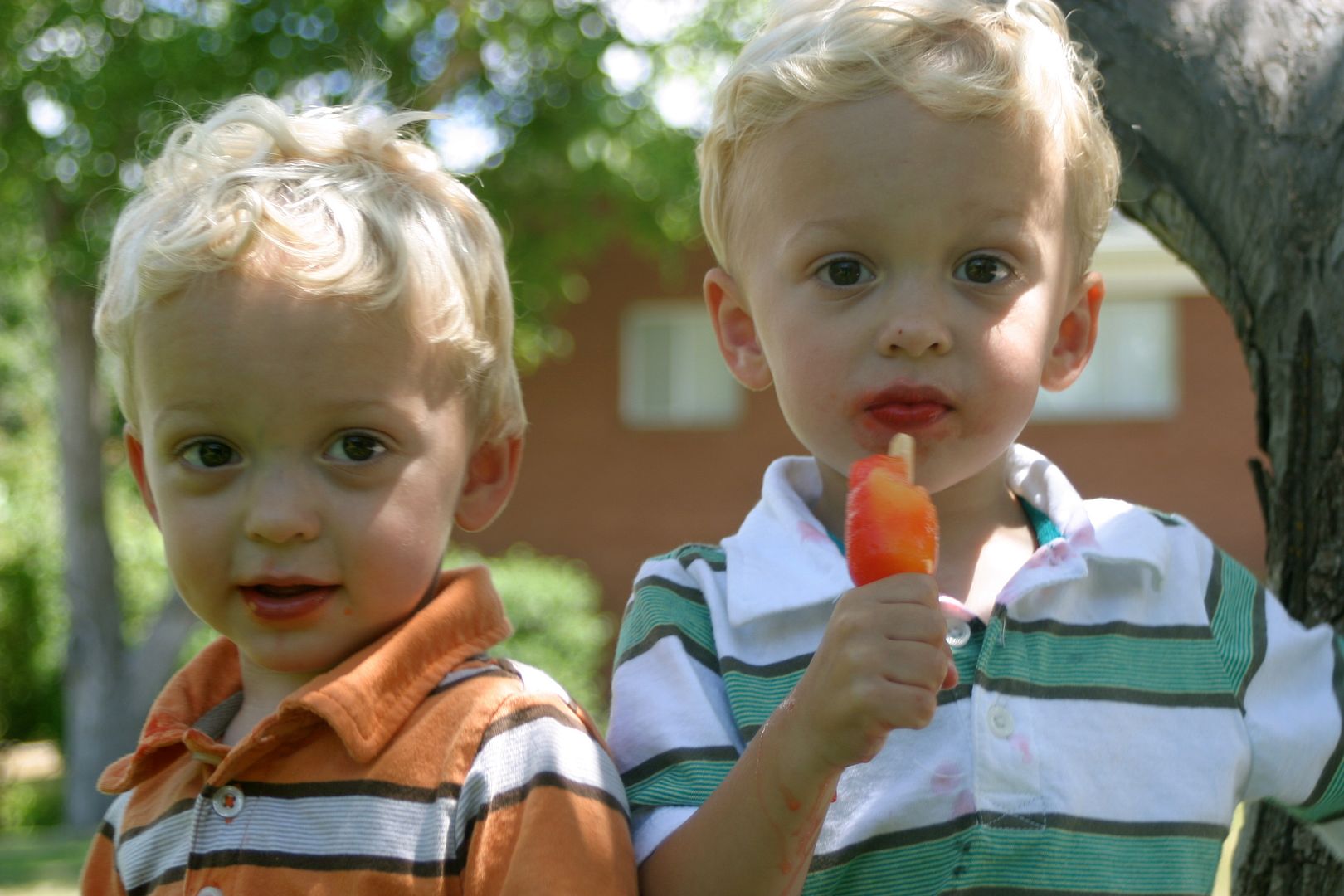 The girls were at a play date this afternoon so we shared popsicles in the shade, swapped licks, and watched for birds.
To be with them and focus on them was it's own bounty.
I've dusted myself off, tried on the roller-skates again, and I'm moving forward with a trust that my efforts will be enough. S
ometimes I forget that grace is part of the equation. (Thank you Anne Marie.) That all our days are laced with it, and with divine knowing.
I am comforted by this. I am on my feet. And I am grateful.