Two years old. Two candles for each. And two parents, who exchange a look that says twenty-four months of words and work, as two towheads sidle next to each other and puff out flames.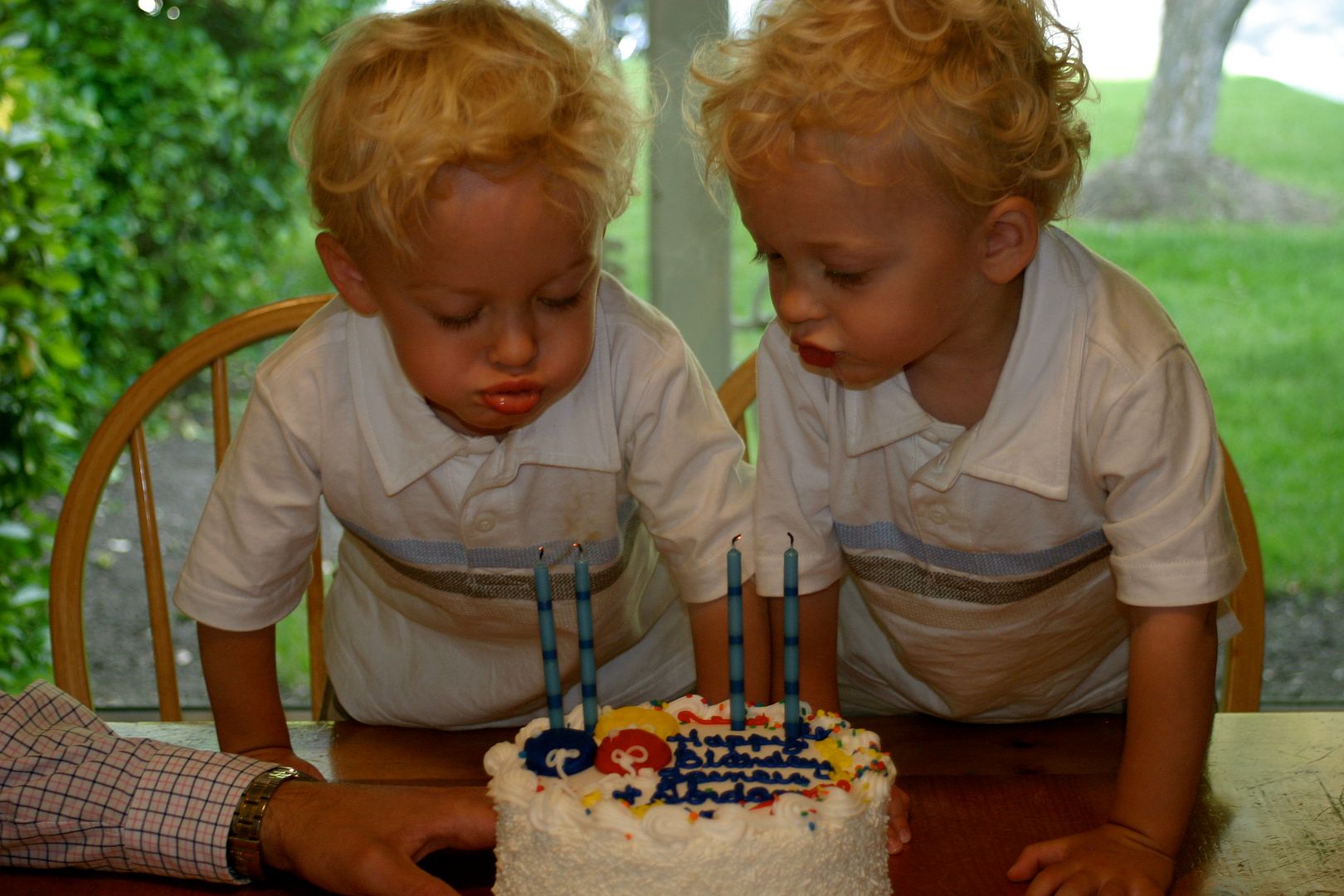 Reaching that second birthday is like coming out of a mountain tunnel - the kind with windows every few hundred feet. In the tunnel you can stop and gaze a bit, catch a glimpse of the outside world as you whiz past, but basically, you just have to keep moving - blinders on. After age two, however, you emerge from the tunnel. You might not be able to see very far around the next bend, but you are keenly aware of the sunlight, the view, the reality that there are other cars around you.
It's nice being outside the tunnel. The intensity level drops a notch, and you have a better idea of where you've been, where you are going.
Spencer and Gordon are changing fast, surprising me with a full sentence now and then, running so quickly I have to hoof it to catch up with them. But they still wrap their arms around my legs while I cook dinner. Still snuggle onto my shoulder at bedtime. (I hope we have a long while yet with that one.)
We invited our parents over to celebrate the boys' birthday with us. Simple fare. Cake and ice cream. A few presents.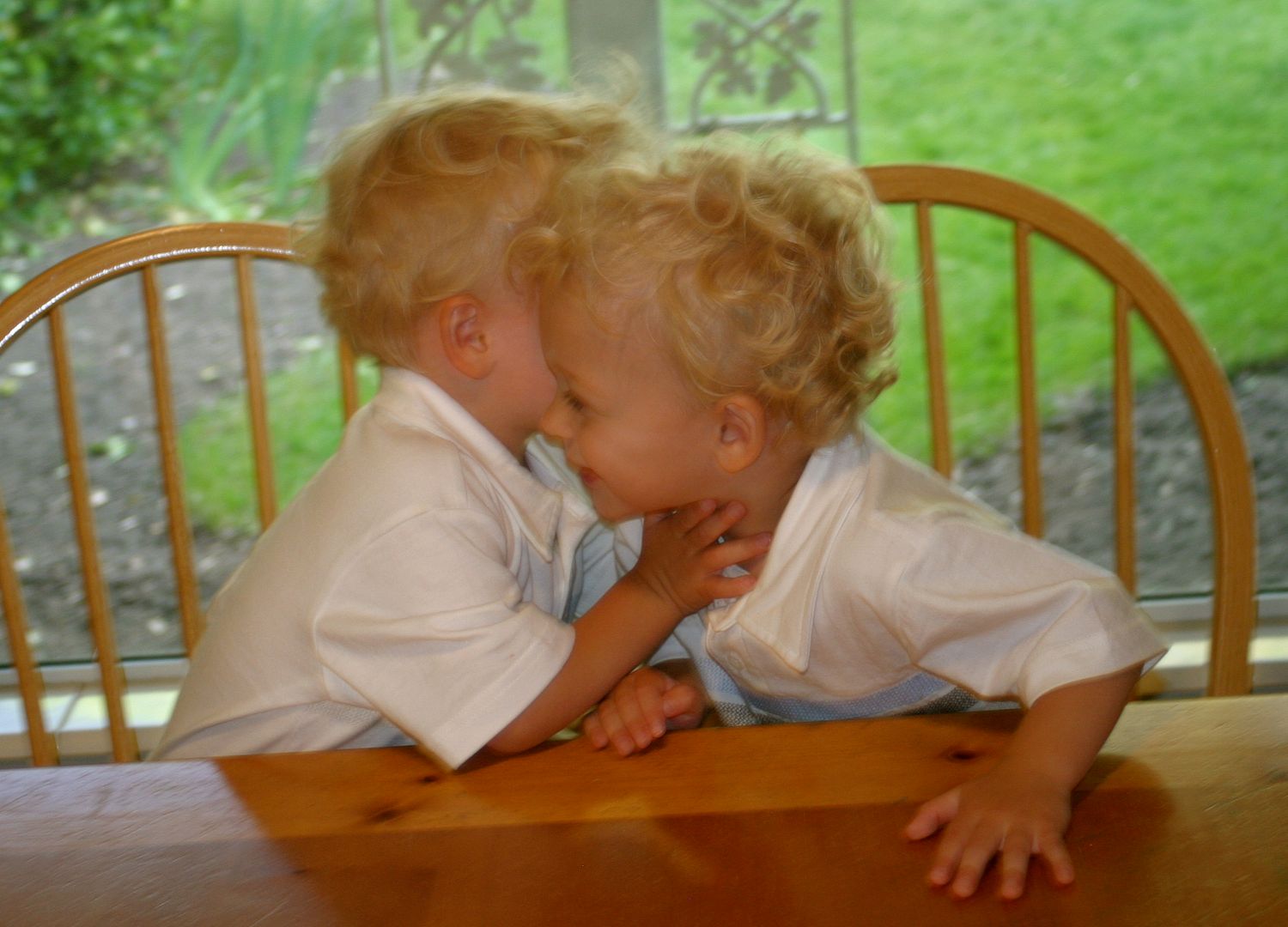 I love this picture, even though it's blurry. It looks like they're sharing a secret - whispering something giddy. The smile on Gordon's face makes me laugh.
The whole evening was a flurry of little feet, blond curls zipping by, paper flying. I could hardly catch them on film.
I haven't decided what to call this phenomenon yet - when two
sets of twins comes in handy. But it's great. B
oth boys have a built-in helper, ready to assist with the unwrapping of any and all gifts.
I bought both boys their own train. Spencer for Spencer. Gordon for Gordon. Cute, but I had an ulterior motive that trumped the cute factor. Both trains "talk." They say, "I'm Spencer" and "I'm Gordon." I was hoping the trains would rub off on the boys - help them solve their double vision problem -

the one

where both boys call themselves "Gordy-Gordy."
The trains may have worked their subconscious magic. (Probably not.) But two months later, the problem has begun to fix itself. Gordon now calls Spencer, "Bence" and Spencer calls himself "Me." I think we're moving in the right direction.
Doug's parents gave the boys this tunnel. It was an instant hit. Here's Gordon swishing his way through.
Gordon is the bigger tease of the two. If the boys are tussling on the floor, you can almost guarantee Gordy started it. Sometimes I walk through the living room and glance over to find one blondie sitting on the back of the other blondie. Again, Gordon. But I'm learning it's his way of showing love. And he's got a crush on his sisters. Especially Sami. He adores her, comes into her room to see what she's doing - to find out if she wants to play. I think he'd follow her to the ends of the earth. Or at least the neighborhood.
Gordy gives me quick, happy kisses, has the most contagious giggle, and can repeat everything we say. (Yes, scary.)
Sweet Spencer has a softer touch. When I feel small arms hug my leg, I know it's Spencer. If someone circles my neck, rests their head against mine, it's Spence. He gives the tightest bear hugs. Just because. He is quick to forgive and willing to help. This morning he helped me sort darks from lights and picked up stickers off the floor. Sometimes at night, while I'm singing him a song, he plays gently with my hair, picks it up, then let's it fall limp out of his fingers.
I adore them both. Their personalities are beginning to rise out of their twosome-ness, making them strong, separate individuals. Brothers with a tight bond.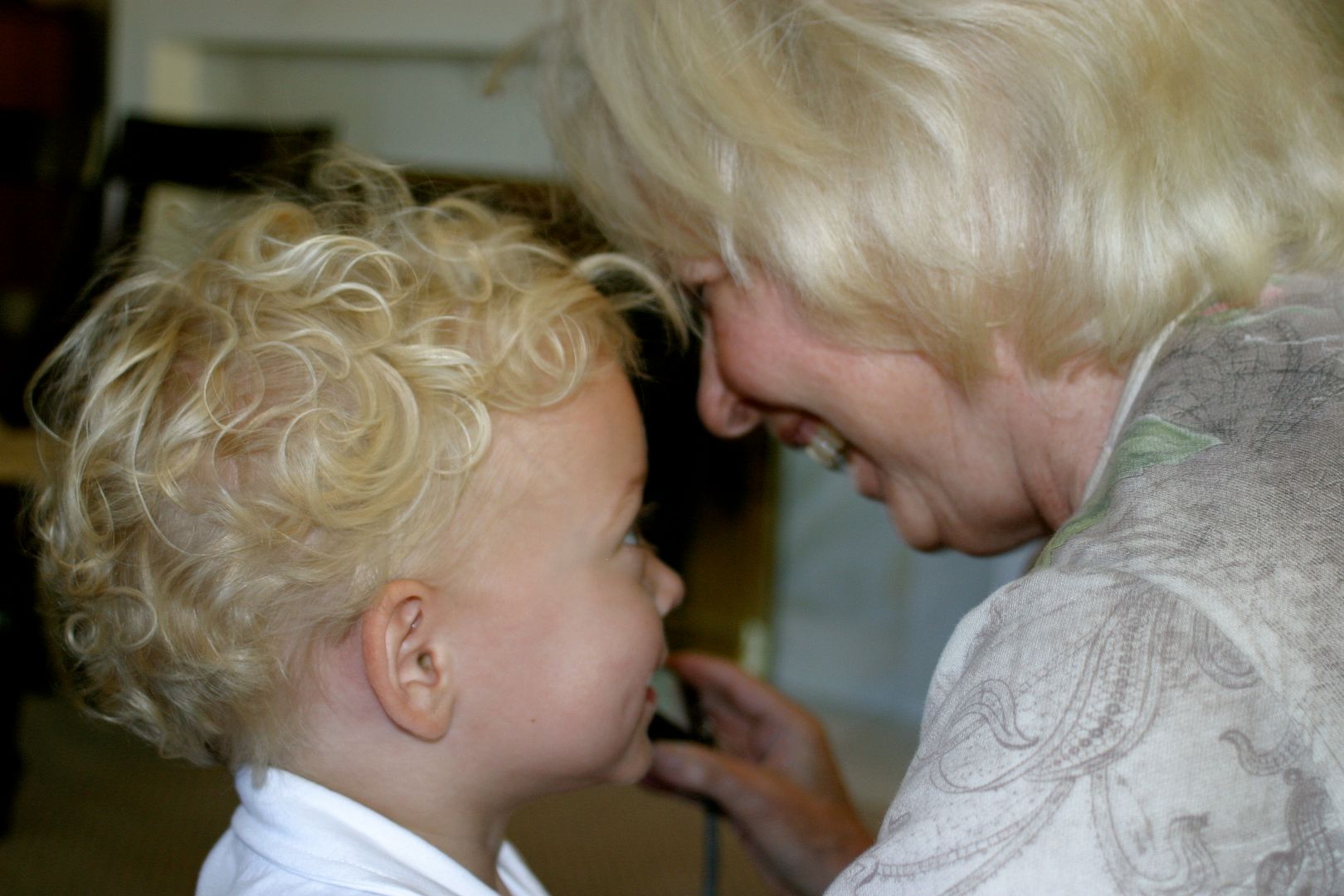 Gordy laughing with my Mom.
Playing ball with Poppa Jim.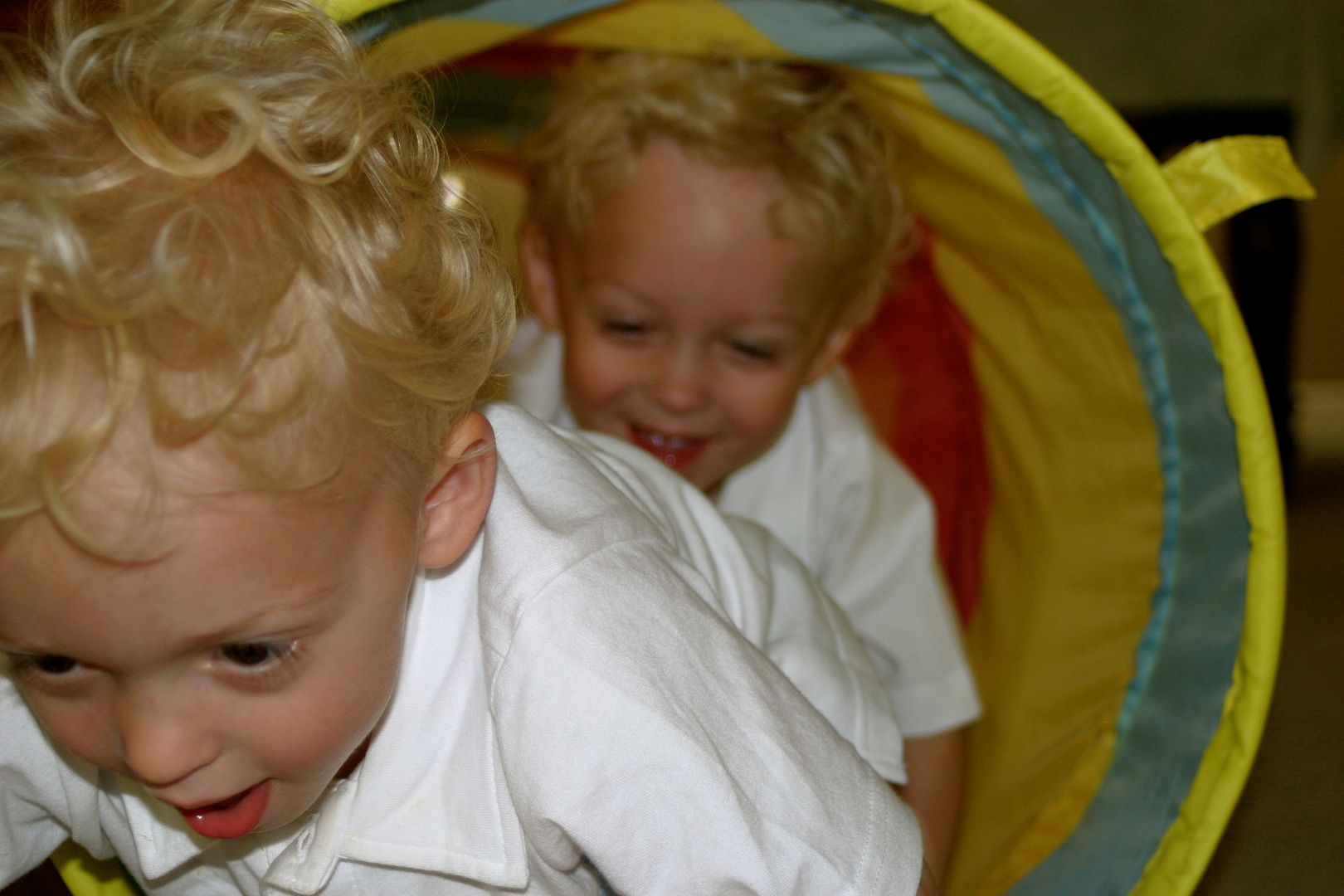 I hope me 'ol legs can keep up with these boys for the next sixteen years or so. Doug and I will be 54 when they graduate from high school. Geesh.
Go easy on us boys. Happy Birthday bubbas. xo