This dirt road winds through some of Utah's oldest ranch country. It's a road I'm becoming more familiar with. A road that was washed out in the early summer due to high water. A road that leads to a family and place I love more than this post will tell.
At the end of July, this road bumped us dustily along, taking us away from the city, cell phone, calendar, and to-do list. Away from the unremitting pull of… life.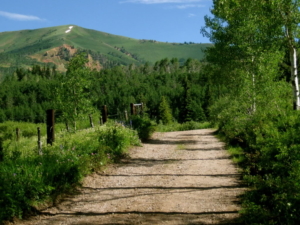 This is how we rolled. Or bumped…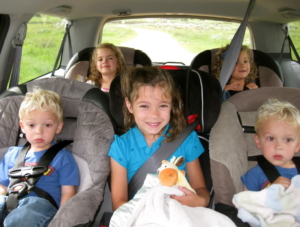 as we jostled through the gate into this gorgeous place where a thousand peaks beckon.
Katherine, Eliza's bosom friend (dressed in the chaps, vest, and cowboy hat) was down at the barn when we arrived. It wasn't long before she banged through the cabin door and the two of them began a conversation as if they'd been together for days.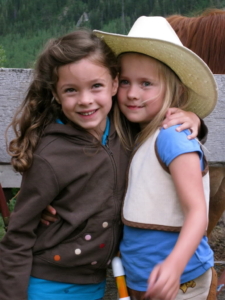 My friend Kara stepped out of the cabin to greet us. Before I could turn around, she was backing our car into just the right spot and unbuckling kids.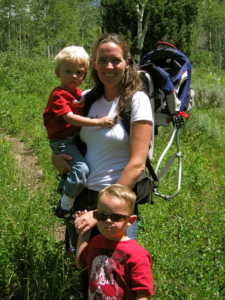 You may remember how Kara
talked me into coming up to the cabin last summer
. I couldn't (and wouldn't) have done it without her. But this year, I needed no cajoling. The boys were older and the girls had been pining for months, "When do we get to go to the cabin?"
Kara is the kind of person who gracefully accepts all that life has offered her. She counts gifts. She gives gifts. And she has eyes to see those around her for who they really are. She can tell what they need, and she offers it willingly. The other day she pulled Ali into her side and held her while we talked, and I cooked pasta. Ali stayed on her lap for nearly twenty minutes, enjoying Kara's arms around her, as Kara ran fingers through her hair and transferred love.
Kara thinks the best of me – always. How did I come by such a friend? Divine design. It was nothing I deserved.
And her husband Dave? He is just as good.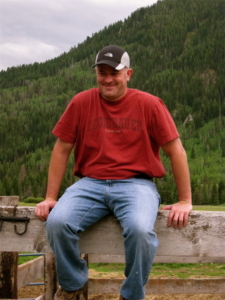 The cabin belongs to Dave's family. He and his siblings grew up riding these mountains and sleeping in the old bunk house. One summer, while he and Kara were dating, he managed another area of the ranch, just up the road. He knows these peaks better than anyone.
I ask them now and then if they know how lucky they are – that this place is part of their family.
They smile and nod.
They know.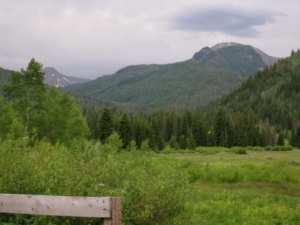 Just driving over the river and onto the dirt road helped me shed a layer or two, shake off the unnoticeable edge I carry when too many days run together and I can't seem to find any stillness. It felt good to be back at the ranch.
I took in the scene and breathed the mountain air.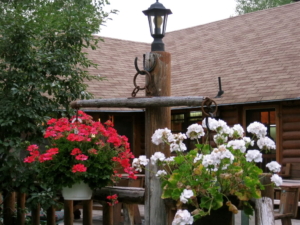 Bright geraniums hung in front of the cabin next door.
Kara and Dave helped me unload the car while the girls ran to the bunk room and Sami changed into her bunny pajamas.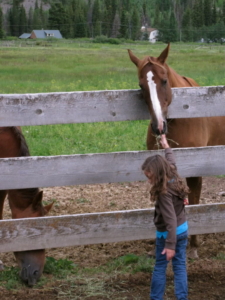 First stop after lunch?
The horses.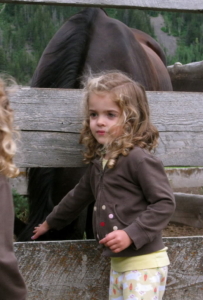 There was less trepidation this year. The girls were excited about riding. More confident touching the horses, feeding them handfuls of hay, and running a curry comb over their flanks. (Notice Sam's pj's.)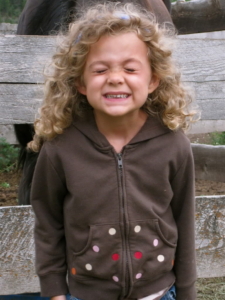 This is the kind of face I get lately when I ask Ali to smile.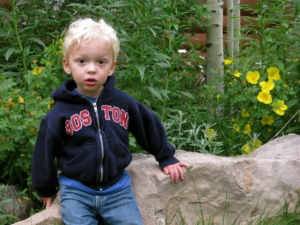 The boys were cautiously excited at the prospect of exploring a new landscape. A nearby dog kept them from straying too far without mom. But once they were past the sound of his bark they wanted to walk everywhere themselves, pick up all the rocks they could and throw them into a stream, run the road until their little legs tired.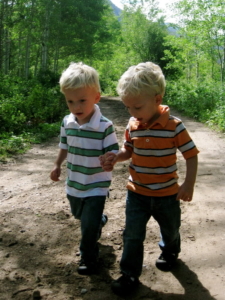 I let the girls go wherever they wanted, when they wanted.
"Really? We can go down to the barn? To the swing set? Without you?"
They weren't sure I was for real. I don't let them go very many places by themselves. But here the dirt road around the cabin makes a full circle. Everyone and anyone nearby is related to Dave. There's no way they can really get lost. And the kids run in a pack.
So, to their delight, I let them explore and venture every time they asked.
It was liberating for all of us.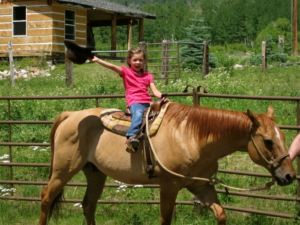 The next day we rode.
Eliza was in heaven. Truly.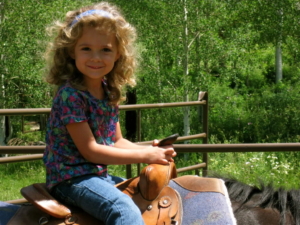 Ali saddled up without hesitation. She even tried trotting. I'm amazed at how much she has matured in one year.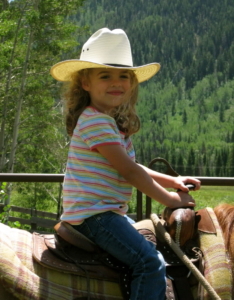 Sami too. She was all smiles and giggles as we circled the arena.
Dave was a true cowboy gentleman, walking the kids round and round, running with them when they felt ready.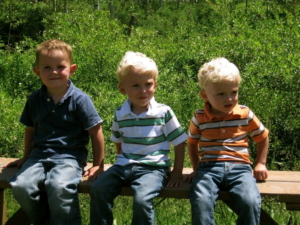 Kara's son Parker, Spencer, and Gordon sat the bench. For a little while.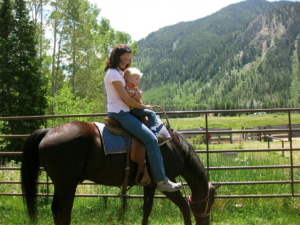 Then they rode too. First Gordon.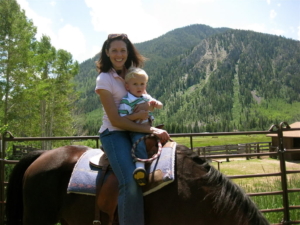 Then Spencer.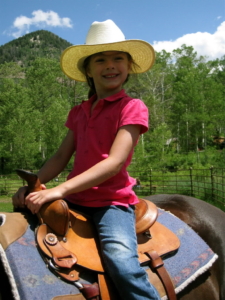 By her twelfth ride (I'm not sure how many rides – it felt like twelve), Eliza was looking very comfortable in the saddle.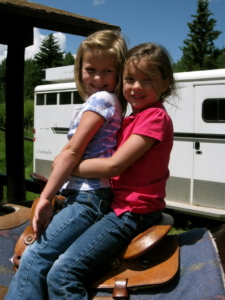 A double ride back to the tack shed…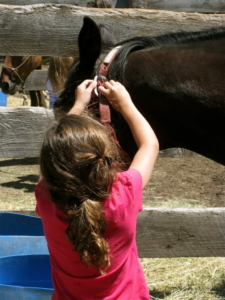 Then Dave let Eliza lead one of the horses into its stall and take off the halter. Riding was a big part of my teenage and college years. So seeing my girls enjoy these large, sometimes intimidating animals, makes me happy.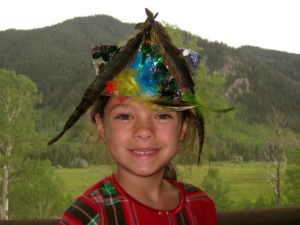 Most afternoons, the girls cut, stickered, glued and created. Dave's family keeps a large drawer in the cabin full of craft supplies. Anything those girls could dream up had the potential of rising out of that drawer.
Eliza made this indian princess crown. I love the feathers.
The next morning, Kara shooed me out of the door for a hike on my own. She is always carving out time for me to find solitude. So I hiked for about an hour, until the trail came to a sudden end. (Obviously, I wasn't on the trail she had told me about.)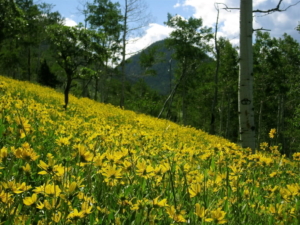 But it put me here.
Right in the middle of this hillside teeming with showy goldeneye. I parted yellow waves and climbed to the summit for a view of the valley, and the river snaking through it.
It was majestic. The only sound I could hear was the gentle rustling of aspens – notes between the wind. It was a welcome silence. Cleansing. I always feel close to God when I am standing atop a mountain, alone. And I am surprised that a few minutes of communion, uninterrupted like that, can carry me for days.
Later, I found this verse in Lamentations and wished I could have said it aloud.
"Thou hast heard my voice; [and] hid not thine ear at my breathing, at my cry" (Lamentations 3:56).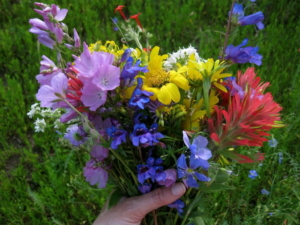 On my way down, I gathered this bouquet of wildflowers. I was searching for variety – trying to find one of every kind I could name.
I took them back to the cabin and we spread them out on the table, where I taught the girls the names of each flower.
Indian paintbrush, penstemon, yarrow, goldenrod, skyrocket…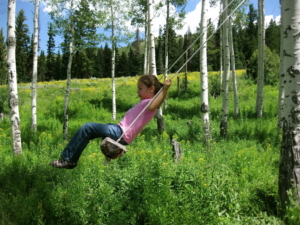 The next day we hiked up to "The Swing."
Adequately named. Could any swing be more picturesque?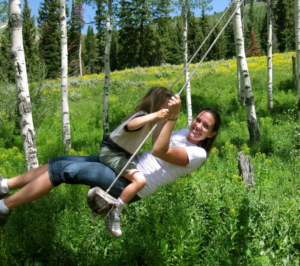 I love this picture of Kara and Katherine swinging together. If only I had caught Katherine's smile.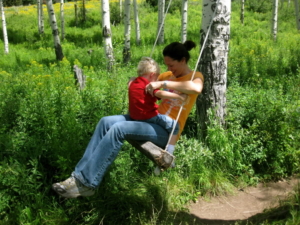 My boys tolerated the swing (once I pried their hands off the rope and latched them onto my middle). Pretty sure I had more fun than they did.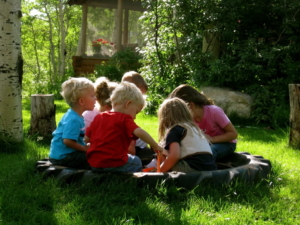 In the evenings before dinner, the kids played in this sandbox – a tractor tire filled with sand.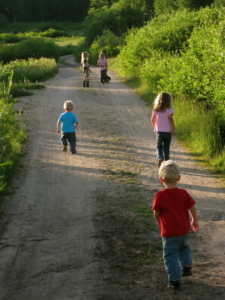 And on our last night we took a walk after dinner.
The kids ran ahead, sunset glinting off their golden hair.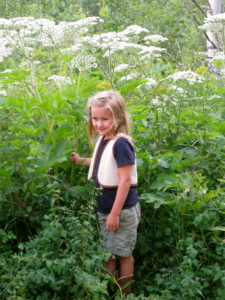 I asked Katherine to stand by this Queen Ann's lace because I couldn't get over how tall it was. But the mosquitoes swarmed her (you can see two on her forehead) and chased us back down the road. They sent us running, with arms flailing – the kids screaming wild.
We couldn't hit the sack without saying goodnight to the horses.
And traipsing through the mud field nearby.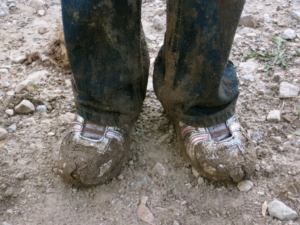 Sami's shoes wore it best.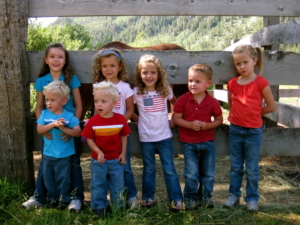 And on our final morning, it was down to the barn for one last goodbye.
It's rather miraculous we caught all seven indians looking (sort of) in the same direction. We were going for smiles, but I'll take faces.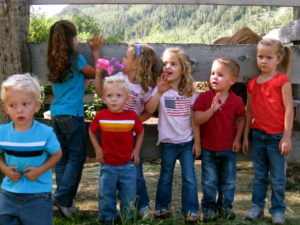 Because one second later, they were on the move again.
It was a wonderful stay at the ranch. Good for the soul in every way.
Having Doug with us would have made it sweeter. But it was the perfect diversion for us since that week marked the beginning of his long hours for fall deadlines.
Now. Don't run away yet. I saved the best for last.
One night I took this video of the boys. The rocking horse Gordon is riding belonged to Dave's Dad when he was a boy. You'll love the surprise ending. Kara and I watched it over and over in slow-motion, laughing our keisters off. It must have been late. Or… maybe it does get funnier every time you watch it.
Giddyup.
Nothing a good, long hug couldn't mend.
Kara and Dave, thanks for caring for us like your own. We love you.