Yesterday I noticed red shouts of color burning, branding themselves into the mountain. The s
crub oaks are turning. In snatches now, with more coming. And the air is cooling. This is my favorite time of year. But I am finding it hard to say goodbye to summer.
Just a few weeks ago, I took Eliza to Albion Basin - an alpine bowl beloved by skiers, carved into the top of one of our local canyons. It was her turn for a date with Mom.
Red shouts of color met us there too, in the form of flower, rather than leaf.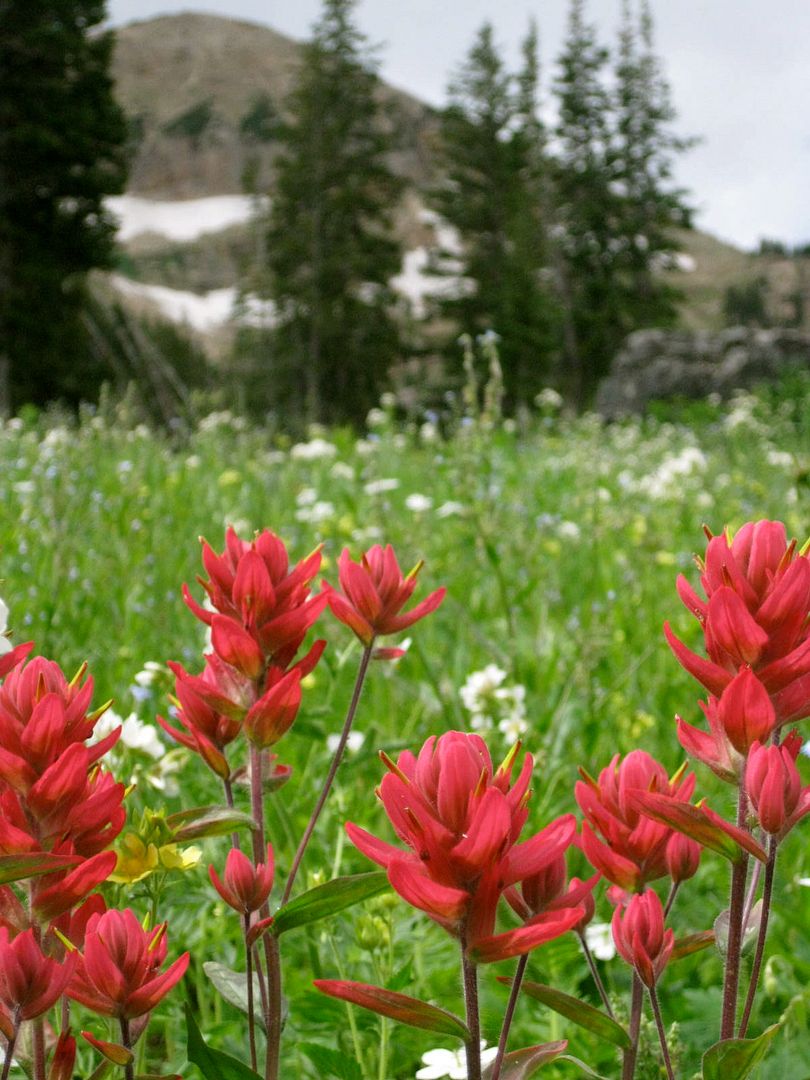 Indian paintbrush, bright and brilliant like this, cropped up at our feet.
Every August, wildflowers bed this basin in a glorious menagerie of color. Pictures don't do justice. Words don't do justice. It's the kind of thing you have to see for yourself.
I snapped a backpack on, Eliza tucked our lunches inside, and we set off for Cecret Lake.
Bluebells were our first discovery. Wispy sprays of the faintest blue, dangling across the trail.
As we wound our way up the mountain, Eliza noticed each new pine, how it grew out of the ground new and glossy, like a tiny Christmas tree waiting for the perfect buyer. How soft its needles were, as we ran the tips of its boughs between our fingers. The smallness of these trees enamored Eliza. She wanted her picture taken by each one. She spoke to them, said goodbye and hello, even hugged them on occasion. (The true definition of a tree-hugger.)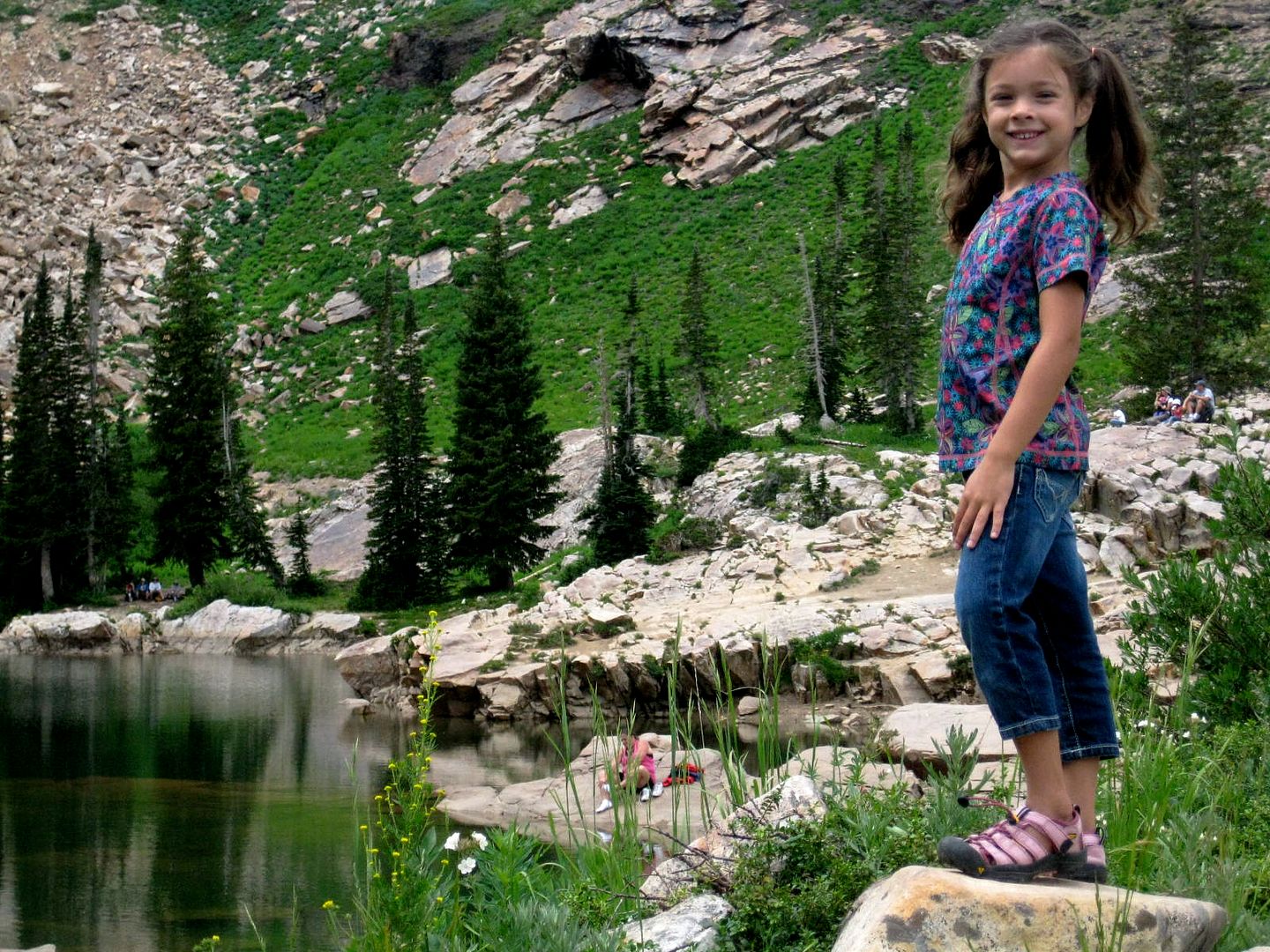 We made it to the lake just as an afternoon thunderstorm rolled over the peaks. A few drops speckled our shirts, but nothing more. The hair on our arms stood up as we prickled at the sound of thunder, stuck our tongues out to catch rain.
I spoke with this darling mother on our way up the trail who was carrying her newborn baby. She was friendly and kind - even helped Eliza spot a beaver who was sunning himself on a rock. This woman's husband and sons had gone ahead. But I saw them reconnect at the lake and climb out onto a large rock together. I couldn't resist this shot. I wish I had been closer. It says so much to me about family.
The wildflowers were endless. We walked and explored, and Eliza climbed rocks. I had forgotten how extraordinary Utah summers are. Now that I'm getting out a bit more, I feel so thankful for the gift of living here. This wondrous place is only a half hour from our front door.
Eliza took this picture as she stood in a field of goldeneye.
She also happened upon these asters, growing against all odds out of a diamond-shaped crack in the rock.
Nature has such an indomitable spirit.
I cherish these one-on-one times with my children. They are rare.
In the hustle of our busy household, I have to be deliberate about the time I spend with them. Taking them out of the mix on occasion so that I am alone with them is important.
Away from the kitchen chatter, they open up - tell me things I wouldn't hear at home. I notice the twinkle in their eyes, hold their hand in mine. It is so much easier to see them for who they are as individuals.
I have more freedom to slow down. Long enough to hear what matters to them, and view the world through their eyes.
Eliza's one request for our outing was to paint while we were in the mountains. So after our hike, we found a hilltop with a view. I pulled the easel out of the car. She donned her pack full of paper, paints, and brushes, and we climbed to the top of this hill.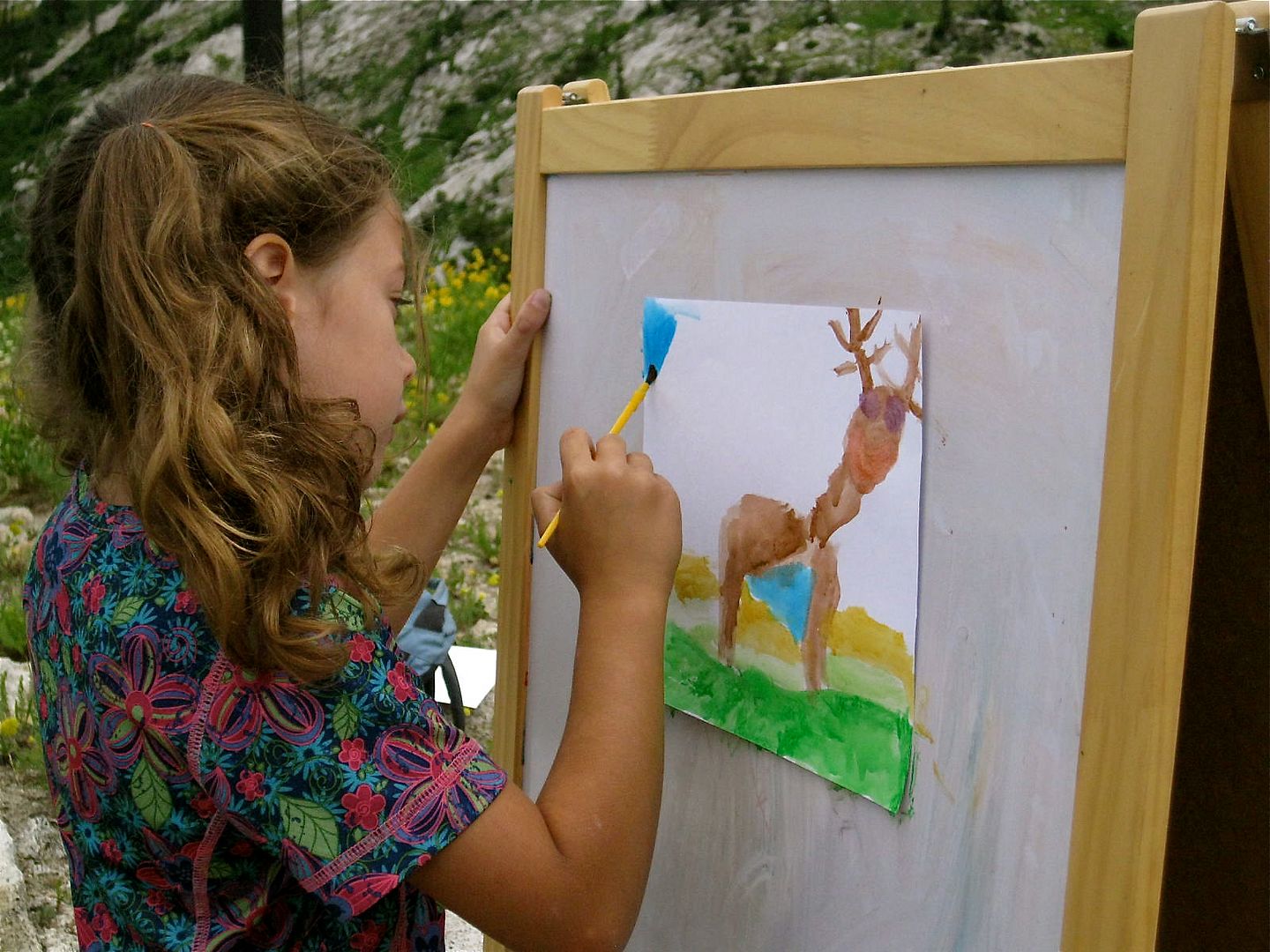 A family of moose (my Dad would call them meese) live in this canyon. We didn't see them on this day, but we've seen them before. So that is what Eliza wanted to paint. A moose.
Could any setting be more picturesque?
Turn a circle here - pivot 360 degrees - and you realize you are truly standing in the tops of the mountains.
Tried to capture this panorama.
Tell me it's about the exercise. The process.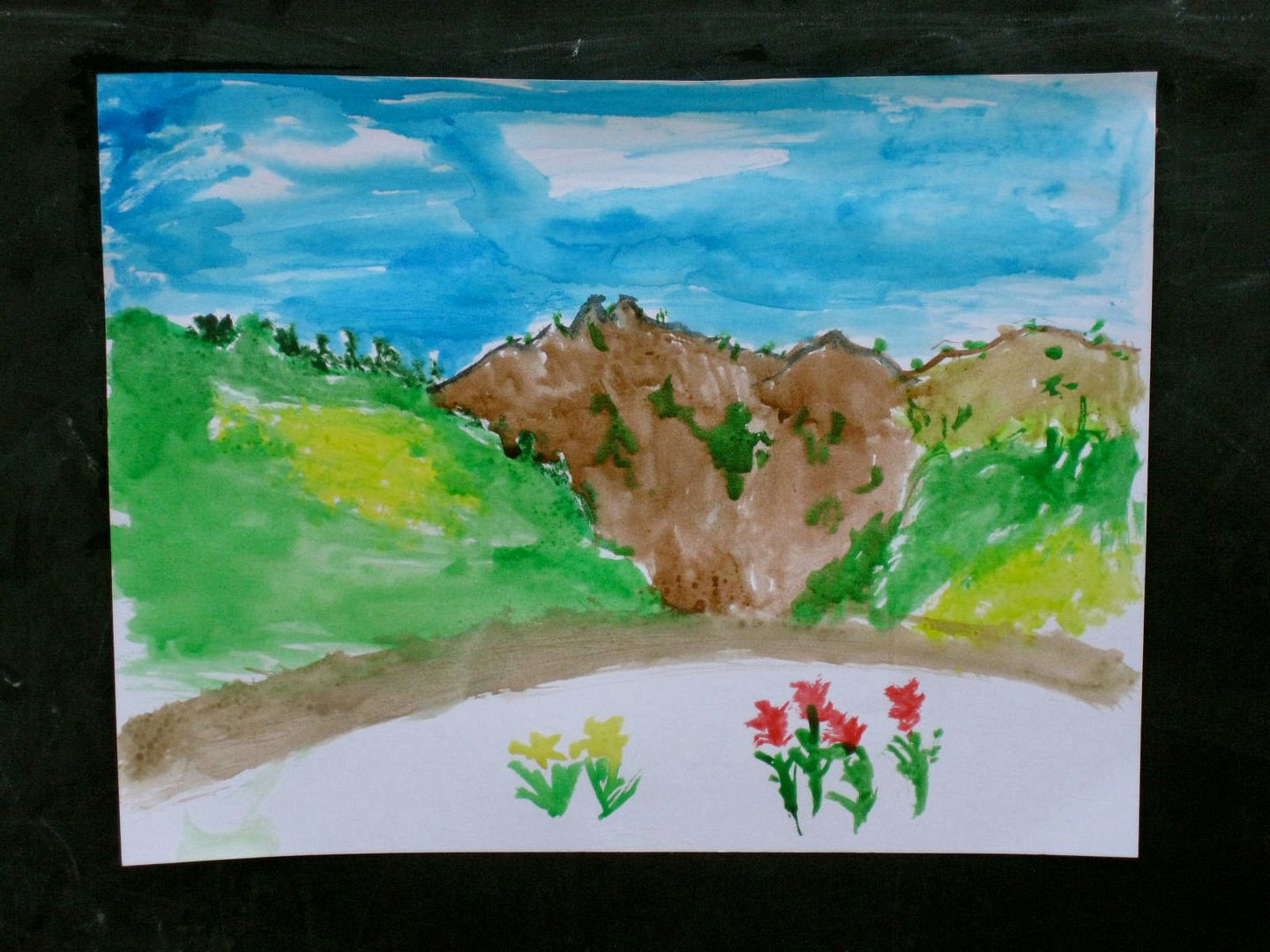 Not the finished (or in my case unfinished) product.
It was a special time for us. Painting in this place together. I stepped away for a few moments and watched Eliza kick off her shoes so she could air her toes, feel the dirt, draw her brush across paper, free.
Seeing her barefoot against this green backdrop, with wildflowers at every turn, I realized we are all painting something. A life of our own. A life for our children. And what we see makes up the color, the size, the beauty of our work.
It's all about what we choose to see.
Last week, I was a bit mired down by the hardness of it all. I was having trouble seeing past the mess, the needs, the doing. But I am determined this week to see each day, each task, for the relationships being built. Not the job that needs to get done.
I smiled back at Eliza who glanced over her shoulder to see where I was.
It felt good that day,
to see her.