I'm about ready to wave my tattered, white flag and surrender. I think it's time to cry uncle and give it up for these two victors. Last week Spence and Gordy figured out how to climb out of their cribs.
Zoom in on my body language. With arms folded across my chest and one eyebrow raised, I watch helplessly as my boys scale the outside of their cribs…
You've been there? Ahhhhhhrg.
This picture was taken the first day they climbed out – the moment I found them standing oh-so-innocent-like in the middle of their bedroom.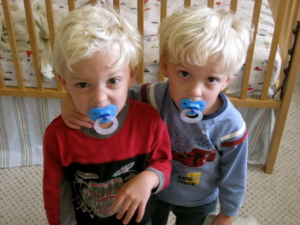 Don't let their big lovely browns pull you in. They haven't napped in eight days (and not from a lack of effort on my part). Alll that cuteness evaporated with the nap. They are ornery, tired, hyper two-year-olds who are going out for the 2012 Olympic Games with their new gymnastic stunts. Or maybe rock-climbing.
Olympic Rock Climbing for three and under. Takers?
So I was standing in the kitchen when I heard the door latch. I stopped what I was doing and listened… to the sound of small feet padding down the hallway, my two boys conversing through binky-mouthed whispers. When we made eye-contact they turned tail and ran back to their bedroom. I grabbed the camera and followed them.
Here's the footage.
I think I said "Oh boy…" ten times in two minutes that day. Especially when I asked them to demonstrate their newfound skill and they slid out in three seconds flat.
I love Ali's comment. "They might be doing this in the night every time!" Umm-hmmm. Yup.
Knowing they would still need a nap (they're only two!) I put them back in bed with clear instructions. "Stay in your bed until Mommy comes to get you. You need to have a nap."
Two minutes later I heard them again. Here's Gordon just touching down. With Spencer, his good-hearted accomplice, waiting to hand Gordy his mamie (blanket at our house). And then they see me.
I crack up when I watch this, especially when I see Gordon slink behind the rocking chair. But I've had a week to process their new freedom.
Talk to me four days ago and I was not, I repeat not, laughing.
Our predictable, hard-worked-for routine of two boys napping long into the afternoon has suddenly vaporized. Vanished.
I like to call it…
nap annihilation: the calamitous cessation of a nap due to toddling twins sharing the same room.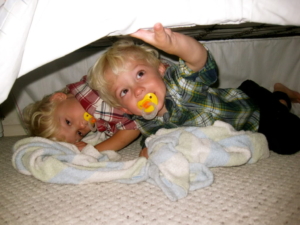 Since they won't stay in their beds anymore, let alone sleep in them, I open the door now to two empty cribs and the sound of muffled giggles. Only to find them hiding under one of the beds snickering – burying their faces into their blankets so I won't see them.
Or I find them jumping up and down together in the same crib – crazy wilda style. I mean what's not to love about a trampoline in your bedroom?
Or I've found them both on top of the dresser. With everything in the dresser rummaged through and dumped out.
Yes, believe me when I say nap annihilation is calamitous. It's destructive on a couple levels.
Not many things are predictable in our family, but naps are. I'm kind of a nap nazi. All our kids have slept through the night at early ages and they always go down easily. It's the only way I could survive. We "cried it out" (literally) with each one of them, but it paid off.
Now? All that hard-earned peace of a routine has gone to pot.
I've tried tying the door shut (I know – that sounds awful, but the old doors in this house won't latch shut so they pull open easily without twisting the knob). Tying kind of worked. But I didn't want to clothesline anyone who got up during the night to use the bathroom, and I couldn't decide which was worse – having them up at quarter to six in the morning roaming the house, or cleaning up the Hiroshima-like devastation in their room after opening the door.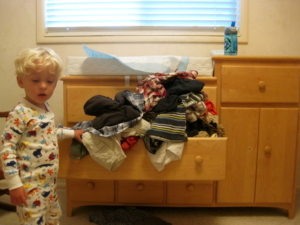 This is Spencer's idea of putting their clothes back in the drawers.
Notice I have stripped the room of anything that could break (or might hurt them). I did that a few weeks ago when they started cracking their blankets like bull whips. They whipped their lamp right off the dresser. Broke it twice.
And this was after they figured out how to disrobe during nap time and take off their diapers. That was a fun week. We now masking-tape their diapers before bedtime.
I have no frames on the walls (partly because I haven't stripped wallpaper in this room yet, but also because they would have been yanked off and hurled onto the floor.
Basically, the dresser is left to tear apart, and I figured, I can handle cleaning up that.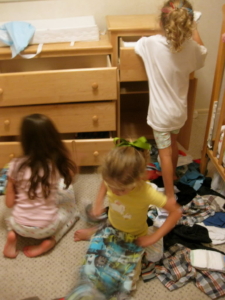 The girls have been sweet to help me fold, stack and put away. Again and again.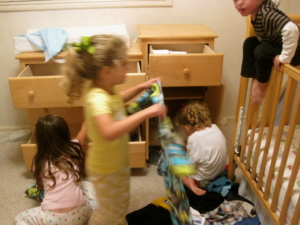 (Don't miss Gordy perched atop the crib. Mmmm-hmmm. Trouble.)
But then, two days ago, I heard a thundering crash. I was all the way downstairs and ran up to their bedroom to find they had tipped the dresser over completely. It had landed on Gordon. I went into fight or flight syndrome, adrenaline pumping, as I realized Gordon was screaming because his legs were pinned under the dresser. I heaved it upright, with serious effort, and turned to examine him. Remarkably, his legs were fine.
When I looked back at the dresser I could see that the changing pad (several inches thick) had landed on Gordon's legs first, cushioning him when the dresser fell. I whispered a prayer of gratitude right then. Out loud.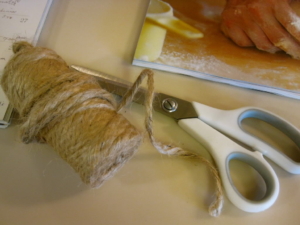 We've been through half a roll of twine, but unless we anchor the dresser to the wall, it just isn't safe to leave them in there anymore. Ali told me we need to "set a trap" for the boys. Not a bad idea.
Barbed wire is sounding good.
And what about crib tents? Have you used them?? If so, do you think my boys are too big for them? Would it be worth the investment?
My sweet guys are morphing into monsters every afternoon. Last night Spencer cried through his entire dinner, didn't eat a bit, just tossed everything I gave him onto the floor. All tears he was so tired.
Gordon sank into his seat drowsy, and only touched his food long enough to saw his banana in half with the middle of his fork and squish his carrots into a pulp with his thumb.
Gone are these days. Of snuggling and singing before I put them down for a nap. And it makes me boo-hoo. A lot.
My boys aren't as obedient as my girls. They don't stay in their beds when I tell them to. Surprisingly, my girls did. These boys are amped up to a whole different level when they're together. They collude, conspire, and egg each other on.
So what have you got twin moms? Suggestions? Thoughts? Personal experience to share? And even if you're not a twin mom, I'm desperate for ideas.
I think it has been officially annihilated.
The Beloved Nap
R.I.P.
Everyone is finally asleep and I'm pooped.
I'm calling it a day and waving my white flag…