Texts were flying back and forth as I looked at the window. It was still raining - drenching the streets, the mountain, our plans. I finger-tapped the question. "What do you think? Do we take a chance?"
Cami tapped back. "I was really hoping to go up into the mountains."
"Then let's go," I typed. "Rain or shine, we'll make the best of it."
Making the best of it is

Cami's

specialty. Cami is my cousin through marriage. But I claim her as my own.
So we informed the others, and at high noon, we met at the bottom of the canyon.
The rain had stopped, the sun was soaking the sky blue, and the air was deliciously warm. It was Cami's idea to round-up as many cousins as we could. And for those who came (we missed the rest of you) the day was... golden.
We stopped to picnic part way up the canyon, then loaded the kids back into cars and drove to the top. I noticed a trend on this outing. Try as I may, I'm always the first to start buckling and the last to finish. Always.
The roadsides were tipped with color. Mostly yellow. And once we reached the parking lot at the top of Millcreek, a dozen kids piled out and we hit the trail.
We had no agenda. It didn't matter how far we went. Or how long. We just wanted to see the colors. Breathe some mountain air.
I wish I'd tried harder to pull everyone together for a photo. This shot, however, sums up my efforts for a group pic.
As for who's who, we have Cami (she's kind of a celebrity - you might recognize her from

these videos)

, Jesica with the dark hair (another cousin-in-law), my sister Becca (front and off-center), and my Aunt Shelli.
We made a great tag-team, watching everyone's kids, herding and shuttling children along the trail.
Here are some of my favorite moments.
My sister teaching her son, Gus, how to take a picture.
Ali showing me her treasures.
She even found this sunflower, a hold-out from summer.
Spencer refusing to hold my hand or climb on my back. "No. I do it myself."
Both boys preferred to walk. But especially this guy. He's all about independence lately (details on our latest diaper developments coming soon).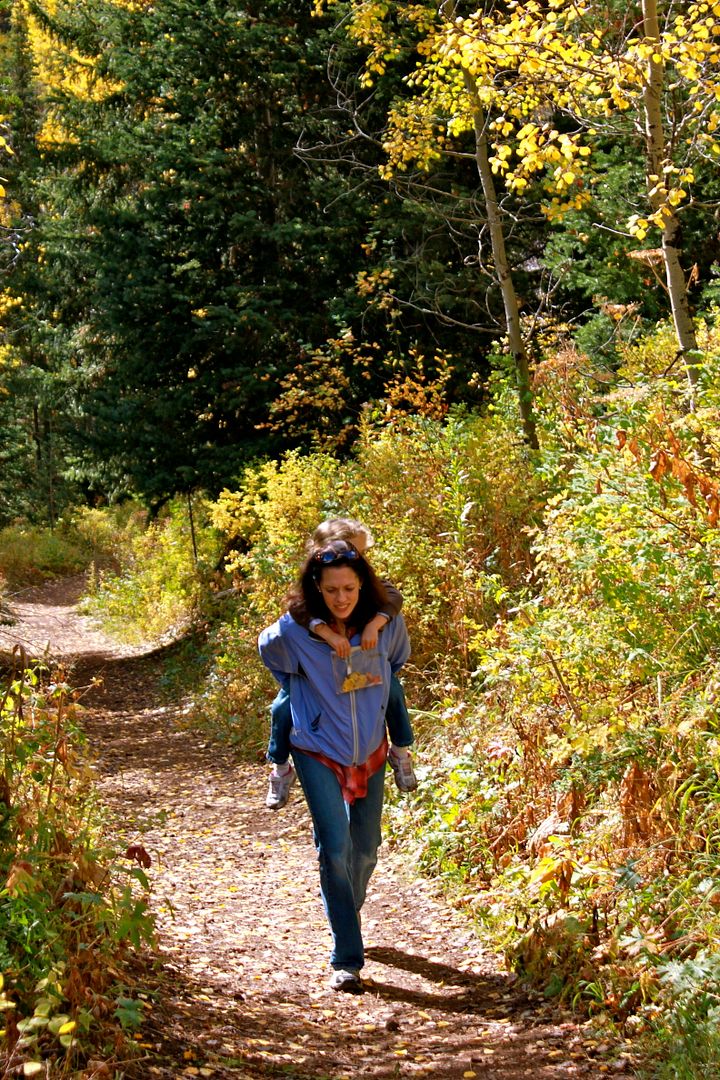 A special rescue mission to find Sam after she went the wrong way on the trail. She started to cry when she saw me. And I was relieved too as I swooped her into my arms. She rested her head against mine as me hiked up the hill to meet the others.
When I turned around to check on the boys, who were a dozen yards away, I found them completely derailed by a small pile of rocks and some weeds that were soft to the touch. Perfect for pulling.
What a scene. Those two with their crazy white hair, and the aspens steeping in gold.
Standing behind the camera for these three shots.
Doesn't Cami shine? She oozes with light and I can't help but laugh when I'm with her. She knows how to have fun. She has the most vibrant personality. And it rubs off on everyone around her.
It is obvious that her girls love this about her too. She can draw out smiles, turn your day around.
There's something so beautiful about her in these pictures. Her face. Her hair. Her daughters. The autumn world lit up behind her. All of it is golden. And I can almost feel the joy of her girls - the kind that comes when you're tucked into your mother's arms and you know with certainty, you are loved.
The kids were tired. Ali was contrary. I was realizing as we sat on that rock (due to the unpleasant smell), that someone had just stepped in doggie doo-doo. And a
few mi
nutes later, Gordon was stung by a bee.
Despite the last minute unraveling, I'm so glad Cami got us out there. That we didn't postpone.
Because the next day, it snowed. And o
ur golden world turned flat, seamless, and white.
There's nothing like Fall. With
her hunting and harvest moons, her hills glowing red and gold as nature shakes out her true colors. It never lasts long enough.
But I'm hoping for a few more golden days.