Even Super Boy, with his super toddler strength, can't bust out of the amazing crib tent. Even Super Boys (plural) who are more powerful than Thomas the Tank Engine and can leap tall piles of couch cushions in a single bound are no match for its genius design.
Peace has been restored to our thriving metropolis. It's been over a week now, and the boys have napped every day, without a single hiccup. I am a kinder, gentler Mommy. And the world has been tipped back to its appropriate axis.
All because of the blessed crib tent.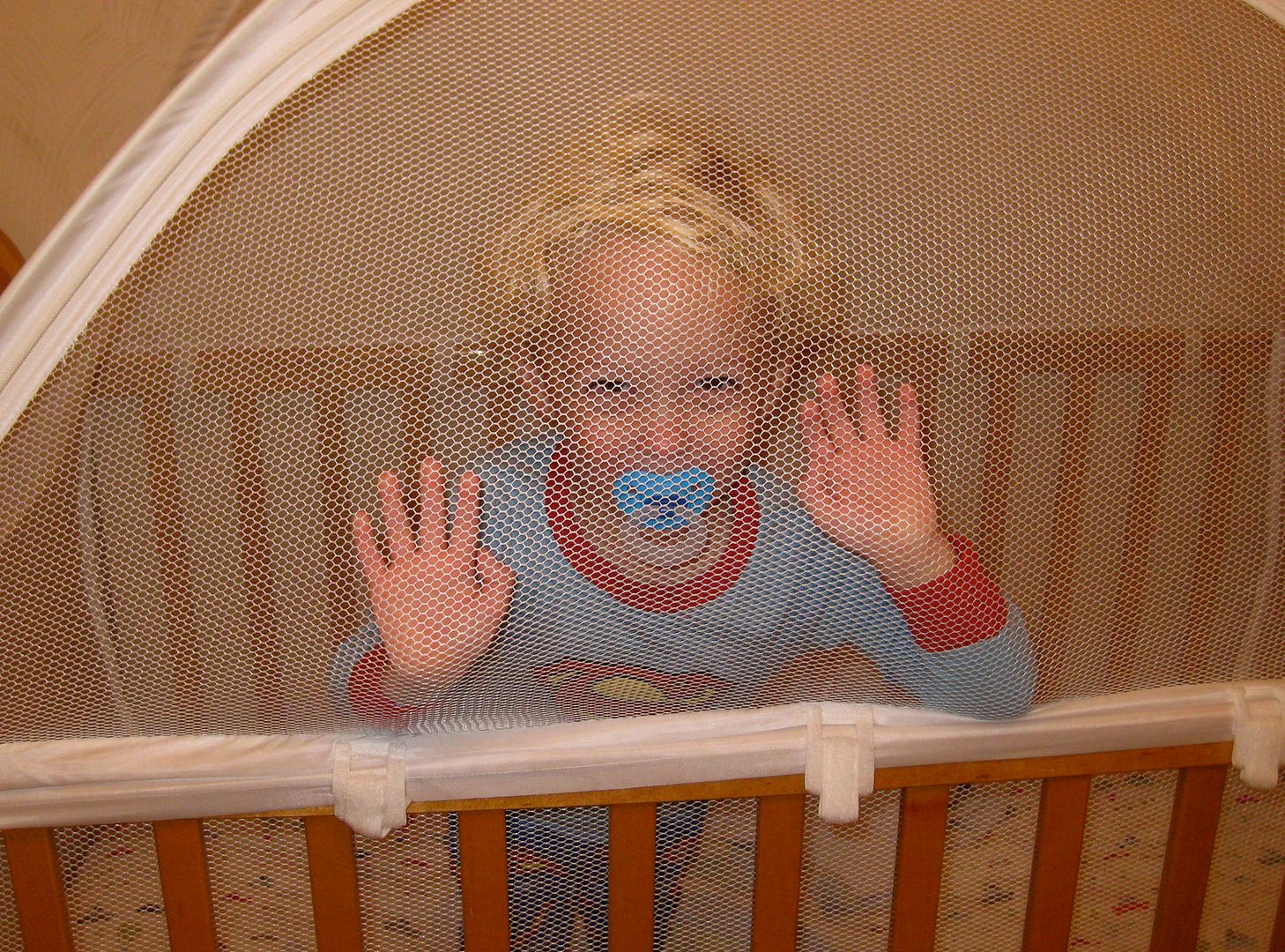 Truly - whoever you are that created the crib tent - I will praise your name forevermore.

Thirteen days after the boys "gave up" their nap (backstory

here

), a box from Amazon arrived via UPS. I could have kissed the man in brown pants as he left our doorstep because inside that long slender box, were two crib tents. I had no choice but to be optimistic. I'd tried everything else. This had to work.
I opened the boxes and began assembling them, but my boys kept walking off with the rods. So I called my parents and they came over to help. My Mom read books to the kids while my Dad and I (mostly my Dad - thanks Dad) put up the tents. It was mid-afternoon when we finished (late for nap time) but there was no question, I was putting those boys down.
We prepped Spence and Gordy, told them how fun their tents were going to be. And when the girls saw the tents, they told their brothers, "Ohhhh. You're so lucky! We wish we had a crib tent to sleep in!" (Thanks for the tip about presentation Kara. You were SO right.)
I snuggled the boys for a bit, slid them into the tents, and zipped those babies shut. In less than three minutes, all was quiet in the boys' bedroom. They were out cold.
Silence isn't just golden, sometimes it's a miracle.
The next day when nap time rolled around I couldn't find Spencer. To my surprise, he had already climbed into his tent, snuggled into his mamie, and was waiting for a song.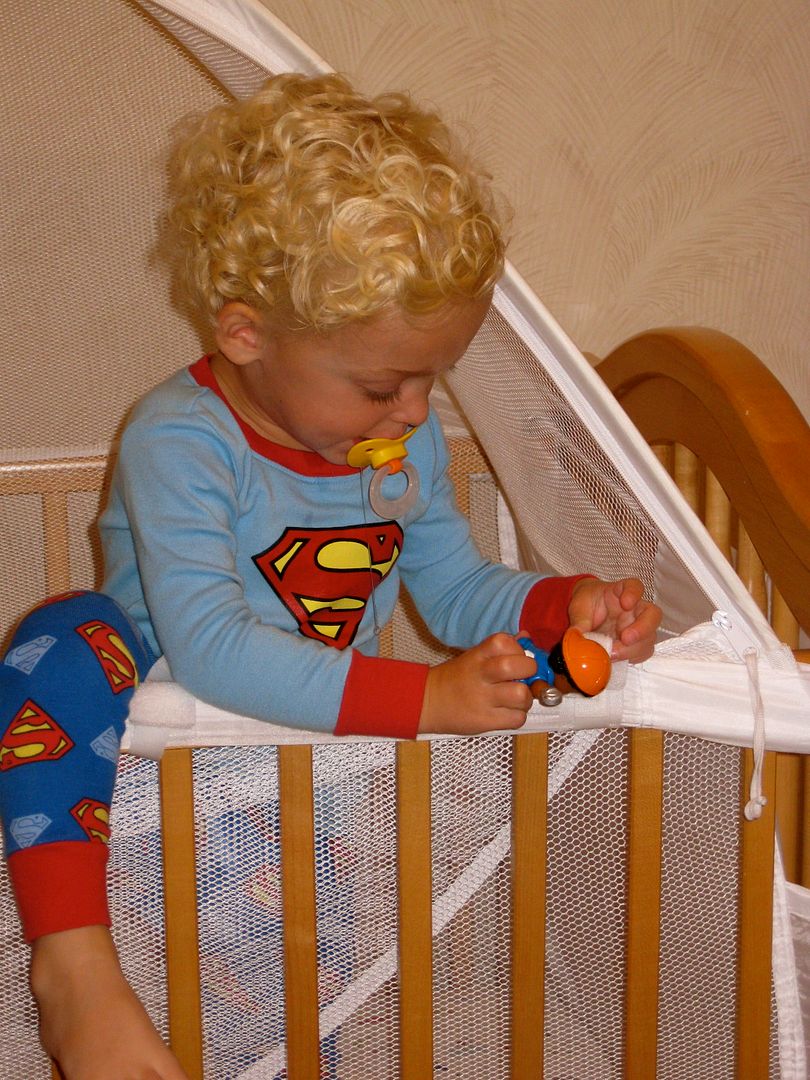 The velcro on these things is intense. It's everywhere. And I'm not talking about two pieces of velcro pressed together. I'm talking about velcro straps pulled through button holes, wrapped around twice, then reinforced with another piece of velcro. While my Dad was strapping the first tent into place he said, "This was the invention of one desperate mother."
No doubt her buyers are desperate mothers too.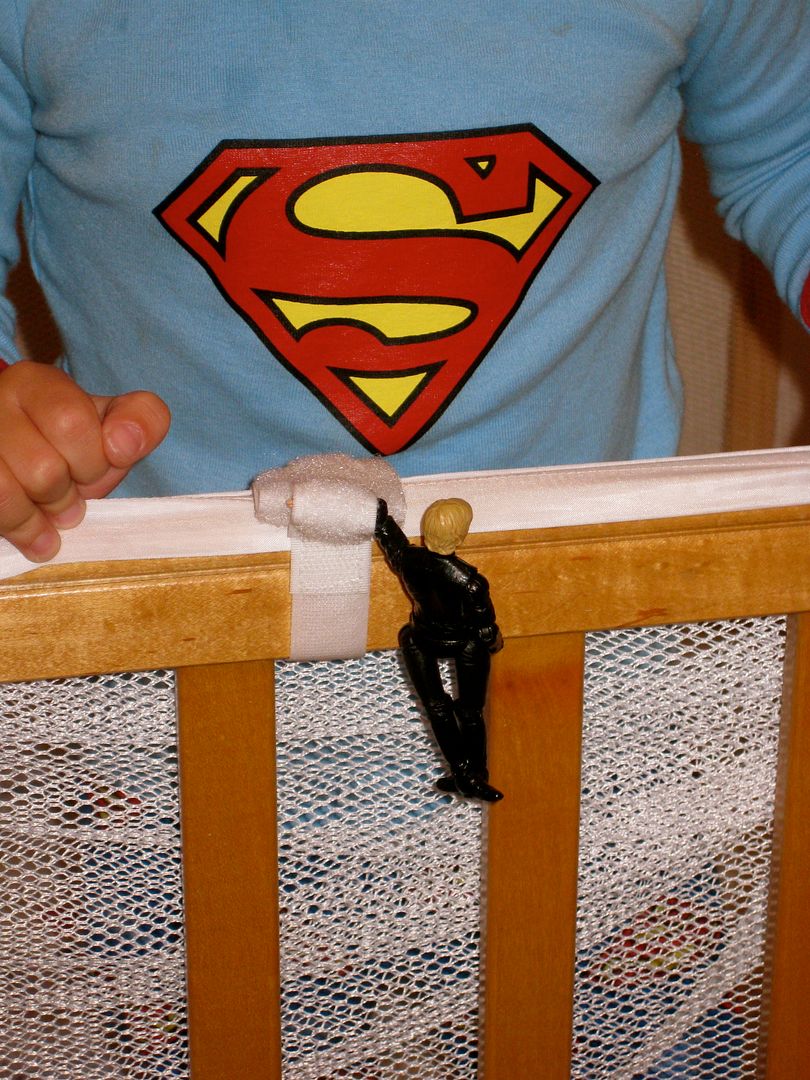 Doug taught the boys how to velcro their Star Wars figures into the straps, so they can be rescued from Vader and save the galaxy. Poor Luke looks like he'll need rotator cuff surgery after this adventure.
Here's a side view, in case you want to see how the tents work. It's just like a camping tent, with netting on all four sides. You slip the entire thing into your crib, then slide the mattress in on top and it holds the tent taut. Bonus feature? Binkies don't fall between the crib slats anymore!
Daily naps of 2-3 hours are back. Bedtime at 8 PM is smooth and happy. I'm not worried about midnight wanderers or dressers being pulled over. And boy was it nice to put the roll of twine away.
Super Boy and Super Boy are eating their dinners again. Rather than squashing their veggies with their thumbs and wailing over the fact that their bowl is the wrong color.
If you want to see some video as to how the tents work, watch below. I laughed when I viewed this a few minutes ago. While asking the boys questions, I got an echo response every time. One from each boy. And I think Ali was serious when she walked in whining for her own tent. They make for pretty cool sleeping quarters.
And thanks to all of you who told me the tents were worth trying. I could kiss you too!