Six days until Christmas and I am standing at the kitchen counter slicing cucumbers when I hear the girls sneak into the kitchen. They walk up behind me, trying to be discreet, but I can hear their muffled giggles. They poke me. And when I turn around I laugh out loud. They are wearing striped stockings over their heads and they look like elves. Before I can say a word, they skip out of the kitchen.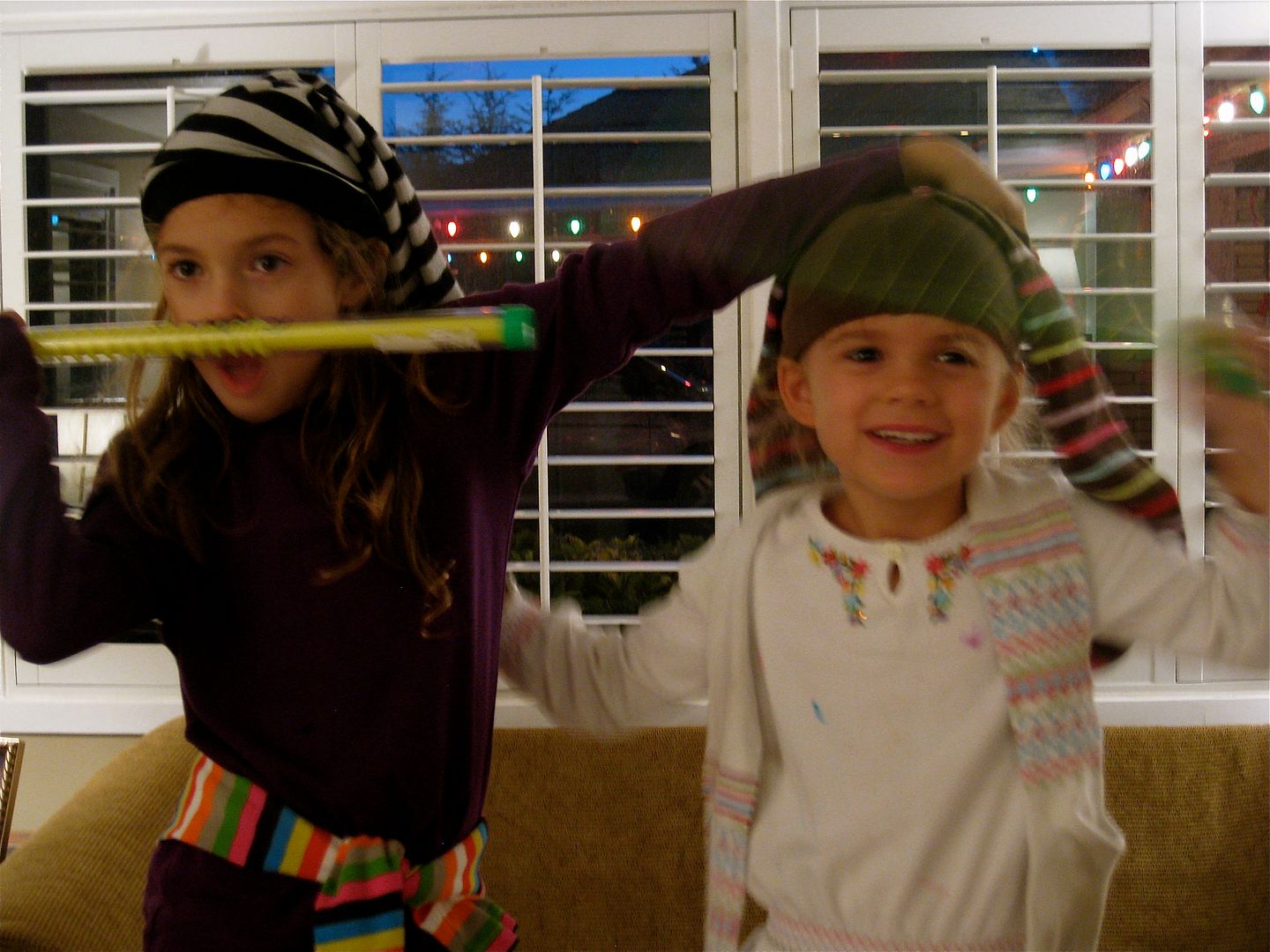 I turn back to my cucumbers but the giggling gets louder. So I peek into the living room to see them standing on the table, dancing to "Jingle Bell Rock." They are making faces in the mirror, hooting over how they look, and striking all sorts of goofy poses. All the drawers have been emptied of stockings and each pair is being used for the purpose of accessorizing.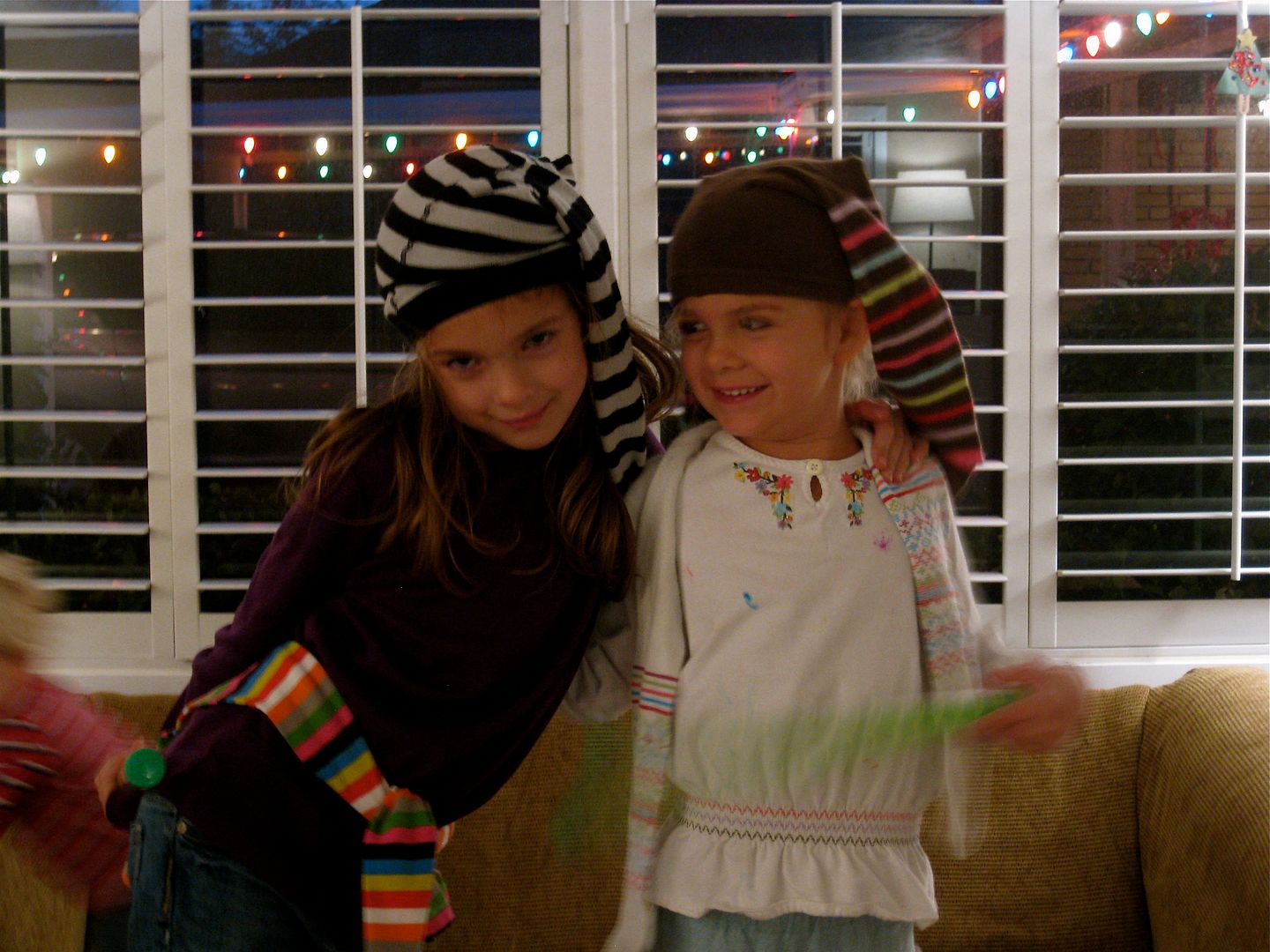 I hover by the kitchen door, watching. Not so close they can see me, but close enough I am now the one muffling my laughter. Finally, I grab the camera and ask them to hold still for one second.
One second was all I got.
The Holidays bring out a new level of silliness in my kids. Especially the week before Christmas. It's a giddy kind of energy. Shooting out of them all the time. Most of it is happy and good. They're so close in age that they share the same wondrous place of believing. Together.
We did have to teach Gordy and Spence that reindeer aren't giraffes. And they have no idea Santa can bring them more than a candy cane (yes, that's all they want - a candy cane). But basically, all five of our children are completely immersed in the magic.
This energy, however, can lend itself to plenty of not-so-good times too.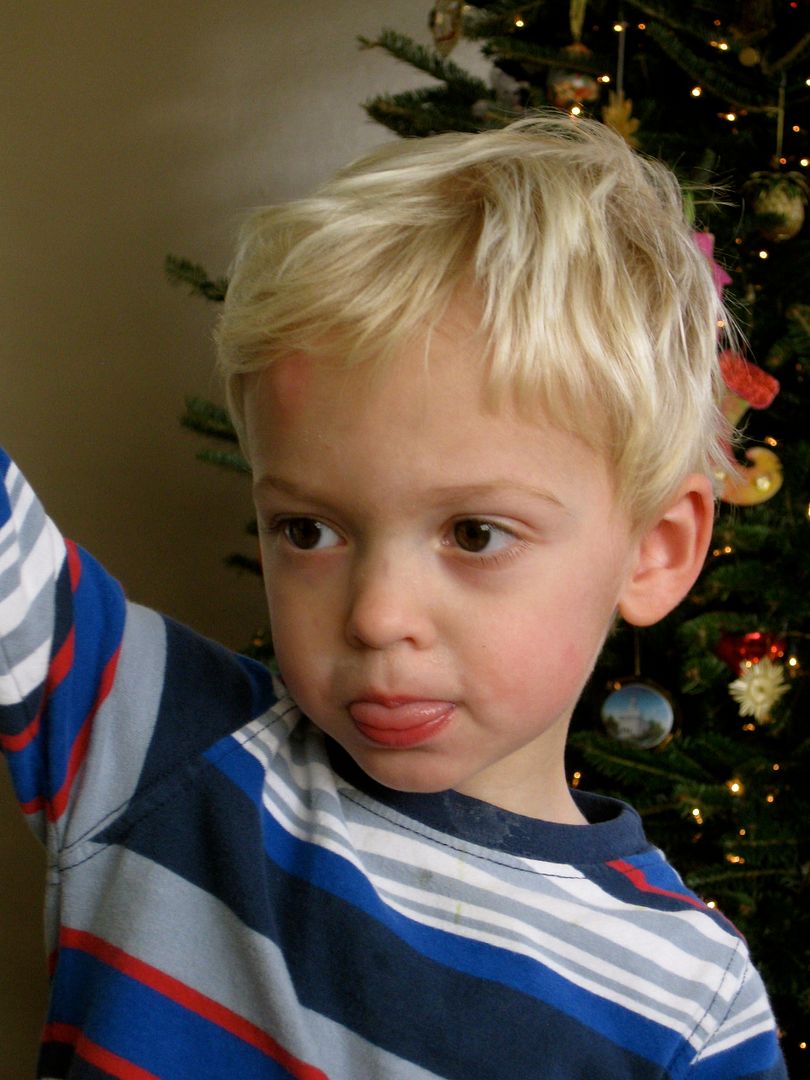 Like Spencer hitting Gordon on the forehead with his train. (Notice the welt. Spencer has one too.) All kinds of giving and receiving are going on around here.
Or Sami taking crayons to this pillow. (Anyone successfully gotten crayon out of fabric??)
We've had some serious pouting, and a fair amount of whining and bickering.
Despite all the talk of Santa keeping a wary eye and sending his very own Mr. Peeps to scout out our territory...
W
e seem to break up more battles this time of year, calm down more craziness, and clean up more disasters than we do during the regular every-day.
So many, in fact, I started keeping a "Disasters" column in my gratitude journal.
I figure when these five hoodlums are in high school, we'll sit around the dinner table and laugh ourselves breathless over all they did together.
Like
Ali and Sami cutting each other's hair. (Last week I found their curly locks on the floor of their bedroom closet.) Or the boys rubbing Doug's
toothpaste into their hair. Or finding an
entire roll of toilet paper spun out to the cardboard, then a few minutes later finding an entire
roll of floss looped into circles next to Spencer who is sitting on the bathroom floor, brushing his teeth with my toothbrush.
The "crazies" just come with the season. But so do a whole slew of magical moments.
My kids want to be good.
I think all children do. And yet, this time of year it actually seems harder - with so much going on and so much anticipation.
I always get a kick out of this poem by Eugene Field. (Entire text

here

- because I only share an excerpt.)
For Christmas, with its lots an' lots of candies, cakes an' toys
Was made, they say, for proper kids an' not for naughty boys [or girls]
So wash yer face an' bresh yer hair, an' mind yer p's an' q's.
An' don't bust out yer pantaloons, an' don't wear out yer shoes;
Say "yessem" to the ladies, an' "yessur" to the men,
An' when they's company, don't pass yer plate for pie again;
But, thinking of the things yer'd like to see upon that tree,
Jest 'fore Christmas be as good as yer kin be!
- Eugene Field (1850-1895)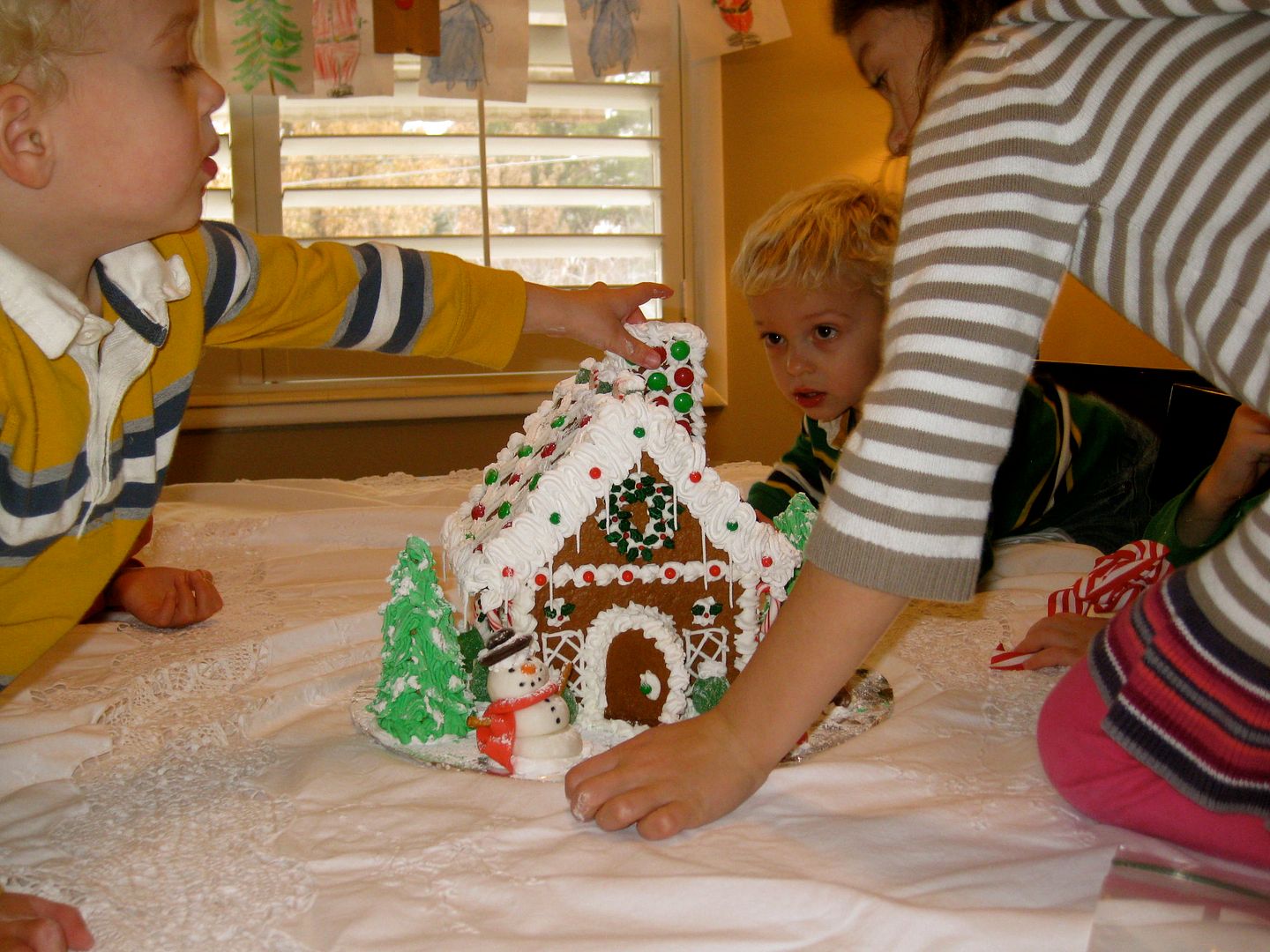 Kristie's amazing gingerbread house
Yep, "jest 'fore Christmas be as good as yer kin be!"
The girls are trying. Ali's letter to Santa was very honest.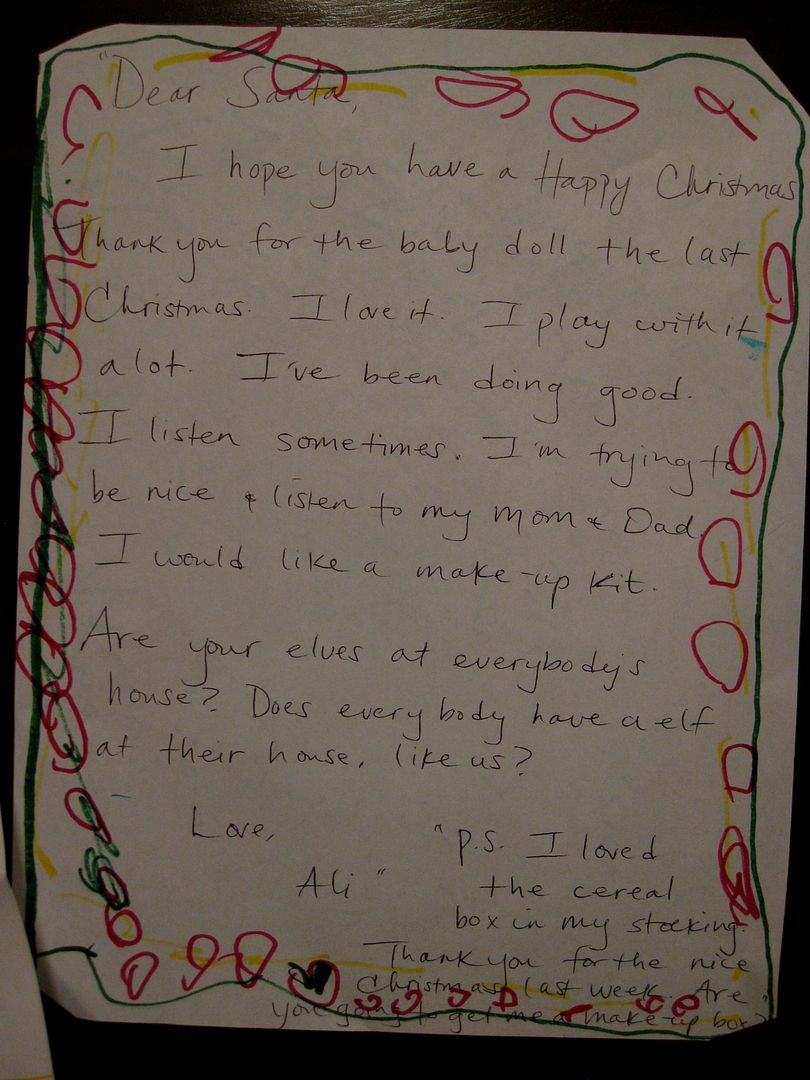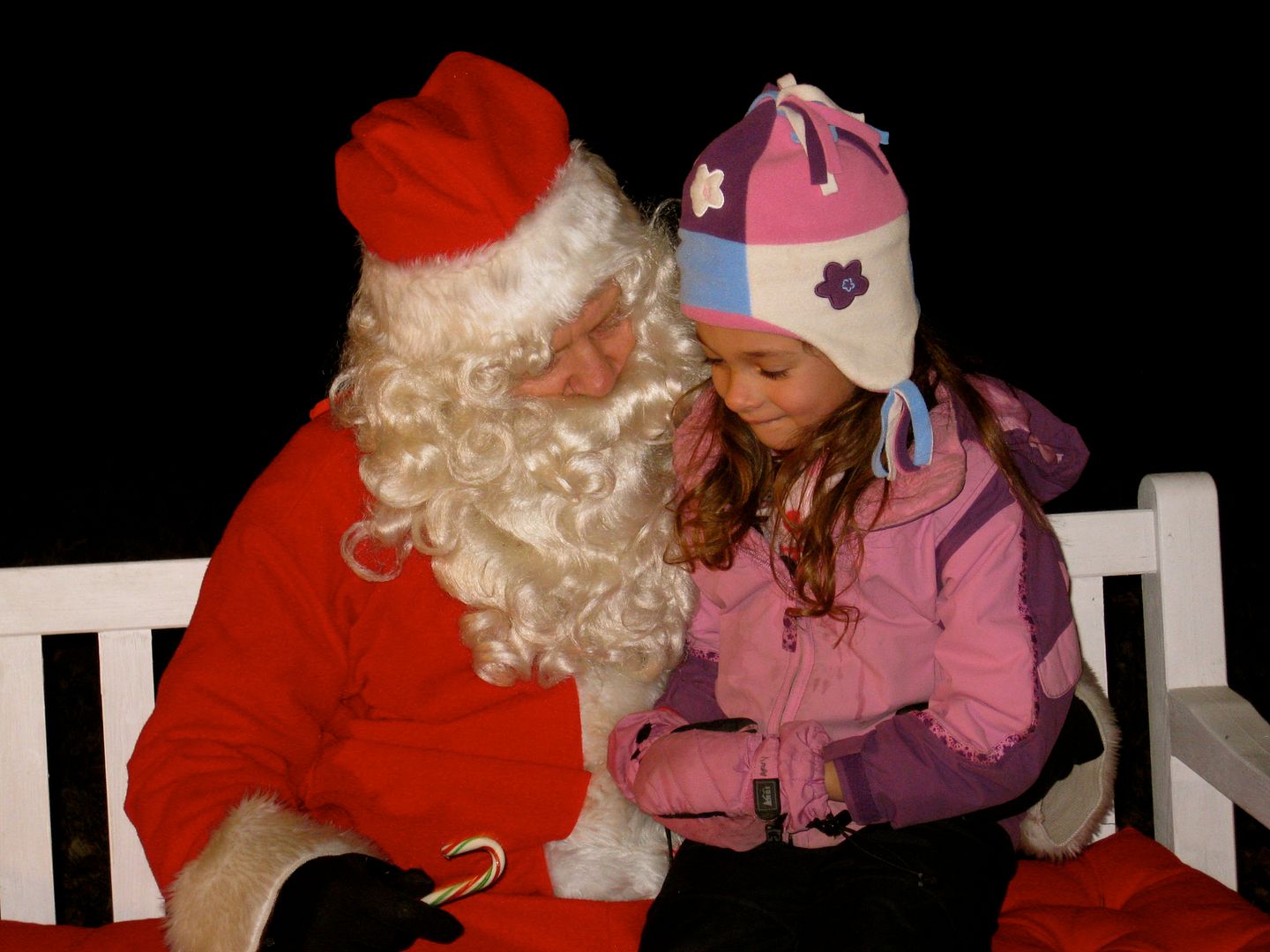 Here's Eliza telling Santa she's been a good girl. She's also telling him she wants a cook book. When someone asked her why, she said, "So I can cook with Mommy."
Our tree is sparkling in the corner, lighting the whole living room. It's the last thing I turn off at night and the first thing I turn on in the morning.
It has more home-made ornaments than ever before, and I cherish each one.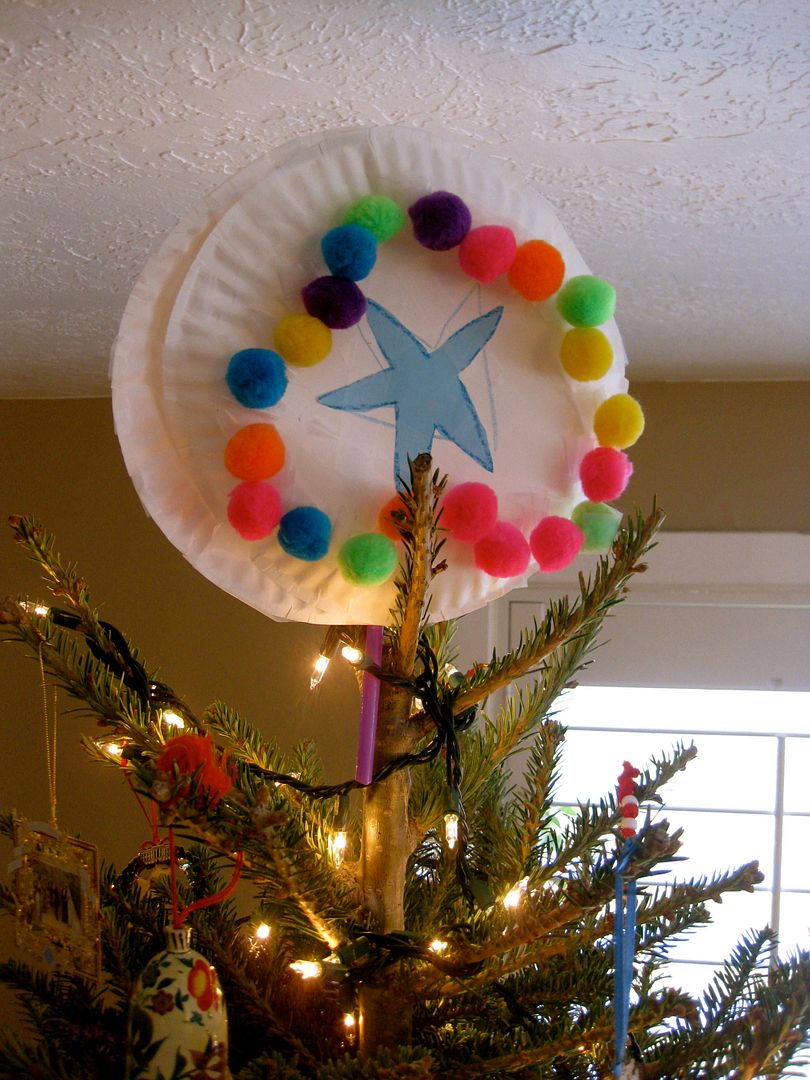 Eliza made this tree-topper. Usually we place our angel on top, but I adore her star so much with its colored puff balls, I think we'll pull it out again next year.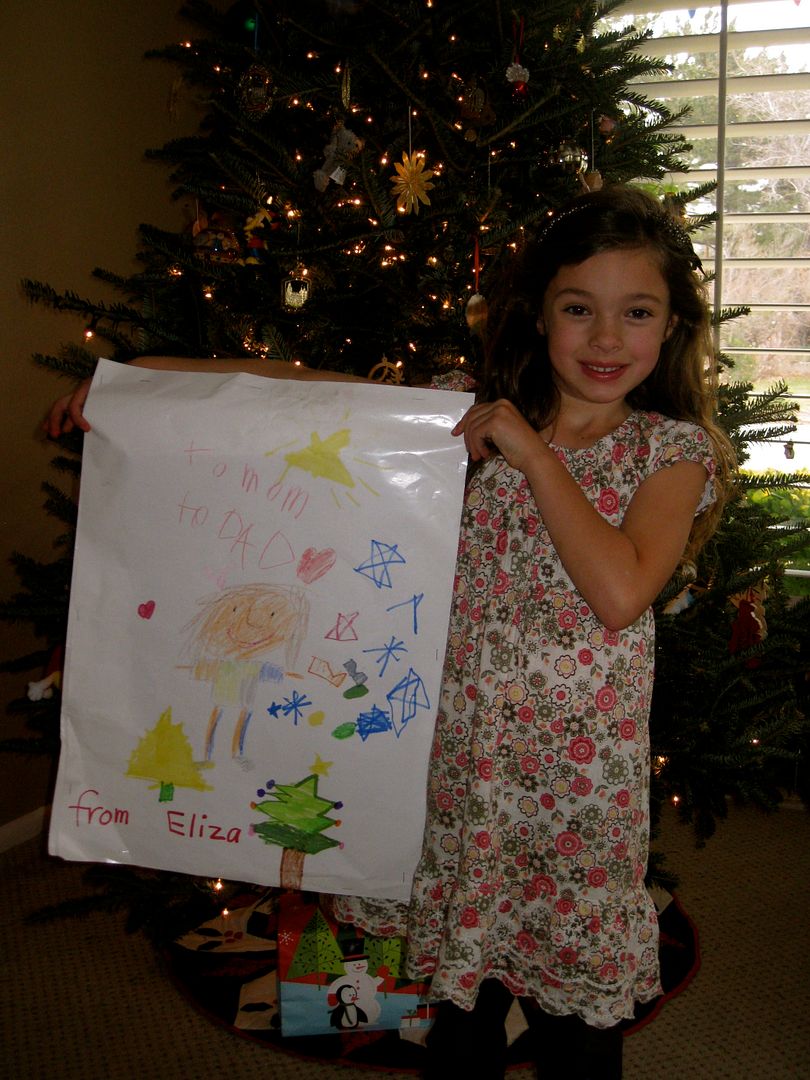 She's also been busy making cards for everyone she knows. This one is for Mom and Dad.
And here's her desk, with a stack of cards she has written to her friends. I love how neatly cluttered her desk is. Everything important to her has a spot. Even kitty has a home in the right hand corner.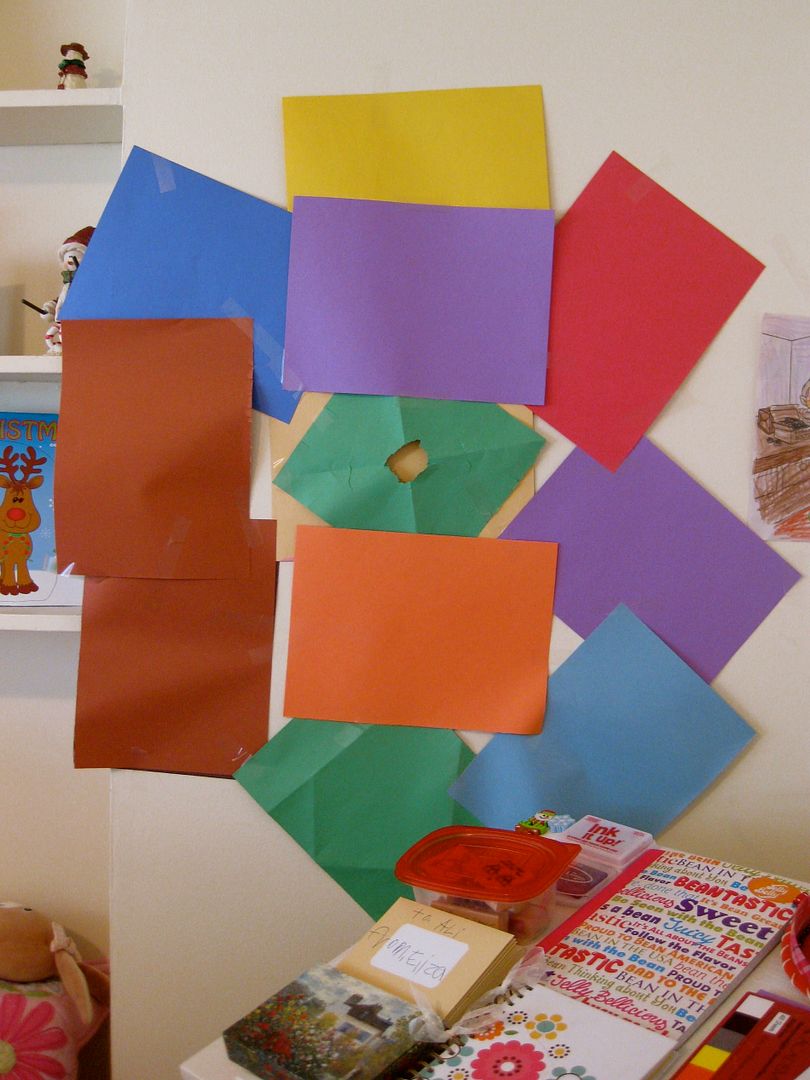 A few days ago I found this large snowflake taped up in her room. Quite the creation. It looks like it belongs in a modern art museum.
And, of course, there's the artwork that comes home from school each week.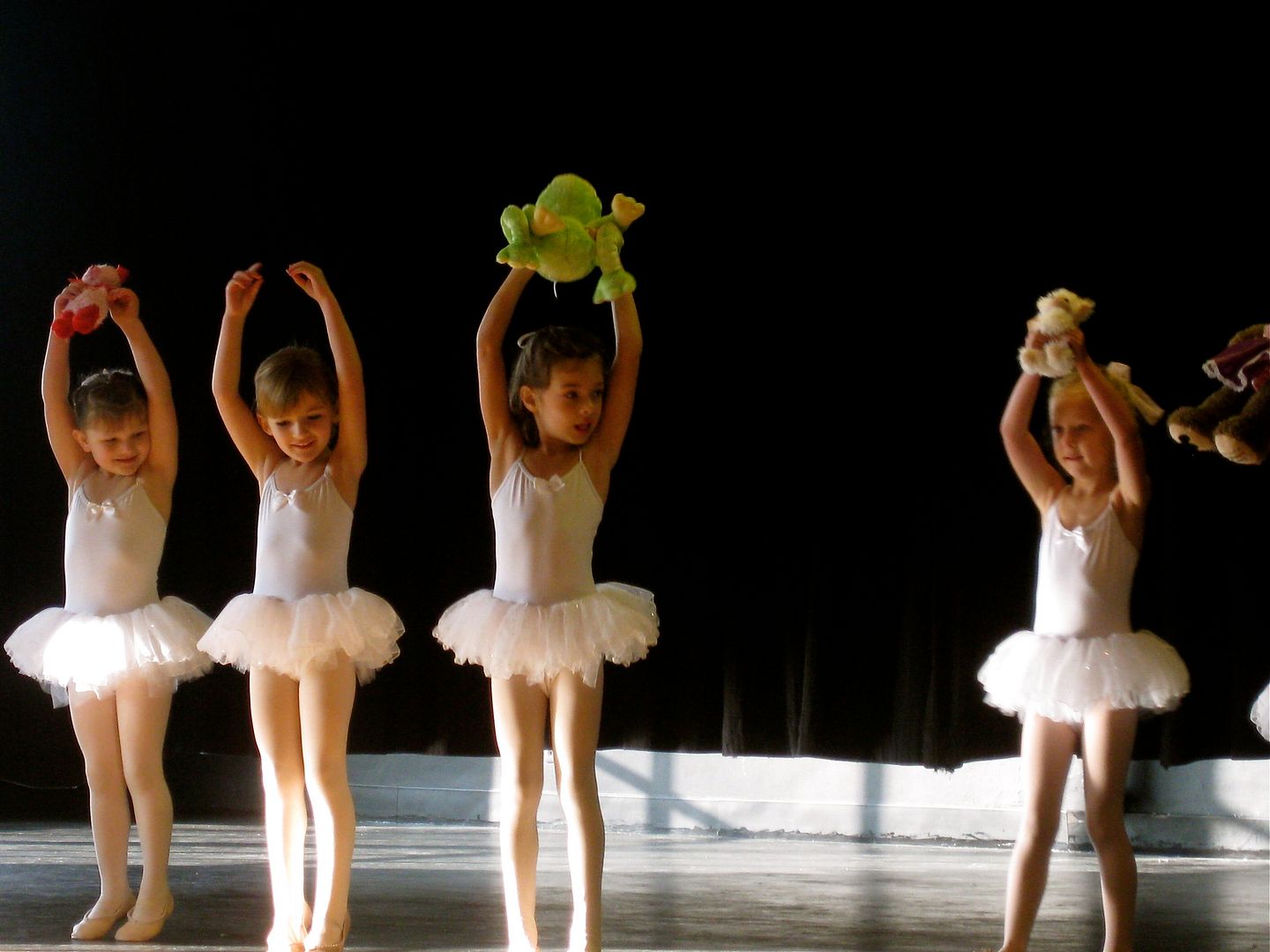 And the performances. I didn't know Eliza took froggie with her instead of baby doll until I saw her on stage.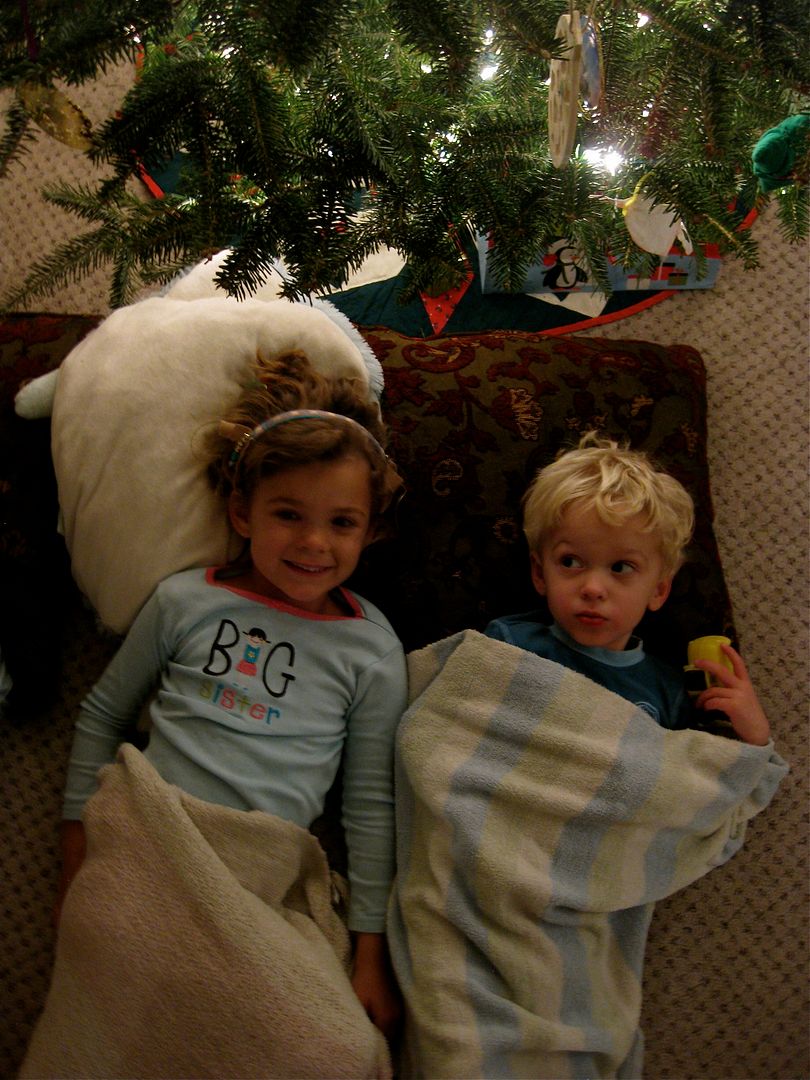 But some of the best moments for me are in the evening, when everyone comes bundling to the tree, trailing blankets and carrying pillows under their arms. They fluff up their little spot, and I pull up a chair so I can read to them. We're half-way through The Best Christmas Pageant Ever, and we've read all our favorite Christmas picture books.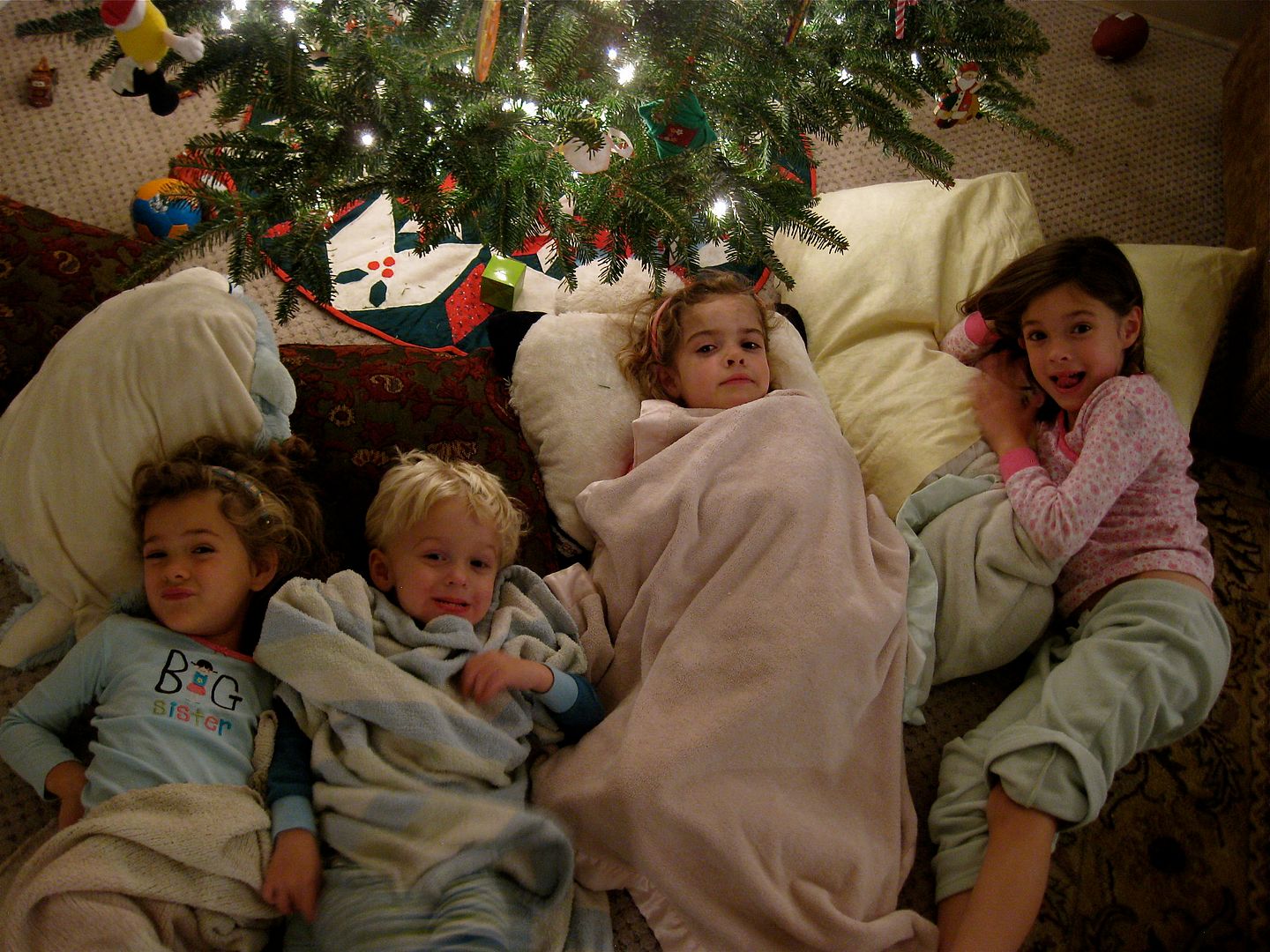 No Gordon in these photos. He was a blur tonight, whooshing around the tree, singing three words over and over again in monotone. "Jingle... Bell... Rock." Apparently, the girls had a bigger audience than me.
I hope these last days "jest 'fore Christmas" have your children minding their p's and q's. But in case they don't, let's just keep telling ourselves it's part of the package. Part of the blessed package of creating memories and building a family. Even the disasters make memories. And a few tender minutes of sharing can redefine any day.
As for me, I'm going to mind my p's and q's too - and try really hard not to "bust out my pantaloons."