They were wearing birthday crowns when I drove them home from preschool. All the chatter about being five and passing out licorice to their classmates ended when I stopped in the middle of the road to talk to a neighbor. Before I knew it, the car had emptied and all my girls were sprinting across the lawn into an adjoining backyard to swing.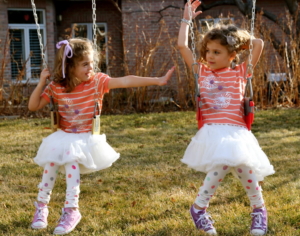 The afternoon was warm – less than jacket weather – and between the brick houses I caught sight of their heels kicking blue sky as they soared on Judy's swings.
In the foreground I could see Eliza's head bobbing on Miss Marion's trampoline. I love the network of backyards that surround ours. No one keeps their gates closed. Kids are welcome everywhere and families with grown children, that layer the properties behind us, simply smile as my children traipse across their grass. No one is persnickety or annoyed. They're honestly happy to see the flurry of small feet. They are so very generous.
It was Ali and Sami's fifth birthday. And although we should have been putting on our snow pants for a tubing outing that evening, I didn't want to miss the chance to watch my girls – the two of them twisting in their swings as they talked, leaning back at just the right angle to test out the physics of pumping. I wanted to seal a bit of them up so I could remember how they were, that warm February day, age five.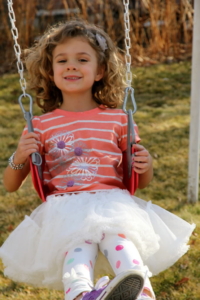 How long will they want to wear matching skirts and shirts? I wondered.
They tossed their heads back and laughed, unaware of themselves. I watched the way they dragged their sparkly converse across the lawn – white tulle sailing back and forth.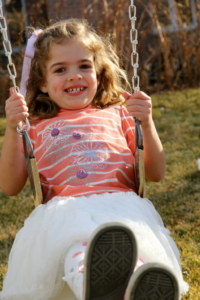 Every February as we decorate for Valentine's Day, we remember.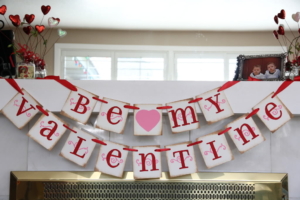 How quickly everything could have changed that Saturday evening when we almost lost our girls and they came hurtling into the world too early. Traumatized, blue, and neither of them breathing.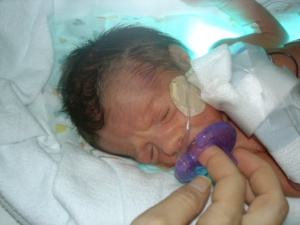 Ali, two days old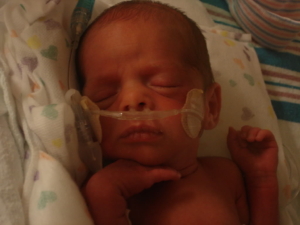 Sami, one week old
God is not a distant being without form or shape. He is nearer than we know, ready to save us (sometimes physically, always spiritually). His understanding of us is intimate. Beneath this awesome expanse of a universe, amid all the glittering stars and planets carved by His hand, He really does notice the sparrow when it falls. (Ali and Sami's birth story here.)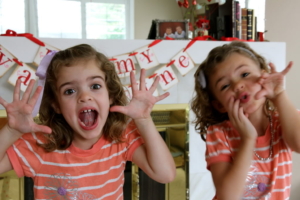 Hard to believe those three and four pound babies have grown into long, lanky girls who talk back, make silly faces when I ask them to smile, smear lotion all over the bathroom floor so they can skate, and scratch and push each other. They're good girls, really they are. But they require real guidance now, not just holding and hugging.
Our family made a list of what we love about each of them, what they're good at, who they really are.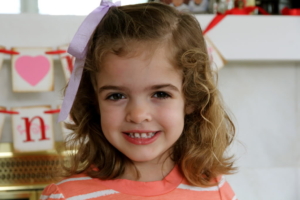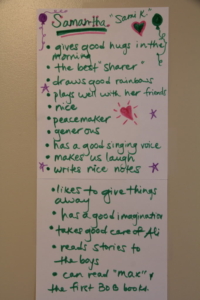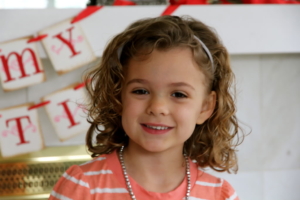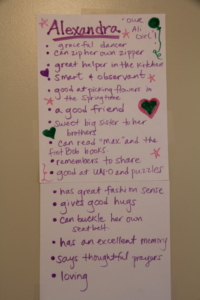 My friend
Kristen
wrote a sweet song I've been listening to recently. Kristen is a devoted mother of five children, including twin girls the same age as Ali and Sami. Kristen picked up the guitar when her twins were three and started writing songs. She has a real gift and I'm anxious to see where it takes her. We served LDS missions together in
Nauvoo, Illinois
, rode our bikes down Parley's Street, caught fireflies, shared what we believed with visitors who felt inclined to stop at that bend of the Mississippi River.
It's been a couple years since we've seen each other but we met for lunch today. And here are some of the lyrics to the song that did me in while I was driving downtown to meet her. I wish I could link you to an online version of this song so you could hear it yourself, but she hasn't released her CD yet. (I'll keep you posted.)
You don't seem to understand,
I don't want to reprimand
I just want to hold your hand
Let me stare at your face
So I can find any trace
of my baby in your face
Let me kiss your cheek
'til my knees grow weak
I need to kiss your cheek
I want to hear your laugh,
laugh with my laugh,
I need to hear us laugh
My hands will always reach
reach for your reach
My hands will always reach
Let me hear your voice,
Do I have a choice?
Will I lose the memory of your voice?
Come here, lay your head on me
Sleep so I can hear you breathe
There I was, hands on the wheel, thinking about my girls, and smudging mascara all over the place. So I pulled some videos of Ali and Sami singing at age two. I wanted to remember their voice.
They're so darn cute I want to swoop them right up and nuzzle them onto my shoulder. I miss those tiny voices. Indulge me and take a look.
Mothering young children is so intense and over so fast. I wish I could stretch out the joy a little longer (while shuffling all the dishes, diapers, and time-outs into a forgotten corner).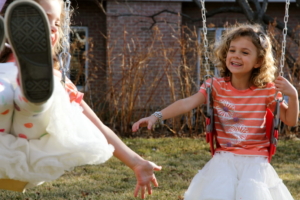 Before we left to walk home, Sami reached out for Ali's hand. "Grab it!" she called. "Ali, grab on!"
They slipped past each other once,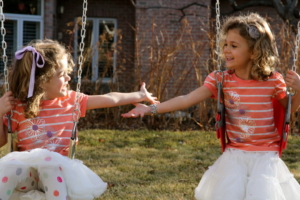 twice,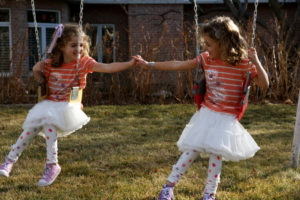 but the third time, Sami snagged Ali's fingers. Ali couldn't stop giggling. Sami couldn't stop squealing. And I felt like I could fly with them. I'm so glad they are sisters – so grateful they were rescued in one sacred reach from the heavens. I hope they remember His reaching.
And I hope they always reach out for each other.
I love you girls.