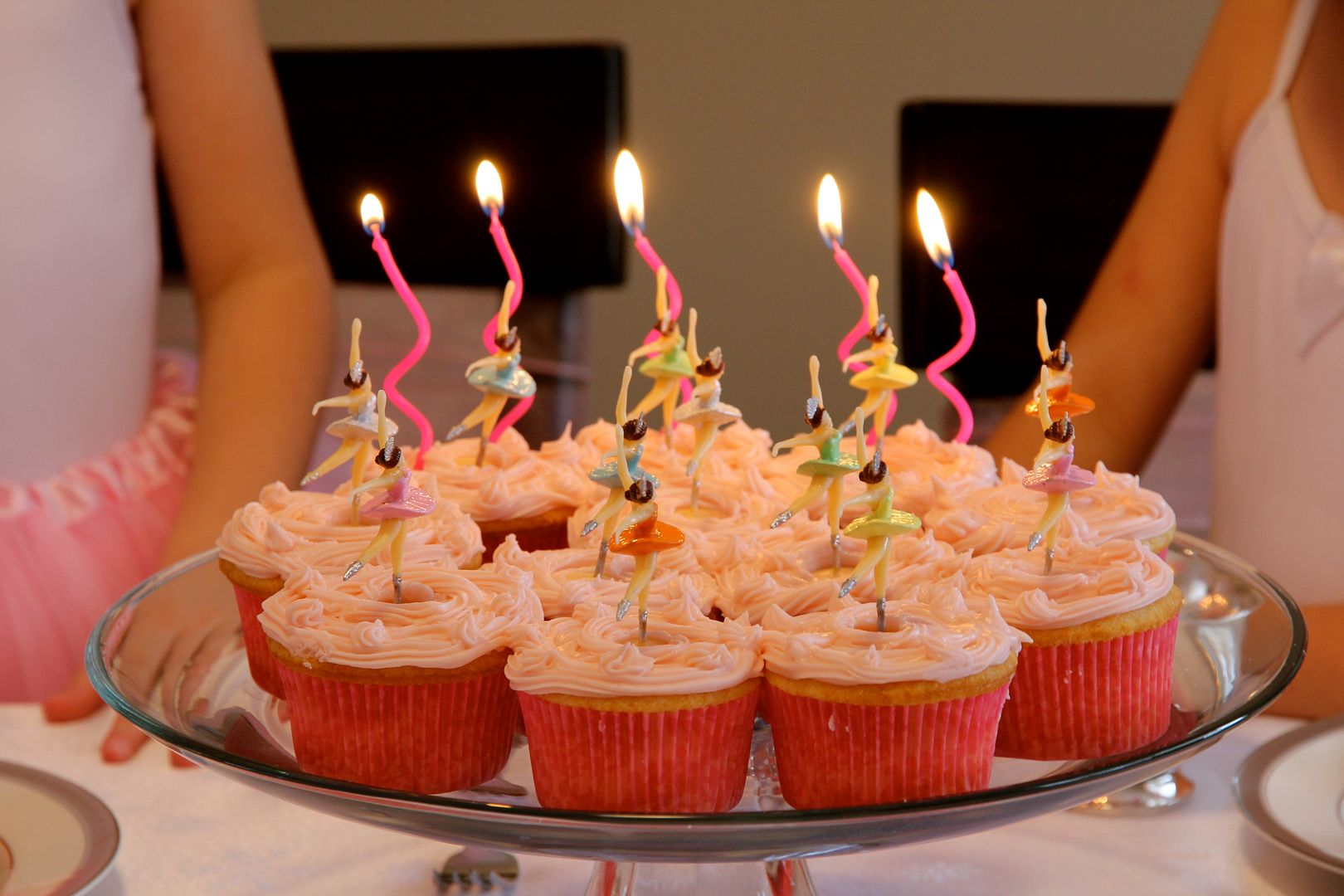 Five candles to blow out, twenty-four cupcakes to share, twelve girls twirling in tutus, twelve bows carefully tied to chairs, twelve balloons floating the dining table, twelve silver tea cups that belonged to my grandmother, eighteen beautiful presents to open (between the two of them), and a whole lot of Vivaldi.
Those were the makings of Ali and Sami's ballerina birthday tea party.
We printed Degas' Ballerinas to post around the room.
Set the table with balloons and bows for every chair.
Gently pressed each ballerina onto her cupcake (a dozen vintage toppers for $7 on etsy).
Tied two bouquets of lollies for little dancers to take home (a clever accent I learned from my friend Michelle. No one does birthdays like

Michelle

).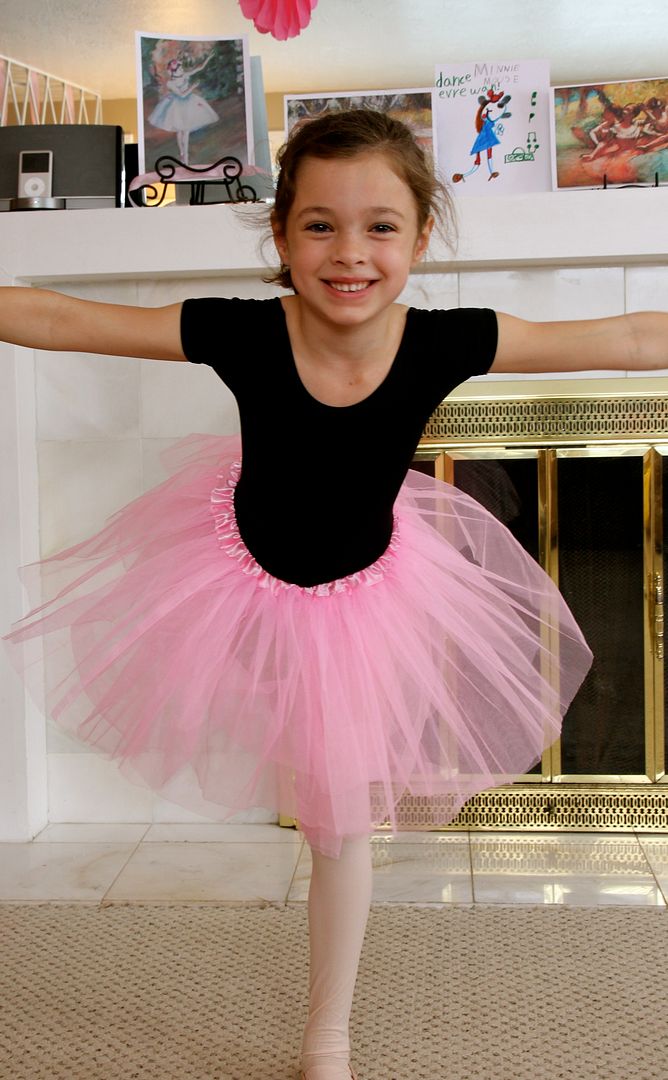 Eliza wanted her own artwork nestled smack dab between the Degas. It's Minnie Mouse and it reads "Dance Everyone!" Absolutely appropriate.
And here's Samantha, one of our prima ballerinas, cradling roses given to her by Auntie Kara and Katherine.
And here's Alexandra. What girl doesn't love flowers?
The guests arrived and the dancing began.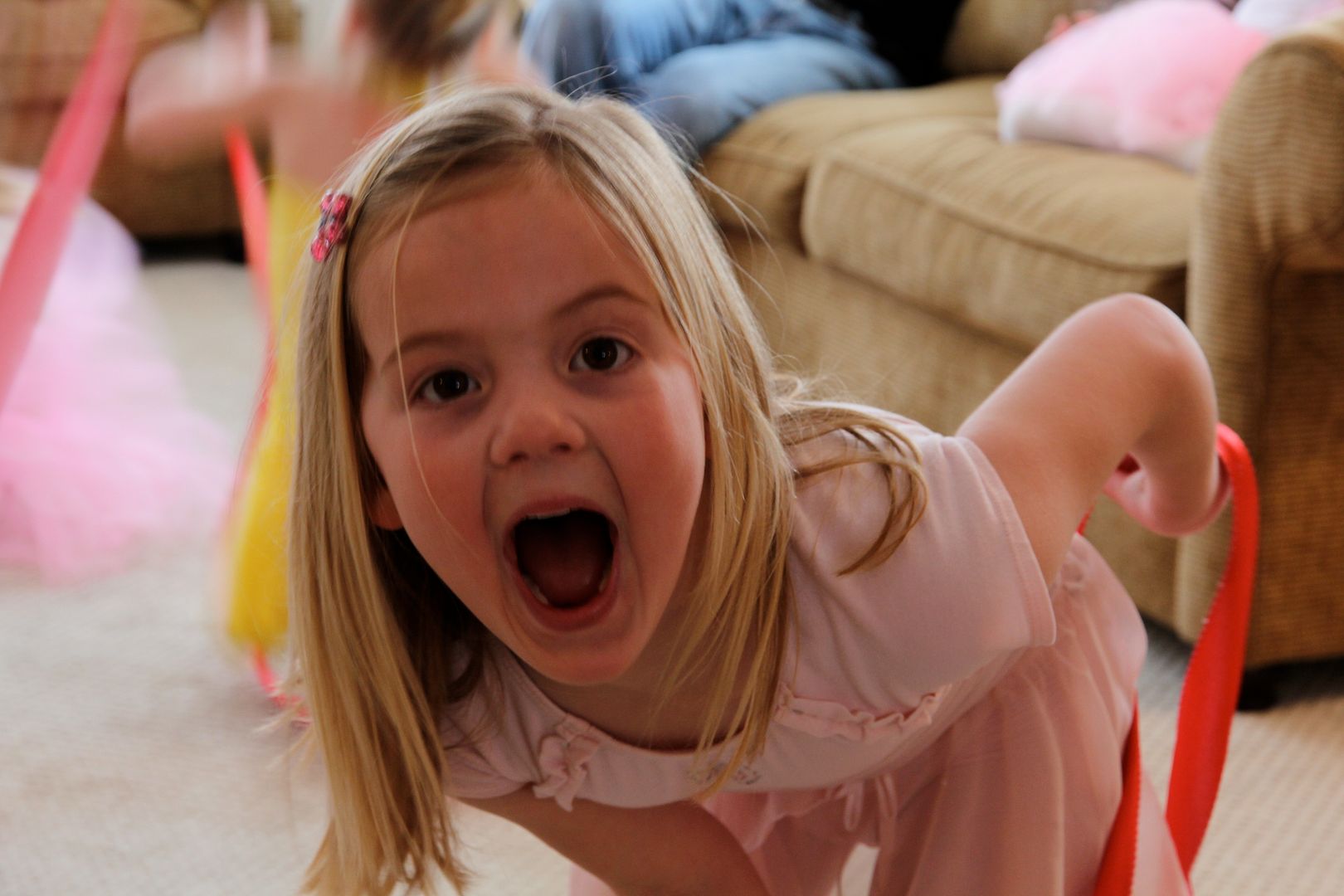 Cute Lucy loves the camera. Can you tell?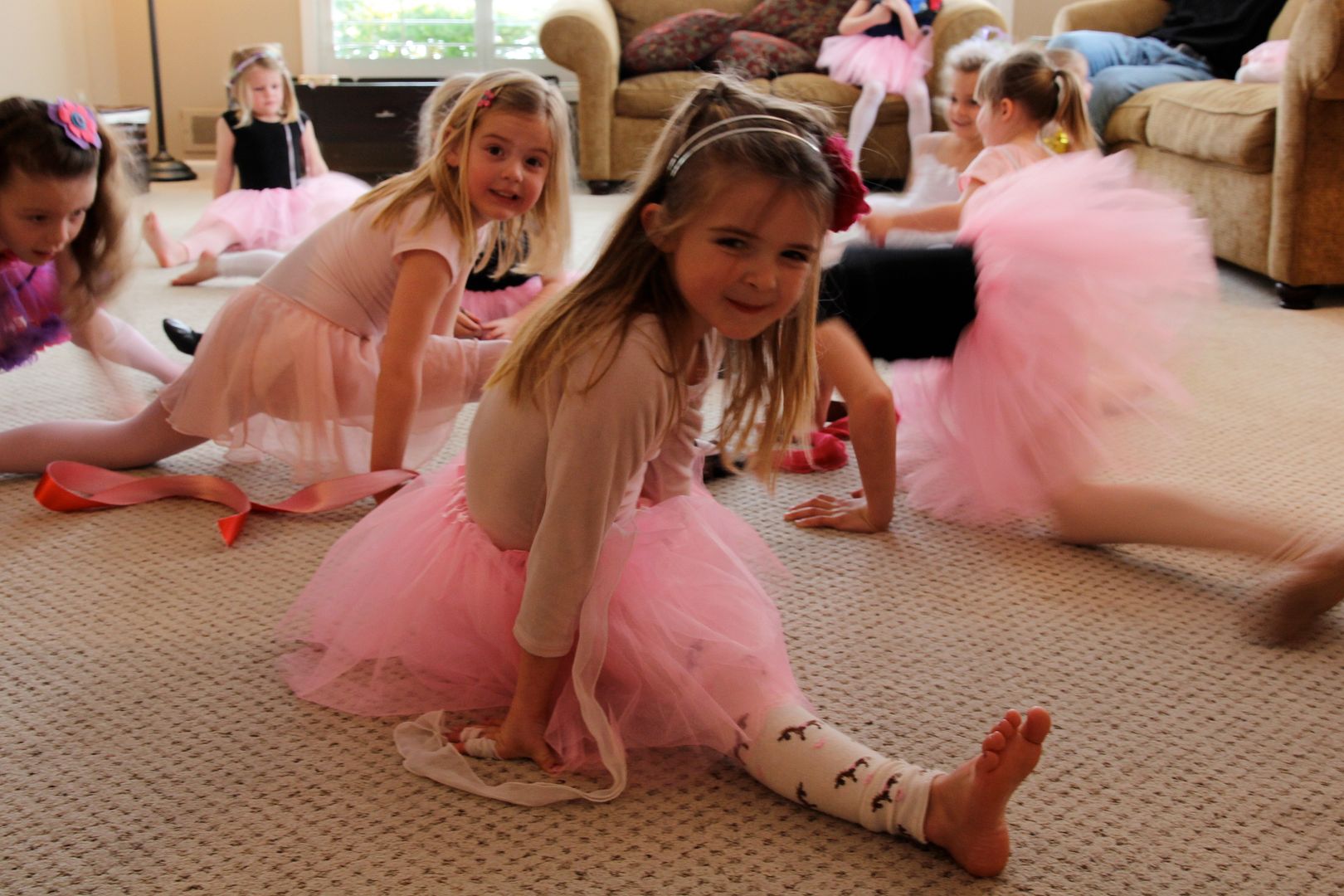 I taught the girls the five ballet positions and all the french I could remember. Echappe, Passe, Pique, Tondu, Releve, Botma, Arabesque... We did leaps, and turns, and Lydia led the girls in a contest to see who could do the splits.
We played "pass the point shoe" to determine the next gift-giver while opening presents. I had to laugh every time Doug called out, "Who has the pointed shoe?" Only a dancer would know it is definitely not called a "pointed" shoe. But Doug wins man of the hour for surviving an overdose of pink, acting as DJ, pouring drinks, slicing strawberries, and listening to me tell him what to do for two hours straight. Love you honey. ;)
We played pin the point shoes on the ballerina. I loved all the wonderfully-colored shoes.
Ali and Sami blew in tandem. Someone (namely me) is still a ninny with her new camera and can't figure out indoor lighting.
And then it was time for tea, which was raspberry lemonade with a bit of fizz.
Lil' Debbies (another trick I pilfered from Michelle). Boy, did these go fast!
And this is London. Isn't she precious? London is a couple years younger than most of these girls. But her soccer-playing mother, my good friend Kelly, grew up having nothing to do with pink tulle. And now, she is doing her best to embrace the ballerina that is bursting out of her daughter. After months of begging for dance lessons, Kelly finally signed her up. And London is in... heaven.
So I knew as soon as Ali and Sami said they wanted a ballerina party, we would invite London.
As the games and presents were waning, I found London by my side, asking, "Is it time for tea? Is it time for tea yet?"
I think Kelly was worried London might not hold her own, but she did. She stood front and center, right there with the rest of them. And when it was time to dance, I felt London's hand slip into mine and tug me forward. Suddenly we were running. Running circles around the room, as fast as she could go. We didn't stop. We ran and ran, because every time I paused, she pulled my hand forward.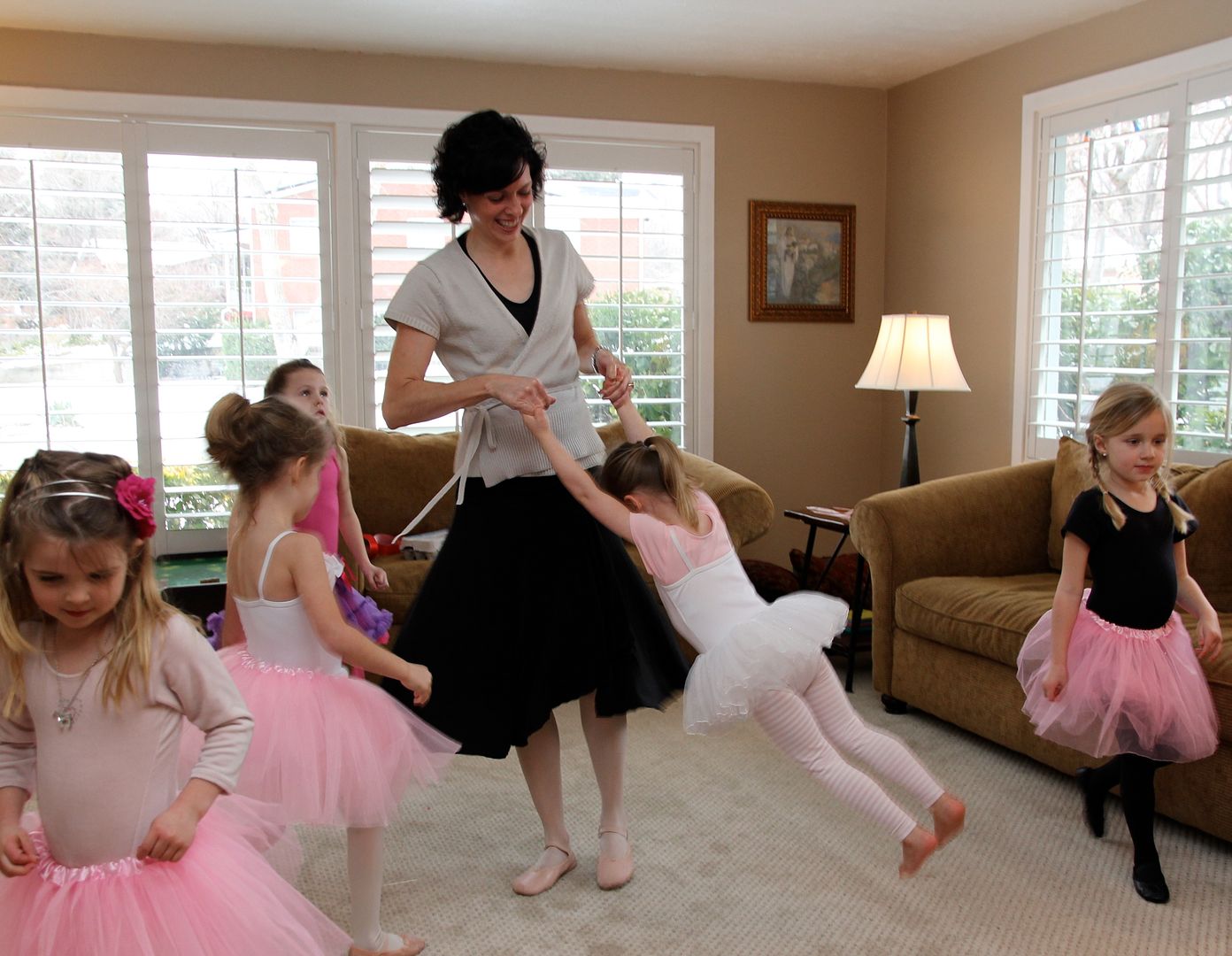 We spun dizzy circles, and a line formed as each girl wanted her chance at feeling air-borne and flying round the room.
When I asked Ali and Sami about their favorite part of the party, it was unanimous. The tea party. Maybe it's the charm of sitting down to a pretty table full of sweets and feeling so grown-up.
But not too grown-up. I rather admire Lydia's lack of inhibition, because that's exactly how
I eat a cupcake... when no one's watching. And doesn't Grace's face in the background speak an entire conversation?
Darling Ruby blew us all away with her yellow sequins. There was no losing her in the crowd. Doug called her "Little Flame" that afternoon. She has so much energy and personality. And look-out... that girl has some moves.
As crumbs littered the tablecloth and the pink lollies began to disappear, the dancing resumed.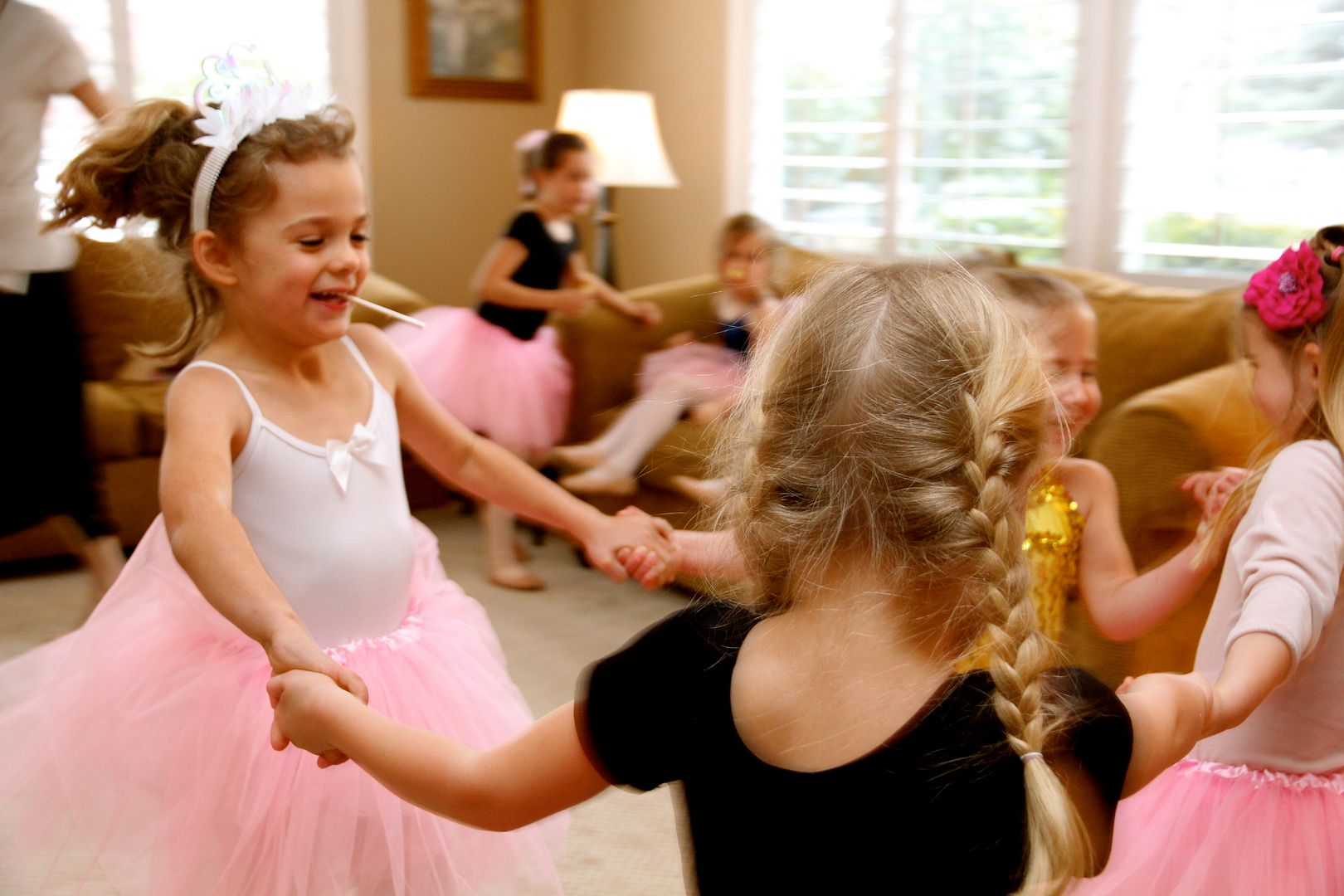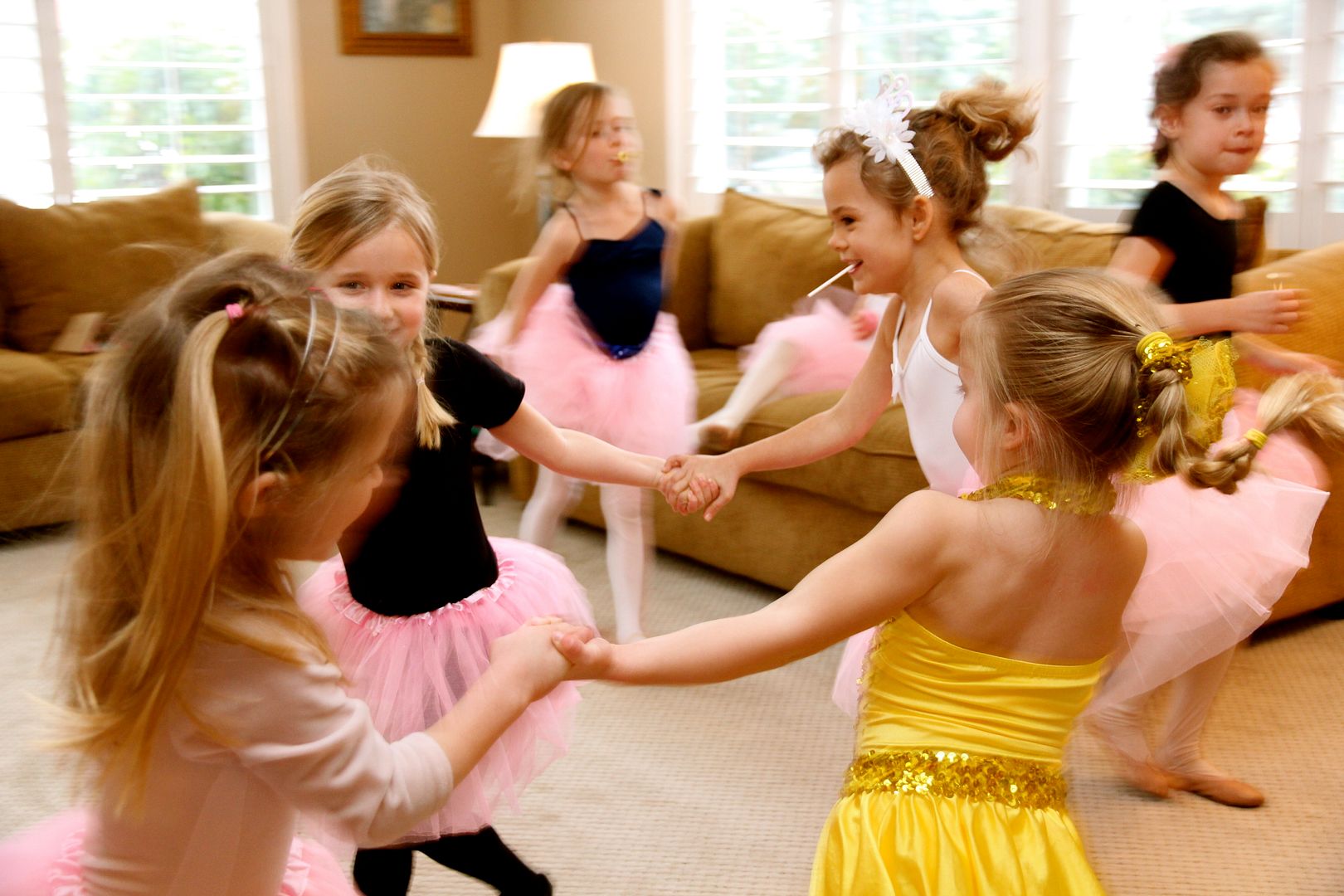 Doug abandoned the masters by the end and put on some hip-hop to shake things up. The house was booming when parents came to pick up their daughters.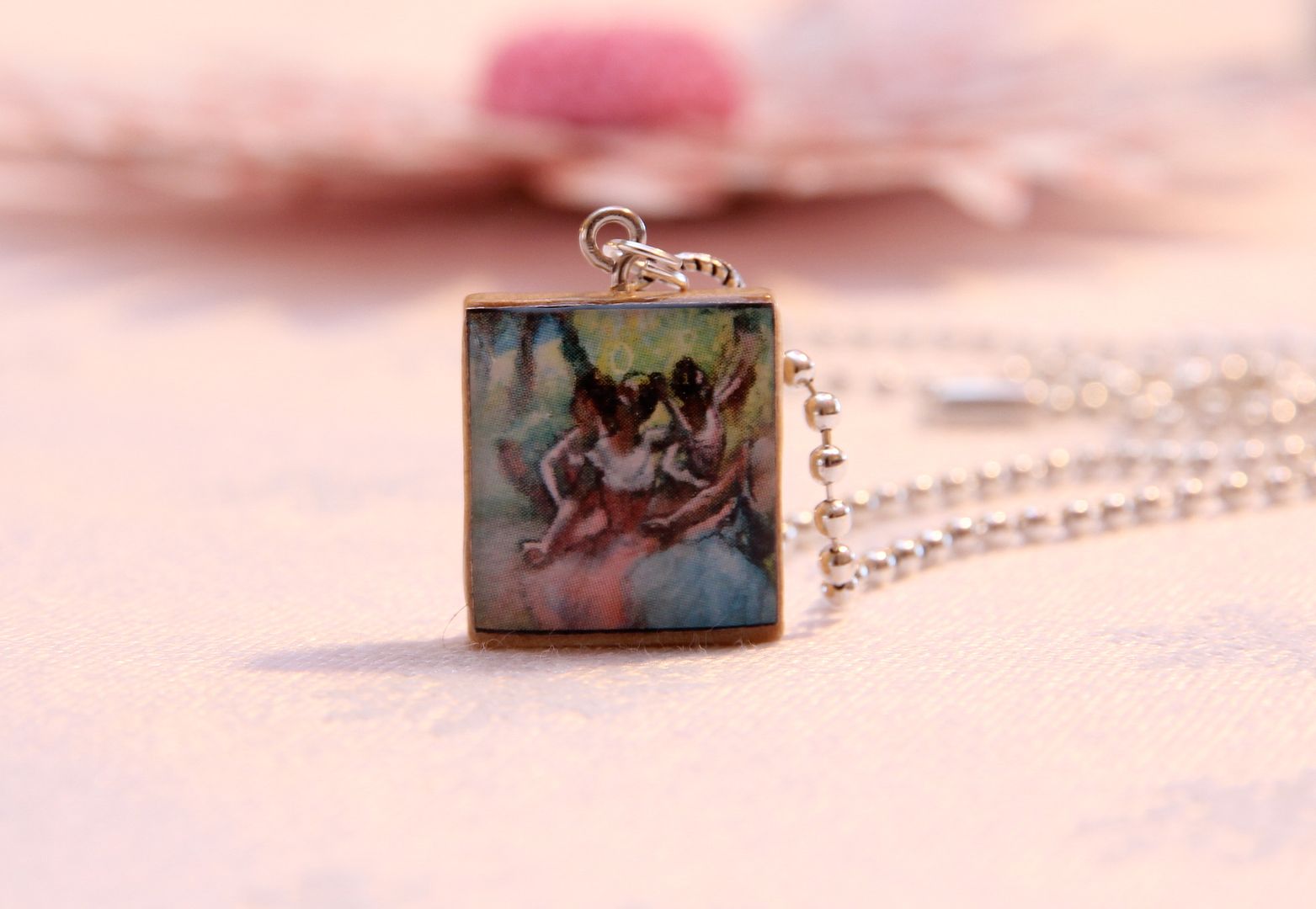 Ali and Sami handed out these necklaces as party favors.

Sheila

makes them out of scrabble tiles and graciously selected tiles with the first initial for each of our ballerinas.
Rather than hand out a bag of candy and do-dads that would cost the same amount, I figured we'd go for something more simple.
Like most happenings around here, it was wild. But these girls were the perfect ballerinas. I would dance with them any afternoon.