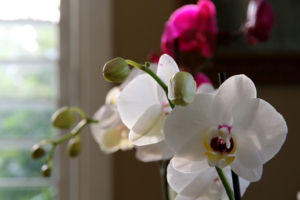 They were on the mantle this morning. Resting stately, elegantly. My one request. Because they last. If you trim them right, new buds will sprout just when you think the last petal has fallen. Orchids appear delicate, even fragile, but don't be deceived. They are resilient and hardy. Just like mothers.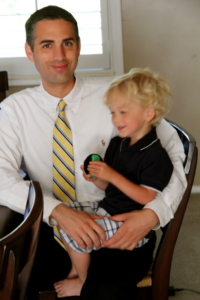 I also woke to this fellow, already showered with his yellow tie on, because he had a talk to finish up. Doug spoke in our church meeting today. No pressure, right? A man speaking to a full chapel (that extended into the gymnasium because of a missionary farewell) about motherhood. Doug felt the weight, the need to acknowledge all women on this holiday laden with complicated emotion.
Sometimes we forget those who silently observe all the extolling and lauding because deep in their core they carry a real heartache.
We spoke in the hallway after the meeting with Katrina. Darling granddaughter to our beloved neighbor, Bertha, who will turn 98 this year. Katrina used the same fertility doctors as we did in DC. Only months ago she was happily expecting twin daughters. But at twenty-two weeks her babies were born in a sudden rush of water. Far too early.
Unbeknownst to Katrina and her physicians, she had an incompetent cervix. She showed us pictures today of her Katya and Ruby in the NICU. They looked just like our girls in the NICU. But her babies lived only ten days.
Knowing they would not survive long, Katrina and her husband had to make a difficult choice – when to take their babies off oxygen. The girls lived two and a half hours on room air. After much holding, loving, kissing and tears, at the very same instant, their hearts stopped. Together.
I couldn't stand it. Doug and I stood together with Katrina and looked at the pictures on her phone, four newborn feet cradled in parental hands, tiny footprints engraved on a headstone. We cried with her, saw the ache gnawing in her belly, the wound that reopens on this day when so many of us celebrate.
Yes, there are those for whom Mother's Day resurrects hard memories, feelings of emptiness, and loss. But Doug spoke of the Atonement and how it aids women. How Christ is the only man who can know a woman's heart. How he can enable, lift and succor each of us. He spoke about the tenderness and goodness of women and how they serve humanity. It was beautiful. And I'm so glad his mother was there to hear his sweet tribute to her.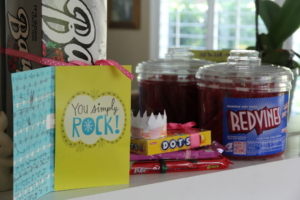 After church, Doug and the girls prepared a treasure hunt to help me find a few of my favorite things. Mostly goodies. Anyone need a sugar fix? Please stop by.
There were cards. And this one (pictured above) sang out Tina Turner's song,
"Simply The Best"
while the girls danced around the living room. I laughed at their moves, their pursed lips, the stomping, and head-nodding. When I'm having a bad day, and none of my kids like me, I'm going to open this card and listen to Tina blast her lyrics. Positive affirmation.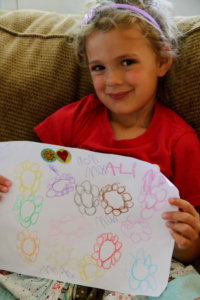 I love Ali's bubble flowers in assorted colors. A bouquet to treasure.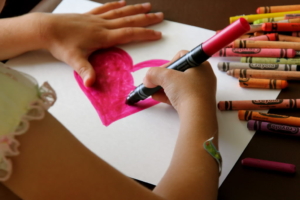 The girls made cards this afternoon, and as they traced hearts, scribbled and swirled, I thought of Louise Glück's poem, Portrait. It's my gift to you today. Two stanzas. Short, but layered with meaning.
Portrait
By Louise Glück
A child draws the outline of a body.
She draws what she can, but it is white all through,
she cannot fill in what she knows is there.
Within the unsupported line, she knows
that life is missing; she has cut
one background from another.
like a child,
she turns to her mother.
And you draw the heart
against the emptiness she has created.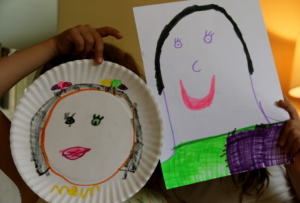 Sami and Eliza's portraits of Mom. "We worked really hard on your short hair," they said.
Mothers fill the emptiness.
Whether you mother or are a mother, whatever your age, I celebrate your heart. It is the very thing children rely on. It is the steady, pulsing organ that gives life. Real, oxygenated life. As well as spiritual life – the kind that undergirds a person's world, lights hope and drowns fear. You are constantly giving life.
And as the backgrounds change, as children learn to draw new lines, you are there. The one they turn to.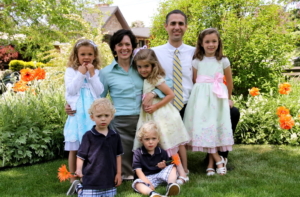 An immanent part of the portrait.
Happy Mother's Day.
p.s. Mom, I still turn to you. Thank you.