My friend Stephanie drew this version of our family from a past

valentine photo

and sent it my way last month. I made copies and handed them out to our kids during church. It was hilarious watching them identify themselves, pick out crayons for their outfits, and color our family.
You should have seen the neighbors leaning over the pews to sneak a peek. Several people asked if Stephanie was taking orders. (I asked. I really did.) But alas, Stephanie is as wise as she is busy and isn't currently taking requests. But you can check out her photography blog

here

. She's an artist on paper and behind the camera.
Steph, I love you. Thanks for leaving this delightful gift in my inbox.
So there we are, looking all cheery and "picture perfect" in caricature.
But reanimate us into "true form" and (probably like you) we've been wrapping up the year with concerts and recitals, trying to squeeze a few more weeks out of those jeans that are threadbare in the knee, struggling to fit in baths and showers, spending spare time outside weeding and playing in the yard, and with each trip to the grocery store, stocking up on band-aids and popsicles. Summer is coming fast.
Here is Eliza's Let's Play Music recital. I blogged about this amazing music program last Spring. But in case, you'd like a refresher, read more

here

.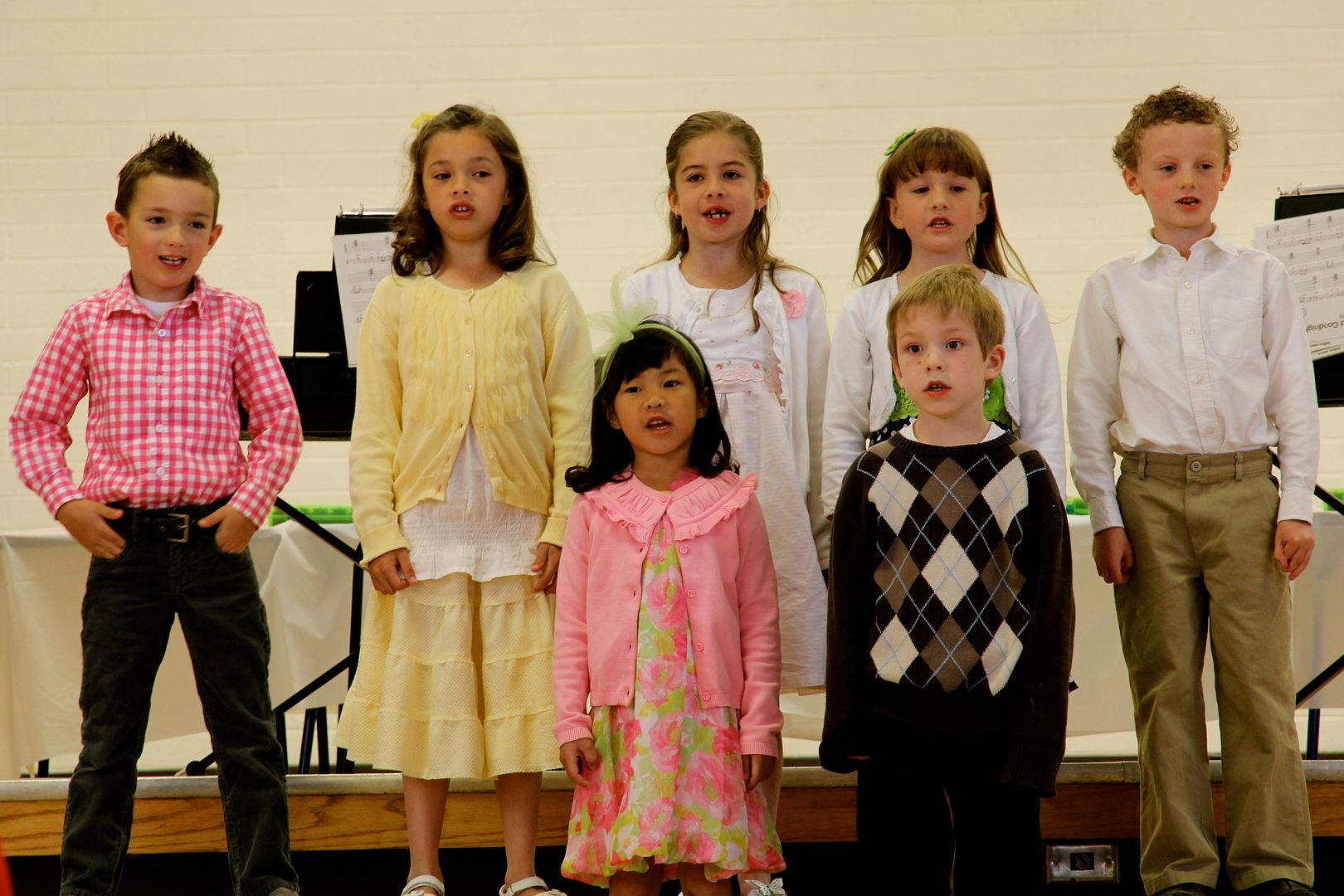 She'll be part of this cute class for one more year (LPM is a three-year program in which children are taught music theory with voice, bells and the piano, in such a playful way they have no idea they're building a tremendous foundation for vocal and/or instrumental performance.)
This year Eliza learned two books of songs on the piano. She can sing along with each one, play the major chords in block, broken, or marching format. Recognize note names, solfeg patterns, note rhythms... and the list goes on.
I attribute it all to Miss Liz, her phenomenal teacher.
Next year, Eliza will write her own original song on the piano, notate it with her teacher's help, and perform it at the year-end recital. Are you raising an eyebrow like I did? When I heard this was the goal, I thought, Really? There's no way. At age 7, write their own piece?
But I have seen it work. My niece Lizzie (6 yrs. old) did it this year. Beautifully. And boy, was I impressed.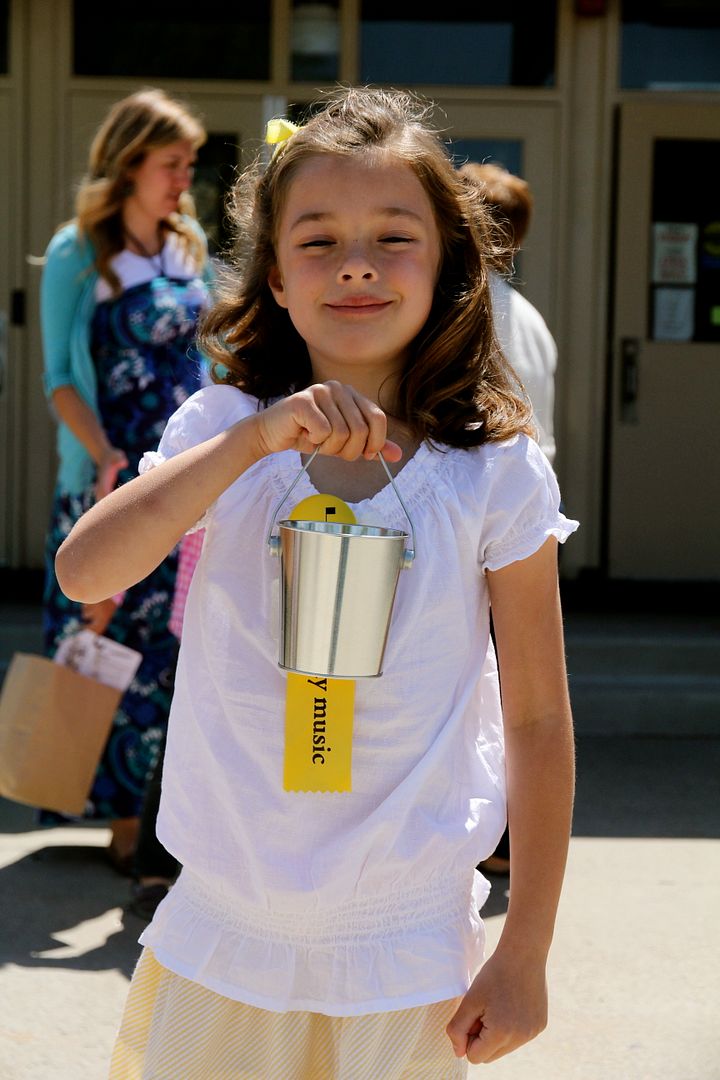 Eliza after the recital, toting her tin can of goodies.
Ali and Sami had "Silly Day" at their preschool. I loved doing their hair, tying ribbons, clipping flowers, and letting them raid their closets to put on whatever they darn well pleased. I vote for Silly Day once a week. Anyone else? Or maybe I should stop caring if they match and let them dress themselves for school all the time.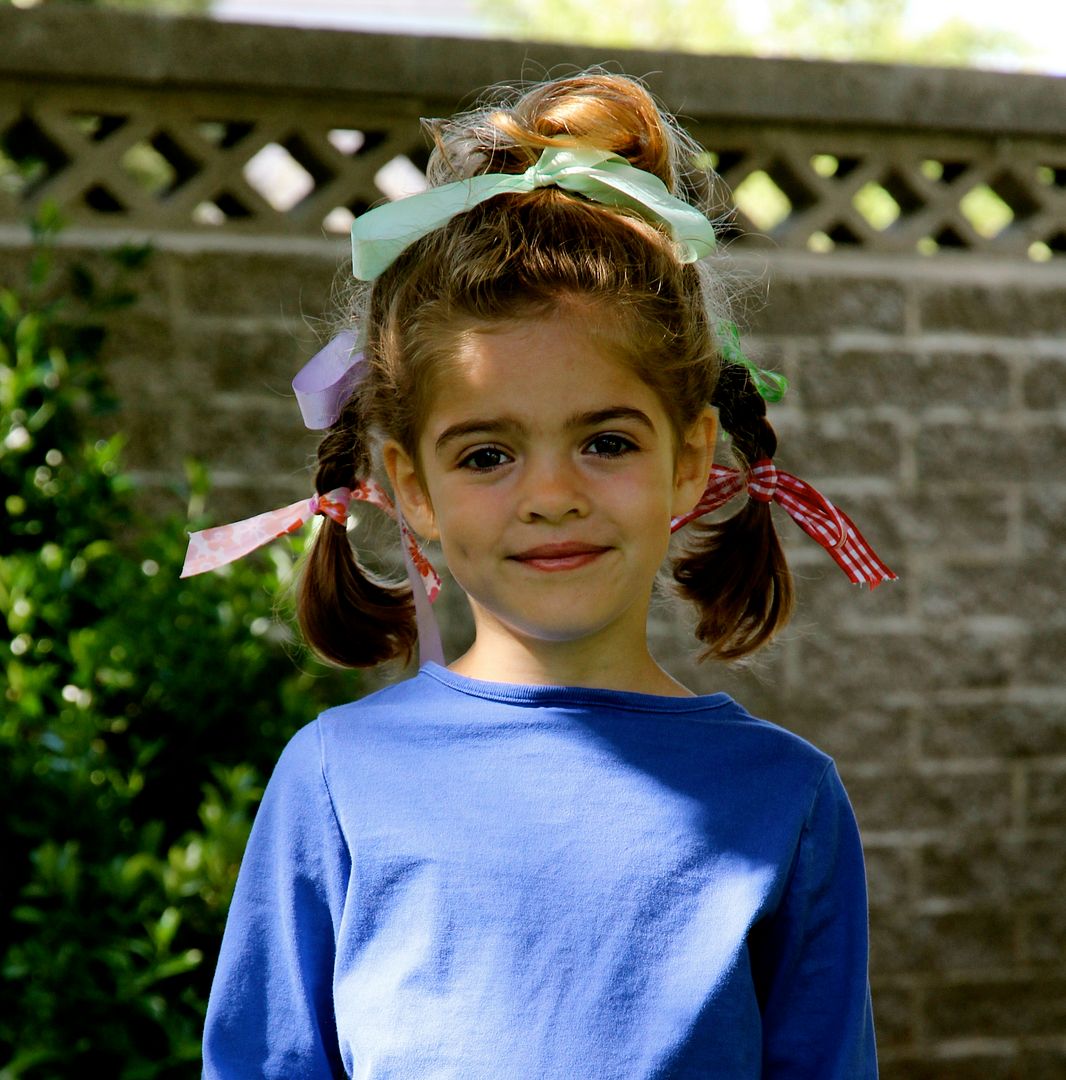 Yes, I think that's a good plan.
Shirt on backwards, mismatched shoes, and (as Doug so nimbly pointed out) Cindy Lou Who hair...
I hadn't had Cindy in mind, but now that I'm googling her character, there is a likeness... isn't there?
Ali chose a striped shirt, striped socks, and a yellow floral print dress. Lovely together. And the flower clips made the perfect accent.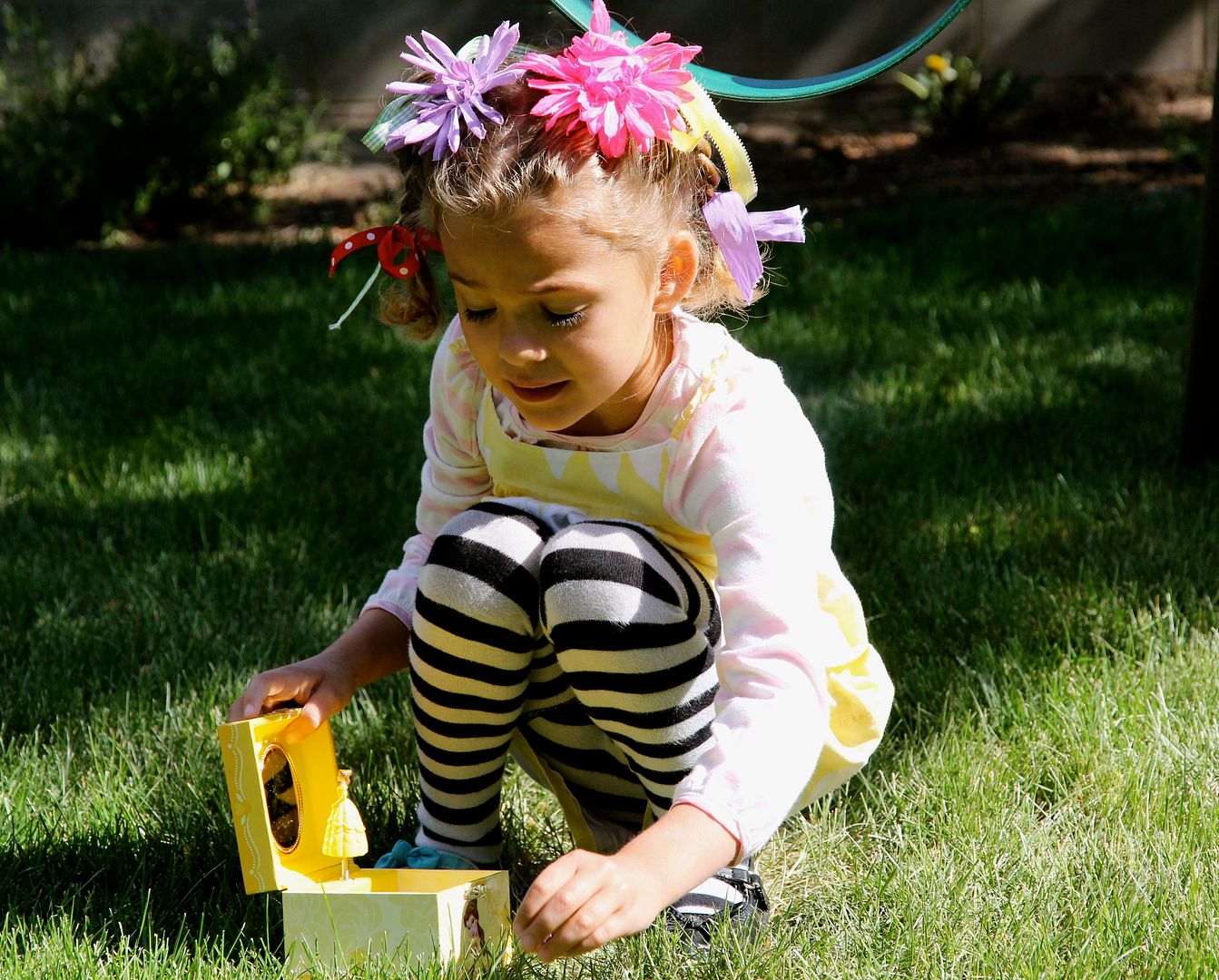 Sunday we celebrated Doug's mother. Invited her over to be "Queen for the Evening." We made her favorite foods, decorated with her favorite colors, bought her favorite flowers, and the girls crowned her with a home-made tiara...
and scepter.
She wore the tiara all night. Now that's devotion to the princesses of your court.
Here's what I love about Renae. She raised six boys. Six of them. No girls. And guess what? She lived to tell about it. She still has a sense of humor, and when things go wrong (like my rolls not rising and coming out hard), she says, "I love rolls like this. Thick and heavy. They're perfect. Just how I would have wanted them."


She makes you feel like whatever you bring to the table (literally and figuratively) is enough. Perfect just as it is. Couldn't be better. And considering last week's post, that is quite an attribute. I admire Renae very much.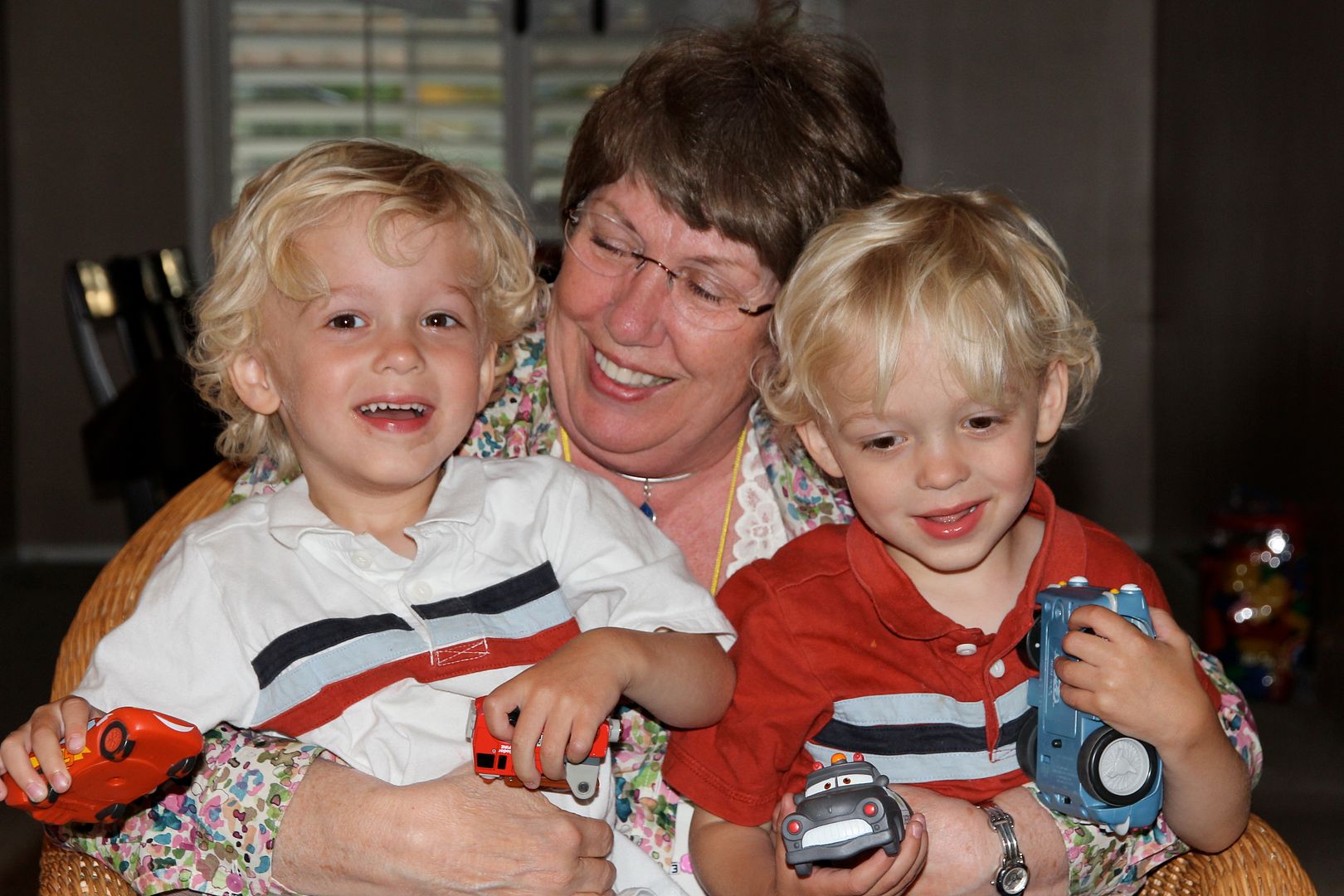 They will be leaving on an LDS mission this year, destination still unknown. And I've told her, "You know no one is going to miss you more than me, right?" Believe me, it's true. I've relied heavily on Renae these past three years. And she has always come willingly, so I can make a hair appointment, take one set of twins to the doctor, run some errands that have piled up for weeks. She is a Saint. Through and through. A true lady. And I love her dearly.
We told the kids about all of Grandma's favorites. Her favorite dessert, color, past times, and songs. We sang one of her favorites for her then played her favorite game. Freeze dance.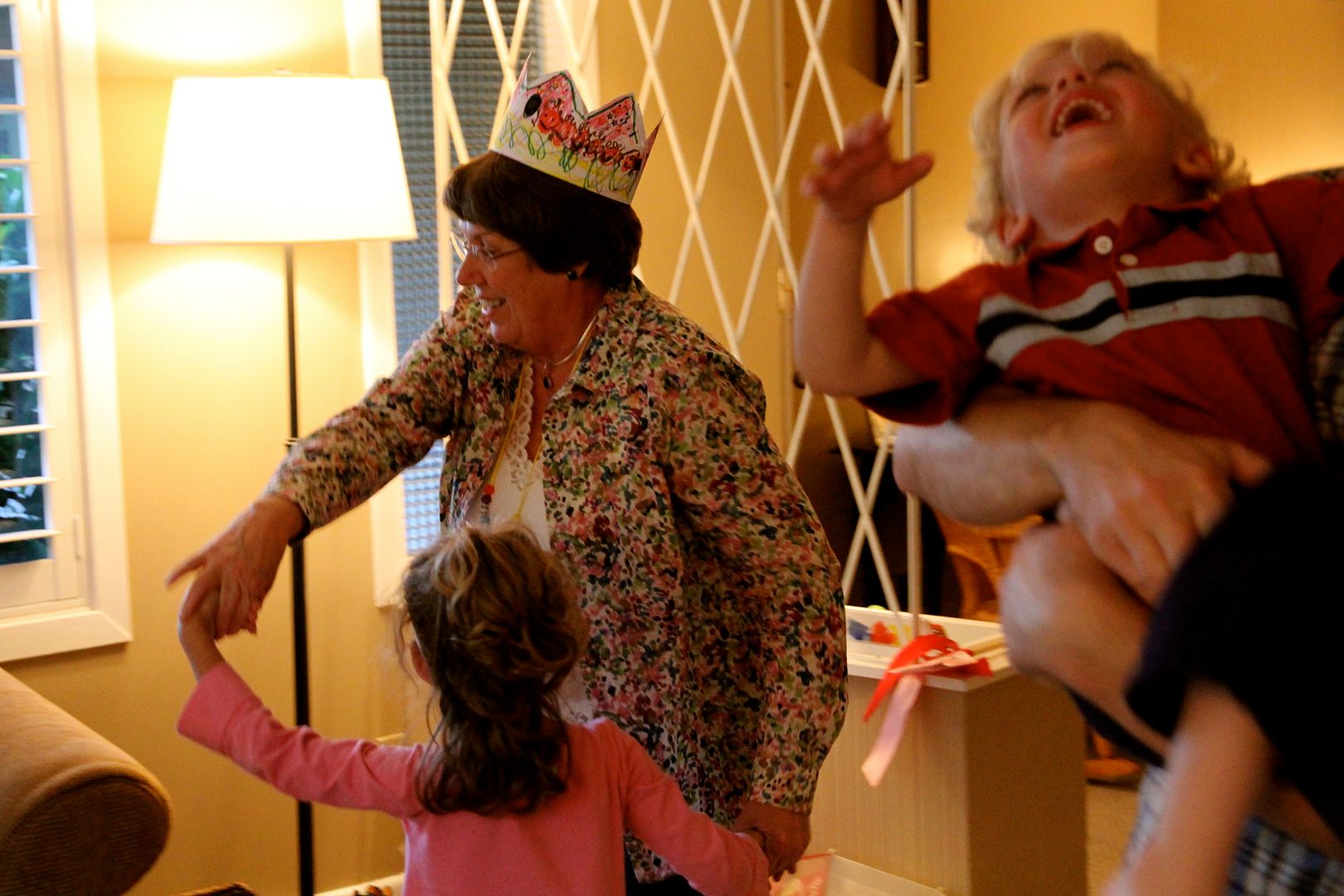 I think the pictures tell all.
Dancing in the living room is one of our favorite traditions.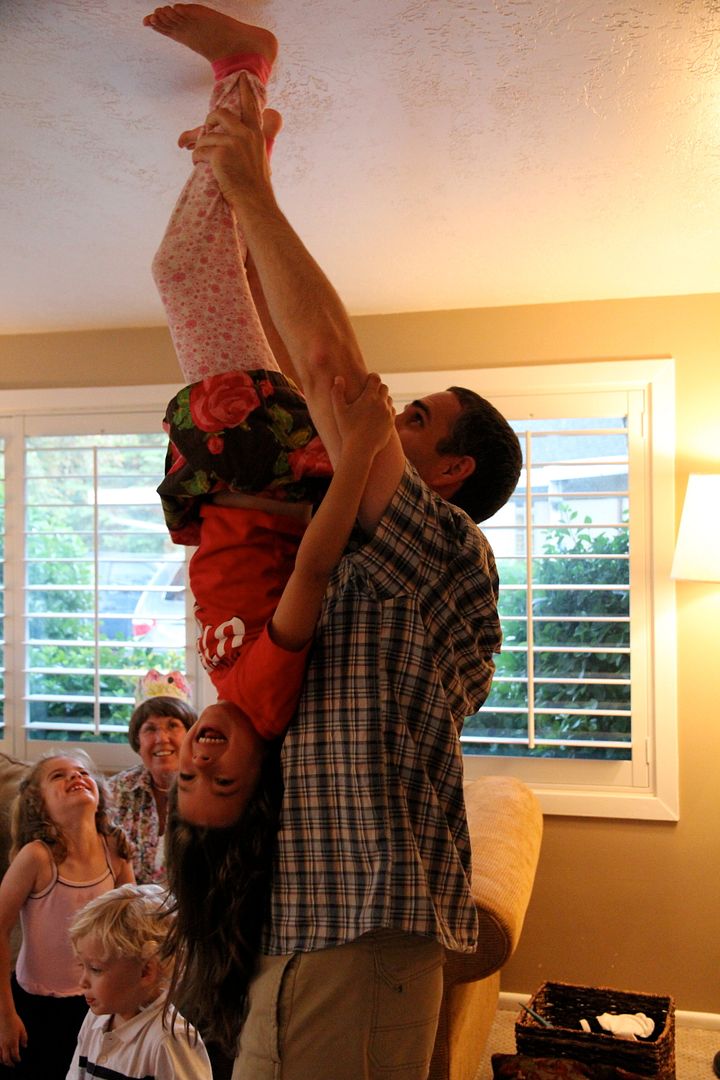 The kids especially love it when Doug walks them along the ceiling.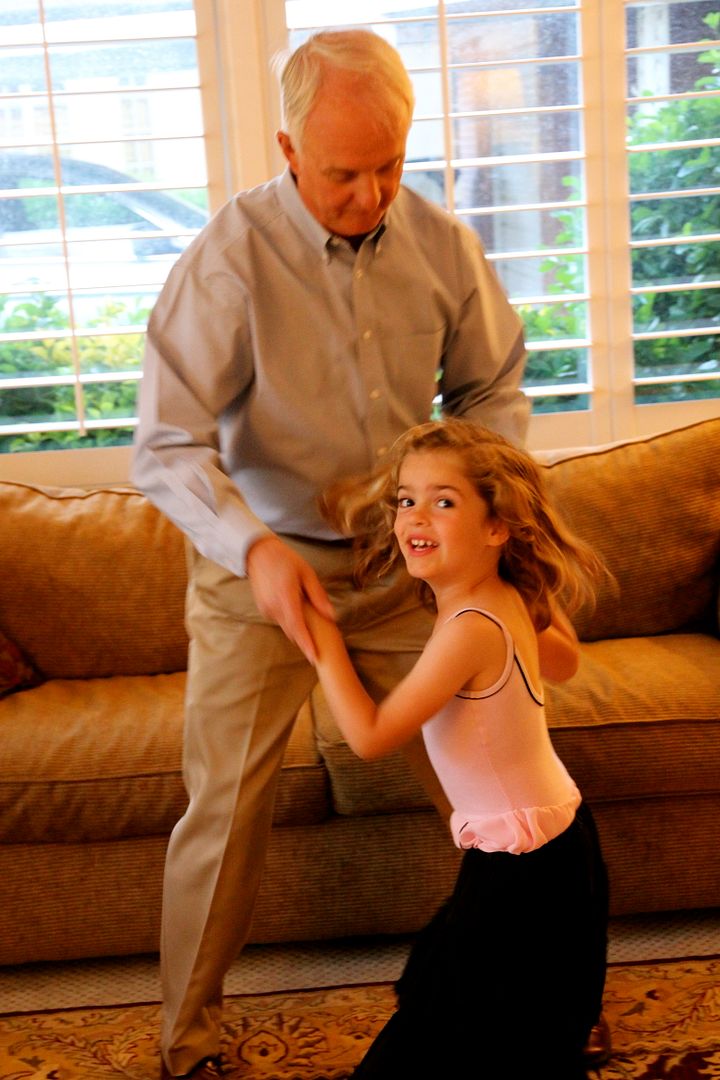 And Poppa Jim? He can jitterbug with the best of them.
"Queen for the Evening" might become a standing Mother's Day tradition for both Grandmas. What we really want with them is time, and memories. This realized both.
Hope your week is going well. Thanks for all your encouraging and insightful comments

last post

. Most of you seem to understand the wisdom there better than I do. And I appreciated everything you had to say.
Sketched or in "true form," you and your families are beautiful. You are doing marvelous things. You are grounded and kind. And I'm inspired by all the goodness you are sending out into the world.